Nokia announces winners of Future Capture contest; some amazing imaging apps are coming soon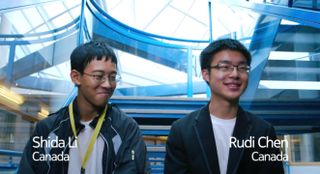 Shortly after the Lumia 1020 launched, Nokia announced an open contest to developers around the globe. It was called Nokia Future Capture. The contest aimed for developers to dream up imaging apps and hacks to take advantage of some of the new hardware in the Lumia 1020. Nokia then chose ten ideas, flew the developers with those ideas to Sweden, and had a hackathon to see which ideas proved strongest. These are the results.
Let's expand on the quick recap from above. The contest called for developers to submit ideas to Nokia around imaging. In July, Nokia released both their new Imaging SDK and a device to really push mobile photography – the Lumia 1020. The Nokia Future Capture contest was focused on giving developers the chance to push their creativity with imaging and photography. A developer could submit up to three ideas for an app or hack on those guidelines.
Nokia would then select the top 10 ideas. From there they brought the developers to Lund, Sweden for a hackathon. This hackathon was a place for those 10 winning ideas to be created by their developers. The contest was open to new ideas and apps/hacks previously created weren't considered. This was an event to showcase new uses of the technology Nokia's been creating.
The top prize? A Nokia Lumia 1020 and a trip to a Nokia event with all expenses paid (and VIP treatment). The top winner would also have their app promoted via several Nokia channels and the Windows Phone Store. Who won?
1st Prize – Rudy Chen and Shida Li, Canada
1st Runner Up – Jason Podwojski, UK
2nd Runner Up –Matt Cavanagh, South Africa
What did Rudy and Shida create to win the hackathon? The duo created a "Smart Resizing" app. What does it do? It allows a user to "downsample" an image, basically editing or removing empty space in an image to produce a final result that is seamless.
The video below highlights the entire event, but you can get a glimpse of their app towards the end. We're confident we'll be hearing, seeing, and using this app in the not too distant future.
Congrats to both Rudy and Shida and all the developers who participated in the hackathon. We hope to see all apps make it to the Store soon. The details around all the apps are scarce at the moment. Nokia is going to continue to help all participants make those apps a reality.
Missed out on the Nokia Future Capture contest? Don't worry, Nokia is announcing a new contest soon. We'll share the details when they do.
Source: Nokia Conversations, Future Capture (opens in new tab)
These Canadians hacked the 1020 camera into thinking they were Chinese. Of course they won.

I'm lost, that just sounds like cropping or the whole reframe after the picture is taken thing that it does now. (bad Caucasian brain)

Watch the video to see a bit of the app in action. Basically let's say you take a picture of two people in an open field and there is a lot of "empty space" between the two. You could maybe remove that space so the two people appear closer in the image. And least that's what I understand.

Yup, good description. It also has other applications like changing the aspect ratio of a picture without cropping - see "Content-Aware Scale" for more details.
Also, it's not Rudi with a 'y' ;).

Cool idea, Rudi! Can't wait to see it in use/action. I've taken lots of photos on my 1020 recently that could stand to to have some "in-phone" editing.

Congrats!

I a thinking more along the concept of how file compression works. Take out the 0's or whitespace and have a toc that points to these areas when decompression, place them back.

As Sam says, it is a lot smarter and more complicated than you think.
Seeing it being used is really impressive.

I agree, I was really impressed.
...after only a few seconds of video showing the app, I'm still not sure about how it works exactly, but it looks like great idea. Hopefully we'll see it in the store soon.

I believe it allows you to protect user selected parts of an image from degradation when compressed. The file will then be smaller, albeit not as small if the whole image were compressed, but the selected, or "important" parts, wouldn't degrade

I don't think so, watch the video.
Sam's description above best describes it.

Maybe there is something in the name Rudy being equivalent to a beast!

Other than Mr. Huyn in the Windows Phone community. Look no further than Rudolph (Rudy) Schenker of the Scorpions. That man is in his 60's, and has the stage performance energy of a man 1/3rd of his age. Running, jumping, swinging the guitar around his neck, just as he did 30 years ago. He hasn't lost a step.

Reminds me of Dave Gahan from depeche mode. Not as old, but he still got the moves. :)

Whatever happened to the 920 picture contest?

Not impressed... How about an app that I can actually show off? Maybe an app that I can edit photos and/or video with my own soundtrack or music from my library. I use my phone on trips... This app could combine my trip photos or videos and make one great summary of my trip. That would impress me.

Well, get to work. I'll download it when you're finished.

But that would take 10 times longer to do on a phone than on a PC?
And the fact that there is no API to get videos from the cameraroll, so the user would need to record the video with your app :(

It's crazy how little access is given to video on WP8, I don't understand why it needs to be so "protected".
Maybe that will change soon.

That sounds alot like the Storyteller app from BB10 (embedded in the OS). We also get a glimpse of an app called Storyteller in the leaked photo of Nokia Bandit. You might get your wish soon

What were the 2nd and 3rd place apps?

"The first runner-up in the contest is UK-based Jason Podwojski for his app called "Social Scene"; and the second runner-up is Matt Cavanagh (from South Africa) for his yet-to-be-named remote control app." I will have more details on mine soon.

I'm Matt. The third place app was mine.

What kind of remote control app? PC Remote?

Social Scene is an app based on a concept I have called Social Time Lapse Photography. Here a time lapse is not created by one person, but socially by thousands over a large period of time.

The app uses GPS and Augmented Reality to help users participate in taking their shot of the time lapse. Anyone can create and contribute to a social scene.

Fun to do and will show how the world around us is constantly changing.

The app will be available in the store in the next few weeks!

Great job guys! Can't wait to see your work in the store. Keep up the good work!

Way to go fellow Canadian dudes!!!

I don't really care about them being Canadian, but good for them. Hopefully they have long successful careers... and bring me more WP8 apps!

Congrats great work! I can't wait to see the apps live.. WP8 FOR THE WIN!

I really hope that Microsoft does not mess things up. I mean, the effort that Nokia was putting on windows phone was unparalleled. I hope that Microsoft shows the same sense of urgency towards its future because mobile is the future.

10 app ideas for the price of 1 (winner) ! The competition holders always get more than they need for dirt cheap. But it works for both sides I guess. Would be more fair if they had Winner - 2nd - Runner up. Congrats to the Winner anyhow. *Edit: They do have runner ups. Sorry :p.

Yey! Congratulations to all the winners and participants. Participant from the Philippines was shown in the video :)

Impressive, most impressive.

Congrats great work! I can't wait to see the apps live..


Social Scene is now in store and it's FREE!
http://www.windowsphone.com/s?appid=e98cd5ba-a0e4-4955-a7f9-f29bf7848031

Does the app notify you that you're near a spot that has already been reached by another app user? That is, can it enable Toast Notifications like, "You are approaching a hot spot. Please take a picture!"?
Windows Central Newsletter
Get the best of Windows Central in in your inbox, every day!
Thank you for signing up to Windows Central. You will receive a verification email shortly.
There was a problem. Please refresh the page and try again.