Nokia Lumia 1020 priced for Poland, comes in red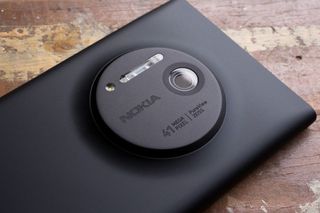 Witam przyjaciele. If you're reading this over in Poland you'll be super happy to learn the price of the upcoming Nokia Lumia 1020. We don't know the release date over there, but we do have a ballpark price of the device and the colors you can grab it in.
So you're sitting over there in Poland and can't wait to get your hands (and eyes) on a Lumia 1020 with its 41 million pixels. How much is that going to cost you? Looks like it will be around 2949 zl (about $941 USD). However, that price might not be final. According to the Polish website Windows-Phone.pl, that price might just be somewhat of a placeholder. But the real kicker? The special color you'll be able to get in Poland.
Right now here in the United States if you want a Lumia 1020 on AT&T you have three color choices – white, black, and yellow. Our friends over in Poland will able to pick it up in black, white, and red. Pretty cool. We have seen a red Lumia 1020 before.
Source: Windows-Phone.pl
I absolutely love my yellow 1020. Packed with the display, it's incredibly vibrant. Sometimes I like to just stare at it, lol.

+920, i have the same with my Cyan 920 :)

Greetzz.

I hate yellow (though, more power to you for liking it!) and hope that they are going to offer a blue one soon.

I would normally agree with you. I usually think of yellow as an angry color. However, I wanted something different this time and got the yellow 1020. I am not regretting my choice.

Question; does the yellow look "tacky"? I know it's a question of taste, but one of the reason's I hate yellow is because my mom loved it and painted the living room a very ugly yellow. TBH, I think that's one of the reason's I prefer colder colors over warmer colors (because of my moms bad taste :P).

Hahah. That's actually pretty funny. It's definitely a matter of taste but I don't think it looks tacky at all. I went with a white 920 after having a cyan 900 because using other colored tiles made it look tacky some times. Everything matched white obviously and surprising, they're all going very well with the yellow. Like I said, I'm really pleased with the selection. It also stands out more, which I like. I'm not normally a flashy person but I'm willing to make myself a walking advertisement for the sake of Nokia and WP.

HA! Good! To be really picky, I do wish it were a deeper yellow. It is a little on the light side for me. But it is pretty stunning. I go tthe black cases to go on it and think it looks great. But like Trix says, it's a matter of personal taste.

Me too! Yellow makes you happy apparently.

I have joined the 1020 group today (yellow). Farewell my red 920.

Packed my bag for Gdansk already!

and yet Canada gets no love, sad faced

I'm still hopeful for a cyan version also :)

I LOVE my red 920..... And would love a red 1020

Loved my 3 faulty red L920, but reckon they were all built on Fridays after workers had been to the pub. My black L920, has had zero problems.

I had similar luck with my Yellow 920s, but then my Red 920 was fine. Now...1020, and it is awesome. But I am already missing wireless charging after one day with the Nokia 909.

Or red... Or really any other friggen color not at the extreme end of the color spectrum.

I created an account simply to remind you that red is one of the two colours at the extreme end of the colour spectrum, the other being violet.

Cyan was a myth according to the AT&T where I got my 920. They have never seen one, they said.

I know I'll be tempted when this comes to Canada even though I got my red 920 in January. Nokia should offer a service where we could send in our device to get a new colour shell. I would pay 50 bucks that.

I'm sticking with black, am I boring?

Same here. We are the professionals who don't seek attention.

lol, not so much about seeking attention as pride ;) That and yellow looks awesome in real life.

WoW! Nearly $1k !!! Pretty expensive toy.

Not surprised yellow is replaced by red in Poland. Actually, I'm pretty sure that will happen in more markets. The flashy colours are always harder to sell. There are even countries - like mine - where the phones only come in Black and White because there's not enough demand for the other colours to justify it.
Anyway, I only like phones in black so I'm always ok. That said, the price is probably correct. As I've already tip'd, the L1020 will be selling for 698€ in Germany. That's $935. So it is very normal that it will sell for 2949 zl which is around 704€.

I think it is overpriced ... but wel see in a couple of months Greetzz.

I too think it's overpriced everywhere. But it's still cheaper than the iPhone 5.
On the other hand, the L920 was launched for 600€-650€. So it's not a surprise that this one comes at 700€ or over given the 41MP camera.

I used to always prefer black, including with my Lumia 900, but I got a red 920 and fell in love with it. Looking forward to a red 1020.

Well, it's characteristic that in Poland it would be hardly impossible to sell any phone offered only in florid colour like lumia yellow. Normal colours are selling much better. Most cell in Poland operators offer Lumias in big variety of models and in small amount of colours or in small variety of model but in every color that was ever made.
- The biggest telecom operator in Poland (Orange) offers 520, 720, 820, 920 but only 720 and 920 are offered in 4 colours (and there's a yellow option both in 720 and 920) others only black or white.
- in youngest and smallest countrywide operator (Play) there are only 520 and 920 but in 4-5 colours.
- other big polish ops like T-Mobile and Plus offers 520, 820 and 920 but only in black.

I was personally trying to obtain L820 or L920 in red, but red L920 exists only in glossy enclosure, which IMHO felt in my hands like rinky-dink down-marketed phone from russian or chinese bazaar. So there was no option - black L820.

Those early leaks of red eos was true. Nice

Excellent. Too bad I don't live in Poland. A red 1020 would be pretty badass.

3000 zl??!?! Who will buy?

I'm moving there in exactly a week for uni :D But my god that is expensive.. Abonament or nothing :/

as much as i love the yellow and red units, i constantly change my tile color... and not all of them might complement with the color that i like. i prefer a gray 1020. more versatile, aside from the black one.

Now this is something Polish people should look forward to, not the Ativ S.

Typical Nokia Fanboy comment!!!!
Whatever the manufacturer is it's good to see Windows Phones being released in other countries.

White and red to match the Polish flag. The black version is for less nationalist people.
Windows Central Newsletter
Thank you for signing up to Windows Central. You will receive a verification email shortly.
There was a problem. Please refresh the page and try again.