Nokia Camera updated with RAW format support, but you need Nokia Black to use it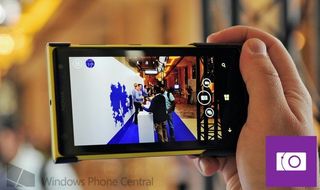 Nokia has updated its Nokia Camera app for both Lumia 1520 and Lumia 1020 owners to take full advantage of the upcoming RAW image format support. We previously looked at company plans to add capabilities for the Windows Phones to save photos in lossless DNG (Digital Negative) format, but this app update is a small hint that the wait is almost over.
The only issue is that while the functionality is present in this latest release (according to the official changelog), you'll not be able to utilise RAW formats until Nokia Black is installed. We were unable to spot any new setting added to Nokia Camera to unlock RAW format for saving, but we assume it'll be added alongside the standard JPEG options once the next Nokia update has been loaded.
Latest version is version 4.4.0.8. Nokia continues to innovate in the photography side of smartphones and RAW support is the next step to bridge the gap between the mobile phone and more expensive shooters.
You can download Nokia Camera from the Nokia Collection on the Windows Phone Store (not available for hardware below the 92x series).
Thanks to everyone who tipped us!
Windows Central Newsletter
Get the best of Windows Central in in your inbox, every day!
Rich Edmonds was formerly a Senior Editor of PC hardware at Windows Central, covering everything related to PC components and NAS. He's been involved in technology for more than a decade and knows a thing or two about the magic inside a PC chassis. You can follow him on Twitter at @RichEdmonds.
What about our lovely 920!!!!

Its been leaked that our 920's will have all of this included with the Nokia Black Update in early 2014.

All pureview camera will have this feature active? DNG? Include 92x? How do you know it? Where did you see this info?

This info is surely false, but you can dream!

I think they can do it after a while..
Not so fast as 1020 and 1520

Maybe this phone will get it: http://www.gillastore.com/product/ngs/p30573.html?utm_source=NL_en&utm_m... LOL a Android knockoff/KIRF of the Lumia 1020

Maybe this phone will get it: http://www.gillastore.com/product/ngs/p30573.html?utm_source=NL_en&utm_m... LOL a Android knockoff/KIRF of the Lumia 1020 Or this one with 41 megapixels of audio: http://petapixel.com/2013/09/08/ridiculous-lumia-1020-knockoff-boasts-41...

LOL
Absolutely it gonna have..
with these specifications:
Camera: (front 0.3MP, rear 2MP) and Android Version: Android 4.1.1 (flashed from Android 2.3)
LOOOOOL Android making android thing (always)

RAW format isn't about the megapixels, so a lesser camera doesn't mean the phone shouldn't get it. RAW is about the amount of source data and how you can manipulate the photo afterwards. However there could be hardware limitations when it comes to CPU and RAM, so if it came to the current range it may be a bit slow. Or Nokia may choose to disable it if it's a bad experience.

And the AT&T model, late 2015.

Of the first gen WP8.x devices only the 1020 will support RAW

No, only the 1020 and 1520 will get raw support. With the small sensor of the 920, raw would be next to useless anyway

My mistake, Fellipe. I jumped the gun a little. I meant to say that it is highly possible that these features may all be included in Nokia Black and activated in devices that meet certain hardware criteria, such as ram, flash memory, processor type, etc. If I were to guess, I would guess L92X and higher should meet those criteria. My apologies to all for my mistake.

It's ok man..
But I really wanted this feature on my L920..
And I don't care to wait a little long to receive.. since I GET DNG. LOL

Estimates on black release??

Thanks...was hoping sooner, but can deal!

Its been said coming weeks to early next year

Since its Nokia and they are already rolling out the new options for the 1520 im thinking late next week or right around black Friday....Nokia still surprises me with their updates and rollouts of new features!

Come on, where is the 920 ?!

Omg, this week its raining apps on store, Go windows .....bloom and rise.....

I have no problems with service with ATT, but their update rollouts are a effin joke, here comes another ~2 months for Black update

Bitch please I haven't received amber on my unbranded 920 yet and you talk about att

calm down homo thug! And who the fuck do you think your talking to!

911 Operator: State your emergency.... Reader: Hurry!!! There is a fight on the WPC website!!!! I think the keyboard is going to get hurt!!!! 911 Operator: Calm down sir....what just happened???? Reader: He.....he.....OMG.....HE SLAPPED HIM WITH AN EXCLAMATION MARK!!!!!!!!! 911 Operator: 31 County, we have a report of Internestic Violence at 1 Windows Phone Central Way......

LMFAO! Best comment of the day!

Lmao post of the day. Way to be creative.

Dude you just made my morning with that reply. Here's to hoping you have a spectacular day!

"Homo thug," that's a new one for me.

First I'm straight second UAE I know its released buy the wave haven't reached me

You prob. are, but dont use slang and put it out there thinking people wont get offended, anyway I have plenty of friends in UAE, I would check with your carrier to see when they are offering the update. Note: Dont use the internet to learn English, take a formal class or two

Yeahhh! Wait we need black update ohhhhh noooo! Maybe by this time next year then boohooo!

I received an update this morning for Nokia Camera on my 928.

WPCentral writers sure do love the word 'shooter'.

Maybe Nokia black will get released alongside the 1520

Patiently waiting for someone with a wp7 to complain..

My daughter uses a L900 up at FSU, but only because she keeps busting her phones. Lol. She just busted the 900 after having for two weeks, so now an LG c900 (quantum). Rest of us using 920/925/1020. Oh, except for my mom, 80, loves her Titan 1.

Still getting the 'close some apps' notification after capture on the 920. This issue appeared 2updates ago... not cool. It really hampers the experience of shooting.

I have that issue on my 620, I thought it was of the smaller RAM (and also the fact that it is unsopported on tje 620), but I guess it's a bigger problem

Have you tried to uninstall Nokia Camera and then reinstall it and test it?

The biggest issue I have with the Nokia Camera app is the fact that I can not set it as default camera app. It's not that the app or the OS wouldn't allow it, it's because you can not start it using the camera button if your phone is pinlocked. That's some serious issue, so friends who want to take a shot using my phone can't because they don't know my PIN code. And I myself can't pull the phone from my pocket for a quick snapshot because I would need to enter my pin.

Never experienced this! Wow! The "close apps" issue, that is.

Any word on Lumia Black on Navifirm? I got an itchy trigger flash finger

That is frekkin sweet! I think it'll come with the GDDR3 update, and hoping my 928 gets it. Although I'll be upgrading to the 929 once Verizon launches it. :)

Yea right I can see AT&T & T-MO doing this update...right!

Getting tired of these "available but you can't have it yet or at all" articles.lol What a tease.

What's so upcoming about RAW? It's been around forever

Sorry, misread it as RAW format, not RAW format support

Keep it coming Nokia,Christmas has come early, give it to poppa

arghhh i so want it now, it would be great for me to add in some pictures taken from my phone to go along with dslr pics for my projecttttt

Is green tint still an issue for Lumia 920?

.nope..now its the yellow one..same as with the 720..

Just got an update on my 928 for Nokia camera

This is the first time I've heard so many people wanting anything black.. Ok come on black

Oh the funnies that can be made with your post. Too bad there are too many sensitive people out there. On the other hand I hope you were not being that guy...

Yeah I'm just having a wonderful morning. All fun and games. Go Nokia and waiting on my RED 1520 so I can sell my 920.

I prefer blue......green is good....and um...sometimes I like red..yeah, me likey the blue...

Isn't Nokia black well Nokia so therefore they can release the update as they please unlike gdr and other run windows items where the carrier gets involved?

I haven't been following WPC much these days. Any idea when is Lumia Black update coming ?

I have a question, does anyone know what is the difference (if any) in quality with images taken in Nokia Camera or images taken in stock WP Camera?? Like besides the pro features of Nokia camera, if I have all settings auto and normal, will the image still come out better there or the same as stock camera app??

I think the native camera app shoots images with a slight blue tint. The Nokia Camera app is wonderful though. I use Nokia Camera only, on my 920. :-)

Hmm ok, thank you. yeah i have the L925 and i was wondering lol im so picky with apps installed i would have deleted Nokia Camera if it was the same if used in auto n normal. Though the handy focus feature is quite cool.

This update.....weird, befor the update, picture uploaded to skydrive is normal, after the update, picture uploaded to skydrive, file shrinks to about 300 kb, more or less, you won't see a picture with 2-3 MB any more, unless open the picture with a date cable

Now Droids are copying Raw image format support.. Does Nokia have a patent for this just wondering... http://arstechnica.com/gadgets/2013/11/google-is-working-on-a-new-android-camera-api-supports-camera-raw/
Windows Central Newsletter
Thank you for signing up to Windows Central. You will receive a verification email shortly.
There was a problem. Please refresh the page and try again.