Nokia Chat Beta for Windows Phone 8 released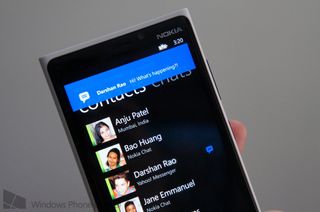 Nokia has released the beta version of their new Chat app for Windows Phone 8. Nokia Chat lets you keep in touch with your Yahoo! Messenger contacts or friends who use Nokia Chat on other platforms. It's been around for quite a while on Asha, S40, and Symbian, but this is the first time it is being offered for Windows Phone.
Nokia Chat offers plenty of features, including push notification, live tile support, lock screen notifications and voice commands. You can also broadcast your location or share places with friends. And you can easily find friends by scanning your phone's address book.
\
Currently, Nokia Chat for Windows Phone is only available in The United States, United Kingdom, India, Canada, Australia, New Zealand, South Africa, or Nigeria. You can download it for free here (opens in new tab).
Thanks for the tip, Jose!
I was just trying to figure out how to get this through the Engadget app. They dont make it easy than as I was looking my wpcentral push notification came up for this.

But... Why? :O
Edit:
I realize my question wasn't very clear... Why don't they just incorporate support for Nokia Chat into their already existning IM-beta Nokia Pulse?

EXACTLY! Why do we need more of these splintered chat services?

They are both "beta". So keep an open mind when using them. Neither of them are finished products, so there could very easily be a merge.

I see this as a way for Nokia to compete with BBM. Many people stick with BlackBerry for that service.

Make an Android and iOS version with metro design and kick Whatsapp ass. Facebook, Google and Skype integration would be great. Call it Message Hub since Microsoft couldn't do it themsleves.

Kicking whatsapp... what for? Why not to concentrate coders on something more important and _unique_? Wazup is best and seems to be unreachable for now despite any efforts of Facebook, MS, apple, Samsung with their own chat and others, why Nokia to spend time on messaging, go on making maps and phones.

Perhaps because Whatsapp barely works in Windows Phone?! Notifications nowhere near to instant. A instant message service that delivers messages with 15-30 min delay. Sounds great.

Whatsapp works absolutely fine for me, instant delivery, so maybe some problem with your install.

Got mine today morning itself through wmpoweruser

Did you also get your text translation through there?

Sorry. You lost me there.

Is it possible to send a picture to my friend in a conversation? Doesn't bother to change region again to download it, yet.

I welcome the addition, and yet another app is always nice, not to mention Nokia has a really good track record so far, but part of me is like "yet another cross-platform chat app...GREAT" I don't mean to belittle the effort but seeing as how I never owned a Nokia device before my lumia, I never even heard of Nokia chat, and would have been much happier if they would have released an update to integrate it to the messages hub on lumias somehow, possibly even tweak the messages hub while at it.

Am I the only one that wishes this was called Ovi Chat ?

So... Lumia only? The article doesn't make that clear. (Seeing as not all Nokia apps are Lumia-only.)

Nice to know I'm not the only one with this opinion.

Beta apps from Nokia tend to be exclusive to Lumia...

Good effort, but market is oversaturdated with chat apps already. Nokia should invest their development time with other niche apps.

Can't see it in the store... Where the usual link for download? I agree with others, why all these splinter chat apps? Unless its able to accommodate other chat services into one place, there no point in launching another service...

Its a beta you get it from Nokia labs

What I would really like is xmpp (i.e. google talk) rolled into the messaging app. Or, an app that handles both text messages and google talk.
If I had that I would be a happy camper.

Same. The only chat service I need is Google Talk (because that's what my friends use, not because I particularly like it). If gTalk was in the messaging hub I'd be very happy.

I don't want google talk since I don't use any google services but I do want an app that support the xmpp protocol. WOuld be nice for my work messaging system.

At least they brought it to Nigeria !

I thot Nokia had a partnership with whatsapp, they should have gotten the devs who developed this to go work on fixing the whatsapp on Lumia and then make it a Lumia exclusive, ha!

Nokia chat on Symbian was better as it had messenger (not needed now), gtalk and yahoo.... should have at least had gtalk! but I guess talk.to works too....
Need social hub like N9!!!!!

This is probably cool but all of my friends have migrated to FB messaging/Skype. One of the few useless apps from Nokia.

ITS ALSO AVAILABLE FOR WINDOWS7 BUT WP CENTRAL DOESN'T REPORT IT. SHAME

Why use Nokia if I can use the multiplatform Whatsapp?

the good thing about this app is that it connects to yahoo messenger, which is missing on windows phone with live tile notifications, the 3rd party yahoo apps are just crap.

Why not include aim as well? Or incorporate all into the spreading built in messenger?
Windows Central Newsletter
Get the best of Windows Central in in your inbox, every day!
Thank you for signing up to Windows Central. You will receive a verification email shortly.
There was a problem. Please refresh the page and try again.