Nokia closes deals with car makers for HERE Connected Driving development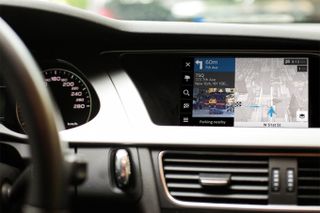 Nokia has today announced new partnerships with Mercedes-Benz, as well as Continental and Magneti Marelli. The companies will be working together on the HERE Connected Driving framework to offer unique, integrated and connected services that are more advanced than the generic navigation installed in vehicles today.
Utilising the cloud and taking advantage of real-time computing, HERE will enable drivers to carry out a variety of tasks both efficiently and safely. Mercedes-Benz will help Nokia develop smart maps for connected cars, as well as venture into autonomous vehicles, opening up a more advanced world of transportation with 3D digital maps.
Magneti Marelli, which develops and manufactures systems, modules and high-technology components, will work with HERE to develop end-to-end connected driving solutions ready for car makers. Based on Magneti Marelli's open platform and Nokia's HERE solution, the services will take full advantage of dynamic content supplied from the HERE Auto Cloud, such as real-time traffic updates, fuel pricing, parking, points of interest and more.
The last remaining partner announced today, Continental Corporation, revealed that the company has implemented 3D content from HERE into its new "infotainment" system. The platform will use HERE to integrate multiple location-based applications and services, including satellite imagery with split screen and current traffic information among others. Drivers will also be able to synchronise navigation destinations and route preferences from smartphones, tablets and PCs.
Here's what Michael Halbherr, Head of HERE and EVP at Nokia, had to say on the partnerships:
Even though Microsoft will be purchasing and integrating the mobile devices division of Nokia, the Finish company is cracking on with HERE innovation that could have a positive impact on the world. The announced partnerships come before the HERE Connected Driving offering will be demonstrated at the International Motor Show, starting on September 10th.
Source: Nokia
Rich Edmonds is Senior Editor of PC hardware at Windows Central, covering everything related to PC components and NAS. He's been involved in technology for more than a decade and knows a thing or two about the magic inside a PC chassis. You can follow him over on Twitter at @RichEdmonds.
Interesting........least the got Benz on board

Mercedes-Benz.. Umm cool..
But what about Ford and Microsoft MySync?
I think it should be any partnership.. :D

as far as i can tell the sync/myfordtouch arrangement doesn't have anything to do with mapping. its just a version of windows embedded for autos customized to ford's vehicles and cobranded. I don't believe it uses bing map data so there isn't really any tie-in. I believe tho it uses mapquest for that, which is powered by here anyways..

I know, but I guess instead of Mercedes, should be with Ford to provide a MySync 2.0 or different name, since Nokia and Microsoft are partner now.
I have Ford Fiesta with MySync and I have a lumia 920, I miss compatibility between both. It's great with bluetooth, voice command, etc but, in my opinion, should be better since they are on it together.

This and Benz choosing Qi as its wireless charging standard would make it a good idea to buy a Lumia phone.

something like that would be pretty awesome.. right in the middle console.

If only I could afford a Merc.

Lol, exactly what i was thinking. Buying a 920 or a Benz - little difference. But when they offer the first Hover-Benz i will get one for sure.

Its a great idea. Would like to see it applied to Vauxhall.

or opel :P guess "Here's what Michael Halbherr, Head of HERE and EVP at Nokia" is a pretty german guy and we will see a few german manufactures on board soon

Actually he is a Swiss :)

"pretty german", meaning he is a cute german guy or he is so damn german.
But of course, getting for example VW on board would be great.

I have 99 accord with factory head unit, my guess is software update will not help me here.

I heard someone at ATT saying that they will tackle that problem in cooperation with Ford right after they supplied GDR2

Ha and that is where you are wrong. The Here maps software will totally be backwards compatible with cars makers not listed in the article and pre Y2K era. You just have to request and insert a cassette into you dashboard console. And Boom Shocka Locka... Here maps!

Its not that simple sorry to say, completely depends on map format

Mercedes is a good start, expecially since their own infotainment system kinda sucks, However they better have Audi too otherwise they might want to stop using and A4 dashboard in the marketing ads.... Although please get Audi i have three audis and nokia phones so that would be great :)

That'd be kind of heard since Audi is heavily involved with Google Earth and other mapping/geolocation services by Google.

So is the 2013 Merc has 3D google maps. So its very possible that Audi could make the move. But why would anyone want a Audi. Get a Merc AMG :D

yea i know they just liscence it though there is no real relationship between the two companies, on the otherhand audi does use navteq for the actual mapping and directions on gps and thats of course a nokia company

Thing with Audi and to a lesser extent, with BMW is that they have both sung praise for Google's services in the past. The nVidia chips they have been using were heavily referenced too as well.
Of course, I'm not ruling anything out and it would be amazing to have the VW group and BMW in but it'll take a bit more convincing than Mercedes which was already sitting on an outdated system.
RyanAMG: Yeah, but only if you wanted a car that was actively trying to kill you. Take the C63 AMG for example. 451 HP to the RWD is sheer madness. Moreover, Audi just makes really nice vehicles.

Audi is also a partner in Apple's "Eyes Free" automotive program.

Hmmm, guess my next car won't be an Audi. Google AND Apple? That's a shame. Oh, well. The search continues...

Please Pioneer, make it an AVIC update (dreaming how wonderful that would be..)

So, don't get me wrong, I think here maps is pretty good. But it has had some spectacularly epic fails from time to time, too. Is anyone else slightly terrified by the idea of it being used to auto-drive cars? I guess if they get it to work safely/reliably, though, it's a win for everyone else using it too.

It would take literally decades of testing to make autonomous driving even close to the way a driver could be. There's no way they would risk human lives by releasing a less than safe product, their reputation is at stake.

Mercedes just announced they expect to have a self driving car by 2020.

Look at last week post. Something like 80% current auto makers are using Nokia already.

So you mean in the front end level or back end?
Nokia Maps/Navteq map data is already used in most of the various car integrated systems. Again, navteq is the world largest map provider.
Fron end/software wise this has nothing to do with Windows Phone maps. Nokia's own front end software on cars is written using Qt.

Microsoft should just scrap the whole MySync thing it has in ford vehicles and go with Nokia with HERE Maps and a windows 8 touch screen interface using tiles.

"...positive impact on the world." Yes, for the first world, a little, maybe. People dying of diahrea elsewhere won't be helped much by this. Let's keep this in perspective.

You are being a little nitpicky,, don't you think....

When I saw "closed" in the headline, I thought that deal was broken :/
My poor English

Old news. WPC is pretty slow nowadays

No, WPC may have known about it first❗... WPC makes sure they report information as accurately as possible, and waits to get the full story... Phone Arena isn't the most trusted name in WP news.. You must understand this❗

I have no idea why that matters anyway. So what if they were 20 minutes behind some other idiot on the internet reporting the same thing? Don't read this site if it really bothers you.

Image: Km/h speedometer, GPS to NY. Must be Canadian, lmao.

There is a reason why Mercedes is on board. This is because they are usually the most innovative in the industry. Once they come out with something related to tech, usually other automakers follow. This is a huge deal.

Yeah, Mercedes, and Cadillac, seem to be some of the biggest innovators in passenger vehicles... Those magnetorheological shocks, that Ferrari uses now, first appeared on a Cadillac... I'm a huge car guy.. Lol❕

Gonna buy a Benz....gonna live in that Benz...worth it.

It is very much so worth it.. I bought mine in 2005, and I've only had one problem,,, a bad alternator.. The car is actually an 02, and it's been the most reliable car I've ever had.. Everyone else says the same about their Mercedes.. Buy used, or certified used, and you will save a bunch.. $25k can get you a very nice car.. Nevertheless, any car equipped with this new Here technology is going to cost mucho, mucho $$$$..... My next one will be very, very nice my friend....

Since everyone here seems to recognize only Mercedes-Benz, here's a pointer: Magneti Marelli is the main supplier to Fiat, which owns Alfa-Romeo, Lancia, Ferrari, Maserati, Chrysler, Dodge, Jeep and SRT. It also supplies PSA (Peugeot Citroen). So there is a lot more car brands which may get Nokia navigation even though they are not signatories of this particular contract.

Thanks to Rudy Hyun and is awesome Wikipedia app.... Lol❕❕

Now if they could get Mercedes-Benz to release a WP app for the car, I would be happy.

I have the navteq maps/gps in my pioneer AVIC Z140's these are great maps.

Very sweet. Love the HERE apps. Love Mercedes. If HERE is integrated into Mercs, it could really boost Windows Phone

Which Car would that be on the picture?

It's an Audi for some reason. My guess would be either A4 or A5. Why there's a picture of an Audi in a story that never mentions it, i don't know.

Window phone should jump in on that with Xbox for music

Continental manufactures the RNS head units for VW. Seeing as though VW plans on making huge sales gain in the US, this pretty awesome news.

Hey Nokia......Target Toyota And Hyundai,Currently The Largest Car Manufacturers By Sales.

Just remember if Toyota doesn't honor your terms, hit the brakes Lord knows they can't, ;-)

I hope they make an aftermarket unit that is compatible... I have 3 cars with bluetooth non of which my phone can connect too.. Faulty phone or different bluetooth versions i donno but it suck

What about a partenrship with (pioneer, jvc...) for just car stereos? :P

Gm, Toyota, vw, and Hyundai, ford, Honda, Nissan would be the top dog.

Hardly impressed with the deal. Although mercedes makes some sense (as I'm not only thinking about the big models, but mercedes also makes cars like the vans and the baby benz) there are far better deals they could have made to encompass a larger audience. I don't know about other readers, but I am a windows phone owner and I, like many of my friends also do not fall under the category of car owners mentioned in this nokia deal. Which car do you own? (me toyota aygo).

Well, http://press.nokia.com/2013/01/31/here-platform-from-nokia-powers-toyota-motor-europes-next-generation-of-navigation-and-infotainment-systems/ says they have a deal with Toyota, only for Europe, Russia and the Middle East though.
Windows Central Newsletter
Thank you for signing up to Windows Central. You will receive a verification email shortly.
There was a problem. Please refresh the page and try again.