Nokia details upcoming Creative Studio 6.0 mods to make your photos even better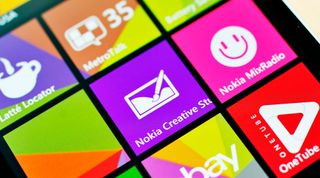 Imaging is a pretty big deal on Windows Phone, especially on the Lumia line which features some of the best cameras around. Nokia's Creative Studio suite has some really great photo editing options, filters and fun things like color-pop to make the most of your camera.
Now, the imaging team is detailing the changes in 6.0 of the app, which is due to launch with the Lumia 930 in the coming weeks. That app will also be released for all Lumia owners to leverage the new options.
Let's see what's new.
Over on the Conversations blog, we get a sneak peek at 6.0 of the app, including some a redesigned UI and some new functionality, including:
Creative Studio 6.0
Dual-capture support to handle those large format images from the Lumia 1020, 1520 and Icon/930, enabling reframing within the app
Redesigned UI that loads your photos, then gives you editing options via a new sidebar (previous version launched you directly into filters)
10 high quality filters, including Vivid, Warm Caress, Warm Horizon, Retro Fade, Retro Cool, B&W Fade, B&W Strong, B&W Antique, Pure, Nightlife
Auto fix feature
Enhance module with adjust brightness, shadows, clarity, vibrancy and color tone
Non-destructive editing (always preserves original image)
Enhanced blur functionality with circular blur and freehand blur
Color pop removed, but coming back in Creative Studio 6.1
Red eye removal feature coming in Creative Studio 6.1
Creative Studio is one of those apps from Nokia, which started off as just 'ok' to becoming one of our go-to editing apps. The ability to directly reframe and the new UI design sounds like really good additions to make work flow easier on newer Lumia hardware. The revamp of the filters and adding of auto-fix are also welcomed.
Needless to say, we can't wait to get out hands on it. It's not clear if the Lumia Cyan firmware update will be required to use this, though if we had to guess, the answer would be yes. We'll just have to wait and see.
Don't have Creative Studio yet on your Lumia? Grab version 5.5 here in the Nokia Collection.
Source: Conversations
Windows Central Newsletter
Get the best of Windows Central in in your inbox, every day!
Daniel Rubino is the Editor-in-chief of Windows Central, head reviewer, podcast co-host, and analyst. He has been covering Microsoft since 2007 when this site was called WMExperts (and later Windows Phone Central). His interests include Windows, laptops, next-gen computing, and for some reason, watches. Before all this tech stuff, he worked on a Ph.D. in linguistics, watched people sleep (for medical purposes!), and ran the projectors at movie theaters because it was fun.
I wish they would bring the facial distortion part of it back, that I used with my old Lumia 800. Why the hell did they remove that?? It was really good.

One of my favourite app from Nokia..

Colour pop I one of my favourite features. I hope I won't have to wait long for them to re-add it.
I also hope that you don't have to keep swiping over after each edit.

I don't understand the removing and adding it back thing. Doesn't it seem like it would be more work to remove a perfectly functional piece of the puzzle only to add it back later? Same thing relates to all the hubs in 8.1. How do you take things away in an update that worked perfectly fine in the first place? I just need to know.

I agree, I would also like to know the logic behind this.

It depends on how much the code changed between versions. If they rewrote it from scratch like Microsoft did between WP7 and WP8, they can't keep using the old version in the new version. Speaking from experience, writing software can be a lot more difficult than you think.

They wanna make it look more like Android and Iphone so people wont get scared of moving to WP. It sux!

Color pop is the main reason I use this.

Use the "colorize" option in Fantasia Painter for now. It gives you more control anyway.

Yea nice pics form this app

I can't wait to get it on my 1020. Hopefully next month.

I think its silly how many camera apps they have. Why don't they just wrap them all together in one app?

Noooo! I can't life for a day without colour pop :(

photo flip is still missing....?

Colour pop removed? Noooooo! Quick, update the app to 6.1!

I'll probably hold off till v6.1 then. Can't sacrifice Colour Pop, its really cool to have it in a phone editing app.

This one is one of the best apps in Lumia Windows Phone, even though I am a diappointed WP user. Sorry to say that.

Wats the reason of disappointment with WP express here? We may help u

Sorry My friend, even Microsoft could not help us in almost 2 years. BTW Thanks a lot. The thing is that: people say- it takes time, wp ecosystem is growing, wait for more features and apps....and blah blah blah..... Until I wait the other ecosystems would have grown much bigger and better....why should I wait? I am just a damn consumer. I love Nokia and Microsoft. But why should I be the third grade mobile user. Why not of the same level in terms of quality and apps? WHY??

Because MS had to make a decision. Let it die a slow death, watching their fan base rage quit, or throw time money and company resources at it and see what sticks.

With respect to the level of apps we still are behind other operating systems. If u are tired updates of third party apps Microsoft has its own native apps that ate very good. Even Microsoft one of the talented developers Rudy Huyn who is working with apps which are better than offcial ones.

Where were you when Android and iOS had to grow their ecosystems? They didn't start out where they are today. If you don't want to wait for the WP ecosystem to mature, buy a device in another ecosystem that suits your needs just don't act like it is a WP issue. How is WP going to have the same lever in terms of quality and apps when it didn't start at the same time? It took YEARS for Android and iOS to get where they are today and they had to catch up to Symbian and they were third grade OSes during that time. iOS couldn't copy and paste or send a MMS and didn't have a App Store and Android couldn't even record video, was missing a lot of Bluetooth support and had limity availablity and OEM support just to name a few. I hope you find a device/OS that doesn't disappoint you as it is not good to live with disappoinments, no matter how small they may seem to others.

Yeah bro still our eco system is growing at a decent pace. Now when I look at our windows phone store I feel great. Even my friends feel great except my dad who is also a WP user. I told my dad don't blame the growing os u buy another phone of your choice.

@Deaconclgi well put, most people have forgotten this and seem to think IOS and Android automagically came to the level where they are now - in terms of features and apps.

Windows Phone is the fastest growing mobile OS in the world right now, no matter how small its current market share is, what amount of apps it lacks and yes, where it stands in the crowd. It's all a matter of time my friend. Have patience. Like the other guy (Deaconclgi) said above, Android had its bad days too. And trust me those bad days were much much worse than what we see today in WP. Android lagged ever since it was built. Fact is, only the high-end Android devices function properly to some extent. If you ever think to go Android, be ready for a handsome budget. While even a low end WP (like Lumia 520) has no lag / crash issue. It'd be better if you could highlight the problems you're facing in Windows Phone because when I use WP, I've much less pain than when I use my Android. Personally speaking, I find all my apps, official ones or thrid party ones (And many a times I find the 3rd party ones better) in WP store that I use in my Xperia C (Android 4.4, rooted).


Wait one year from now.... WP8.1 has the APIs to compete now, believe me :) !!!

Wait till year end to see the magic

I use this a lot an excellent app, more features for my 1020 the better

Like the new additions, specially that now we don't have to slide many times to get back to edit things when you already edited something! By the way, I miss a "skin imperfections" fix feature. Camera360 has that built in and I love.

Yeah ...this is called an update, one of my favourite app.. Cheers !!

Took me a while to start using CS after buying a Nokia. I'm a follower now! Looking forward to this!

I think they should concentrate on how to make WP8.1 more reliable, I just dropped my 1520 for Sony android phone which I don't like. I need more updates to improve the OS especially the scroll/tap problem.

I'm puzzled by the loss of color pop, but I'm glad it will return. Red eye removal is the bigger loss for me. Hopefully 6.1 will be a quick update.

Nokia plz change the camera algorithm processing software. Amber and black update has messed up

That home screen is so colorful. Damn!

Oh NO!!! They removed color pop!!!! My best friend of 20 years uses Color Pop all the time and is one of her favorite photographic features with her 1020. I hope 6.1 comes out quickly. I can see her text to me now "What happened to Color Pop!!!!!"

u can use many other apps for color pop, try Colorify

Thank you for the suggestion.

Or tell her not to update till 6.1 problem solved. ;)

Can i use a stylus for my phone , because at times editing an small area in a photo becomes difficult with fingers

"In the coming weeks". We know what that means.

Fantasia painter still the king of photo editors in my opinion.

I stopped using it when they removed "flawless features" filter. are they bringing that back?

"Non-destructive editing" - Yay!

I wish creative studio gets absorbed by Nokia camera app,and not as a lens. Imagine having the option to adjust settings prior to taking shots then if you are not satisfied with the result a quick edit can be done with these creative studio functionality. Same thing should be done with all nokia lenses like refocus everything should be absorbed in One powerful Nokia Camera app. I dont want the need to launch specific app to perform a task, like thinking first if you need refocus, cinemagraph or panorama etc. All this apps needs to be one when lumia 1030 is ready.

Wheres The swype bases UI? Windows Phone apps are getting worst every day. I miss WP7...

What happened to the sketch mode, did it get removed or moved?

I use Nokia camera beta instead of the default camera. Nokia rocks! Just no other phone can beats it's camera and hardware!

where can I get that background wallpaper which is on that phone in thumbnail?

So excited, can't wait to see what I can do with my new 1520!

horrible update - its a completely new app and i want old functions back

I want the old app back. 6.0 is useless wthout color pop. Color pop is what made creative studio so good. All the features in 6.0 can be done with any other photo editing tool much better. Does anyone know a wy to revert to previous version.

Does anyone know where to find the 5.5 XAP? I dont want this new piece of shit!

I preferred the previous filters much more, why didn't they just add more rather than removing the other ones. To be honet, if i could revert back to the old version i would, is there anyway of doing this?

The previous IU was also much better, congrates on the downgrade.

Horrible update, lost functions (red eye) and is not longer special. Shame to MS to offer this cabbage. It was very nice before the update.
Windows Central Newsletter
Thank you for signing up to Windows Central. You will receive a verification email shortly.
There was a problem. Please refresh the page and try again.