Nokia highlights unofficial Game of Thrones apps for Windows Phone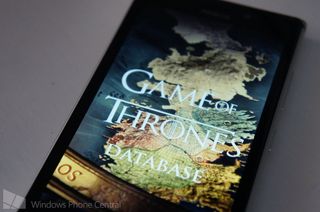 There are many fans who actively follow the Game of Thrones series and with the finale of season three already being broadcast, those who wish to stay within the fantasy realm can do so with their Windows Phone. Nokia has highlighted numerous unofficial apps on its blog that are already available on the Windows Phone Store.
The apps selected by the company range from Game of Thrones DB to Game of Thrones Trivia, each sporting unique functionality. Here's the full list of what's available for you Game of Throne heads:
We'll not repeat what has been printed in this rather detailed article, so be sure to check out more details over on the Nokia Conversations Blog, but we have all the download links and QR codes for you all to check them all out. As well as the above list, there's also the Game of Thrones soundtrack, available on Nokia music. Perfect for streaming music from favourite scenes while on the go.
Source: Nokia
Rich Edmonds is Senior Editor of PC hardware at Windows Central, covering everything related to PC components and NAS. He's been involved in technology for more than a decade and knows a thing or two about the magic inside a PC chassis. You can follow him over on Twitter at @RichEdmonds.
You know nothing john snow.

In the name of Robert of the house Baratheon, the first of his name , lord of the seven kingdoms, and the protector of the realm, eddard of the house stark, lord of winterfell and warden of the north, sentences you to death.

Its a show on HBO. I didn't start watching until a month ago. Don't worry you aren't missing anything great. The show has its moments but that's it.

Iunno what you're saying but those moments are pretty darn badass as well as a very well plotted story that gets you attached to every character. It's great!

Obviously you haven't seen all the episodes since the beginning. If you just jump in, its not gonna make alot of sense.

It's an amazing book series adapted into an amazing show on HBO.

Are you kidding? Other than being the best show ever created for TV, yea its ok.

hodor, hodor hodor!!! hodor?!

I just hope they won't rise only in 2016 or God knows when...:P

But the flame burns them all away.

Kind of pointless without downloadable episodes, or streaming (via HBO).

Yeah, HBOgo for WP please!!!

Maybe it is a Nokia tease of HBO coming after long draught summer ;)

Yes please .... Hbogo is needed

For the night is dark, and full of terrors

I've been using Game of Thrones DB since the days of WP7 and its by far the best one.

I'm the developer of Game of Thrones DB, thanks you for your message :) I'm glad that people enjoy my application !

Someone convince me to watch this show. Compare shows to it. What is it like? Always hear about it.

Don't watch the shows... Read the books. If you like dark fantasy they are really good, well at least the first three are.

I didn't believe this until I started reading the first book. I am almost done with the first book, and am enjoying it far more than the show, which is saying a lot because I love the show.

if you liked the first book, wait till you get deeper into the series, it's pretty awesome

I have the second book on my Kindle all ready to go for when I finish the first!

If you don't like dark fantasy, read them anyway. I typically stay away from the genre but these are just spectacular. It's better described as political intrigue and warfare novel that just happens to be set in a universe with dragons.

it's like a mix of survivor and the bachelor with some desperate housewives sprinkled on top

Replace the bachelor with temptation island.

ha!
also throw in Entourage

Books have ruined the show for me (which I liked) because they are all (including 4&5) excellent...just become a little plodding in 4. The show is like The Wire. Drug dealers are house Stark, Lannisters are the cops, Westeros is Baltimore, the docks in Baltimore are King's Landing, etc.

Be the life of any party. Actually, be able to participate in those GoT conversations that occur at every party by watching the show. Actually, it is quite fantastic.. Political intrigue, backstabbing, sex, multiple stories that span continents, prophecies, dragons.. Its pretty much the most ambitious show ever for TV and the show runners who are fans of the book have done an excellent job for the small screen.

This question may be better answered by asking you what shows are you currently watching? Also, what are some top shows you like then we can compare in your context.

Breaking bad, Dexter, walking dead, main ones that come to mind.

Winter came!!!! Praise R'hllor!!!!

You're mixing your religions. The Stranger for you.

The northerners will never forget

A Lanister always pays his debts.
Windows Central Newsletter
Thank you for signing up to Windows Central. You will receive a verification email shortly.
There was a problem. Please refresh the page and try again.