Nokia hires orchestra for mobile phone ringtones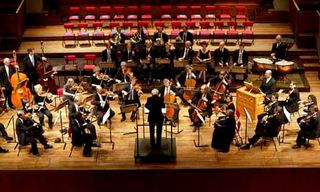 Nokia has used the Bratislava Symphony Orchestra to produce a number of classical numbers that are being used as ringtones on Nokia hardware. The manufacturer decided to use the orchestra due to classical ringtones proving to be popular among users when configuring their handsets. The pieces were composed by in-house sound designers, before being recorded with 55 members of the orchestra.
Some of the recordings are already available on the Lumia 920 and Lumia 820 Windows Phones on the Nokia Conversations website. Aleksi Eeben, a sound designer at Nokia, had the following to say on the project:
Epic Sound was contracted by Nokia to help with the creation of sounds. Asbjoern Andersen, from the recording company, noted the following:
Nokia is taking things seriously when it comes to Windows Phone, which is welcomed by consumers who have chosen Microsoft's mobile platform. To have Nokia's experience and known quality controls ensures that everything is as good as can be when hardware eventually reaches market.
As well as HERE and other location-based services, Nokia is also investing in marketing and how Windows Phones sound with additions like charge disconnection.
Source: Nokia Conversations; via: The Telegraph
Rich Edmonds is Senior Editor of PC hardware at Windows Central, covering everything related to PC components and NAS. He's been involved in technology for more than a decade and knows a thing or two about the magic inside a PC chassis. You can follow him over on Twitter at @RichEdmonds.
I like them. You can find a few MP3 files on the Official Nokia "Conversations". A couple were pre-loaded on my 920, too.

My bad. It's the "source" listed above, but here ya go:http://conversations.nokia.com/2012/11/09/new-string-tones-for-the-new-lumia/
Go to the bottom and they have a few of the tracks in MP3 format. You can save 'em and use 'em now. :)

This just makes me mad, if they care about so little things like ring tones, why aren't they shipping all 920 to all US carriers?? This to me is wasting money rather than making money. Too bad i bought the red 8x, could've been red lumia 920 on verizon.

Huh?
They are shipping globally everywhere. Also they are shipping for China Mobile that has 650 subs, HTC hasn't got a phone for them and China is easily the world largest smartphone market as well.

We are talking about one country only here.

yes they are shipping globally, but it's not availalbe in all major carriers across the countries. Canada has only one carrier with just one color, black. US has only one carrier with more color. Get my point?

I guess you're an American.

This site is an American site, .com? lol

Nokia has always invested a lot of cash into ringtones for their phones in the past, so this is nothing surprising. Their flagship models had exclusive tones from famous artists in the past. Thinking of 8800 and others.

I still think their remix contest was the best idea, I still have it as my ringtone.

Thats why nokia is best....they care every thing software hardware nd even little things like ringtone!! This make me a die heart fan of nokia... <3

me too...... i'm a nokia die hard fan too....... :-P

Now that's something else than the shit Apple is feeding us with (especially the horrible Marimba or Xylophone ringtones)

I always wondered if my ringtones on my Lumia 920 was a real orchestra or not. I guess that solves that mystery, and that's so cool that it's a real live orchestra instead of synthesized sounds.

I have the T.E.E.D. (Garden) song as my ringtone. My coleagues can't stop moving everytime my phone rings.

i want link....... i'm a nokia die hard fan.........

Here are the links to the actual song and the instrumental (for making ringtones):
http://www.youtube.com/watch?v=KD1NTfTF21I
http://www.youtube.com/watch?v=Km5S2njyYXg (instrumental)

It's nice to know there's more to Nokia than the likes of dedmau5.

I am waiting for the whining to start how this is not available on other Windows phones, 3 2 1 go.
Thanks Nokia for giving us lots of extra goodies. This is why I stick by your brand.

I really don't think that argument would extend to ringtones. These are Nokia phones. I can understand why someone would have that argument in regards to 3rd party apps.

You'd be surprised. I've seen that argument used against Nokia's Welcome Home app and City Lens and Drive+. I haven't checked the thread for the new photo beaming to other screens app, but I'm sure it's there too. Heck, right now, the MP3s for some of these are available for download from the Nokia Conversations blog so anyone could use those.

I'm currently rocking the original Nokia Tune on my Lumia 920. And I'm not talking about the Piano version. I'm talking about the original midi heard back in the olden times.

I loaded that on my N8; and I just bought a new Lumia 900 and I am going to load it on this too! Love it!

Nokia has always doing their best for consumers.

Boy I wish they had the 920 for Verizon... I loved my old Nokia phones and would love to go back to them, but I'm not diggin the 822.
It's nice to see this level of attention to detail in a phone!

I've always loved Nokia ringtones :) They have the best preloaded selection out of all the phones I've used so far.

The article talked abt the 920 and the 820 receiving these ringtones. Any love for the 810?

all of their ringtones are stupid! you can barely hear them?

Perhaps you are hard of hearing. I find the Nokia ringtones to be quite audible in most situations.

I had an old Nokia maybe 10 years ago that I could compose my own ring tones on the phone. It was a lot of fun! I managed to program the chorus of the Beach Boys "Wouldn't It Be Nice". Nokia rules! (although I also like HTC and LG).

While this is REALLY cool, I can't help but feel like this is a giant waste of money. I mean who really buys their phones based on the quality of the preloaded ringtones? To make matters worse, I am sure all of these will be available as downloadable ringtones in due time, so really, what does Nokia gain by sinking money into something like this?

Customer loyalty. Some customers appreciate when a company goes the extra mile to give them nifty extras like this.

These "little" things is what makes a brand stand out.

I like orchestra ring tones :)

wow old news?! this was posted on other sites few weeks ago -.-
Windows Central Newsletter
Get the best of Windows Central in in your inbox, every day!
Thank you for signing up to Windows Central. You will receive a verification email shortly.
There was a problem. Please refresh the page and try again.