Nokia hooks up with Good Technology for Secure Enterprise Messaging on Windows Phone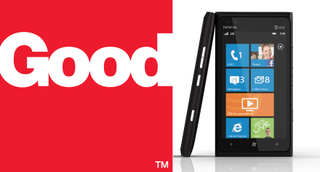 We don't recall seeing this at the insanity that was Mobile World Congress, but evidently on February 27th, Good Technology, who focuses on enterprise and security (and who used to be owned by Motorola) announced a partnership with Nokia to bring their "FIPS-certified 192 bit AES encryption and end-to-end mobile messaging" service to Lumia Windows Phones.
The service is set to roll out in Q2 2012, which means we should see this very soon. The press release goes on to detail the features coming to the Windows Phone app, which by the sounds of it will be only available in the Nokia Collection through the Marketplace:
A big gap in Windows Phone services is actually in enterprise, specifically the lack of encryption on the device or secure, non-Exchange based messaging. Unfortunately, while many in IT departments want more advanced features on current Windows Phones, there seems to be no plans for an "enterprise update" for Windows Phone 7. Instead, Microsoft is putting off a major refocusing on this area till Windows Phone 8, expected in late 2012 (rollout early 2013) including 128-bit native BitLocker data encryption.
While Windows Phone 8 looks promising, this partnership with Nokia for the Lumia 710, 800 and 900 devices will offer a nice stop-gap for mid 2012 and another reason to "go Nokia". Combined with AT&T's recent secure-messaging software for Windows Phones, Lumia 900 owners will have no less than three enterprise-focused messaging solutions: AT&T's, Good Technology and of course Exchange. We think that's a pretty killer combo for IT departments.
Read the full press release after the break...Thanks, bilzkh, for the tip!
Good Technology and Nokia to Deliver Secure Enterprise Messaging on Lumia Smartphones
Good for Enterprise Brings Secure Email and Business Applications to Lumia 800, Lumia 710 and Lumia 900
Sunnyvale, CA — Febuary 27, 2012 — Good Technology, the leading provider of secure, managed enterprise mobility for a range of mobile devices, today announced the use of the Good for Enterprise™ solution on Lumia devices. Lumia devices running the Windows Phone 7.5 "Mango" operating system will interoperate with Good's FIPS-certified 192 bit AES encryption and end-to-end mobile messaging, to provide business customers with secure access to corporate data using Good for Enterprise.
"At Good Technology we're committed to enabling secure delivery of business applications to a broad range of devices because enterprise mobility is becoming more varied, particularly with so many new consumer devices and the move towards the 'Bring Your Own Device' model within the enterprise," said Susan Vinci-Lucero, Senior Vice President of Marketing, Good Technology. "We're excited to partner with Nokia, the world's number one maker of mobile phones, to expand the reach of our mobile security platform to include Windows Phone-based mobile devices and enable our customers with even more choice."
Leveraging the Good for Enterprise solution, enterprises will be able to support employee use of Lumia smartphones with the confidence in knowing that corporate data will be secure—making it a win-win scenario for both IT leaders and information workers. Employees will be able to access corporate email, contacts, and calendars through the Good for Enterprise application on their Nokia Windows Phone smartphones—just as they access Microsoft Outlook® or Lotus Notes® on desktop computers at the office—using the intuitive user interface with panorama and pivot views with which they are already be familiar. IT managers will be able to protect corporate data with data encryption and easy-to-apply policies, such as requiring passwords and preventing 'cut/copy/paste' capabilities from the Good for Enterprise app. They will also be able to establish role-based policies using web-based management tools and perform remote wipe of enterprise information only, leaving music, photos, and other personal data present elsewhere on an employee's mobile device intact in the event the mobile device is compromised, lost or stolen.
"The consumerization of IT shows that when it comes to enterprise mobility, the decision is increasingly resting in the consumer's hands. Customers like the design and features of our phones and we know they want to use them both in their personal and professional lives," said Purnima Kochikar, VP Business Mobility, Nokia. "We also understand that when it comes to protecting corporate information, end-to-end security is fundamental. We're thrilled to be working with a mobile security leader like Good Technology to help optimize the Lumia range for business use."
The Good for Enterprise solution, leveraging the Windows Phone 7.5 "Mango" operating system on Lumia devices, is targeted for commercial availability in early Q2 2012. Nokia and Good will show the solution at Mobile World Congress in Barcelona in the Nokia Booth from February 27th to March 1st 2012.
About Good Technology
Good Technology combines award-winning enterprise-grade mobile security and control with an exceptional user experience, allowing enterprise and government employees to connect, communicate, and collaborate on iPads™, iPhones®, Android™, Windows Phone and other leading smartphone platforms. Good opens new possibilities for maximizing business and personal productivity by providing secure, easy-to-use, and instant mobile access to email, collaboration, application, document editing and device management capabilities on iOS and Android devices. Good also enables secure mobile application and secure, custom social media platform development. Discover more at www.good.com.
Source: Good Technology; PDF Data Sheet
Daniel Rubino is the Executive Editor of Windows Central, head reviewer, podcast co-host, and analyst. He has been covering Microsoft here since 2007, back when this site was called WMExperts (and later Windows Phone Central). His interests include Windows, Microsoft Surface, laptops, next-gen computing, and arguing with people on the internet.
I remember this announcement as being a partnership between Good and Microsoft also, not just Good and Nokia. This press release says the app will be available to all WP 7.5 devices. Perhaps Nokia is giving it to customers gratis and all others will have to pay? The press release isn't really clear on that. Good also has products for Android, so this isn't an exclusive for WP, but definitely puts them on the map for enterprise messaging. I thought I remember reading also that MS will be incorporating some Good technology into WP8 as a result of this partnership. Very exciting stuff for us business guys! http://good.com/news/press-releases/120227b.php

Is this better than Lync?

I think it's because its a cross platform, my company uses Good so it will be nice to have so I won't need 2 phones.

Its the remote management of the device thats needed the most for the enterprise. Depends how much of that this brings to the table, its says you can remote wipe & apply policies which goes part of the way, but will it let a helpdesk take control etc, probably not?

Fuck AT$T why so much allegiance to them on this site?

The Good Enterprise app will probably be available to all WP handsets, but it's a little interesting to note how strongly Nokia is pushing the platform. Sadly, in the absence of native encryption this might only be a partial solution, it gives enterprise messaging to those whose IT departments use Good. It's a major flaw in WP to not have hardware encryption like the iPhone, it was no less of a consumer oriented product yet it still had it it. Who knows, maybe Nokia earned the right to do something about it directly?

There is native encryption, it just needs to be used.
http://www.windowsecurity.com/articles/Windows-Phone-7-Security-Implicat...
Also, sandboxing and isolation is pretty well implemented in WP7.
One point missed is the absence of a key management system.
Not a big deal at the moment.
Good and other applications break a lot of things that you are already used to on a smartphone (Notifications, integration with other services, addressbook sync, cannot attach pictures e.g. made from a flipchart to a mail, you need to enter 2 PINs(!!) to see your next appointment and so on)
I think the drawbacks are far bigger than the theoretical data/identity theft, that can be achieved by social engineering far easier.

I think this may of been a issue a while back but to be honest they are losing or lost the battle for the smartdevice in most offices already.
Some organisations are always going to need the kind of features that a Blackberry server offered others are going to have to get smarter with policies and users in general.
Currently I can control mine and others mobiles via Exchange 2010 and apply policies and with Lync I can IM securely.

I really hope this will be available for all windows phones...starting to feel like I'm getting the shaft for buying a titan back in December

Seriously people. What did you expect from HTC or Samsung. They are focued on Android. For Nokia Windows Phone is all they got, so they will do everything to get the best apps. They are not fighting other Windows Phone OEM's. They are fighting iOS and Android so they need the best stuff.


Doesn't work with WP8 anymore!!!! Apparently is the resolution issue. Doesn't support anything other than 480x800. :(
Windows Central Newsletter
Get the best of Windows Central in in your inbox, every day!
Thank you for signing up to Windows Central. You will receive a verification email shortly.
There was a problem. Please refresh the page and try again.