Nokia Lumia 1020 featured in AT&T's latest advertisement [Update]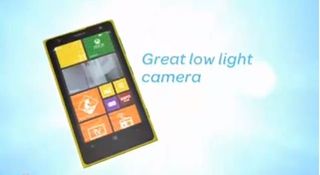 While the official announcement on the new AT&T Nokia Lumia 1020 is within reach, the Windows Phone has now been confirmed through a commercial spot for AT&T.
We've spotted this video from AT&T highlight many of the Lumia 1020's photographic features. The twenty-six second spot doesn't reveal much but does make us wish the Nokia event would hurry up and get here.
Remember, the Nokia Zoom Re-Invented event is this morning at 11am EST. We'll be there Live Blogging all the details on the Lumia 1020 and anything else Nokia has to share.
Update: Looks like the videos have been pulled. Didn't take them long!
Update 2: Found another copy floating around via Endgadget. (opens in new tab)
Source: Youtube (opens in new tab); Thanks, Alex, for the tip!
Windows Central Newsletter
Get the best of Windows Central in your inbox, every day!
George is the Reviews Editor at Windows Central, concentrating on Windows 10 PC and Mobile apps. He's been a supporter of the platform since the days of Windows CE and uses his current Windows 10 Mobile phone daily to keep up with life and enjoy a game during down time.
I find it crazy that these companies can't seem to get their act together on controlling embargoes. The press event hasn't even happened yet - really AT&T?

It is just foolish.. Now the excitement is over :(.. AT&T is ALWAYS ruining things.. UGH!!! Oh by the way is already in some of the pages at ATT.COM not on the devices one (hence we don't know the price yet)

Did anyone expect anything different from ATT? I'm on their network and expect them to kill the hype for any phone outside of the iphone. I'm sure many of you have gone to their website; what's the first phone listed on their site??? IPHONE!
When you check your upgrade elgibility, what's the only phone the show you're qualified to get at discounted pricing??? IPHONE!
If you call in the check your elgibility, what's the first and only phone the sales person offers you unless you specify a different unit??? IPHONE!
These are facts, so please don't act surprised.


everyone is excited to reveal this phone. and they are trying to resist in revealing it too early.
if i were in nokia. i would act like that

Bunch of whiny ass bishes,smh

The thing that makes me happiest is that at&t minimized their branding a bit on the phone leaving just the icon. Good relationship signs maybe? EDIT: Private video? Too late. The hump doesn't seem as big as I thought it would be which is good. Just have to see it during the announcement. Definitely seemed thinner than the 920.

Jeez, I hope they price it like they did with the 920!

Two more commercials
http://www.youtube.com/watch?v=hcIDhxT0ZI4
http://www.youtube.com/watch?v=KtMM8Iao1p4
Edit: These have gone private too.

Didn't take long before it was taken down. Video is now private

Didn't take long before it was taken down. Video is now private

Anyone has downloaded one of them? I wanna see it!

http://www.engadget.com/2013/07/11/nokia-lumia-1020-confirmed/
The 3 videos are there. They did download them.

It was only 25 seconds long and had the lumia 1020 spinning, it showed the dial interface of the pro cam app, and said that it could zoom into 720p video 6X. It also said that it recorded stereo sound with extra bass (probably the same speakers as on the 928). And thats all i remember from the video, dont think there was anything else but feel free to correct me. You didnt miss much really by not seeing it

Engadget has the threee videos from AT&T and they are not playing it from YouTube so you can still see them!
http://www.engadget.com/2013/07/11/nokia-lumia-1020-confirmed/

you shouldv snatched those video

I bet Nokia monitors this site like crazy.

What's with the video links?

http://www.engadget.com/2013/07/11/nokia-lumia-1020-confirmed/
The 3 videos are there. They did download them.

Thank you linkxboy....good name btw

I got that name when I was 11 lol I mean I am boy and link was a good tech word I liked XD Plus I needed to open my firest email address (yahoo) so that was all I could come up with hahaha

Ew I just noticed the speaker grill only on one side at the bottom. I don't get why they take off all the FCC branding on the 920 and then put it back on the 1020? Also there's a little piece of the polycarbonate at the top above the earpiece that shows more than the rest. Maybe it's just the render, but it bothers me. I like that they centered the Nokia logo though. And finally, lmao at the comments. "IT ONLY RECORDS 720P??"


http://www.youtube.com/watch?v=Qr_HTya5PC0
http://www.youtube.com/watch?v=cb6Jr3acgq8
http://www.youtube.com/watch?v=X1kteEQpWeQ

http://www.youtube.com/watch?feature=player_embedded&v=PEKrhd3RnbI
Here it is on youtube.!!

Not worried about the reveal, I am worried about exclusivity, price, availability, it would be sweet if Verizon and T-mobile got a version of this phone before the holidays. Hope all you international folks can get it soon as well.

in brazil we will be getting 64gb version :) but you guys have nice phones that we don't like the lumia 928 and some androids, also, htc doesn't sell any phones in our country cause we are "tier 2 country"

I don't understand what HTC is doing, Brazil has a huge population with a lot of money, that company is so stupid I don't know what to think, glad the 64 GB 1020 will be available.

i really hope this is released internationally soon. I have been without a Windows Phone for a month now ever since i broke my lumia 920 (Nano sim adapter broke the pins of the sim reader -.-).. I sure hope expansys or even better Harvey Norman in Aus get it soon!

Full specs sheet leaked! Official Image
http://wmpoweruser.com/full-specs-sheet-of-the-nokia-lumia-1020-leak-again/

SD card slot and/or larger screen would have been reeeeeeeally nice :( Wish international providers weren't the only ones to get the 64GB option. I may be willing to wait 3-6 months to see if they come stateside...

If that is in fact the price, it warrants it (the tech/capabilities are *that* good) but it doesn't mean droves of people will buy it on Day One. It's worth it but it's still a *lot* of money.

Techiedude

Can somene help me out here? Does anyone else feel like ATT is deliberately making BS commercials for Windows Phones the don't come close to the ones they create for Apple and Android premier devices? I'm sick of it, they need to do better!!

Agree, until T-Mobile and sprint get their act together, best we can do, seriously want to see if T-Mobile 's service and network have improved.

Yeah. Is a low budget commercial with nothing but text and whistling. Nothing creative about this and doesn't tell the world this is the best camera phone in the world.

That whistling tune in the commercial are SOOO annoying and out of tune...
Don't want to ever hear it again :-\
Please change to something nice... Please...

I was thinking the exact same thing!!!!!!!!!!!!!!!
That tune would almost make me not want to buy it.

Too bad people will associate a great phone with an awful tune.

The annoying whistling is a subliminal message to tell people to buy iphone/android instead:)
A great phone with crappy commercial, very unfortunate.