Fashion magazine takes photo shoots to the next level with Lumia 1020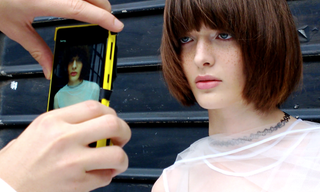 UK fashion magazine Centrefold (www.centrefoldmagazine.com) has shot its entire 10th edition on a Lumia 1020. The Windows Phone sports an impressive 41MP shooter with advanced features, enabling the magazine to produce some spectacular results – something which is not the norm when it comes to smartphones and the mobile handset industry as a whole.
It's a huge deal for Nokia, pushing the Windows Phone as the smartphone with a beast of a camera. The company has worked with Microsoft and its Windows Phone operating system to ensure users with little photography experience are able to achieve fantastic results with everything (ISO, focus, etc) handled by the system.
Work produced with the Lumia 1020 – by photographers Tung Walsh, Damon Baker and Tang Ting – is currently being displayed at a London photography exhibition this weekend. Do note that should you take a trip through published work on the magazine, there may be some NSW (not safe for work) content.
Source: The Guardian; thanks, Dan, for the tip!
Windows Central Newsletter
Get the best of Windows Central in in your inbox, every day!
Rich Edmonds was formerly a Senior Editor of PC hardware at Windows Central, covering everything related to PC components and NAS. He's been involved in technology for more than a decade and knows a thing or two about the magic inside a PC chassis. You can follow him on Twitter at @RichEdmonds.
Does anyone really care about the 1020 anymore?

Most people interested in photography?

I won't say for certainty, but it's clear to me he didn't even look at the photos. Had he, he wouldn't have posted such an obtuse statement.

Seeing as it continues to push the limits of smartphone photography: yes, many people do.

What kind of question is this?

What kind of question is this [2]?

Considering it's my main driver, yes.

Someone didn't get a 1020 for his birthday.

For the money one costs in EU (700€-965$) you could buy a pretty decent DSLR xD :) Posted via the WPC App for Android!

And you can put your DSLR in your pocket too! Oh wait! You can't!

I knew someone will come up with this, that's not the point, it just costs too much here, and if photography really matters to you.. Posted via the WPC App for Android!

It's the ultimate answer to the age-old photography adage: the best camera is the one you have with you. When does somebody NOT have their phone these days?

Use another phone maybe ;) Posted via the WPC App for Android!

Maybe the next version of this phone will do the job :) Posted via the WPC App for Android!

Great, now carry that DSLR in your pocket everyday so you're ready at anytime to take a picture.

Comment when you spend 965 dollars on this and then think if it was worth the quality and the money, and I'm sure people don't do professional pictures at random times all time long Posted via the WPC App for Android!

Don't judge me too fast, I'm actually very interested in smartphone camera tech and I want to do "What can you do with a smartphone" photography project, but I'm just saying.. Rather get new lens xD Posted via the WPC App for Android!

Obviously this phone isn't for you Slovenix and if you prefer carrying a mediocre camera on your phone then I can see why. The 1020 has a remarkable camera which can capture images in 34mp DNG and last time I checked no other phone does that. (before anyone says anything... The 1520 also has an awesome camera but we're talking about the 1020)

I just use DSLR instead ;) and SERIOUSLY my point was that it costs too much if you really care about picture quality you would think twice where you would put your money in. Posted via the WPC App for Android!

I take photos with my friends, family & workers all the time and my phone is normally the first one they pick because of the quality. I like going back to my photos and seeing awesome images produced. Frequently people ask "what kinda phone is that?" Others confuse it with a DLSR when it has the camera grip on.
Says a lot about the quality of this phone. No need for DLSR when I have my 1020 with me.

Alright I'm happy to hear that, maybe I just have too much quality expectations as my main work is photography Posted via the WPC App for Android!

I would still like to use one (maybe next version with better specs so it can be also my main phone) :) Posted via the WPC App for Android!

Same here. 40+ mp, new hardware & 8.1
Should be fun

I do hope so :) Posted via the WPC App for Android!

I use my DSLR (Canon 60D w$1,000 lens) very much and love it but I have taken many shots from my L1020 that you would have a hard time telling the difference. An awesome phone with the absolute best camera that I daily am glad is in my pocket. You need to suck some lemons to go along with your comments because by them its obvious you never have used one so you really have no idea what you are talking about. If you truly loved photography you would know that you can't always have a DSLR at the ready and sometimes the best shot is the one you have to take quickly to truly capture the moment. I can open my camera in seconds and even adjust settings on the fly in mere moments. I would still be trying to pull my DSLR out of my bag, much less attach the lens and boot up. Love my L1020 :)

I DONT GIVE A LEMON ABOUT IT, THIS TOPIC IS DONE !! & YES I DO AGREE ABOUT RANDOM MOMENTS WHEN YOU NEED A CAMERA AT THE SAME SECOND. AND ANYWAYS IF YOU USE A DSLR IN MANUAL MODE YOU WOULD KNOW THAT IS HAS ITS BENEFITS ANY WAY OR ANOTHER, I'M SURE YOU DO, BUT JUST SAYING. AND I WASNT EVEN TALKING ABOUT THAT ->>>>>>>>>>> I JUST SAID IT COST TOO MUCH IN MY AREA, GOT IT !! <<<<<<<<<<<<<<<<<<<---- Have a nice day :)

I have a Canon 7D and I just leave it collecting dust, unless I specifically go for a quality photo shooting session. Normal days and especially travelling I would rather compromise a bit on the quality then having a brick hanging around the neck and constantly worry it being stolen away. I can actually enjoy more.

READ POST ABOVE YOU !! I don't care & Happy to hear that.

Well it doesn't cost more than any other flagship device... So, having a high end mobile AND a decent camera isn't a bad deal after all. The point of the device is not just "it has a good camera", it also have 2GB ram, beautifull design and very enjoyable performances.

Im more into specs when it comes to mobile devices, if it had Snapdragon 801+ and Full Hd screen I would consider one, now at the time as I said I was talking about the prices in my country while I could get Samsung S5 for less (not that I want one), Lumia 1520 is 800€, and again, I was just saying in my first post. Have a nice day!

No problem mate, just felt like there was a point a view that wasn't taken in account here ;) Have a nice day too

965 dollar ? where are you from ?
it's about 550-600 euro here (Austria)

http://www.mimovrste.com/artikel/1850127630/q=lumia%201020/gsm-telefon-n... :) a sample from the store, Slovenia, under your country ;) Posted via the WPC App for Android!

that's the $700 part. where dies it cost nearly $1000€, which is the amount you like using in a few if your posts? plus the iphone cost about $800€ on this site. the S4 costs 479€. so can you buy a decent dslr for the 220€ price difference?

Man thats 700euro not dollars Posted via the WPC App for Android!

http://www.skroutz.gr/s/3626320/Nokia-Lumia-1020.html?keyphrase=lumia+1020 in Greece prices start from 418,99 E

Awesome deal, wish it was the same here :)

in india it costs less than $680. u can get xperia z1 for the same price and iphone5S and galaxy S4 are priced more than $800. http://www.flipkart.com/sony-xperia-z1/p/itmdzkh7snbzkw3j?pid=MOBDZKH6EP...

There are huge discounts and it really depends where you buy it and at what time, there are also cameras cut down from 700 to 350euros sometimes and again dollars are less than euros Posted via the WPC App for Android!

Yeah but, in lumia 1020 I can see 2 devices packed in 1, so less no. of gadgets and weight

I wouldnt say no to this phone, but other specs are yet too low for this money, if its just for the camera and if you really need it, its not really that much comparable to real a camera Posted via the WPC App for Android!

but will that dslr make phone call, get emails, run apps, etc? you will still need to buy a smartphone to carry along with that dslr. i notice you don't quote a price for an iphone or S5 in the uk. I bet they are priced the same or higher. you will also get the benefit of having your photis backed up in the cloud.

Lets just say if you already own a smartphone :) Posted via the WPC App for Android!

And iPhone man.. 900eur for 64Gb.. On contract.. S5 is like 450+.. Posted via the WPC App for Android!

But okay we got awesome free everything options for much lower price than UK\US Posted via the WPC App for Android!

Here in Finland (EU) it costs 499 € (674 $) today, the highest price was 650 €. You can't buy decent DSLR + mobile phone for that price.

Ah whatever, enjoy 1020 :) Posted via the WPC App for Android!

Comparing a phone with an DSLR is kinda dumb. You better know why.

Im not comparing it really, I was just talking about the PRICE ( in my area ) in my first comment & kinda pointing at people who wants it solely for the camera Posted via the WPC App for Android!

NOTE THAT I WAS TALKING ABOUT THE PRICE HERE AND NOT REALLY POINTING ABOUT HOW A DSLR OR WHATEVER IS BETTER & I DO SUPPORT AND WANT SMARTPHONE CAMERAS TO GET EVEN BETTER Posted via the WPC App for Android!

No, you can buy a decent DSLR BODY. You'd have to triple that budget to get the appropriate lenses for different scenarios. Now bring all of that with you everywhere.

Seriously man, this topic is done, and it wasnt even about DSLR, I was JUST SAYING, and ofc you can get one for that price that works just fine if youre already happy by a phone ah? Anyways thats not the point, I have also used "xD :)" in my comment that represents the expression Posted via the WPC App for Android!

Which DSLR company gives a smartphone free with a DSLR..!??

I have explained everything THIS TOPIC IS DONE, have a nice day!

@Slovenix
As the original poster I would like to concur that this topic is done. The 1020 is a magnificent phone with an awesome camera but can never be compared to a proper or professional DSLR. I can't stand it when some people try to put a mobile phone camera in the same league as a proper DSLR which has been going on since Nokia released the 12 MP N8.

If they did not tell you that it was taken with a phone, would you know? HONEST?

Yes, noise and dynamic range is very noticeable.

does it have the capability to make a phonecall?

Seriously, first read all comments. I was talking about the price of the phone pointing at the camera, AS THIS IS "FASHION MAGAZINE SHOOT" in my first post. Have a nice day!

Worzel Gummidge is a character in British children's fiction who originally appeared in a series of books by the novelist Barbara Euphan Todd.[1] A walking, talking scarecrow, Gummidge has a set of interchangeable turnip, mangel worzel and swede heads, each of which suit a particular occasion or endow him with a specific skill. Maybe has his turnip head on today.

@2tomtom
You are absolutely spot on there my friend. :D.

nice try... but yes i do... coz i own one... :P

I care. I care very very much. I really really do.

Why not? It's still the best camera phone in the market.

Why drag this silly comment ??

I care. Getting one soon..

UK fashion magazine Centrefold ? Couldn't be more obvious !

Yes of course, anyone even remotely interested in photography

Be careful next time, you might make someone feel offended. I, 1020 owner, is far too emotionally attached with my 1020, and care for it as if its a lil' baby. Plz don't say like that. We love our 1020 a lot.

My GF actually writes for a magazine, and sometimes she needs a photographer, but doesn't have one. She bought indeed a DSLR, and has an iPhone, but it would be beyond amazing for someone like her to have a phone capable of doubling as a DSLR. The Lumia 1020 and the 808 are the only phones I know about capable of such a feat.

I care, but I'm also patiently awaiting its successor

Only when you care to have the very best does the 1020 matter to you. If you need to ask, then you're not ready.

@NIST I have owned my 1020 since its release last year. Cheers.

Don't have to be a photographer to love the 1020.

Yeah, until nokia beat their own camera we do.

Why do android users post here, I don't get it.

@WorzelGummage...I just purchased my matte yellow 1020, off contract, last Monday, so that would be a resounding 'Yes' from me. I still haven't be able to fully explore all of the functions that the 1020 camera has to offer, but I'm enjoying the journey :)

@Residing.
I also own the lovely yellow and have loved the phone since day one. I take it with me along with the excellent camera grip accessory whenever I'm on a day out with my family for a bit of sight seeing.
If you haven't already got one then I would recommend getting a camera grip accessory for your 1020.

Sure like the loyal T-Mobile and Verizon customers who never got an official(I know we can buy unlocked) shot at the device. To have that kind of imaging quality in your pocket all the time? Uh, yeah.

To those who have compared the 1020 to owning a DSLR means that you do not understand proper photography. If someone is serious about photography then they will not be relying on a smartphone, even if that smartphone has a 41 MP sensor.
Let's face it, proper photographers will also use extra lenses and filters etc which the 1020 can't use.
I have taken many beautiful shots with my 1020 but have been limited to what sort of picture I can take due to the lack of interchangeable lenses and filters.
Cheers people for your input.

Lol right like the 1020s not a masterfully crafted piece of hardware that still leads the pack.
I want on so much more now that I have gotten into snapping!
I love my 920 but damn!

You obtuse piece of flotsam! Did you see the photos?
Of course there are people still interested in the 1020. The photos were taken by professional photographers who use high end cameras for a living. Now they have something VERY portable and multifaceted to use for their craft.

I obsess about It daily. Not joking.

I care. I'd like to own one.

Great for Nokia! The 1020 never ceases to amaze me! Can't wait to see the next ten model! :)

Seeing a lot of 1020 love at the moment, I would love to pick one up, but can't justify spending the cash just 6 months before the end of my current contract. Really hoping the release an updated version around September time.

Yeah, still on my 920 and ooc. Shame I didn't pick up the 1020 when it came out, now I'll wait for its successor. Should that not be out with the first wave of 8.1 devices I'll get the 929, I guess.

1020 with improved camera, 4k footage, quad core, more storage, microSD card slot, keeping Glace, navigation bar, keep camera button, 1080p 5 inch screen, improved front camera, and much more. :)

You sir, have just described my dream phone. Hopefully the next gen 1020 will have a Snapdragon 805 processor, to make all of those specs possible. :)

They'd have to add built-in Qi for me, as that's a feature on my 920 I can no longer live without.

I would buy a phone like that in a snap. For now, proud owner of a 1020 (upgraded from 920).

+1020 nothing else comes close.

Can anyone host a fundraiser and get a 1020 for me please

1020 needs better hardware and a SD card slot I love WP but I would never buy the 1020 in its current state! With a better screen (5inch), better design, bigger battery, SD card slot etc...

5" display and better battery would be perfect for me. Nokia should work on shutter-to-shutter time too, it's slow now, maybe a quad core procie will do? The design is awesome, love the camera hump, it's epic. Can't understand why people are complaining much about it. Yes the phone can't lay down flat on its back, but...you don't find the hump like this on any other phones, it's one of a kind.

Yeah that would make it way better :) Posted via the WPC App for Android!

Make it a 5"er , and design it like the Icon. The rounded edges make it the most slippery phone ever.

It just needs 1080p, quad core, and lose some bezel. That's all.

5 inch screen and microSD too.

Take away the bezel and you'll get the 5".

The biggest thing to look forward to. Available on more carriers than just at&t

Don't own thr 1020 but am always impressed with the amazing camera. I know an iPhone user who is about to buy the 1020 due to the amazing camera, so will share this with him.

I'm still considering snapping one up. I've been using my phone's video camera lately for things that would REALLY benefit from image stabilization...

Love the 1020 - i just want to see it faster and with an sd slot (raw dng shots eat up the 32 gb fast!!!) Good to see the 1020 still getting love, here and the national geographic article earlier - but i do want to see what the next pureview monster is. I don't care if it is just an Icon with the 41mb sensor shoe horned in ( with a blinking sd slot and a bigger battery) but whew i really want it lol Good job Nokia!

the term is correct. i lol at you. http://i-cdn.phonearena.com/images/reviews/114653-image/Nokia-808-PureVi...

it's 41mp. lol right back at you. mb refers to memory not the number of pixels in a camera sensor.

oh i did not notice that it was written as mb instead of mp haha

.DNG's don't belong to be in the phone storage. They should be regularly moved to your PC. Unless of course you're a heavy photographer who takes countless photos in a session, think you should use a DSLR instead.

Haha that is what I was thinking :) Posted via the WPC App for Android!

I care, still loving my 1020 from release date

Gave Nokia a extra Grand and got it a custom color, its red/black camouflage.

Be nice if Nokia try something like that. Customize your phone before ordering.

Some "interesting" photos on their website.

Waiting for updated version.. 5" 1080p and I will get one.. Don't care about SD card (if there is no 4k video). This phone + iPhone (for all apps you need) and you are unstoppable :-)))

There's actually more than as you put it - titties... You have to look at the entire collection and you'll get an eye full. :)

Can't control the aperture tho :(

Amazing device. I'm still waiting for "Video Lenses" though.

I do love my 1020 but I have been let down by it alot, autofocus is a nightmare sometimes and the picture to picture time is way too slow and the zoom is not living up to all the hype. Still its an amazing camera phone, can't wait to see it's successor. P.S ... Why the Fu%k is there so many android users commenting on Windows Phone Central lately... There is a site for people like you, go there and comment on articles about the platform you chose!

Umm... It's actually just one user, Slovenix. sometimes you just know when not to feed a comment.

There have been alot of like "slovenix" individuals that been frequenting wpc lately. Good bad I don't know but non have been negative so far. it is annoying though that they end "posted via the wpc app for android". I DONT CARE!!!!!!

I noticed that too....ADdroids jealous much lol

Man its my Nexus 7 , I do own a Windows Phone but I cant login there :) Posted via the WPC App for Android!

Its freaking automatic added text Posted via the WPC App for Android!

I thought she looks like one of those rubber sex dolls XD

Rofl lets get on that woman :D

Just hope Nokia/Microsoft has a followup...the 1020 cannot be a one and done deal!

I've been taking alot of photos 1520- amazing!!!!

Slap that camera in my 1520 please..

I could care less. You'd think it's the only Lumia Nokia make. Every tweet from them is about it. Why not push the rest of the range?

It looks like there's something on the back of the device. Is that the camera grip accessory or something else?

The BEST Camera Phone in the world right now
you can buy... Camera sales goes down coz of
mobile phones ... some fine day low end
cameras replaced by Mobile phones ,The day ll
come soon because of this phone ... 1)41 MP
Camera 2)OIS for image stabilization 3)Best camera app (Onscreen viewfinder while
updating Auto Focus/Wite Balance /Shatter
Speed) 4)First WP Phone with 2 GB RAM 5)Loss
less Zoom 6)Finally NOKIA ...first crush

I do. This is probably the only phone I'm dying to get for the last months. The only thing I would love to see, is a bigger screen and the support for 3 row tiles. If Nokia brings another beautiful phone like this with those specs, I would totally switch to Windows Phone. Forever.

As of now, the 1020 or it's successor is the phone that will replace my workhorse 920 in about six months.

I'd love this as an music player and carry around to shoot pics. Its too bad the off contract price is insane. TMobile version requires buying from Canada. Wish I could have gotten into the $100 amazon glitch

I will migrate to whichever US carrier that get the successor to this phone.

Well you can't check WP central with DSLR and you would have missed this awesome conversation. Loving my 1020 although I've had lots of battery issues lately, it dies faster than before.

I hate Canadians and other Europeans who spell center as centre. Even my American Lumia wants to correct me for using centre.
Windows Central Newsletter
Thank you for signing up to Windows Central. You will receive a verification email shortly.
There was a problem. Please refresh the page and try again.