AT&T releases hands-on video of Lumia 1520, places in-store display models to play with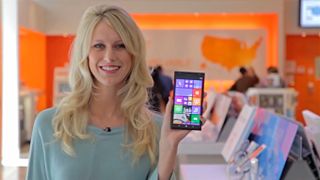 Late last night, the pre-order page went live for the Nokia Lumia 1520 on both AT&T and the Microsoft Store. Where should you order your phone? Depends on which perks you want to pick up. Either way, AT&T is already in full preparation to be the sole carrier here in the United States where you can pick up the Lumia 1520. How are they getting ready? By dropping another "Mobile Minute" video and placing demo units in stores.
Head to AT&Ts YouTube channel and you'll see a series of videos called "AT&T Mobile Minute". The videos always feature a babe going over some of the specs of the phone that AT&T is currently offering or, in the case of the Lumia 1520, plan to offer.
Who knows when this video was filmed though, because she talks about Nokia's Pro Camera, which you now just know as Nokia Camera.
We're also now getting reports of the device popping up as demo units in some AT&T stores. Jason sent us a photo of one from his local AT&T store in Waterbury, CT. The device isn't for sale just yet in store, but you can definitely place your pre-order there and at the same time get your own hands-on. Warning, this phone is ridiculously big. Also, do you notice the $50 bill credit you get when you purchase the phone?
Thinking of picking up the Lumia 1520? On AT&T it will go for $199 on a two-year contact for the 16GB version that comes in either red, yellow, white, or black. AT&T will eventually be picking up their own 32GB model. Still no word on international availability though.
Did you pre-order the Lumia 1520?
Thanks for the tip and photo Jason W!
We can play with that model? :D

Does she come in other colors? Sorry, that somehow sounds racist, I swear I'm not.

Red, White, Yellow and Black. Red is glossy, rest all are matte finish.

LOL! Someone missed something. :P

Ummm actually.... I don't think he did when you think about it..... lol

I prefer my "Models" glossy.

I'd get this phone if I was out of contract. With the expanded memory option I'm good. I used to have a wireless charger for my 920 but it shorted out never really looked back... No wireless charging/built in isn't a big deal for me.

Her long ET like hands actually make the phone long pretty normal size.

No no. Black, white, tan, etc.... Its all a flavor.

I like my 1020. Size is way too big for my taste. I wish Nokia made their devices less wide so they're comfortable to hold. Just my opinion.

Wait, "eventually picking up their own 32GB model"? There's still hope! :D

Indeed! The news came out last night http://www.wpcentral.com/nokia-lumia-1520-now-available-pre-order-att-starts-199

This is great news. I will definitely grab one when they bring out the 32GB model. Hopefully it will be cyan. :)

The one that advertised the 920 (or maybe the 1020, not sure) was much hotter. :)

It was the 1020 video. The 920 was a guy in it, lol. http://www.youtube.com/watch?v=digt4JF5-fE

Nope, both the new model and the new product are hotter. :)

The device is on display at all corporate AT&T stores and Microsoft Stores.

There will be a yellow version if you are into that, I know I am. (╬ ಠ 益ಠ)

Does she come with the model ? Lol

The screen is not explainable.

lol, something about your comment has me cracking up. Cool stuff man.

Why don't they have the large tile like Windows 8.1? It looks too cluttered.

Pre-order also up in UK at this site
http://www.unlocked-mobiles.com/sim-free-mobile-phones/nokia-lumia-1520-...

Thanks for the mention Sam. :-) I actually played with the device a bit. It's very light and sleek. Though large it's remarkably thin. It is VERY easy to handle. The screen is sharp and bright. And the camera takes great shots.

How easy is it to hit the back button with your right thumb?

That's actually a great question. I just came from the store and the Windows, back, and search keys are much closer to the middle so I found it much harder to actually hit the keys on accident as I held the phone. It really is a beautiful piece of hardware!

@disneybill...great observation. Guess it won't be a problem Nokia apparently thought of the "thumb stretch issue".:-)

@link68759 I have average sized hands and I don't recall having an issue with manipulating it. To be honest I don't remember if I tried that with one handed use.

If only this wasn't on ATT, and if only it comes in 5 or 4.5 inches.

That's the 929, coming soon on Verizon.

Woohoo, a story about WPs! ;)

I know where I'm going after work!

$50 bill credit is a better offer than $70 app gift card. I wonder if you can squeeze that bill credit if you buy at Microsoft Store and call AT&T to apply the bill credit as well.

They can keep the $50 credit: I want the standard 32gig, wireless-charging version, not the canibalized, hollow, who-knows-what-else-AT&T-removed variation. I was going to sign a new contract, now I am getting a 8" Windows tablet and forget about AT&T until the next round of new phones. Hopefully we'll see an updated Lumia 920: thinner, lighter, quad-core, 32gig +microSD, 20mpx camera, WP8.1... .... .... ....

AT&Terrible supposedly locked out the TMobile LTE band.

1080p is the most important feature. That extra real estate for web pages and emails, office documents, etc.

All the more reason to wait for the 32GB version if you are planning on using a lot of apps. The difference in app file size between iPad 2 and 3 (initially) was 2 to 4 times larger. Granted that was a 10" screen but you might see the same on a 6-incher as well...

Eh, 1080p won't do much. The web pages won't render differently (and if they did you'd be doing a lot of annoying pan and zoom before you could read anything ever). 1080p costs more CPU power, and thus more battery. There's hardly a reason at all for this mobile 1080p fad.

Does anyone have confirmation that the "order as upgrade" function on the MS store works now?

Sweet, very happy with my 920 but I will stop by my ATT store to check the 1520 out. I want a bigger screen but need to do my own pocket tests. May have to wait for a 5" model.

Isn't it supposed to come with Nokia Camera not Pro Camera

international availibity and price was announced quite long time ago already. At least for Finland. http://wpsailors.com/2013/11/01/official-nokia-suggested-prices-for-lumia-1520-730e-and-lumia-2520-680e-in-finland-announced/

Who cares it's not for T-Mobile...lol!

You know, that is a great option given how ATT ruined the 1520 (16GB, no Qi) - those 8" Win8.1 tablets look awesome! Pair one with the tethering plan on your 920 and you are set.

I was all set to get a 1520, but will skip it unless ATT includes Qi with the 32GB version. I already bought tons of Qi chargers for my 920....

Jjajaja finally touch the phone...i confirm the i can use it with one hand...wow feels really nice...i going to get it on day one

Are you playing with me or did you say that the 32 gigs is coming please say it's so let us know

Yes, 32 GB model is coming to AT&T soon. http://www.nokiapoweruser.com/2013/11/08/32-gb-version-of-lumia1520-indeed-coming-to-att-as-revealed-by-us-earlier/

Can I play with that model? I know, already said but I still wanna! So bad, and so dirty... :P

Is the $50 bill credit an in-store only offer? I saw no mention of if on AT&T's web site. Anyone know if the credit applies to existing AT&T customers or is it only for new customers? My local AT&T store doesn't have their display unit out yet, but should sometime this weekend. Can hardly wait to see the 1520 in person. I have a glossy yellow Lumia 920 which I love. I see the 1520 is matte yellow. Does the yellow look as vibrant in the matte finish?

The only way I get a 1520 is w/ 32-64 GB of internal with an sim to add 64 or even 128 GB more.

Why the freaking hell would one need more than 16 gb for a phone? I really dont get it.

Because once Nokia has all their apps loaded the windows OS you are left with probably I'm guessing here but maybe 9 to 11gb....that seems to be the norm on android but who knows..the highest I see available memory being is 12gb and with games, apps, etc it will get filled and you maybe caught which apps you wanna keep or then install/uninstall...not a big deal to me but that's why everyone is crying

I hate it when you want make a clever joke about the model in the picture and about 52 people allready made the joke.

I got to handle the 1520 in the ms store today. I'd buy on the spot if it was available for T-Mobile.

Just saw one in store. It was gorgeous. They didn't have the yellow one on display which I'm sure to buy when it comes out.

Wow wasnt gonna get pne but shes very hot so wtf yolo...lol

Great we could see the in store I want to see how it feels to hold a giant windows phone defiantly want to see the three row tiles hope they have one that you can touch the screen on display!

Hmmm going to check it out this weekend! For those who have or used the note line....how does the size compare and feel? I love taking pics and videos but with my note 2 I always felt like a dork and talking on it was worse!

Ok put some 2520 on display!!!!

Don't order the 1520 now Waite for the released date Nov, 22 it will cost you $99.99. On contract.

Did anyone else catch that one of the apps (green tile) was blurred out? Wonder what is?

I think she is about 7 feet tall. That phone is huge. Will have to stop by the store this week.

Oh is this device going to support Windows Phone 8.1 Blue?
Windows Central Newsletter
Thank you for signing up to Windows Central. You will receive a verification email shortly.
There was a problem. Please refresh the page and try again.