Nokia Lumia 1520 now available for pre-order from AT&T, starts at $199 and arrives November 22nd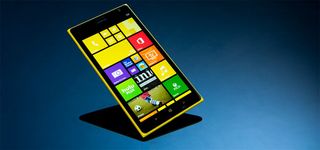 It's finally real. After a few false starts from the Microsoft Store, you can now pre-order the Nokia Lumia 1520 for AT&T here in the United States. When can you get your paws on it? The same day you're picking up your new Xbox One – November 22nd. Details below.
Yesterday, we told you guys and gals about how big the 22nd of this month will be. We've got not only the launch of the next console generation, but the Lumia 1520 and Lumia 2520 coming. While official word on when you can pre-order and pick up the Lumia 2520 is yet to be disclosed by Nokia, we are now getting official confirmation for the Lumia 1520.
AT&T customers can look forward to picking up the Lumia 1520 with 16GB for $199.99 on a two-year contract. Outright the phone will set you back $584.99.
You're getting a 1080p display on a 6-inch screen with the Lumia 1520. Inside you have a Qualcomm Snapdragon 800 quad-core processor running at 2.2 GHz to make you power through tasks. On the PureView side of things we're looking at a 20MP sensor that captures a 16MP and 5MP image at once. You can pick up the device in black, white, yellow, or red. Yes we know, we miss cyan too.
And there's a little nice surprise from AT&T. While they may still be omitting wireless charging for the Lumia 1520, they are planning on offering a 32GB version of the phone in the near future. No words on pricing or availability for that. When we learn more we'll definitely share with you guys.
Customers who purchase a Lumia 1520 will also receive $20 worth of credit to spend in the Windows Phone Store on apps and games.
Thinking of picking up the Lumia 1520? Go pre-order on AT&T's site today (opens in new tab).
Via: Nokia Conversations
Windows Central Newsletter
Get the best of Windows Central in in your inbox, every day!
I want to see the camera quality on this beast.

You will but I can tell you that it's *very* good.

That's what I want to know

Of course not. But it does destroy everything else.

Nothing, except for the 808, is on par with the 1020...

A little out of topic here, but did you notice that the phone At&t has looks different than then one microsoft store has? I asked them and they said the devices are the same. The picture MS store has looks like the international version

I would like to see Nokia release this beast in as many markets as possible this November itself. They are still taking too much time to release in many countries after the announcement. Their next flagship phone is being announced before the previous one reach many markets. Also, I hope ATT put good effort in promoting this device in US.

Here in Norway we have to wait until january 16. That's to long, but I waited for the 920 also...so I will survive :)

Why wait. Have you heard of the internet and international shipping

AT & T going to get another beast phone next month .Its really a beast see here http://tinyurl.com/k2qp3bd

Its definitely a beast .Awaiting for it eagerly

There was a hands on video from WP Central at the Nokia World and the OIS is waaay out of everyone's league! Other than that, if you already know how good the 92x series is, you can already imagine how much greater this babe is.

http://pureviewclub.com/2013/18790

Here are some great sample shots. In full res, don't doubt it, this thing takes amazing photos. http://conversations.nokia.com/2013/11/04/stephen-alvarez/

No built in wireless charging, only 16gb, no cyan, no AWS support. That is all.

This. And I was considering switching back to AT&T for this. Not with their choice in wireless charging platforms.

Wireless charging is up there on my favorite things about my Lumia 920. Bad choice by AT&T imo.

As fast as the battery dies in the 920 can you keep it up and running with just wireless charging? Maybe I'm just a power user but since wireless charging only charges at about half the power of a wired charger it didn't work for me. Only at night when I went to sleep.

Is your comment for real? My phone lasts a day with normal use. If I was using it constantly playing a game then it'd drain faster, but never faster than it charges, even using the wireless charger.

Absolutely. I could take it off the charger around 9 and by 12:30-1:00 I would be under 20%. I even sent it in for repair thinking something was wrong. Unfortunately it did the same thing when I got it back.

Something is wrong for sure. If I don't touch my phone my drain is under 0.5% an hour; I can literally leave it off charge at night at 100% and wake up and it's at 98-99%. When I use my phone a little it is about 4-5% discharge an hour. If I play a game then it will be, dunno, 10% or something; certainly nothing like what you are seeing. Do you have dozens of apps running in the background? I had some rogue app months ago that was sucking down data and battery, and I disabled and uninstalled a few things and that sorted it out. Think the culprit was the Engadget app, though it seems fine now. I'd check your background tasks, that's certainly not normal.

Yep. If I'm at home on the couch, everytime I put down my phone its on the charger. So I'm always at 95%+ at home. I can go all day at work 5am-2:00pm no issues. (LTE on, occasional web surfing, podcasts, checking email, groupme chatting). I'd suggest a phone with a bigger battery if you are using the phone a lot. EDIT: just to give you an idea I've used 2.5GB of my monthly data and all I do is web browse on that data)

Yeah, I use about 10GB a month. I actually did get a phone with a bigger battery. I got ATIV S I definitely get better battery life than my 920 & 925 but it still doesn't last all day.

If you are using that much data, you need a phone with at least a 3000mah battery man. And that probably won't last you all day.

Yea the only way I charge my 920 is wireless and it works quite well.

I agree, I am still on my 900, ready to upgrade and was waiting on this one, now I wait longer I guess. 16gig on my 900 is not enough. If ATT does offer the 32 gig later I may jump on it, but wireless and cyan are my next two priorities. :( Boo ATT

I believe it has an SD card slot

You can't install games and apps on it thought, right? But it does make it better with the SD slot.

When it will available to other countries ?

When they announce it ;) (Probably within the next few weeks)

Would love the Nokia protective case to have qi built in :(

wondering the same thing. I don't mind having a charging case like the 925, it will allow me to mix and match diferent colors..

Does the charging case also double as protective case?

My local MSFT store's getting pre-order and demo units tomorrow. I'll prolly swing by and play with it.

The Microsoft Store also has an Xbox One that you can play with. KI is SWEEEEEEEEEEEEET!

I've waited almost 18 years for another KI.....insta buy!

I've considered the XBOne for the new KI on its own. I love those games!

Just wish they had a mini version with same specs, bloody Verizon gets one wtf.

The memory is mini.... 16GB is a joke

Nice phone. I Just got my 1020. Whyyy. Now!!

Got to hold one at my local att store, they putting one on display tomorrow, :D

Sam/Daniel, The Microsoft Store, meanwhile, is enticing buyers with $70 worth of app vouchers and free copy of Halo: Spartan Assault. Preorder customers also get a flip cover worth $40 http://blogs.windows.com/windows_phone/b/windowsphone/archive/2013/11/07/preorders-begin-for-the-199-nokia-lumia-1520-on-at-amp-t-phones-arrive-nov-22.aspx I think thats a great deal.

Ah...Maybe that is why I got a Cancellation Notice at 2am this morning from the Microsoft Store for the Cover I preordered. I had preordered the 1520 & Cover when they were up on the Microsoft Store. I did not receive a Cancellation Notice for the 1520.

This is really great news

Daniel, is there an exclusivity period on the lumia 1520 like on the lumia 900? It got released internationally after one month of exclusivity in at&t.

If I purchase the camera off contract, will they unlock it? or is there a waiting period before it gets unlocked.

With the Lumia 1020 AT&T was pretty fast on giving out unlock codes to people who asked. It was hit and miss though for some. I had no problem getting one for mine, either did Daniel.

Does unlocking a phone allow you to use a different carrier? Is that why people do that?

For a limited time: AT&T is offering a $20 app voucher, a free copy of Halo: Spartan Assault, and 50 GB of free cloud storage on AT&T Locker to customers who buy and activate the phone (the fine print). The Microsoft Store, meanwhile, is enticing buyers with $70 worth of app vouchers and free copy of Halo: Spartan Assault. Preorder customers also get a flip cover worth $40 (the fine print). http://blogs.windows.com/windows_phone/b/windowsphone/archive/2013/11/07...

Nevermind. It has been already posted by sri_tech

every time i look at it i want it more:))

Well, I was planning on getting this as a bday present to myself, looks like I'll be waiting for the 32 GB version.

Finland: 04.12.2013 - Lumia 1520 Black, Yellow and White- International version - 649 EUR (full unlocked) 04.12.2013 - Lumia 2520 Black and Red- International version - 649 EUR (full unlocked) Pre orders might arrive by post a bit earlier than 4th of December...

I wonder if the 32GB later to be released will have other "certain" features included, and they're not being explicit about it just so it doesn't stall too many sales of the 16GB. In any case, I think I'll go ahead and wait for the 32. Hopefully not too far off.

ATT probably felt the heat about not having the 32gb version. So will it be $299 for that extra 16gb?

Any news when it is lunching in India

I personally like the form factor of my 920... I think the 1520 is BA.... but I will be holding out for a refreshed 920

Oh yeah.. If my 900 didn't have a crack screen, I will probably skipping this too

Need to hold one of these beasts before deciding. I want to be able to type and navigate the phone one handed and it doesn't seem possible on a device that big.

Congratulations to the AT&T customers who's mouths been watering with anticipation for this beauty. For the record, I'm officially jealous and entertaining crazy thoughts of switching to AT&T. WTF Nokia!!!

I honestly couldn't spend $20 in the store.

Well sell it on eBay. I'm sure the rest of us could.

I wonder if those $20 also work for Xbox. I would easily get crimson dragon and maybe a digital copy of plants vs zombies garden warfare with some left over

I'll wait for black Friday and pick this up for free. :D

Same here... I am sure it will be $0.01 - $99 But looks like Halo Spartan Assault will be given for free

They're not selling yellow at the Microsoft store? I'd rather get it there because of the free case, and it's $549 instead of $584.99, and I wouldn't have to spend hours trying to get one without a contract by repeatedly explaining that "YES, it isn't ridiculous for me to ask for a phone without a contract, NO I'm not being difficult, JUST SELL ME A DAMN PHONE" at an AT&T store, and a $50 store voucher is icing on the cake.
*sigh*
If they had yellow at the MS store, I would've preordered instantly. Too good of a deal to pass up for an unlocked device.

Don't order it at ms store if you have unlimited data there's no option to stay with your plan. Its a shame cause they have the best offer.

What makes you think the one at the Microsoft Store is unlocked?

I'll been trying to find out about att next but they chat people for att they don't even now about the phone trying to get it also only for the upgrade and when I am choosing the like to upgrade my account gets kick out, ill wait till black Friday or cyber Monday to get the best price...

Its 27 dollars a month with att next

Well its 20 months if you wanna keep the phone 12 if you wanna upgrade

Can you get at&t next through Microsoft store?

Not sure cause when I tried to pre order there was no option to stay with my unlimited data plan.

You're right. I don't understand what's so great about next. And I believe you have to turn in the phone after that 12 months according to the fine print?

Hope it's released in the UK soon. Saw an official Nokia post last night that suggested it's not out till December. !?

Shit i was hoping for a November release hope its sooner then that

I convinced myself a couple days ago that I could live with the 16GB and have been waiting to pre-order. I was excited to order when I saw this post but then read that a 32GB version will be available soon. That's what I really want but I don't want to wait. Help me decide please!!!!! Help me!!!

I don't trust att they will for sure ruin the 32gb version eliminating the micro SD slot. I'm just gonna go with this one.

Buy it now, man. Don't deprive yourself. Forget the 16/32 debate. Just get it.

Did a test with a case for the 1520 to see if it fits in my pocket and it can so anyone online saying its not pocket friendly is wrong also fact i wear skinnys jeans so cant get smaller then that

I see lumia Black and GDR3 is even closer. :D

I will wait for the 32gb version

I love my (built in) wireless charging, but my biggest problem with this phone was the 16 GB, now it looks like they are going to address this issue with a 32gb phone in the near (or far) future. What I want to know is with the wireless shell or cover, will I be able to use my wireless charging accessories that I have now? Charging stand, JBL speaker etc...

If the 32GB comes with micro SD and remains the same price, I'll go for it. The question is how long of a wait before it's announcement/release? If it's more than 6 mos, I'll just spring for the 16GB version since my apps/games only take up 7GB. My media, on the other hand...don't even ask...

16GB + no wireless charging = no sale

I say the 32gb will be a Cyan variant!! With Wireless charging! Ok maybe not the wireless but damn hope they bring cyan back!

Does anyone have an educated guess as to when the 32GB variant will be available?

I'll wait for 32gb I usually have a case so I'll just get pma case but I need 32gb

Darn it! Now I have to make the call on either going with a great deal including the cover now or wait for the 32GB version... That's a tough one... Since I pretty much accepted 16GB already, I should just go for it now... But on the other hand... Oh, how I hate that :)

In my country, still no words for 1020. And 925 has just announced. 925 announced in november 1. Yeah. It's sooooo late. But, my country always get low-mid lumia in time

If you're going g to order the phone with no contract, it would be better to order from the Microsoft Store. You get the phone, a case a $50 Windows Store card and a nano Sim for just the price of the phone, $549. There is no tax on the order! I'm this close to buying it. My 920 is so last year!

The T-Mobile LTE band has been disabled on the AT&T version of this phone.

Can the sd card be used to store camera roll? Most of my storage goes because of the camera.

SD card can store media(photos/music/video/maps)

Well that would automatically save me 10gb of usage. When you say music, do you know if that's the default music app only? I have 3gb of Spotify offline music but I think because it's an app it's considered app data? Or is the API smart enough to store that as music files allowing it to go the sd card?

Black 1520 on preorder through AT&T. ;)

Nokia needs to grow a set of balls and tell at&t to piss off and give the people the 32 gig version. Oh wait that might compete with at&t's rectum incentive iPhone. F##k at&t

Checked both the MS store and ATT. Could not find the wireless charging backplate. I have found a love for wireless charging with my 920 and will not upgrade without.

The 1520 on display next to a Note 3 is going to make the Note 3 look like plastic junk.

I was going to get this on launch day but now I may hold off for the 32gb version.

Was really wanting this phone, but then found out about AT&T gimping it, and decided to pass. :( F**k you, AT&T.

Will this work on T-Mobile? At 4G speeds?

Ok I went out to AT&T today and saw this beauty in person! Oh I so wish I was on AT&T. Windows Phone looks incredible on a screen this size!! It felt great in the hand and camera looked great. Story teller app is sweet too. I seriously may switch from Verizon for this. You really have to see this device in action, pics do not do it justice!

Boo Hoo.... You poor Americans.. The Lumia 1020 only became available here in South Africa THIS MONTH! We will be getting this crazy monster Lumia only in Feb 2014! was seriously considering this phone as my contract is up for upgrade next month, and I am planning to get me that stunning yellow 1020 for Christmas :) (CANT WAIT!!) but that 20 megapixel just doesnt cut it on the 1520.. ONLY against the 1020... that is! I am a little worried that the CPU on the 1020 might be a bit too mediocre to stand up to what 2014 & 2015 might bring to the smartphone handset experience, but Hey... my Lumia 800 brought me this far with no major hiccups... exept for high end gaming that is.... sigh.. ANYHOW! I want the yellow Lumia 1020 and vodacom (my "carrier" for you Americans... we call it our network) seems to only stock the BLACK F73CK1N6 version.... WHHHYYY!!! WTF!!!!!!!!!!!!!!!!..... Sorry.... needed to get that off my chest... Im getting the black Nokia cover for some piece of mind coz I think the combination of the black on yellow looks sick!! If any of you fellow Nokian Windows Phone Microsoft junkies in here have a 1020 layout like that please show me some pics that I can drool over! :) Have a awesome Christmas season Windows Phone Central team and everyone reading this! cheeerz vir eers

I can wait for the 32 gb model. (Red with white charging back if they make it, go Cardinal...) I don't totally understand the lack of built in wireless charging complaint. We have a yellow 1020 with the added black wireless back, works fine, looks great. The reason to avoid the built in charging is to enable an upgrade by buying a new back when the charging standard changes. I was thinking about trying to put Palm Pre charging into one of the removable backs, but don't have the time or experience. If you could mod the removable backs I think you could use any charging system you want.. Seem superior to having to potentially ruin your phone while modifying it, and most folks put a case on their phone anyway. There should be a market for other makers to make cases with different chargers....

Ill wait for the 32Gb if it has the wireless charging.

I am hoping T-Mobile gets it in 3 months with 32GB, charger and in Cyan and Yellow.

Chances of a Cyan 1520 is non existent my friend.. Dont know why Nokia just dropped it :( I absolutely loved my Cyan 800 and would take a cyan 1020 over yellow any day! Lets just hope Nokiasoft can bring it back some day... soon

I tried this phone at ATT today. First, go to your store, and try and buy it, you might get lucky. The sales guy was ringing me up when the manager saw what he was doing and cancelled the sale. It is big, but not outrageously so. The screen is stunning. You could, and I may, use this as an alternative to an 8" consumption tablet.

Funny how you guys love AT&T when they announce phones, but then turn sour when updates arrive late.

May want to check your local stores we were at AT&T Saturday and they had them in stock already.

There seems to be a Lumia 1520 disassembly video up already showing a similar back plate as the 925 with the three pins. I may use the 925 back plate accessory coil and try to add the QI wireless charging to my 1520 since it is only PMA charging right now (with accessory). Will let you know if it works. Wish me luck. Oh, and i dont care about my Warranty before anyone comments about that.

good price, this phone have a lot to compete with the galaxy note 3
Windows Central Newsletter
Thank you for signing up to Windows Central. You will receive a verification email shortly.
There was a problem. Please refresh the page and try again.