November 22nd is Zero Hour: Nokia Lumia 2520, Lumia 1520 and Xbox One all launch in the US
Microsoft, Nokia, AT&T and Verizon are planning for a big day on November 22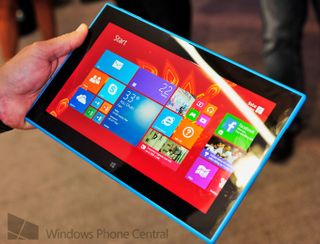 Last night, Microsoft evidently jumped the gun by listing the AT&T Nokia Lumia 1520 as available for pre-order on their website. Since we reported on that news, Redmond has pulled both the 1520 and its protective case from their online Store, suggesting that it was posted in error. Windows Phone Central stated that although November 15th was originally planned for the release, it had been pushed back one week to November 22nd.
Coincidentally, the Xbox One comes out that day too.
Now, Windows Phone Central has attained evidence that indeed, November 22nd will be "D-Day" for Microsoft and Nokia. While it has been known that Microsoft's next generation console will come out on that Friday, we have now learned that AT&T and Verizon will both launch Nokia's new Windows RT tablet, the Lumia 2520 on that day as well. Likewise, the Lumia 1520 will similarly launch on AT&T.
Note: "non-config" is just for inventory purposes; While the inventory sheets says "11/21" for AT&T, it will most likely launch on the 11/22, as Friday is AT&T's normal launch day
Inventory listings for both devices have been provided to us that verify this date:
Verizon: Lumia 2520 tablet in Red and Black, both with 32 GB of internal storage, LTE
AT&T: Lumia 2520 tablet in Black, with 32 GB of internal storage, LTE
AT&T: Lumia 1520 Windows Phone, in black, white, yellow and red
It now appears that Microsoft is planning to have a massive launch day for the Xbox One, Windows Phone and Windows RT by releasing all three at the same time. It's not clear what AT&T and Verizon are planning for the launch, though we postulate there will be some large tie-ins with the next generation gaming console for advertising.
The Lumia 1520 for AT&T is expected to retail at $549 and fetch for a fair $199 on a two-year contract. Both price points have been well received by our own audience, suggesting that Nokia and AT&T may have hit the right chord, despite gimping the device on some features i.e. no built in wireless charging and only 16 GB of internal storage.
Nokia's first Windows RT tablet is expected to retail for $499. Subsidized costs, if any, have not yet been revealed. We have heard that Verizon will sell it at $399 for a Black Friday deal. More on that soon.
The Lumia 2520, a 10.1-inch device, will feature a Qualcomm Snapdragon 800 (2.2GHz Quad Core) processor, 6.7 MP rear camera, and full 1080p HD AH-IPS, High Brightness with Low Reflectance, Gorilla Glass 2 for the display. Nokia is banking on consumers wanting an "always connected" device, hence why AT&T and Verizon will both sell it with Wi-Fi and 4G LTE built in.
Perhaps the only bad news is that neither AT&T nor Verizon are getting the Lumia 2520 in Cyan or White, but instead they are sticking with the more conservative Black (and Red for Verizon).
One thing is for certain: Friday, November 22nd will be a very expensive day for Microsoft and Nokia fans and a busy day for us.
Daniel Rubino is the Executive Editor of Windows Central, head reviewer, podcast co-host, and analyst. He has been covering Microsoft here since 2007, back when this site was called WMExperts (and later Windows Phone Central). His interests include Windows, Microsoft Surface, laptops, next-gen computing, and arguing with people on the internet.
Lumia 1520 looks tempting, but my 920 still shines, I don't see any good reason to update except the Camera.

And the screen and an expendable storage and new snapdragon processor and extra row of tiles, nothing else you say?

I don't find the difference between 720p and 1080p earthshattering. I used my L920 next to a S4 and it wasn't that big of a difference. Ya, sd card support, thats an uograde.

I'm a Lumia 920 user and I got 5 reasons why I'm so excited upgrading to L1520. http://gadjade.com/5-reasons-lumia-1520-phablet-better-than-android/

lol..good article there jade. Any idea if our local carriers getting this listed on thier postpaid offerings?

Agreed, except Instagram is a cheat as it'll come to the 920 (and all) WP phones. Personally find the 1520 too big, waiting for the rumoured 929 myself before I upgrade my 920.

Have you ever seen the beauty of this phone?See now http://tinyurl.com/q5au47z

Definitely i have decided to buy this monster phone by seeing this beauty amazing...

Black and red for 2520? Well, there goes another retarded decision. I was planning on getting cyan.

Me too really wanted Cyan. Absolutely no chance I will buy black; probably the last color I would ever buy the Lumia in. Who is allowing this garbage in the US? Why do I even need Verizon/AT&T to buy a tablet. Keep the wireless carriers the hell away from my tablets and computers. Look at how they have ruined the Lumia 1520 in the US, the last thing we need is for the wireless carriers to start destroying tablets and PCs.

Damn it! Why can't AT&T offer more than just black colors? It feels like every product they announce they gimp it somehow.

They offer more then black I think your confused with Verizon.

The article says Att will only offer black.

oops i misread thought he was talking about all phones sorry.

So true. I'm on Att, but I will now be getting the 2520 from Verizon so I can get it in red...plus that rumored Black Friday price of $399 sounds great.

Why would u sign a contract just to get 100 off ???

I wrote that before wpcentral posted the 2nd article saying that the $399 was with a 2yr contract.

I HAVE NEVER BEEN MORE EXCITED THAN I WILL BE ON NOVEMBER 22

Since 929 is also rumored for Late Nov/Early Dec, maybe we'll get that, too? #fingersCrossed

NOvember 22nd will be my new birhtday!!!!

November 22nd is my actual birthday ;)

Happy early Birthday Day Jay!!

More then a month later from announcement as usual then they ask themselves why can't sell more devices.

1 month isn't bad, even Apple delayed the iPad launch that long from the announcement. Nokia used to annouce and have it on shelves 6-9 months later. One of the best things Elop did for Nokia was make them release they had to get that time down. So one month, I'm not complaining at all.

1 month ain't bad for us who want it but its killing them, note 3 is selling more every day because of this slight delay.

$399 for the 2520? Are you kidding me? I was going to buy a Surface 2 for my wife but that changes things a bit... Dan, please let us know if that deal requires a Verizon contract!

i guess so cause its 499. normal cost they stick you with a 2 year contract and lower it a bit so yhey still win.

Requires contract at that price.

Oh well... I was hoping for the 15th - but I guess I can wait for the 22nd. Can't wait to finally upgrade from me Lumia 900 to the 1520, super excited! :D

That just seems odd they would launch the 2520 in only two colors. The cyan color is what really sets this device apart....

yes who will offer the cyan maybe ms stores

bad news is ... black only @ microstore

Can't wait to see the hands on vids.

I was going to buy a white one, now I'm very disappointed! This is where Apple shines. I have a white 920 and I wanted a companion device with a red keyboard cover. I will wait or buy a Samsung 10.1......in white!

Hope the 929 drops as well that day.

Sucks about the black for att....i guess I could look into Verizon but deep down I could careless about the colors! More about performance, especially with the added keyboard on who cares about the color....still what is the available memory in the 2520???? That's a huge selling point too!

Anyone else noticed that it is exactly a month from the surface launch?

You guys are lucky, over there in the states -- I can't wait for the UK release of the 2520 :(

I knew taking a paid day off from work on the 22nd was going to be a good idea!

I'm guessing the 929 is coming at a later date then? Odd that it wouldn't be included with he 2520 though.

I bet more colors will come if there is demand. No sense in ordering stock if you have no clue what demand will be. I'm sure there is some logic to their madness. As a lord of the Sith, black or red suit me just fine O.-

Think I will wait another week and see what AT&T does with the 1520 for black Friday. If it had went on preorder today for delivery on the 15th I would have pulled the trigger but now I might as well wait the one more week from release to see if I can save a few bucks.

My GOD why does it see that in the minds of American carriers Black & white are the only colors to sell tablets in. Geeze AT&F-ing T why not cyan. I hope I can buy this in the color I want from a third party vendor.

I'm on AT&T but you better believe I'm getting the red 2520 to match my 920!!

That's exactly what I'm planning to do.

Noveember 22nd will just be another day for me. Already have a 1020 on AT&T, 929 is only Verizon, Tablet is only Verizon, will not be a beta tester for the new Xbox 1. Cmon April 8th, 2014.

The tablet is also at AT&T but just in black

What happens April 8th 2014?

What is the max size SD Card for the 2520 I am giving this serious consideration because it has the LTE built in and I don't have to pay more like if I want that in a iPad

I believe 64gb is the max.

Does anyone know if Lumia 2520 will be compatible on T-Mobile in the USA?

I second this question. Tmobile is the only carrier that provides a free tier. 200MB may not be a lot, but its enough for email and web browsing when on the go. Finally makes LTE on a tablet worth something to me.

but...but....but what about Sprint

Sprint? You mean the carrier whose WP8 devices are only the Samsung Ativ S Neo and the pitiful HTC 8XT?
Sorry, dude. But it's highly unlikely that Sprint will join the fray anytime soon...

Can't Nokia be inspired by Microsoft and start handing out free 2520's ???

What about me in the uk :'( need a date. I hope they don't mess up the release as much as they did with the L920 over here

I recently read the it would be released in the US and UK first, so it might be released on the same date. As a Dutchie I'm willing to go to the UK to get a 2520 :D The wait as been long enough already.

Im hoping that's the case

I wish the 2520 would be available sooner... I'll have to stick with the Surface 2 instead (not that I'm upset about it). Well, I just hope the HERE suite of apps comes to Surface soon.

November 22nd is my birthday, but they won't be available yet in my country :-(

And November 22 is also the day the new MS store opens in Jacksonville! woo hoo! I just wish they had some other musical draw besides Macklemore. I've seen they've had O.A.R., Kelly Clarkson, etc. Why do we get this guy in Jax?

"Perhaps the only bad news is that neither AT&T nor Verizon are getting the Lumia 2520 in Cyan or White, but instead they are sticking with the more conservative Black (and Red for Verizon)." Or how how about the other bad news that none of these devices are available in Canada or better yet, ANNOUNCED in Canada. I love how we apparently don't exist and the center of the Earth is always the US. Why has Nokia annouced the release in other countries while here in Canada, the supposed land of igloos, moose and mounted police we get "There is no information at this time" from Nokia Canada. B.S. Yes I am mad.

so no blue version? okay, I pass. don't tell us there will be blue if it wont go for sale!

Besides the larger screen, which imo is too large, HTC One Maxx territory, I am happy with the 1020 and the fact all the major apps/updates from nokia will come to is sooner than later, I am happy! I just want to see some reviews on that 2520!! Looks great, but so does the surface rt 2!

Concerning the Nokia Lumia 1520, no internal wireless charging, internal memory cut in half to 16gb, no sale. Sorry AT&T, you managed to screw this up yet again. Just sell the da*n internationa version and stop your incessant meddling. PMA charger and accessories aren;t even out on the market yet! Just wait one more generation before requiring the phone manufacturers to switch over to internal PMA charging...don't cut the internal Qi charging out before internal PMA is ready!! Idiots.

Everyone complaining about the lack of color choices, just put a skin on it. Then you can have it in any color you want.

Read more- Nokia Lumia 1520 and Lumia 2520 tablet Features: techfastlife.blogspot.com/2013/11/nokia-lumia-1520-and-2520-features.html

Windows Central Newsletter
Get the best of Windows Central in in your inbox, every day!
Thank you for signing up to Windows Central. You will receive a verification email shortly.
There was a problem. Please refresh the page and try again.