Lumia 1520 Protective Cover also up for preorder, but Microsoft may have jumped too early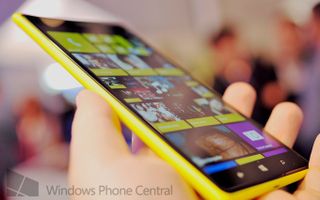 Late last night we reported on the pre-order page for the AT&T Nokia Lumia 1520, the massive Windows Phone with a 6-inch, 1080P display. The listing was interesting because the price and release date were denoted, both of which were previously unknown. However, the Microsoft Store listing may have been posted in error.
First the bad news. Microsoft has now pulled the pre-order, meaning it was likely posted as a mistake. Second, we've heard from a highly reliable source that the Friday, November 15th date was the original plan but regrettably, it has been pushed back to Friday, November 22nd. That would partially explain why AT&T themselves do not have a preorder up (opens in new tab) for the 1520 and why Microsoft has pulled the listing.
The good news is we now know the price of the Lumia 1520 Protective Cover (CP-623). That case is also listed for pre-order with a $39 price tag. The date is also listed as the 15th, but we have a suspicion that the page will be de-listed soon after this story gets out.
The CP-623 protective cover is a plastic hard-shell back cover with a soft, rollout up front cover. Its purpose is not only protect the device, but it can roll up to form a kickstand, allowing you to use the Lumia 1520 to watch videos, etc.
While the release date for the Lumia 1520 and protective cover are still not guaranteed, we do believe the pricing options listed to be accurate. Hopefully AT&T and Microsoft will make an official announcement soon, so that people can start the preorder process. There is no word if Microsoft will honor those preorders from last night.
Update: As expected, Microsoft has removed the Store listing for the CP-623 cover
Source: Microsoft Store (opens in new tab); Thanks, lovenokia, for the tip
Get the Windows Central Newsletter
All the latest news, reviews, and guides for Windows and Xbox diehards.
Daniel Rubino is the Editor-in-chief of Windows Central, head reviewer, podcast co-host, and analyst. He has been covering Microsoft since 2007 when this site was called WMExperts (and later Windows Phone Central). His interests include Windows, laptops, next-gen computing, and for some reason, watches. Before all this tech stuff, he worked on a Ph.D. in linguistics, watched people sleep (for medical purposes!), and ran the projectors at movie theaters because it was fun.
I would love to have this case with qi charging built-in.

I wonder if the international version is slightly thicker due to the built in wireless coils.

Doubt it, but probably is heavier

So no wireless charging in the cover? (qi or pma?). This is getting ridiculous. Now AT&T users will need a separate case for wireless charging and separate case for kickstand?

So why do you guys use AT&T if they suck so much? All I read here is complaints about them.

Its really because of the phone. We endure ATT nonsense because they get the high end phones that we want. I'm sure majority of us would switch in a heartbeat if we can get the same phone on another carrier

Because T-Mobile phones suck, Verizon is CDMA. So that leaves AT&T as the only GSM carrier with good coverage and phones and AT&T knows it. If only we had the same freedom as you Europeans do.

"Because T-Mobile phones suck..." Hmm, last I checked, T-Mobile has many of the flagships that other carriers have, though most of those are Android and iPhone. We do have the 925, and that most certainly doesn't suck. Personally, I think anyone who goes with, switches to or sticks with a crappy carrier just for a phone is a bit nutty.

personally what me and my husband do is buy them either unbranded or new/fairly new online and unlock them. we have t-mobile, and while we have t-mobile unlocked branded phones at the moment we've used att phones and other branded ones and non branded, here in Alabama and we have no issues with them at all, and i have family all over and no problem with coverage and even if do with the 925 i get wifi calling so im good. However to stick around for a phone? no thanks ill stick to unlocking them or buying them unbranded over-sea's, because if you have to buy a watered down version of an awesome phone its not worth it. i cant stand att they litterally suck the life out of you and to stay on for a phone i agree is quite nutty to me.
verizon though does do some gsm phones, because ive never seen nokia do a cdma line so if they lumia's they must carry other towers in their coverage, however their just as bad and over-charge on bills. Sprint forget it their weird with their all cdma network. everyone though has their good and bad experiences with carriers so thats just us, hopefully though we can at one point get unlocked carriers like more countries and not have to stuck in contracts if we dont want to and just pay month by month and still have the awesome phone.

at&t keeps receiving exclusivity deals from Nokia and since most of us want the latest and the greatest we keep going back. at&t doesn't have bad service (at least here in Los Angeles) however their business practice & prices can be irritating at times.

Ok, thanks for clearing that up, guys :) We'll just hope the US soon follows the way we do it in Europe.

LTE on at&t is pretty darn fast too

Very fast, and im in the boondocks.

Probably because most of us get stuck in contracts and they get all the high end phones.

I plan on leaving. Just discovered much to my dismay that I could switch my four line family plan from AT&T where I pay 350$/mo for 700min, 2gb data/3lines, 5gbdata tether 4thline TMobile for 150$ with unlimited (throttling from lte to 3g past 2.5g ) everything including international. Even if I can't get the phones I want I'd be stupid not to want to spend that 200$/mo somewhere else.

I have an ATT 10gb 4-line family Data share plan with unlimited txt and calls for about a hundred less so I dont understand that myself

I actually prefer AT&T to Verizon who I had before. I would still rather go with T-Mobile, unfortunately I would get EDGE speeds essentially everywhere I frequent. So that is a no go for me.

I switched from T-Mobile to AT&T and have no regrets.

Here's the breakdown. Verizon: Best network. AT&T: Best phones. Sprint: Unlimited data. T-Mobile: The only provider not trying to screw people over with subsidies and high priced plans.

So the wireless charging case doesn't come with flip-cover kickstand

Agreed man! It doesn't make sense to me either. Why would you wanna swap cases around like that, plus have to pay for both. Stupid ATT, really hope they get the internationla version, I would even be willing to pay $100 more for it.

I will get both... maybe... the Microsoft store preorder page did not mention the expandable memory via SD card slot, so unless I either can hold that thing in my hands or get confirmation on what is included and what not from soneome who actually has the phone, I will hold back... no trust in AT&T and what they do to phones....

Yes without SD, game changer for me. I'm sure it has it but you never know with at&t nowadays lol

I want my 1520 now.. "Rodney wants it all, people❕❗❕❗"""

Why do you refer to you self in the third person all the time? Just curious.

Because he's an egomaniac

That pretty much nailed it.. LOL

Because it would be weird if I referred to you in the third person,, now would it❔

yea thats cool n all...but beyonce had one of the best videos of all time

I still want a 5" phone on AT&T

Samsung Galaxy S4? HTC One? Nexus 5?

I wanna cover like that for my 1020

Agree 5" version of the 1020

Why must AT&T play with my freaking emotions! Release the damn phone already, sheesh! And give us a charging protective cover similar to the one listed above.

Or, or... Allow Nokia to build it right in.

Reminds me of the 920 preorder debacle with best buy.... Looks like those guys just can't get a launch right... This time I will wait until it is in stores... Done with the emotional up and down

Nov 22?? Day and date with the Xbox One?? Being a techie enthusiast isn't cheap. Lol

Due for an upgrade but I only have money for one... XO or 1520. So gonna go with the Xbox one since my preorder would expire 7 days after if I don't pick it up. I'll get the 1520 early December and this cover for Xmas from somebody who loves me. If any such person still exists

If they do they're are not here.
I would definitely go with the XO. It's a longer term investment. What phone do you have right now?

920. Handing it down to my girlfriend. Taking her 8X as my musical "workout armband" device. And the 1520 for everything else.

To anyone planning to preorder the phone, I suggest you don't. Just go into the store and buy in person. AT&T screws up preorders big time. You can be first in line to preorder and get it last in line in 4 weeks after release.

I thought they'd at least make changes to the page, as the reviews for the device were for the Lumia 925.

Um, did it not strike any of you as odd that they would release a device days before the NokiaUS contest (that you lot covered) ends? How were the winners gonna be the first to win the device if everyone else could get it?

I went ahead and tried to preorder the cover since I preordered the 1520 early this morning. I got a comformation on the phone that my preorder went through and a $1 place holder on my credit card. As far as the cover, the order seemed to go through, recieved an order number, but it does not show up in my Microsoft Store order history and nothing on my credit card.
Guess I'll see what happens.
Update: Preorder for the cover went through as well and now shows up in my order history and a $1 hold on my credit card.

Oh. I really want the 1520! I have the gorgeous 1020 but I love the bigger screen size. I would then, of course, need this case!!

When I first started reading about the phone it sounded great. Then things started going downhill with no stylus support like the Note 3. The second downer was being an AT&T excusive because even though I'm on AT&T l want to see other carriers get new Windows Phone goodness. Then to make matters worse AT&T removed the wireless charging and dropped the memory to 16GB.

If this had Wireless charging , it would have lessened the blow of not having it built in.

Maybe the att version will have qi built in

No. No it won't. The international version will. ATT intentionally left it out because they are backing PMA and not Qi

The wireless charging back for the AT&T 1520 will be sold by Incipio for $50 and will NOT work with your old Nokia Lumia wireless charging pads. You will need to buy a new PMA compliant one such as a duracell powermat. This case was initially teased in the AT&T promotional video for the 1520, but you can now see the site for it at incipio's webpage. I tried to link it here, but I guess that's not allowed. Just head to the incipio page under Nokia smartphone covers. Additionally, powermats run about $40, so thanks to AT&T and how much they care about their customers, I will need to spend an additional $90 for wireless charging instead of using the pad I already own for my 920. They should do the right thing and include the Incipio case free with new orders. But I won't hold my breath!!

The case is nice but i prefer my all round coloured gel cases flexible durable easy to remove just my preference

Another purposeful slip to assess demand for a device and to gauge reaction towards pricing. How resourceful of them.

It's a shame that it's only on ATT

I'm not further investing in anymore Qi products or getting my hopes up for any wireless charging standards until one has been finalized (in the sense that bluray beat out HD-DVD). I guess my girlfriend can make sure of my charging pad for the 920 while I resort to old fashioned plugging in. Drats

So much crying about wireless charging. smh

Where is blue!? They did this last time with the 920, what gives!