Nokia officially announces the Lumia 2520, their first Windows tablet
Nokia announces the Lumia 2520, their first Windows RT 8.1 tablet with a 10.1-inch display and Zeiss optics.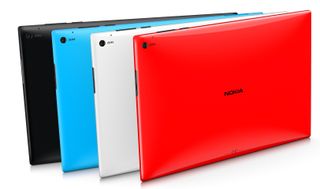 Nokia. Windows 8. Tablet. Yeah, it's happening. Nokia's been rumored to have a tablet in the pipeline for years now, but has finally announced one here at Nokia World 2013 in Abu Dhabi. The Lumia 2520 is the first device from Nokia powered by a Snapdragon 800 processor. This might look like your typical tablet running Windows RT on paper, but it has the typical Nokia twist you find in their smartphones. Let's take a look at some of the official specs before we get our hands-on with the device shortly.
The Lumia 2520 brings the best of Nokia's experience building smartphones to tablets. The part you'll be interacting with the most, the screen, is very impressive. It features a 10.1 full 1080p IPS display with high brightness and low reflectance. The brightness can be attributed to the fact that it goes up to 650 nits, while the low reflectance is because Nokia removed the layer of air between the glass and display. Do you know what's crazy? The Lumia 2520 has a 180 degree viewing angle. Yeah, soak that in.
Here are the rest of the specs for Nokia's first Windows 8 tablet.
Windows RT 8.1
10.1" full 1080p HD AH-IPS, High Brightness with Low Reflectance, Gorilla Glass 2
6.7MP Auto Focus ZEISS optics, Secondary: 2MP HD wide-angle
Video 1080p@60fps
4G LTE
Nokia Music for unlimited streaming of ad-free music
Free global HERE Maps
Microsoft Office built-in
Qualcomm Snapdragon 800 (2.2GHz Quad Core)
8000 mAh (integrated)
Red, White (glossy), Cyan, Black (matte)
As far as we can tell, this might be the first tablet to feature Zeiss optics on the camera.
We can't wait to go get hands-on photos and videos of the Nokia Lumia 2520 for you guys. So check back shortly on the site for those!
Windows Central Newsletter
Get the best of Windows Central in in your inbox, every day!
Need this! I wonder if the surface will see some of the exclusives this has. I hope they left out the microSD expansion.

this has a microSD upto 32 GB : http://conversations.nokia.com/2013/10/22/all-in-one-the-nokia-lumia-2520-tablet/

Why would you not want microSD?

In the original specs for the article, it was missing. I meant that I hoped they were just missing that detail and that it did in fact have support for microSD expansion.

Ah right, yeah :) It looks like they all have microSD now... which is too late for the 1020 that needed it most :(

I wonder if someone can make a case that plugs in like a battery expansion, but also adds a microSD slot. Maybe there is enough room in the 1020 camera grip to even hack it.

Yeah, I was hoping for something like that! I want the 1020, but with only 32 GB on a dedicated camera-phone I think I'll pass... I'd jump at a 64 GB variant, or one with microSD - even if it's in the grip

Smae thing, i really need this..

$50 more than the Surface 2 for LTE I don't want. It looks amazing but I have to pass.

With snapdragon instead of Tegra

It's RT. Not exactly going to be pushing the processing limits.

Neither does Windows Phone, but people are still clamouring for overpowered devices. Games and video would definitely use the extra power.

Well video already works fine on the old Surface RT for everything that it would actually play. And games? If there actually were any good and stressing games for RT...

More processing power = less battery life. This is already an issue in the Surface 2. The Haswell-based Surface Pro 2 can outlast it.

Surface 2 review from The Verge:
"I got six hours, 43 minutes on the Verge Battery Test..."

Surface Pro 2 review from The Verge:
"The Surface Pro 2 lasted 7 hours, 33 minutes on the Verge Battery Test..."

Also, engadget's first run with the surface 2 showed 13hr 36m battery life with auto brightness turned on.

Stop believing anything the verge says, especially if it has to do with a Microsoft product. They are the only site showing such low battery life. If you want accurate benchmarking, go to Anandtech.

Where the hell did you pull that bull shit from?

Do your homework before commenting.....surface 2 has 65-70% better battery life


Not according to The Verge's test. I have no idea whether they are right or not, but that stood out to me too.

The verge reviewer also saind that the ipad is beter than the surface for watching netflix. I would take anything they say as it relates to Microsoft with a grain of salt. The pro review was done by Tom Warren and seemed fairly accurate, with a few barbs thrown in that all Microsoft articles on the verge require. The surface 2 review seemed way off. How could a haswell core i5 processor get the same battery life as an ARM based tablet? If we were taking about an atom tablet, that would make sense. There is no way that review is accurate. This is backed up by the fact that no other site is showing such poor battery life. Anandtech has 8 hours on wifi browsing test and 10 hours on the video playback test.

Surface pro 2 is 70% better batter than pro 1 but not surface 2.

I believe Thurrott has said that he has repeatedly gotten over 10 hours on his Surface 2. He's called the battery life "amazing". He's not exactly been the champion of Windows RT tabs either.

I'm sure that's true.
But the point isn't the exact number of hours (which of course will vary according to what you are doing).
Take a look at tests that have been performed on both devices to determine how they perform in relation to each other. In what I have seen, sometimes the 2 does better than the Pro, sometimes it's the other way around. But for the Surface 2 (and WinRT) to have a reason to exist, the 2 should be kicking the Pro's butt by a significant margin. That was the situation with the previous models. Intel's new processors seem to have taken away one of the major advantages of ARM. And that's with the Intel iCore series; the Bay Trail Atom line seems to have closed the gap even more.
I'm not knocking the Nokia or Surface tablets at all. I'm just surprised that Intel has made up so much ground in the battery life sweepstakes in just a year.

I would argue that people who are weighing RT/PRO aren't solely focused on power. Power argument not-with-standing, it isn't all about power. ARM offers a different price point which is important in the segment in which they want to compete. The argument should focus on RT versus competing platforms.

He is, however, the most famous Microsoft evangelist and shill in the world.

The surface 2 has over 10 hours of battery life. Battery life is not an issue on any modern tablet.

One of the complaints about the original Surface was speed, so the more power in this the better; especially as more demanding games come to the platform.

5 hours of battery is very very bad though.

how do you know, it's 5 hours only. for tablet that will be very bad

Not sure where some of you are getting your MIS-inforamtion but, this Nokia 2520's battery life is rated at 11 hours and 16 hours with the (optional) keyboard battery accessory.
Do us all a favor and do some research instead of spreading FUD.
Anyway... Very Nice Job Nokia!

My bad. I didn't read it properly since the live stream went off. I read that power keyboard adds 5 extra hours, instead thought that it was the battery life. Appology for that, It also made no sesnse as well when I saw 8000mAh. My laptop has 6000 and goes 7+ hours so I guess this tablet will rock for more than a day from a single charge.
Sorry once again.
Nokia, nice tablet. Really thinking to get it. now wait to compare vs new iPads, although won't make much of a difference to me.
The red one is a masterpiece.

Ha, well it's cool to go "this looks great, but shame the battery sucks" only to realise you mis-read the battery figures and now seeing it can last 16 hours with the keyboard are now excited by it.

Still not sold on RT myself (I do dev work so need the Pro), but otherwise think this looks lush.

You so don't get Windows RT.

Me too. If there's a WiFi only I would be all over it. But I have no use for another data plan.

Can't you just get it and use it with Wi-Fi?

Sure...but you are still paying $50 more and without the SD card slot.

I t does!
http://conversations.nokia.com/2013/10/22/all-in-one-the-nokia-lumia-252...

Why do people post this stuff? If you don't want one fine, but blame the $50 or a feature on a one off product is kinda lame.

If I can get it on a GoPhone like plan, that would be great!

You people are never satisfied huh? First its "OMFG im not getting the Surface 2 because ti doesnt have LTE ohhhh nooooooo" Now its " ohhhhhh no i want WIFI only!!!!!" lmfao....


Then buy a Surface 2. Did you seriously expect Nokia to release a tablet without a cellular radio in it?

I did buy a Surface 2. Doesn't mean an avid WP Central member/day one Lumia 920 purchaser can't weight in with his own opinion.

Hater.

You already have a Surface 2. Why you're complaining about the price of this is a mystery to me?!!

People Love to complain, and it does have a SD Card slot (support upto 32gb).. honestly some people can't compromise. If you don't want LTE then don't use it and also the wifi only version, (if they release one) may not cost $50 dollars. At this price point I am soo looking forward to the xmas sales :P, can't wait.

People Love to complain, and it does have a SD Card slot (support upto 32gb).. honestly some people can't compromise. If you don't want LTE then don't use it and also the wifi only version, (if they release one) may not cost $50 dollars less. At this price point I am soo looking forward to the xmas sales :P, can't wait.

For some reason, I like the configuration of the surface better than any tablet on the market. I mean, the 2520 looks very nice and all but I feel like Microsoft got it right with the type cover and touch. Plus, with the new power cover, it is really hard to find something wrong about the surface, from an hardware prospective.

I think the power cover only works with the surface pros

Really? Are stores still doing trade ins for Surface RT or is it too late?

Any device that has the connector on the bottom can use the power cover. The only surface tablet that doesn't have that connector is the RT.

It works with all except the original RT.

No GPS is the deal breaker for me on S2

+920, and soon +2520 as well, I hope!

Only one beef with the Surface. It only comes in black. The fact you can have a matching Nokia phone and tablet in a color other than black will sell on its own.

Then make a yellow one, high-end phones don't have cyan anymore...on a yellow 920 and will go to a yellow 1520(hope I can work ATT so they give me upgrade price), will be nice if there is a yellow 2520

Yeah, but the keyboards at least have color. The blue ms keyboard matches my cyan 920 perfectly. I suppose that doesn't help red or yellow owners though..

http://conversations.nokia.com/2013/10/22/all-in-one-the-nokia-lumia-252...

wait, I heard there's microHDMI, but not listed on the Specification? which is which?

Video out is probably like windows phone via the mini usb.

both. micro hdmi and micro usb....


Wait? What? Since when did WP have video out? If it does then you sir have changed my life. It was the one feature I was missing from my N8.

I want to hear more about HERE maps for tablets.

Did they announce it has GPS or is that on the processor?

well theyre advertising "true offline navigation on a tablet"....surely it has GPS

According to Nokia conversations:
Connectivity: NFC, A-GPS+GLONASS, WLAN 802.11 a/b/g/n, microUSB 3.0, BT 4.0 LE, 3.5mm audio connector
(http://conversations.nokia.com/2013/10/22/all-in-one-the-nokia-lumia-2520-tablet/)

do i see a click-in key? Its too bad it doesnt have built in stand. FUCK!!!!!!!!! It wouldve been a seller for me.

wow yeah I need to handle my surface rt

Love it, but again... When is it out?

no sd storage expantion? That a strange oversight...

It has a MicroSD card slot with 32 gigs on board. You have to go to nokia's site for the full specs.

this thing actually has less reflection than the new Surface! The Microsoft scientist traveling along with Panal (or whatever his name is) was saying no other tablet has less reflection than the Surface. I guess he can't say that anymore.

$499 for the tablet then another $149 for the keyboard and running RT. Not competitive at all.

WHY windows RT, WHY??? :( make it with Intel bay trail and its sold out in zero time

Because a ton of us don't want a laptop replacement, but a tablet.

I disagree 100% RT is the right OS for tablets, bay trail is cool and all but it brings too many problems to the party. With RT you will never get slow down or virus like you can on bay trail you wont have driver issues or compatibility problems. I think RT is the right play for this type of tablet.

Thank you! This 'RT sucks' rubbish has gone on long enough, and is no longer relevant since 8.1. It's nice to finally see the opinion outweighed by people who realise that RT is a great tablet OS.

Agreed. Where Microsoft screwed up is not making it absolutely clear Windows RT is not traditional Windows. They should have named it something else, like Surface OS, or whatever, and made it look slightly different than Windows 8. Maybe a different color scheme.

Because RT is the prototype to what will be Window's future. The desktop will eventually be regulated to limited functions similar to the comand line within the decade.
Current Baytrail chips only run 32bit windows and we won't see 64bit windows on Baytrail until next year. Be glad that Nokia is using the latest snapdragon which is a little faster than Tegra 4. I'm happy there's actually a RT tablet that can compete with Surface 2. I'm curious now if Microsoft is going to offer a Surface mini (RT) AND a Surface mini Pro (Baytrail)!?!

I agree. The inclusion of the desktop in Windows 8 is a transitional one. We've seen it before from Microsoft (MS-DOS mode in Windows 95) and Apple ("classic" mode in early versions of OS X). Eventually all the apps will run on the new system and the old one will quietly slip out of the door.

Spot on. In fact for many casual developers new software will be developed for Store only and they won't worry about desktop. You get the full tablet market as well as the new desktop market, and you get a full ecommerce experience to monetise your apps which can be complicated otherwise.

The desktop mode means that you still have some control over your computer, with windows RT it's "just a tablet". If you want to do more than simply play or read content you can't do with a tablet, iOs, android, WinRT, they all are just "limited".
Remember that windows will never lose the desktop mode, it just necessary for too many things tablet will never do, just think about all the other microsoft desktop product (all the server area, msSql, all the visual studio suite and a LOT more) ore the other party product (3d studio max, all adobe suite and endless more)
Maybe the desktop mode will slip out the "casual user", but "power user" will always need it :)

I disagree. Metro supports native code. There is no reason that desktop apps can't be designed for metro. What control does the desktop provide? It has some settings. Many of them were already moved to the charms menu and eventually, all of them will be moved there. I really don't see the fascination with the desktop. The control you are referring to is done with applications. I don't believe there is any restriction that prevent those application from being built for metro. The desktop is just a ui layer and the only real advantage is the ability to open several windows and arrange them. The vast majority of people open their apps maxamized and don't layer the windows. For most, the split screen view provides all teh multitasking they need.

I agree -- I have dual 24" screens on my Win 7 machine and I generally run my applications full screen today... Chrome I run full screen, iTunes full screen, Word and Excel full screen... and really full screen or a focus on one main app at a time is the the main point of Metro themed apps it seems, well, that and touch. The old conept of layered windows with one peaking out behind the other hasn't provided me any value in a long time. I understand it's tough to replace the functionality of a keyboard and mouse but we've seen many examples of traditional apps reconceptualized with good touch control. Word could use a redesign to help with touch inputs... the reliance on numerous old school drop down menus isn't conducive to touch input as an example.

Let's not forget that even the professional software like Photoshop is slowly converting into app like versions such as Adobe Express and you already can't buy a disk version of creative cloud, similar to what Microsoft did with Office 365.
Pretty soon most companies will stop making desktop programs all together and most will be subscription based.

please, comparing photoshop to adobe express is blasfemy for everyone knows a little the software :P
i don't think graphics or photografer will ever use "touch devices" for serious work! Just an example, try to do this on a tablet: http://www.youtube.com/watch?v=axzmUN90i7M
good luck!

I wasn't comparing express to Photoshop but pointing out the beginnings of bringing Photoshop into the apps part of windows. If you've used the current version of Adobe's software, you can't deny that the UI is slowly changing into something you can see in app format. As for professionals using touch devices for serious work, I assume you've never heard of Wacom's Cintiq series.
http://youtu.be/rIxyFlq1Ou0

Adobe still hasn't even ported their Photoshop Touch app for Win8 yet......

Not yet, but no doubt it will come. Microsoft's plan to merge windows phone and RT will make sure this app will be on tablets.

my point is not about the "touch screen", in your video that great guy (its impressive!) is using a desktop version of a software, and thats my point :D Companies do great software (or every kind of good media creator, not the toys we now have on ipad etc..) only for desktop because its they're main target!
But Desktop mode is not only about "professional software", there are utility and little software that can't run in metro mode and let you feel.. "limitated". Stupid example: i recently needed to see what my browser was comunicating with a potentially malicious site, so i opened fiddler and i could verify it. A tablet needs a browser-app to do that and i still don't know any with fiddler's capacity.
Another stupid example: i have an idea for an application and i want to write a little prototype on the go.. i simply can't with a tablet :\
Windows RT is not bad but i still feel "limitated", thats why i'm waiting a good bay trail tablet and a nokia one could be THE one :(

Your vision is very limited. Yes, right now if you have any professionla need, you have to use the desktop because that is were the software works. You seem to believe that same software can't be created to work in teh metro environment. Unless you can point me to some technical limitations in metro that prevent professional software to be created for it, I think you are wrong about the long term viability of the desktop.

Of course the artist is using the desktop version since the app version doesn't exist yet. You can't tell me by looking at the video that you don't see the possibility that adobe's software won't be converted to the app part of windows 8. I can imagine some of the software's palette menus translated to Surface's touch covers from the remix project. Dedicated hardware controls specific to graphic arts creation.

Look on Youtube for drawings with Sketchbook on Galaxy Note 10.1 and you'll see some pretty close results with your example. I'm just sad that Nokia didn't release the tablet with stylus (not capacitive)

Wouldn't a pen be the best thing for what that video shows? Also, who says that all metro apps have to be touch first? They can port photoshop to metro and still keep all the mouse and pen support and introduce touch wherever it makes sense, probably mostly for scrolling, zooming, etc.

Also most casual users would need to use office (which is included for free!) now and then thats where the dock comes into play.

ehm.. Bay Trail is a 64bit CPU and all the recent bay trail system runs Windows 8.1 64bit :)
It's power efficent like an ARM and it just give you more possibilities than the ARM counterpart.. same price.. so.. why?

That's not true. Current Baytrail devices are running 32 bit windows 8. 64bit windows 8 on Baytrail won't show up some time next year. Which makes me wonder what Microsoft has got cooking since Surface Mini won't show until next spring.

Find me a Baytrail device that runs 64 bit windows 8 and I'll buy it in 2 seconds

every baytrail pc/tablet support 64bit but it's shipped with windows 8 32bit. This because the function "Connected standby" required for fast resume from standby doesn't exists in 64 bit version. But its only a software limit and looks like it will be done in Q1 2014, after that we can just reinstall windows ay 64bit. I think we can survive some months with a 32bit os :)

"Because RT is the prototype to what will be Window's future" and that my friend is my "conspiracy theory" also, but let's turn back to present times. IMO this tablet looks nice, differentiate a bit from the crowd but the price is wrong especially for an RT tablet, maybe Nokia didn't heard about Asus T100.
In the presentation Stephen Elop said lots of people use tablets for media consumption, witch is true, but what about people who use them for note taking? So here's my idea: standard paper size is A4, make the screen (not the tablet) this size, same specs like the new 2520 and last but NOT least put a Wacom stylus. For the app ecosystem work with Sketchbook developers to port the app to WIndows RT, set the price to 350$ - 400$ and you'll have an instant hit. If you don't believe me just look at the succes of the Galaxy Note line (the tablet version)
So in the end why until now none of the OEM makers did something like this???

Galaxy Note is that cheap because it is cheap. It's made cheap and the os is cheap.
What RT lacks in apps, makes up for it in functionality alone. Add Nokia's design and markup the price of the device. The current competitor that has equivalent hardware is only Surface. The other companies went cheap.

Galaxy Note 10.1 2014 wifi only 16 GB 550 $ and 32GB 600$ is not exactly cheap. I understand what you're saying about the industrial design of the 2520 but that's not exactly the point. The point is that Nokia IMO should have released this tablet with a pen that way it would have become the only RT tablet curently on the market with pen support (i'm not talking capacitive), a tablet that not just for media consumption like Elop said, a powerfull competitor for the Note 10.1 and a cheap alternative for a Wacom Cintiq
How/why could Nokia not have realise this???


It's most likely that RT doesn't support pen input yet. Surface Pro's pen support was limited due to using a more current API driver which Wacom and Adobe took awhile to catch up to and even this is limited to the desktop side.

AFAIK, Autodesk Sketchbook is already available on RT. I do wish they had the inexpensive "pro" version from Android, rather than the full featured expensive Pro version, which I think is desktop only.

Yeah sorry, I was refering to the pro version also

Because it`s not meant to replace a laptop, it`s meant to be a tablet.

The only problem is that their distribution channel is too slow. Only reach a couple of "selected" markets by next year Q1. Then when can the rest of the world be able to enjoy this beauty? By then probably the next generation has already been on announced

Surface and NL 2520... competing each other very well and compelling each one of us to buy. Need to know more about the keyboard and stand options in 2520. LTE is a welcome addition for whose need cellular connectivity which is lacking in Surface.

It makes sense for Nokia to make a LTE version and for Microsoft to stick with Wifi only. Their perspective devices are a reflection to what they are good at.

I sort of like this(since it comes in cyan) but i wonder will performance be worse on this compared to the Surface 2

The snapdragon 800 processor should make it slightly faster than the surface 2.

Ill have than in Red Please :)

Now make a Pro edition of this tablet and I'll give my wallet with its contents

8000mah = 11 hours impressive work out of the Snapdragon 800. :)

Plus the dock has an additional charge of 5hrs or so but i reckon you might get about 4hrs and 30 minutes give or take with real world usage. Rarely anyone hits the stated usage time (you could possible get more by lowering the brightness to 0 and under clocking/ under volting).

Going to buy this one for sure! It's so slim and beautiful plus these sexy quad core processor and Carl Zeiss camera! I am so hyped!

It was a debate between surface 2 and this....the debate is over hello 2520!!! In red

This is what I've been waiting for.

So the screen is optically bonded with 650 nits... This is probably going to be the best looking tablet screen out there for quite some time.

180 degree viewing angle!!!

The apps are upside down on the bottom render?

Yep! Though to be fair my Surface will do that too if I hold it upside down. Windows 8 has 360⁰ orientation.

This is freaking beautiful!!! And it has LTE! I need this!

You know what's an oversight?
The keyboard dock at the buttom.
They should've licensed the Surface connector instead of doing their own thing.

Yea, but it needs a stand.

So what?
The connector doesn't change the physical properties of the keyboard.

Nokia may be the salvation Windows RT needs if they can bring the same enhancements they brought into Windows Phone.

Then pray the deal doesn't go through. Otherwise Nokia is destroyed and swallowed by Microsoft...which brings you back to the same place.

They should have used same keyboard from surface.... Expanded interaction between products (just my opinion ok...)

If the stand didn't cost an arm and a leg I'd consider this tablet over Surface 2. Buying my Gen 2 Surface tomorrow :-)

Damned you Nokia! If only it ran 8.1 Pro! (I'm a developer so I need access to both Photoshop and Visual Studio)

what if they make nokia tablet pro? haha wait for it. they entered the tablet war just now

Now we know why their announcement was pushed. Fuck!!!!!! This beauty needs to be mine

am I the only one missing the HDD size in specs?

Probably, considering it doesn't have an HDD ...

32gb not sure if theres any bigger yet

right, I overlooked that as it seemed a little... too little :(

Why does this have an rt version... I think that]s the dealbrekaer for most of the people

Why? What's wrong with RT? It's a fantastic tablet OS.

exactly.. RT is perfect for tablets as it made purely for consumptio and some light productivity via office hence the dock.

Just checked nokia's web site :http://www.nokia.com/gb-en/phones/tablet/lumia2520/specifications/#hardware And keyboard is also a power pack which adds 5 hours of battery life and it also has USB 3.0 and SD card support... Incase anyone is still wondering :-)

Nice... Will be out of my price range

Very disappointing. I was hoping this would be a good alternative to the Surface 2 but I guess Microsoft meddled enough to make sure it wasn't. I may get this, but only through a promotion or something. This is not worth 500€ plus the keyboard.

The official page from Nokia including all specs and features
http://www.nokia.com/global/products/tablet/lumia2520/


I own stock in Nokia, but I going with the iPad Mini Retina! Just the right size for my needs. 10" is just too big me.

why an iPad, get the Dell Venue Pro 8 and actually get work done on it.
I wish Nokia was making a 8" tablet too tho...

Nice specs! Although the Zeiss optics don't impress me that much. I mean, taking photos other than selfies on a tablet........

I don't think the Lumia look is for tablets. I could be wrong and will be different once I see it but i think surface as a tablet looks better.

Hazar red ! That's the colour i want

Does it have an USB port ? Could i download photos from my camera into it . (DSLR) Than i want it.


Yes it has USB. Here are the full specs: http://www.nokia.com/us-en/phones/tablet/lumia2520/specifications/

Does this have a WiFi or just 4G??

Nice design...Nice specs...nice features but, they lost me at Windows RT.

I think RT has a future, especially if it's merging with windows phone and here's why:
Have you ever done tech support for your parents/wife/girlfriend? If the answer is yes then you understand what I'm talking about :)

Here's the official Nokia US page:
http://www.nokia.com/us-en/phones/tablet/lumia2520/?statusCode=OK
Looks like the red color is for Verizon only. Red and black available on Verizon. Black only for AT&T. No cyan listed for the U.S.

Drool! This and the 1520 will be on my wish list!!!

Let's wait for Nokia to kill all possibility of this selling by having it overpriced. If this isn't priced at below £50 below the Surface RT than itll be the kiss of death.

Why no Yellow color? I want Yellow color, so it can match with my Lumia 920 & Lumia 1020!!!

Really want GPS, Mobile Connection (LTE), GPS, and exclusive apps on this device. but I prefer Windows 8 Pro in Surface Pro 2. I think I'll wait until nokia fully work under microsoft and realease surface but has nokia tastes :D

For those who are wondering about specs. here is the official specs sheet http://www.nokia.com/us-en/phones/tablet/lumia2520/specifications/

Why buy this ? Windows Rt is worst operating system ever made. Why didint they make full Windows 8 Pc. They could have made it whit icore5 and close to same price. Best looking tablet but useless

Windows RT is to Microsoft Windows 8.1 like iOS is to Mac OSX - it is a tablet operating system.
While it may not be full blown Windows 8.1, if you are on a tablet you don't necessarily need the full power of Windows 8.1.
/opinion

Except that Microsoft would like you to believe that Windows tablets are laptop replacements, which is suppose to be what differentiates them from "other" tablets. RT is useless as a laptop replacement, you still need another device in order to get full "PC" usage. With a full Win 8 tablet I can scrap my laptop...but wait...even with full Win 8 laptops if content providers still see them as a "mobile device" and not a PC then even some normal web content will be blocked. (For example, some Hulu shows).

Kind of wish the screen was smaller. It looks great though.

I want this device!!!!! In Red!! :) :-)

Holy shit! I need to see the hands on video. And when it's going to be available!!

800mAh fr a 10 inch screen? how?!

Just when they started to nail it, they sold the company. I would have bought 1520 & the 2520 if Nokia was not sold but don't see any point in doing so at this point! its really bad to see Nokia go, they should have tried for another year...

Awesome work Nokia! :) :)

Here Mr Nokia is a blank check, wright down any number and I will pay it.

No qi wireless charging stand!
My old rusty HP touchpad has it!

So there is no option to get this without LTE support? So that makes it more expensive. Am I also required to purchase a data plan for it? Or if I am willing to pay for LTE that I don't need, can I just use the tablet with WiFi?


I love this design, mainly because it looks alot like the HP TouchPad Go, only slimmer, faster, and has a great camera

So with the LTE support apparently mandatory, will this be an AT&T exclusive in the US?

So with the LTE support apparently mandatory, will this be an AT&T exclusive in the US?
WHY would they not make an LTE-less version... argh.

Here is question for anyone who has a Surface RT (or any RT tablet) or Surface Pro (or any full Win 8 "tablet"): do content providers, such as Hulu for example, see these Windows tablets as mobile devices or as PC's? If it only sees these devices as "mobile devices" then some content will be excluded. For example, some shows on Hulu will say "WEB ONLY" if you try to access them on a tablet, whether you are using the Hulu app or accessing from the browser (I've only tried non-windows tablets). I want a tablet that is a laptop replacement, don't want 2 devices, but if content providers don't recognize these Windows tablets as PC's but just as "mobile devices"...then Houston, we have a problem.
So as a test, will someone with a Windows tablet try to access Hulu "with the browser" and see if the show 'Haven' tells you "web only"? (I know that show says "web only" if you use the Hulu app). Let us know if you are using an RT device vs a full Win 8 device. Thanks.

Will HERE Maps available in Windows Store?


Very interesting! I'll add it to list of candidates as a replacement for my Xoom .... I don't know why, but for some reason for was expecting a matte yellow one

I hope they make a Pro tablet, but that might not happen until the devices division is no longer known as Nokia.

Awesome!!!! 1080P video at 60fps???? I've had trouble finding dedicated camcorders that do that, much less a tablet.
This is great. I can take the tablet to the soccer fields, shoot action footage of the kids, edit and compile a movie with soundtrack right there, utilize some clear slow-mo footage thanks to the 60fps, and then upload it to the team website thanks to the LTE.
Dang! Gotta have one.

is the red glossy or matte?

It looks pretty thin. I wonder about its weight and measurements.

One gets the impression that Nokia should have designed surface. They would probably have done a far better job. This device looks nice.

Anyone know what volume levels are like on loud speaker please???
Windows Central Newsletter
Thank you for signing up to Windows Central. You will receive a verification email shortly.
There was a problem. Please refresh the page and try again.