The Nokia Lumia 610 can't run Angry Birds but Rovio is going to fix that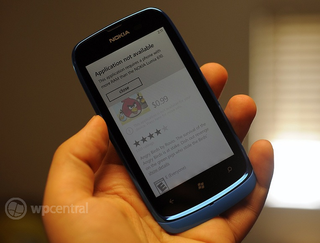 A few days ago some sites made some hay over the fact that the Nokia Lumia 610 (and any other 256MB devices) can't run certain apps or games. Some of the big titles thrown out include Tango Video Calls, Skype and and Angry Birds which at first blush appears to be bad news. Insert fragmentation commentary, yadda yadda.
While certainly true, the situation is far from permanent or dire. In short, neither app has been updated for 256MB devices as requested by Microsoft. There's no real reason why Angry Birds can't be optimized for 256MB devices, nor presumably Tango Video Calls. Heck, Angry Birds has barely been updated at all on Windows Phone.
That's about to change though as Rovio is working on a 256MB optimized version for the Luma 610 and any other low-end Windows Phones. Heidi Lemmetyinen, Editor-in-Chief, Nokia Conversations, responded in comments on Nokia's Blog with the following (translated):
So bump in the road? Yes. Permanent fiasco? Hardly. We expect Angry Birds and the remaining 5% of apps and games to be updated over the coming weeks as the Lumia 610 and other 256MB start to come online. Let's not forget: Nokia and Rovio have forged a partnership to fast-track Angry Birds Space and their other titles to Windows Phone, so making their previous title compatible with the 610 shouldn't be a surprise.
Sorry folks, nothing to see here. Time to move along.
Be sure to check our demo of Skype on the Lumia 610 and our unboxing video for more info.
Source: Nokia; via Nokia HD Blog; Thanks, simone, for the tip
Windows Central Newsletter
Get the best of Windows Central in in your inbox, every day!
Daniel Rubino is the Editor-in-chief of Windows Central, head reviewer, podcast co-host, and analyst. He has been covering Microsoft since 2007 when this site was called WMExperts (and later Windows Phone Central). His interests include Windows, laptops, next-gen computing, and for some reason, watches. Before all this tech stuff, he worked on a Ph.D. in linguistics, watched people sleep (for medical purposes!), and ran the projectors at movie theaters because it was fun.
This and 256mb of RAM in general has excited the trolls on Engadget (comments & 'writers') no doubt when the update comes Engadget won't even bother reporting on it.

I get so sick and tired of their blatant bias. It would be bad enough if they just didn't publish positive WP news and left it at that. But, they go out of their way to spin any WP news, always presenting it in a negative light. Bunch of hacks.

So why is it that a Symbian phone with 128mb of RAM can run Skype and Angry Birds, at the same time, and the 610 with 256mb can't run either singularly?

Because as the article clearly states Angry Birds hasn't been optimized for 256MB of RAM yet. (You also make it sound like they're both written in the same language and have the same code--they don't) Other Live titles run just fine. Until version 2.2, the WPCentral app couldn't run on the Lumia 610 either. Big deal.

...big deal? What's the point of rolling out lower-end phones if they can't take advantage of programs that became a normal part of smartphone life in, oh, 2009 or so?

You didn't read the article, did you? At this point, it's about 2% of apps/games that can't run on the 610 (it was 5% even before the SDK was updated). It's not a big deal because it's not a permanent problem--other sites made it sound like Angry Birds won't ever run on the 610. It's a simple coding update that needs to be pushed out.

I read the article. I also read the hysteria over at Engadget, et. al. There's a median point between saying "it's not a big deal" and "OMG the sky is falling fragmentation failboat." Rovio had to optimize for Android phones as well, but the specs they were optimizing for were substantially worse than the 610, in the 400-500mhz range, with substantially less RAM. Why can't the 610, with substantially better specs, handle Angry Birds?

Why is this so hard to understand?
" Why can't the 610, with substantially better specs, handle Angry Birds?" Because Rovio didn't bothered to optimize their app on WP to run on lower specs (unlike what they did for Android).

Ugh. Rovio optimized Angry Birds for lower specs that were SUBSTANTIALLY WORSE than what the 610 offers. The 610 shouldn't need a stripped down version.


Rovio optimized their ANDROID (yes I can also use caps) app to run on low end hardware. Rovio did NOT optimize thei WINDOWS PHONE app to run on low specs. ANDROID app = WINDOWS PHONE app. The fact that they already did for lower speced Android phones only shows that they could have done it, but didn't. And it's not a stripped down version just an optimized one... I hope it's more clear that way.


I take it you don't code tekhna, writing code for one game to run in C++ or Objective C isnt the same as using C# or Silverlight. Imation if someone gave you a book written in German then moaned about you online because that you couldn't read it. Even though there are other people out there that can read German.

This whole 256mb device thing seem to be a pain.... but in a few months most devs will aim to make their apps work on that platfrom firsts. Once they do they should run even better on the 512mb phones... only a handful of apps (no doubt just 3D games) will end up being 512mb only.
And lets face it, no one that comes here or goes to Ngadget is going to buy a 256mb Windows Phone. Its for Mr Cheap who wants to pay $15 a month for a phone.

Last off... lets not forget the Angry Birds still doesnt even do fast app switching which was brought in with Mango... so its WAAAY overdue for an update.



Where in this article says that is about 2%?? Except by your apps, all apps that I saw about months ago still keeps not available in 256mb devices.
And are many games that we never see any support or updates since they were release like: PES 2012, Plants vs Zombies, Fragger and so many others. I don't believe that now we will see.

Glad Rovio is resolving this minor hiccup. Just bugs me how some sites made this into a big deal! Where are they when some good news comes along?! haha :p

So are we going to get any other Rovio titles? Or even the other AB levels?

I wouldn't hold my breath on that...

Rovio had other titles? And I thought they were a one trick poney...

Angry birds Rio, angry birds space, etc

LoL I would not want get a 256mb ram phone. My wp HTC arrive better with wp 7.5 mango OS and 16gig storage awesome querty keyboard and 500mb ram and love playing angry birds And other game apps installing no problem

"The Rovio team is currently being Angry Birds Lumia 610 for the optimized version. Yet it is not therefore available to the public but we've known about this. We will notify you, of course as soon as possible."

Haha, that translation went well.

Anybody can tell me plzz wer can i buy best skins for samsung omnia w

Where in this article says that is about 2%?? Except by your apps, all apps that I saw about months ago still keeps not available in 256mb devices.
And are many games that we never see any support or updates since they were release like:
PES 2012, Plants vs Zombies, Fragger, NFS: Hot Pursuit, Spider Jack and so many others.

I don't believe that now we will see! Like I post in other site:

This is all a matter of optimization of app/games.Tom Clancy's Splinter Cell Conviction for example, is a game with graphics much better than the Angry Birds and is a game that I hoped would not work with just 256 MB of memory, and it works normally, without any problems.
If you want to know what apps/games work or not on devices with 256 MB of memory is only look a warning that appears below ¨ Required¨. If you see the warning ¨ * Not available for all phones ", this means that the game/app will not work with 256 MB. If the warning does not appear (as in Tom Clancy's Splinter Cell Conviction), the app/game runs normally.

Why even bother if the game won't even be supported with updates?

Hopefully this means we might get the extra levels from IOS / android... But I doubt it.

If they push out an update and DON'T update the levels it means they simply do not care about us.

How did Nokia not forsee these problems? And Microsoft for that reason; there really is NO reason for the situation to exist with Skype ffs! Microsoft are really intent on doing their best to make the road for Windows Phone as difficult as possible. This leads to negative publicity, platform fragmentation, consumer dis-satisfaction. Microsoft should have just allowed weaker CPU's, and insisted on 512MB of RAM, for the price difference would be literally a couple of dollars between 256MB and 512MB at volume. Even if they'd bundled 4 or 6GB storage as a trade-off and put the 512MB RAM, it would have been acceptable. No harm in optimizing Tango for slower CPU's etc, but this is causing no-end of hassle it seems, Nokia should pull the device and replace them with 710's for existing customers, and then re-launch the 610 with the optimum 512MB... and Microsoft should foot the bill for it, given it's their screw-up. And overall, they should all learn a valuable lesson from the situation, CEASE producing handsets with less than 512MB of RAM, period.

It can be fixed in a simple update, it just needs to be optimized because the app runs like $#1t

I really can't stand so much hate for WP on Engadget. I've just read the comments there and almost all the people there believe they are soooo smart and sooo funny. They seem decided to bring down WP. Too much arrogant people out there.

I go there to tweak the iTards.

I go there to correct peoples' misconceptions and ignorance.
And to burn the trolls... so many trolls...

Engadget has always been a haven for iTards and Trolls. I trust their "news" as much as I trust that rag called The Sun.

I have faced the same problem with angry birds application on my phone and that time I was thinking to throw out birds from my phone.lol
Windows Central Newsletter
Thank you for signing up to Windows Central. You will receive a verification email shortly.
There was a problem. Please refresh the page and try again.