Nokia Lumia 610 now available on Vodafone in New Zealand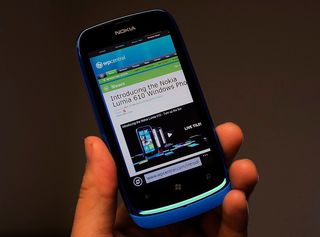 In a somewhat surprising move, Nokia and Vodafone New Zealand have released the Lumia 610 for $449 (off-contract) and it is now available on that carrier for purchase.
The somewhat low-cost Lumia 610 features a 3.7" non-ClearBlack LCD display, 256MB of RAM and a 800Mhz CPU with 8GB of storage. While not the most exciting device in terms of specs, the build quality is quite high—at least higher than anything LG has put out recently (Quantum being the exception).
We say "somewhat low-cost" only because while the Lumia 610 is affordable (we bought ours unlocked for less than $300 US), some would argue that it's still not cheap enough when up against some Android devices or even up against the superior Lumia 710.
But at least according to Nokia ANZ's sales director, Steve Lewis, the company was seeing "real momentum" with their Lumia phones. Of course Steve may be a little biased here and it's certainly not enough to boost Nokia's stock but hey, we kind of like the 610 and what Nokia is doing, so let's hope it sells in New Zealand.
Head to Vodafone's page to grab it for $449 off-contract or free with a SmartData $90 plan.
Source: PCWorld; via Stuff; Thanks, CE7, for the heads up
Daniel Rubino is the Executive Editor of Windows Central, head reviewer, podcast co-host, and analyst. He has been covering Microsoft here since 2007, back when this site was called WMExperts (and later Windows Phone Central). His interests include Windows, Microsoft Surface, laptops, next-gen computing, and arguing with people on the internet.
Wtf? Lumia 610 costs 170 € in italy w/o contract

Carriers are always extremely over priced off contract, that's how they make their 24 month plans seem so beneficial. This was over the top extreme though.

Unless it was sarcasm, there's nothing somewhat cheap about $449. If you were being serious, I envy your paygrade.
With that said, I can get the Lumia 610 for about $249 AUD unlocked here in Australia, which I think is still overpriced. Further ridiculousness regarding the 610, for $269 AUD I can buy a Lumia 710 unlocked. $20 more, that's it.
The 610 is severely overpriced.



£129 off contract best in UK. Carphone warehouse. I wouldn't pay more. We'd have got the 710 if it wasn't for the buttons, rather than the touch keys.

This people, is what I hate about NZ. I mean we always get the cheap ones, but sold expensive compared to other countries. I mean really, we're the 2nd country to see the sunshine, and yet we get the lame stuff but overpriced. Thats why even though I have a windows phone, and live in NZ, I still have a US account because imagine this: FF costs $6.99USD, while in NZ it costs $10.49NZD. I use my credit card, and it only charges me $8NZD.

We live In an expensive country, the telcos make their money by overcharging us for our phones coz 90% of thr population uses pre pay (pay as you go) and are not on plans coz they to expensive I still wish it were cheeper though. :(

What gets me is that stocks are less about if anyone gets the phone but a bunch of lame suits in a crowded room making exchanges on a company based on too many other things that have what seem to me very little about any kind of products. Like its a financial popularity contest... =/

Is this phone actually available in a developing country, where Nokia said it belonged too.

I just saw htc's ONE V for virgin mobile advertised in the US. 199.99 off contract, 1gig processor, 500mb ram, 4gig expandable memory. Unless Nokia offers something like the 610 in that price range through virgin mobile type budget carriers, I can't see them grabbing hardly any of the entry level smartphone market in the US.

Agreed, this is a slap in the face joke. If you're in NZ just get a 2nd hand trophy for $150. It's a heck of a lot better than the 610. Lame.

You can get the 610 in New Zealand for about $350 if you don't get it through a carrier, but its still overpriced. Hell I bought an Optimus 7q (same as quantum I'm pretty sure) a month or two ago for $290 which is apart from screen size (3.5 v 3.7) equal to or superior to the 610 in every other way.
Windows Central Newsletter
Get the best of Windows Central in in your inbox, every day!
Thank you for signing up to Windows Central. You will receive a verification email shortly.
There was a problem. Please refresh the page and try again.