Nokia Lumia 900 Case Review: Dicota Hard Shell Case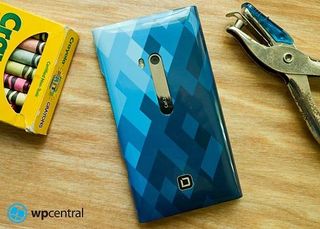 Looking for a little flair for your Nokia Lumia 900 Windows Phone? Take a gander at the Dicota Hard Shell case.
The Dicota Hard Shell is a simply designed hard shell that wraps around your Nokia Lumia 900. The case adds very little bulk to the Lumia 900 and seems to give the phone a little more comfortable fit. Not that the 900 didn't already feel comfortable in the hand...
We tested out a blue/white checker board patterned shell that has a glossy finish to it. There is also a purple patterned model that's out there as well. I would have liked to have seen more color choices but the Dicota Hard Shell is a relatively new case so more options may come available on down the line.
The interior is bare with no lining or padding. The Lumia 900 snaps into place nicely and the case raises slightly at the ends to prevent the Lumia 900 from sliding about while in the shell.
The Dicota has cutouts or recesses along the button side of the Lumia 900 to expose the volume, power and camera buttons. Removing the Dicota can be a little challenging but not frustratingly so. You simply hold the Lumia 900 by the ends and pry off the case. It does take a bit of effort but if it was too easy to remove the Dicota shell, the fit wouldn't be so nice.
The hard shell case from Dicota is nice, doesn't add much bulk to the Lumia 900 and gives the Windows Phone a little nicer feel (at least in my opinion). I am a little concerned on how well the case will hold up to scratches. The glossy finish seems to attract greasy smudges more than it does scratches. After a few days of use, I can't see any scratches but that's only after two days. My guess is the case will hold up nicely for a respectable length of time. Only time will tell if we're wrong.
The Dicota Hard Shell case for the Nokia Lumia 900 is running right around $20 and you can find the hard sell cases at various third party retailers such as Amazon.com (blue (opens in new tab) and purple (opens in new tab)). The case is relatively new so supplies and color choices may be limited.
George is the Reviews Editor at Windows Central, concentrating on Windows 10 PC and Mobile apps. He's been a supporter of the platform since the days of Windows CE and uses his current Windows 10 Mobile phone daily to keep up with life and enjoy a game during down time.
Check the ear bud and USB openings, the cover I have is only big enough for the ones in the box... I needed a larger hole for the head phone in order to connect it to my car stero...

I have this case and it's wide open on the top for full access to the earbud and usb port, no obstructions. My standard earbuds jack-in just fine.

Will there be more choices for the 800... I am starting to feel left out...

will this case come in all white?

Looks like s@#tty cheap chinese street bazaar- sold knock-off.
Buy a beautifully designed phone only to cover it in cr@p, no thanks.
Had one of those on my HTC HD2, started chipping off on the edges after a week.

Here's what I use: a full body Xtreme Guardz protector (an invisible shield works too). It's a transparent film that adds .05 mm of thickness while NOT hiding the original aesthetics of the phone case all the while protecting it from scracthes. Also, it adds grip since it's 'somewhat sticky' in nature.

Glad you like your screen protector, but don't disparage DICOTA when you have not actually used one of their products. They never made a case for the HTC HD2.
DICOTA has been making cases for over 20 years, and having used several of their cases, I can confidently say that the products work well and last.
As for the design...I personally like it because it's not another solid color and it's beautifully different, as Nokia would say.

like the looks of it also It looks like it goes well with the black and would go well with the white or cyan too!

What about a holder for the car (might have some other name, English is not my first language), prepared to have powering?

Nice looking case, and adds personality to the Lumia 900, especially the black Lumia 900! You still know it's a Lumia due to the fact that it doesn't obscure the distinguishable Lumia 900 aspects of the led placement and the metallic strip with the Carl Zeiss branding.

There are alot of black Lumia 900's out there - I'd certainly be one of those that would purchase a few cases to dress it up and add a little flair to it from time to time.

Nice overview, George. Thanks!

why is it that the cases that would look nice in solid colors come in everything but...

I think my Lumia 900 already feels great in the hand and it has a really hard scratch resistant polycarbonate shell. I can't see a reason to cover up such a great looking smartphone. Of course, I didn't put a cover on my iPhone 4 either, and that was one delicate phone....

What I want to know is, where do we get the actual Nokia cases for the 900? I've tried two cases already both terribly fitting my phone.

I got mine from attwiteless.com. Came out to $15 after my corporate discount. Doesn't even feel like I have a case on my phone.

Anybody tell me plzzz wer can i get samsung omnia w 8350i case ??? I want dis tup case,,, i love dis case....:):):):):)

Not a fan of the aesthetic design they decided to put on the back. I'd give it more consideration if it were a solid color--namely, white.

I have the glossy white casemate for my white lumia. Its is wonderful. Great quality and it is sealed in there really well. Also has a kickstand.

I am using an Incipio NK-108 Semi-rigid case. Awesome case. It doesn't compromise the look of the phone and adds a fair amount of protection. None of the outputs are blocked or compromised as well.

http://www.amazon.com/Incipio-NK-108-Nokia-Lumia-Semi-Rigid/dp/B007F10KO8/ref=sr_1_1?ie=UTF8&qid=1335460412&sr=8-1
Windows Central Newsletter
Get the best of Windows Central in in your inbox, every day!
Thank you for signing up to Windows Central. You will receive a verification email shortly.
There was a problem. Please refresh the page and try again.