Nokia Lumia 900 wins awards at CES 2012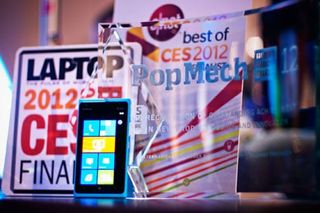 CES 2012 has been pretty huge for Nokia, and Windows Phone as a whole. The event saw the announcement of the Lumia 900, which will be the flagship of the U.S. push against competitor platforms. Reviews and feedback from press and attendees has been generally positive as a whole.
Not only that, but to really show off how good the device is Nokia has earned awards from multiple sources for being the best product at the event. So what has the Windows Phone won?
CNet's "Best of CES" smartphone.
Popular Mechanics editor's choice award for CES.
Popular Science "Product of the Future".
LAPTOP magazine's "Best of CES" finalists.
Not bad, eh? The reception has built up on top of the 800, which also wasn't shy of a positive review.
Source: Nokia Conversations
Windows Central Newsletter
Get the best of Windows Central in in your inbox, every day!
Rich Edmonds was formerly a Senior Editor of PC hardware at Windows Central, covering everything related to PC components and NAS. He's been involved in technology for more than a decade and knows a thing or two about the magic inside a PC chassis. You can follow him on Twitter at @RichEdmonds.
Finallly, people have taken their heads out of their asses and have noticed that windows phone is great. It was about time.

Glad to hear this. I really am.

Great for Nokia. Let's just hope that it doesn't take until June to hit the market like the HP phones.

Sweat! Now if only all the carriers will pick it up and promote it.Do you hear me Sprint and Verizon! They also need to get their sales people to stop pushing iphone and android on everyone and really give WP's a fighting chance. I've already switched several of my co-workers, family, and friends over to WP. All it takes is people to see how good of an OS it really is. Whenever I go into Sprint or AT&T thier demo Windows Phones are always hidden somewhere in the back of the store. Verizon doesn't even usually have working Trophie's for people to look at. Now that the hardware features are catching up with Android it should be a real choice for a lot of people.

Nice. Nokia does know the way of the Samurai and they've proved it with the 800/900. Beautiful devices and it's great to have a true hero phone. Keep up the great work. Now where's my tablet?

There's no way this device could be overlooked.
Kudos to Nokia for making the most eye catching, stylish, lust worthy device on the market!



Looks like an awesome device. Can't wait until there is an Android rom for it.

Now why the hëll Would u say something like that?

...just to post something stupid?

realize that wont ever happen. I have an hp touchpad running a custom rom overclocked at 1.5 ghz running the android and my windows phone rapes it in terms of smoothness. On android there will not be anything smooth to that degree in comparision.

I see that it won a lot of awards, but the boys over at Arstechnica where less than impressed including saying
"The Lumia 900's AMOLED display was not the best screen we saw at the show, but the level of color and detail was fine. The phone has an 8-megapixel camera on the back that neither takes phenomenal photos nor is particularly fast. There's also a front-facing camera for video chat."
"While we like the Windows Phone OS and the Lumia 900's particular talent for smooth and speedy navigation, most of the other features make us hope Nokia targets the Lumia 900 as a really good mid-range phone, rather than trying to pass it off as a premium handset. The Lumia 900 and 800 are set to launch in the spring, for as-yet-undetermined prices."
So, what is the real scoop? I really want the Nokia but this makes me pause

One negative review vs all these awards and the excellent reception that both the 800 and the 900 have recieved from the critics. Seems like a safe bet to me but if you aren't too sure simply take one for a test drive at your local store and you'll know for yourself how you feel about it. No review can really prepare you for how it looks and feels in your own two hands. If it feels right buy it, if it doesn't, move on :)

As someone with the 800, I would say go ahead and get one. Best phone I have ever owned or used. In my old job I used to test mobile apps, and nothing beats the 800 for look, feel or screen. One thing I especially like is the visibility in bright sunshine even with my polarised Oakleys on. LCDs generally have a polariser that means I can't use them in landscape with my sunglasses on. My coworker asked me the other day if the screen was as big as it looks, due to the way the CBD gives true blacks.

Congrats to the 900; but, can I has 800?

great news so when can i get one??

This phone deserved the top nod at CES this year (although CES was a little disapointing to me this year especially when compared to last years event). This phone really excites me and will help usher in a new gen of WP7 smartphones. Only thing wrong with this device is that it is exclusive on ATT cause if it was on Verizon's 4G LTE I would be all over this phone and even consider ditching my Galaxy Nexus for it or at least run them side by side like I do currently with my Galaxy Nexus and HTC Trophy. I can't wait to see how this year plays out for WP7 and Nokia as I really forsee it being their year to win. They will really show the market that there is room for a 3 horse race in America and the rest of the world. WP7's clean Metro interface paired with Nokia's excellent build will be nothing short of awesome and this phone is one of the first. Come on Nokia/MS/Verizon bring this phone over to big red.

I never gave up in windows phone. ALways had a windows phone since pocket pc days. Yup never gotten brainwash from getting an iphone or android phones. :)

Nokia 900 is just the beginning...Windows Metro UI has just begun (Thanks Zune Devs). Funny how technology works. Too much saturation of repetitiveness gets boring & new change is hard to accept. In several more years...new devices, better technology & more change. Move with the times or get left behind. Nice device but needs more carriers. Will be leaving Verizon soon due to their lack of interest in high end WP7 devices...how do you become number in the wireless industry....give the customers what the want.

This is a big important step for WP and rounds off the already well received Office hub. If you are using OCS 2007 then you are right Lync is not compatable as it runs off the 2010 technology. In fact install Lync on your computer running OCS 2007 and you will find a nice spangly copy of Lync but no way of using it.
Pass4sure 6101.1////
Pass4sure 1Y0-A18////
Pass4sure 642-481////
Pass4sure 650-295////
Pass4sure JN0-632////
Pass4sure JN0-332////
Pass4sure 117-202////
Pass4sure 000-534////
Windows Central Newsletter
Thank you for signing up to Windows Central. You will receive a verification email shortly.
There was a problem. Please refresh the page and try again.