Nokia Lumia sales up a mild 19% quarter-on-quarter to 8.8 million units in Q3
By Daniel Rubino last updated
Nokia's Q3 results show slight but steady Lumia growth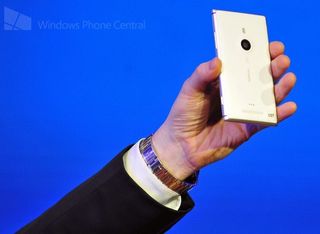 This morning, Nokia posted their Q3 results, detailing how well their Lumia line has been doing in addition to their other services. The bad news is overall, the company was flat quarter-on-quarter, with HERE sales down 9% due to seasonal variation. Likewise, NSN was also down 7%, again attributed to "seasonality".
The good news though is regards to Nokia's mobile phones, which includes Asha and Lumia. Generally, Q3 volumes were up 4% quarter-on-quarter to 55.8 million units, "demonstrating solid performance across the majority" of Nokia's range of devices.
More specifically, Lumia Q3 volumes improved by 19% quarter-on-quarter to 8.8 million units, mostly attributed to the Lumia 520. While the percentage of growth overall is lower than the previous quarter (7.4 M at 32% growth), Nokia is still chipping away at the smartphone market:
As exemplified above, sales of Lumia devices have been steadily increasing since their inception in November 2011 with the Lumia 800. However, it looks like Lumia sales are overall either slowing down or not picking up much speed when compared to Android or iPhone sales. At this rate, it will take quite a few years for Microsoft to make significant inroads into the smartphone race.
Nokia also sells more Lumias (8.8 million) than Asha devices (5.9 million) with "normal" inventory range (4-6 weeks), meaning they are managing sales well without Lumias collecting dust on shelves.
Sales being driven by North America?
Broken down by region, we can see that in North America (Canada, United States and Mexico), year-over-year change is an impressive 494% for net sales.
Device volume is also update 367% for the same region, with all other areas, including Europe, Middle East & Africa, Greater China, Asia-Pacific and Latin America actually down year-over-year.
Microsoft / Nokia deal won't devalue
Due to the Q3 results and projections for Q4, Nokia does not expect there to be a purchase price adjustment in the Microsoft acquisition. The EUR 5.44 billion amount will stand.
The deal is still expected to close in 2014. Interestingly, the division that Microsoft is buying (Devices and Services) from Nokia, accounted for 50% of Nokia's net sales in 2012.
Nokia, the company that is left after the Microsoft deal, will focus on three areas:
NSN – Network infrastructure
HERE – Mapping technology
Advanced Technologies – "which will build on several of Nokia's current CTO and intellectual property rights activities"
That last area is perhaps the most interesting as we could see the company still release new hardware, just not smartphones.
The picture for Nokia for Q3 appears to be not great, but not terrible either. In hindsight, the Microsoft deal does look to have been the right decision if only because these numbers don't represent the kind of growth Nokia would need to remain sustainable in the long run.
We'll have more on Nokia's numbers throughout the day.
Source: Nokia (PDF)
Daniel Rubino is the Executive Editor of Windows Central, head reviewer, podcast co-host, and analyst. He has been covering Microsoft here since 2007, back when this site was called WMExperts (and later Windows Phone Central). His interests include Windows, Microsoft Surface, laptops, next-gen computing, and arguing with people on the internet.
They are rising... In stock value. Pre market trading right now, its up $0.52 a share or 7.7% right now. Incase anyone was wondering.

They are! Device business is still producing negative cash flow, but HERE and NSN are lookng to be really solid as Nokia moves out of Device business.
Investors are not looking at Lumia sales anymore when it comes to Nokia, but NSN and HERE.

The only caveat there is that it is gaining back the losses it had over the last few days. It was hovering around $7.35/share last week.

Deshi deshi basara basara...

I see what you did there.. :D the dark knight RISES !!! :P

Good regrowth I guess. I'm sure its not the pace they was hoping. Thank God for the 520?

Yes and i believe the next growth might be coz of the 1320, if the price drops down slightly below $300 especially in Asia

Better than the decline the same quarter last year.

That was solely because of the imminent launch of Windows Phone 8

and now solely because of nokia world :p

This growth for Q3 was likely to be slowed by speculation on the future of the brand due to the MS/Nokia announcement at the start of September. Nobody expects volume device sales during July and August, so killing September with the news would have hit the quarter harder than any other month. When all is said and done, it was probably better to get it out of the way when they did and get a clean run at the 4th quarter.

I predict a return to very high growth in Lumia volume sales for the 4th quarter, assuming no further 'bombshell' announcements from the merger talks.

Q4 and christmas regularly are quite a driver in device sales. Pity we won't say updated flagship hardware before Q1 with WP8.1. The 1020 and 1520 are more of a niche play.

Nearly 22 Million for the year so far. Need another 10 Million for the last quarter. Nokia should come up with a successor to 520 and perhaps a cheaper one below 520 with a 3.5 inch screen and lower resolution to compete with the cheaper Androids like the Galaxy Fame & Young, Sony E etc.

Lumia 525 should be out soon, though not too much is known about its release plan.

Any idea when the successor to 925 will be out ?
I need to buy a new phone and the 925 seems to be the best choice for me but the internals are over a year old by now.
They just need updated flagships (920, 925 etc) to see a real jump in sales. I was expecting them to come out Oct 22nd - was so disappointed.

My money will be alongside the release of Windows Phone 8.1 early in the new year. New software needs new hardware and the 1520 is already their device for GDR3.

I'm in the same boat. 925 tempting, but probably better to wait. Hoping for a 5"-screen. You on T-Mo?

but the 512MB ram n 8gb doesnt help. I know this helps keep it cheap but there's a lot of negative publicity gng on regd limited apps due to 512mb ram & 8gb memory, A 725 with 1gb ram 16gb memory shhould also help,
I think high end portfolio is really covered its the low-med that needs MS-Nokia attention now.

actually the high end is not covered, they do not have an alternative to iPhone. Believe it or not many people like the iPhone size and if you want a high end 4" device you won't find one in Nokia (or any Window Phone). Who know how many iPhone sufferers are out that wishing they could have an WP8 device if only they weren't all so big!! I'm being silly, kind of.
Nokia - Please make the next phone announce be a killer 4"-4.2" device (:

I don't think its silly, i agree. I found lumia 800 to be just abt perfect size but when i had to look for replacement I had 920/925 , I dint want such big phones and ended up taking 720, it still ffeels marginally big but I'm getting adjusted, i think 729 could fill that gap with same size but improved specs

TOTALY agree
I move from 800 to 925
and now I really realise that 800 is actully perfect size for a phone.


They have their Asha OS for that, I think it would be a bad thing for Nokia (and Microsoft) to tarnish a great union between hardware and software just to get more sales.

Going on right direction, imagine if Nokia went Google route; just like HTC, Motorola and LG it would be doomed. Samsung owns Android market, hopefully people will understand by this.

Nokias doing good then excellent

Poor Nokia, tie up with MS was the dumbest decision you ever took.. I always loved u Nokia...

No, their dumbest decision was the same one everyone else made: underestimate the iPhone. They lost their way years ago. To ignore that is to dismiss history.

Underestimation is a team's worst enemy.
Thats why Jordan will beat Uraguay in the World champinchip qualifier in Amman on 12 Nov. :P
Just a Gag, any Jordanians around?

Michael Jordan retired years ago, and I doubt he could have beaten Uraguay by himself even in his prime. :-P

LOL..Even before I read your post I knew somebody would/had followed up with that snarky remark..LMAO..!

THIS! All everyone did was laugh at Apple. Nokia the biggest one poking fun at their lack of multitasking. I means its cool they still poke fun but all Apple gotta go is show them 0s for one product.

It's MS who is to be blamed, slow on updates,very much featureless compared to the competition,don't listen to Windows phone users demands,missing basic apps like opera mini that caters to the data saving community.

Although those could e.g. just use Nokia Xpress which pretty much does the same as Opera Mini.

Nokia Xpress totally shit....featureless like WP itself.., use it for few days and you will know why.

Do people really base their smartphone purchase decision on whether Opera Mini is available?

No. But the general argument that Windows Phone is behind and falling further and further behind is absolutely spot on. WP showed promise, three years ago. Today, that promise has not been fulfilled and it is rightfully a laughing-stock on the Internet.

There is simply no way to defend the pace of "progress" the OS has been making. Overall, I think WP8 was in many ways a step back from 7 (wireless syncing, Zune, FM radio, etc.), and that is really, really shocking.

MS needs to learn how to move forward, and then do it...fast. That Blue is not coming out until after the holiday season may well be the death-knell for the platform.

Yeah, appsolutely...,that's what i was trying to say.

There arent that many apps missing. And for 2 guys who dont like WP, you sure spend a ton of time in the comments section :/

Right...because NO ONE is laughing at Blackberry

We already have fm radio. IPhone has no glance, double tap to wake, live updates, NFC,...

Not so exactly but here its one of the factors coz people are used to opera mini for browsing on other platforms and when they switch to Windows they are pretty disappointed not having such a basic browser.

Did others get disappointed when they couldn't find IE on their phones?

Why should they when they have good number of browsers to suit everyone's need.

I agree with most of what you said, but try UC Browser...much better than Opera.

UC browser is another Chinese crap...,pages don't render to the screen size often in speed mode and some websites look terrible.

Well said man, it's good to hear clear thinking. The fact is Nokia was already strained way before Elop appeared on the scene, in fact, we could say it was their crisis that opened the way for Elop's entry. They didn't stand a chance going the Android way because that would mean no funds from MS in the meantime and they would have had to compete head on against the giants like Samsung and HTC who had pretty much conquered the Android domain between them, with their extreme pace of hardware delivery and huge investment in software (even if it wasn't optimised, it still worked anyway). Nokia would have had to begin developing for Android from scratch while Samsung dumped release after release into the market. I think the MS deal was the best they could get -- they needed the cash support, that's business.
The iPhone is to 'blame' for the upset of the mobile phone industry :-)

If Nokia hadn't teamed up with Microsoft in the first place, I very much doubt they'd have lived to tell the tale.

Yup they would have been sold for parts and patents last year most likely.

This is GREAT news for Nokia. They sold 2.8 million Lumias in Q3 2012. They've sold 8.8 million in Q3 2013. That's more than 200% year-on-year growth. From Q2 2012 to Q3 2012 there was a 30% DECLINE. On the other hand, from Q2 2013 to Q3 2013 there has been a 19% GROWTH. Very impressive.

I'm expecting even stronger Q4 with the holiday season coming up, and all the new Lumia devices.

That was due to the WP8 launch

I am not expecting a huge Christmas for Nokia this year. That is not to say that it is going to be horrible, and they won't see growth, but I do not see the sales of the 1320 and the 1520 being much more than a nitche market devices, especially as they will have a limited launch at first and we are already one month into the quarter.
The launch of the 929 however will be a different story. All of the guts of the 1520 crammed into a 5" display? That is what people are looking for! I am assuming that VZW is getting it a bit early, and we will see a wider release of this device with WP8.1 later in the year as a Lumia 930. If they were releasing those products right now then we would see an amazing quarter with lots of Christmas sales. But the 1520 is just a little too big for most people, and while it will sell just fine, it is not going to sell in numbers like the 920 or the 520 devices which are so popular.

Well you can thank att for killing the Lumia 1520 sales. There what's holding Nokia back. Not there products themselves.

It seems there will be a 5" variant of the 1520 arriving on Verizon as 929. But that's US only and that's not really what makes and breaks their christmas sales.

Let's not forget. A lot of people in the US hopped on board w/the Lumia 920, 820, and 822 signing up for 2 year contracts. Unless they're willing to break their contracts to get new phones or pay outright for new ones, those sales are going to be missing this year.

And I'd argue that unless WP8.1 delivers some exciting new features, some of those users might be more excited about alternate offerings rather getting a new WP8 device when their contract expires.

Buy stock now, we may pull an Apple.

Funny how the best selling phone is not sold by AT&T. I guess exclusivity does not equal superb sales after all.

AT&T sells the Lumia 520. In fact, they're the only US carrier to do so (well, technically T-Mobile sells the Lumia 521). You're also missing the point of exclusivity. It's not just about sales but about offsetting costs to the carrier for advertisements and marketing. That's money Nokia can save and instead, focus on R&D for other devices.

I bought one as a gift to my uncle. They are cheap enough for a good gift.

Let's hope we can get the 525 on Verizon as to have a 52x variant on the big three US carriers.

I would love to see some reports that compare the lost revenue of the smaller market that comes with carrier exclusivity with the small savings in marketing costs because I don't think it is worth it. Nokia's love affair with AT&T isn't working because 1) AT&T aren't promoting WP with very much zeal, 2) people don't switch carriers anymore. Most people are embedded in family plans with staggered contract dates; they aren't giving that up. Nokia has missed out on the majority of potential customers by having the majority of their devices locked to AT&T.

We could "SEE" the company...

Good. Let's see how the upcoming WP8.1 will help with this and the release of highly expected apps like Instagram.

Yayy! And to celebrate, I'm gonna get myself the L925! ;)

...??? What makes you so sure they would have done better going Android? It's pretty obvious that Samsung is the only real profitable Android maker.

The only profitable there is google :)

And Microsoft, with their $15 cut for every handset :P

Correction: Google has yet to realize any profits from it's Mobile OS. They're even struggling to monitize the search on mobile.

There are many proftable Android manufacturers. At least with Android the OS would not have been a hindrance. WP does have future promise (market share -wise), but for Nokia WP8 needed to be ready when the deal was made.

all they need for the 525 is a front facing camera and it's golden.

That's how I feel too. Well, 1GB of RAM would be nice too. But WP8 runs just fine on the 520, and it's got the minimum features needed and leaves out the ones that low end purchasers can be without.

Flash for the camera and clearblack display instead of sensitive display would be nice

Sure, but if you really want to keep the costs down you're not going to include things like that.

I'm not sure I agree with the analysis here.

Growth, particularly in North America, is very good... especially when you look at year-over-year where last year they had a terrible Q3 and this year they surpassed it dramatically. They are doing better at having big announcements and releases every quarter to help keep momentum going, and the products they are releasing is top notch.

In fact, in spite of some people's gloom and doom about the Microsoft acquisition, they're still UP as well as their stock price, so clearly investors (financial AND consumers) have a lot of faith in the company.

I call that good news. If there's any fault at this point, it's probably more on the Microsoft side with slow update delivery (features) and carrier mismanagement of the platform.

It's good news, I don't contradict that. It's just not great news. Sure, sales are up dramatically in North America. But it's down everywhere else in the world. Growth, as a percentage is up, but by a smaller percentage. Revenue is also down due to lower margins. Like I said, it's still good, but it's not awesome either. Nokia accounts for nearly 90% of WP devices, they own the field.

Sales are normally down for almost everyone without a major launch in Q3. It's the weakest quarter seasonaly speaking. I rather wonder why it's that strong in the US this time. Will be up in Q4 again - then we'll have to wait and see.

Smartphone profits are down QoQ though (meaning even more losses), it's great for MS, but not for Nokia.

Daniel,

You all seem to be able to talk with MS/Nokia..., any chance of a "528" coming to VZW?

I think this is better news than this article makes it out to be. Your android and iPhone lovers will tell you that WP and Lumia are dead in the water but there has been continued growth. I don't think we can expect it to be any better than it is considering how huge those phones already are. And does WP/Nokia/MS really need to sell as many as them? as long as they remain profitable and continue to make phones I'll be happy. I'd hate it if everyone owned a WP. my days would be boring having no one to argue with over which OS is better.

Sales are good, they're just not "explosive". At some point, either WIndows Phone/Lumias will have to take off. Middling and slowly increasing sales are "ok" but it won't win them significant market share.

sorry but it is Nokia against Apple, Samsung, all those Android OEMs, Microsoft slow update process and the carriers.
This results are AMAZING!

That MSFT's shares are down this morning while NOK's are up tell me that these results aren't that "amazing".

Microsoft shares are down because they went on a rampage upwards over the past few days.

You don't think the market is too settled right now for WP to explode? I don't see WP exploding in terms of market share for a long time. Once the market share reaches decent numbers then I expect it to grow exponentially, but until then it'll be slow and steady I believe.

I think the combo of Samsung high-end and them and everyone else with low end Android phones was a death blow to other ecosystems' ability to "explode" on the market. They have simply saturated the easy-to-reach market for smartphones, and from now on it'll be a slow and steady climb for anyone that wants to compete. I think WP can do it though, at least enough to become an equal player to iOS in terms of market share. I wouldn't be surprised if we end up with a fairly settled OS market where Android has maybe 70% and iOS and WP about equal part of the rest.

I think we would be wrong if we expect Nokia to atleast reach half of the apple or android sales share, it will continue to grow marginally as currently till WP is able to iron out many (known)issues/ most wanted features.
We may have to wait atleast till WP9(my best guess).

I totally agree bruh haha my days as a windows phone evangelist will be over..rightly said

Nokia is still losing money on smartphones.

nokia shares UP to 8% at NYSE in open market

Let us see the numbers of Q4, after the announcement of the stupid ruinous deal.
From these numbers the only thing I take is: 1 - the D&S still represents Nokia's heart and lungs and without it they'll just close doors; 2 - growth is there although still dragging its feet; 3 - they should have gone with Android to stand a better chance. I would seriously like some market search to have on paper why people aren't still coming or returning to Nokia albeit the cheap well build options like the 520. There's only on reason left imo: the OS. As for Microsoft...IF they manage to buy the D&S division...they're gonna have a bad time (and I'm gonna love revengefully watching it).

I do, but it's still very undeveloped when compared with its rivals Android and iOS.

it's not the OS. it's Microsoft and slow update/feature process. They should go next year to Barcelona and just bring the best thing the could bring to market.... BTW, you read like an Android fan in disguise.

I'm not, actually. I am a Nokia fan. And I want what's best for Nokia. And this isn't clearly it.
I don't hate Android nor Google unlike many people here though. But there's something that can't be denied: Android is years ahead of WP in terms of OS flexibility and development (and I'm obviously not talking about the App Store). If Microsoft would develop the OS way faster and at least bring it up to pair with Android and iOS, I would be head over heels with it. But unfortunately Microsoft clearly sees WP as a vanity project. And as such, it's hard to be enthusiastic about it when they, themselves, aren't.

Android is not ahead in flexibility. All the custom things that Android does were doable on Windows Mobile years ago but Windows Mobile just didn't take off because of poor MS execution. Their strategy with WP now is to not make it flexible like Android (that would be a step backwards) but focus on fluid design and ecosystem. If flexible and customisable with apps that have no standards are what you want then go to Android.

Lol, from a business' perspective, The Android route won't work at all. First of all, the number of direct competitors is large. and not lacking in good device manufacturers (Samsung, Sony, HTC, LG, Motorola). They are all producing amazing phones at the moment, each touting their own unique features (and some are really quite good), it would be very hard for Nokia to stand out. In WP however, they have little to no competitors, and everyone is starting at the same point. Their name is now equivalent to WP, something that would be impossible if they chose Andoid.
Second, Nokia just don't have the money. Sure Android is free, but the license fee is really minimum in terms of expense to gain market share. I remember MS was making 10 dollar per phone and Nokia making 40 dollar per phone in terms of profit, which means, 8.8mil sales last quarter gives MS 88 million in lincensing fee. But compare that expense, to the marketing spending by Samsung, who has so much more free cashflow to throw just to gain a bit of market share, its TINY! Nokia doesn't have the budget for it to make these advertising campaigns with Android, so they will lose out just like everyone else except Samsung. By teaming with MS however, they receive financial aid and the boost that MS makes lots of marketing campaigns themselves.(though effectiveness could be improved).
Last but not least, profit. Few companies making Android phones are making money. Yes you might sell more phones and get higher revenue, but revenue means nothing if your margin is so low that you are losing money overall. Nokia cannot afford to lose any more money, they will bankrupt. They are making healthy profit (or much less loss) by choosing WP.
So no, they would not have a better chance if they chose Android. While it might seem like a more successful platform on appearance, with any business strategy in mind you would realize how bad a decision it would be if Nokia went with Android.

I disagree. You're forgetting something that Americans always forget when talking about Nokia (I'm not sure you're American) and that is the brand power and proximity with consumers. Unlike HTC, Sony and LG (these last two are very attached to TVs and Multimedia devices more than with mobile), Nokia has a long tradition of mobile construction and has created a trust bond with its consumers (without which, WP wouldn't be selling at all). The advantage that Nokia would have with Android would be that they wouldn't have an OS manufacturer dragging its feet and their devices with them. Would Nokia beat Samsung upon launch? Of course not. But as soon as consumers would start seeing the OS they like and are accustomed to on the Nokia devices, with their unsurpassed imaging capabilities and quality construction, they would start returning to Nokia from where many of them came. That would have increased their sales more than this.

By teaming with Microsoft they could have created a killer smartphone and OS. But Microsoft didn't delivered. And so Nokia is left with an underdeveloped OS that frightens people because its different and drives them away because it lacks to much (again, not even mentioning Apps).
Teaming with Microsoft didn't brought them any marketing boost. If anything, it drove people away because of Microsoft's still tainted reputation around the World. The growth of WP has absolutely no contribution from MS. It's all Nokia's doing.
Currently Nokia isn't making any healthy losses. They keep losing money and have been losing it ever since they first ignored the iPhone and later went with WP instead of the already more popular then, Android. Let us not forget Nokia didn't adopt WP this year. They adopted it in 2010 (with the first phone coming in 2011). When they made the decision, they were in a much better position to get Android and develop a very strong OS (because unlike WP, Android can be changed by the OEM's at will) than they are now, obviously. Still, judging by the high demand that still exists from Nokia consumers for Android on their smartphones instead of WP, I think it's pretty clear that no one is benefiting from it. Nokia is selling less than they could because of their choice of OS, and Microsoft isn't gaining anything but risking losing current WP users if they destroy the brand and company that ensure them those users in the first place.
Word of mouth sells phones more than advertisement campaigns. So answering consumer demands would benefit Nokia way more from the business point of view than trying to tell consumers what they should or shouldn't want (that's Microsoft's modus operandi and it's been proven an epic fail over and over again)

And how do you suppose Nokia would have sustained itself while developing for Android? Or do you think they can match the hardware pace of Samsung? Don't forget that Android is a heavy mobile OS, you need top of the line hardware to have any experience comparable with iOS or WP. Samsung can leverage a lot of their alternative businesses, and that's why they are so successful. Nokia didn't stand a chance with Android. Don't forget this is business and you have to consider all angles because you are actually running a company. Even as big as Sony is they are still yet to displace Samsung as king of the Android hill, and Samsung just keeps pushing the bar (see Note 3 for example). How do you suppose Nokia would have delivered all this incredible hardware and still make a solid profit? The Nokia execs know why they chose WP.

Well said, I couldn't have put it more clearly. This is sound, logical thinking. Not just people that see Samsungs all over the place and seem to forget there are Motorolas, LGs, Sonys, Huaweis and countless other manufacturers that have alternative businesses they can leverage while absorbing losses on Android, and yet they can't seem to displace the dominance of Samsung. Nokia simply didn't stand a chance without the cash injection from MS. The fact that they chose WP should be an indication that they had obviously thought this through and believe it or not, they took the best choice available to them.

Exactly. By the time Nokia realized its own burning platform, it was just too late to go Android. If Nokia had moved to Android back when the iPhone first launched, they could have easily become what Samsung is today.

What do you mean "IF"? Why would this deal be turned down?

If the Lumia 1020 isn't selling in the US by now, Nokia needs a new retail strategy. They have saturated the airwaves with ads, so awareness of the 1020 should be high. But the device is nowhere to be found in retail stores that are not AT&T, and even at AT&T they get a step-child treatment, as something they are obligated to carry and nothing more.
I have no idea what they need to so, but something has to be done.

They sell the 1020 at WalMart...

I guess you guys have better stocked Walmrats and Best Buys than I do, thankfully. The 1020 is at neither where I am. (my Best Buy's only WP is the 520 prepaid one).

Of course, that makes it even worse if it's not selling...

Ditto to this. I've been to 3 WalMarts and 3 Best Buys in my city regularly for the past year. None of them carry a single Windows Phone of any type. If they aren't there for passers-by to encounter and play with, they'll never take off.

I was so upset at AT&Ts lack of knowledge and excitement when the 1020 launched that I bought it at the Microsoft store. Sale reps are extremely anti Windows Phone and will try to steer everyone to a Galaxy phone...

They're spending a ton of $$ on advertising. Particularly during the World Series. The tag line "2007 called, it wants its camera phone back" needs to be in every add for the time being.

My dad's favorite line from that commercial, and he has an iPhone 5! Lol

I dont know about US, but in India I've seen the ads, their too much emphasis is no camera & low light imaging technology. I agree that imaging is its strong point but the devices such as 920,925 &1020 can also do much more , such has puremotion HD screen, super sensitive screen etc, but these features are not all being advertised, compare this with Samsung ads, they seems to show that the device can do a lot of things, irrrespective of whether or not those features are useful , ppl seem to be more willing to spend their money on such devices seeing them as value for money.
recently saw LG G2 ad, they even show double tap to wake as a unique feature and advertise it, why not nokia can do that, I know many ppl who think that having a point n shoot is enuf so they dont need devices likes 925/1020, afterall S3s, S4s & iphone also are not bad cameras when required.

"compare this with Samsung ads, they seems to show that the device can do a lot of things, irrrespective of whether or not those features are useful"
Absolutely. And the ads can even fudge the truth a bit - everyone have seen those Samsung ads where people transfer videos just by tapping their phones together for a few seconds. Nobody could simply do that IRL, but it was a selling point, and since most people won't do it anyway, it's not going to backfire...

Nokia really needs to show other features besides the camera.

Nokia partnership with MS was the best decision they made, they got brand awareness, not only from MS fans but butthurt haters, Nokia was all over the news the past two years, unlike vanilla Droid brand number 524.

You can't compare Nokia to a smartphone leader such as Apple. They got in the market much earlier and have a much stronger brand. Compared to all of Android Nokia isn't doing so well either but Nokia is one device maker and should be compared to all those device makers that decided to go for Android instead. For example I'd like to see Nokia's performance in comparison to Sony or Motorola.

These are actually really nice figures in my opinion. At this point Nokia has hit critical mass where not just customers but also employees of retailers are getting familiar with Windows Phone/Lumia and their unique selling points. Now it will take some time before employees are willing to actually suggest a Nokia to their customers. This is also a a really nice basis for future growth for the WP platform, and if Microsoft keeps at it then they will have their breakthrough eventually.

What Microsoft needs now is another phone maker that recognizes that the potential is there. Someone who can legitimise Windows Phone in the eyes of developers and retailers. Someone who will really commit resources to WP not just trying out the water like HTC and Samsung. I think Microsoft should look to the east and make a real strategic partner out of Huawei.

If they would convince Kaz Hirai to build a team to develop WindowsPhones, that would be great! The style of Sony's phones would turn all the heads to WindowsPhone operating system.

True. Sony's phones and WP would look really nice together. But it will take a lot of convincing to bring them (back) on board. Microsoft really screwed up Windows Mobile 6. The moment the iPhone changed the phone industry a lot of players immediately recognized the impact. They started looking for a software partner to build an eco-system. Sony, Samsung and many others knocked on Microsoft door. We had great Xperia devices running in the terrible WinMo6.1/5. We also had iPhone copies by Samsung running WinMo, these things could have been wat Galaxy is today.. But Microsoft was too slow and remained uncommitted to turning it into an eco-system.

So I can fully understand Sony prefering to go for Android, especially since they are competitors of Microsoft in gaming. And Microsoft is turning Windows and Xbox into one big eco-system now. Sony would be supporting and competing with this eco-system at the same time.

Didn't Elop said once that North America is their target? Apparently it works for them.
For Europe, only starting from one month ago I saw more commercials on TV or billboards regarding their Lumias. In NL carriers started to advertise Lumia more heavily. In other countries like CZ you can see more and more shops with posters that have Lumia on it. In Romania Orange is starting to advertise WindowsPhone too..so little by little there should be an increase in Europe for Q4.
I predict a 15% from Q3 to Q4.

Last week I visited a mall in Abu Dhabi, UAE. The sales guys are not at all supporting Lumias instead they said those are crappy phones with lots of reliability issues. But at the same time they are backing Samsung and Android. These kinds of arrogent sales guys might have influenced the growth of WP in Middle east. Microsoft and Nokia should seriously consider these problems..

Year on year sales for other countries are dropping coz nokia gives secondary treatment to its users in other countries. Their prime focus is U.S. If only, they could understand this simple fact..

In the "Sales Driven by North America?" table, are those numbers for Lumia only or do they include Asha? It would be nice if you only included Lumia numbers since those are the important figures for the future.

Also, a 19% QoQ increase in units is really good. I wouldn't expect that to continue but rather settle into a lower amount. QoQ growth of just 10% would be phenomenal (compounding is a magical thing).


Does Asha even exist in North America?

Simple question to look into: For the 19% increase in sales, are those mid-high tier Lumias or low tier? The reason I ask that is because I know studies have shown that those with premium devices tend to stay in that ecosystem more, compared to someone buying a low end phone. Essentially, just geting buy until they can afford a premium phone potentially from a different brand.

Hopefully the 520 will have enough hooks in it to the Windows ecosystem that along with Windows 8 it will convince people of the benefit of staying. Personally, I think WP + Hotmail/Bing services+ W8 are a fantastic combination unmatched by Android and iPhone, and this is one of the main reasons I will be sticking to WP as long as it's around. Not because I have to, but because I want to.

Seeing how the ASP dropped, what do you think?

I am sill waiting for Nokia Lumia 1020 to launch in Pakistan. 1520? I should wait till Q3 2014....

Now just get rid of this carrier exclusive crap and we may see some high end devices move.

you do realize that you can always buy an unlocked international phone like in every other country right? Please get out of the carriers subsidized mindset.

He's not worried about himself obtaining a Windows Phone; he's worried about the typical consumer, who won't do that. Carrier exclusivity has really stunted Windows Phone's growth.

I think if you do the research then you will find that outside Apple and Samsung all other OEM sell around 10 million units aprox. So basically Nokia has caught on to everyone but the top two. Now its time for them to take the next step.

Try 33 million in Q3 for Apple. I've forgotten Samsung's units, but it's about double. No, it is the rate of change against an slowing growth market that is relevant still for Nokia, not total units.

Try 81 million (or 88 million) for Samsung. http://blogs.strategyanalytics.com/WSS/post/2013/10/28/Huawei-Takes-3rd-Place-as-Global-Smartphone-Shipments-Reach-Quarter-Billion-Units-in-Q3-2013.aspx http://www.idc.com/getdoc.jsp?containerId=prUS24418013


Ah, yes, IDC said 88. I was thinking 66(6.)

An important fact for comparison is growth in all (not only Nokia) smartphone units Q2 to Q3. It appears by IDC numbers it was +8%. +18% for Nokia is quite good. Eyeballing now (I didn't do the math) it looks like Apple may have approached that growth, but Samsung did not.

Since when did Daniel get so negative? "Mild", "slight" growth? They sold more than 3x what they did a year ago. Even looking at QoQ growth, if you have 19% QoQ growth you more than double every year. The platform as a whole probably sold about 10 million this quarter which is also huge progress. The only question is whether they can keep it up going forward.

Some good news for sure, but not all good news as per this article:

http://www.usatoday.com/story/tech/2013/10/29/nokia-third-quarter-earnings/3294257/

But at least the bleeding is slowing:

The third-quarter net loss of 91 million euros ($125 million) compared with a net loss of 969 million euros a year earlier. Revenue fell more than 20% to 5.6 billion euros.

It's MS who is to be blamed, slow on updates,very much featureless compared to the competition,don't listen to Windows phone users demands,missing basic apps like opera mini that caters to the data saving community.

problem is the thought process of MS which thinks currently it is more important to enable WP8 to support more n more handsets, thought this is very much necessary I agree but they cant ignore the known issues & missing features, it is not the publicity on tv or internet but rather word of mouth publicity that will do them more good. and there is a risk that current WP users might switch back to other OS

. Often i think of changing the platform due to frustrations but the interface and Nokia buid,design and quality holds me back..,i will wait for another 6 months for the features and apps i wish for or else MS and Nokia is going to loose another customers.

Seems it is free to blame MS. But I don't think it is always MS's fault. About updates, why did HTC get GDR2 and GDR3 first? Lumia 920 has the front camera dirt problem and many have experienced the issue that the phone is stuck at spinning gears after a factory reset. Lumia 520 reboots so often (especially before amber update), and I have never seen that on htc8s. I have less problems with my Surface RT than Lumia 920. I know people have got used to blame MS for almost everyting, but if MS makes a Surface phone, I will definitely switch to it from Lumia.

Did HTC or Sony or LG manage to sell 8.8m smartphones last quarter?

LG, Lenovo, and Huawei sold around 12M smartphones last quarter. Samsung's total was 88M, Apple was 34M. Nokia falls into the "Other" category. See the following:
http://www.zdnet.com/q3-2013-smartphone-data-shows-samsung-and-apple-continue-dominance-7000022555/
Right now what's important is the YoY growth rate. If their current rate continues, Nokia will finally get into the Top5 list in a year or so.


It is very generous towards Apple to say "Samsung and Apple continue dominance" as that heading does... when really, it's "Samsung and then nothing and then nothing and then nothing and then Apple and then everyone else"

Time to pass 10mil/quarter. 5xx and 1320 will be the leading role. Hope MS release 8.1 soon enough before the lunar new year.

"We might see new hardware from Nokia, just not smartphones." Does that include tablets?

Honestly i feel the low quarter to quarter increase is low only because of the news of Nokia being taken up by Microsoft.
My friend asked me if its a wise choice to buy a Lumia considering the "Nokia's Situation". And i was like dumbstruck.I made him understand that only Nokias devices unit is taken up and Lumias will still be in production and he ended up buying a 925..
Most people don't understand what this acquisition means :/

When I heard about the deal (MSFT buys Nokia) I was the happiest person on this planet. When I read the details I was angry.
Microsoft (I'm a big fan) did AGAIN not make the whole job. They made only a part of it, like it happened with Windows Phone 7 (and WP8 too in future).
Yes it's cool they bought Nokia. But did they?
They didn't buy patents, they didn't buy the name Nokia, they didn't buy HERE.
They bought a team of over 30000 employees, the name Lumia and the right to use Nokia technology for 10 years. If they did their job right, they would have bought what's Nokias most valuable asset. Their name and their inventions. They would be leader in mapping technology, which they could merge with Bing, they would have deals with the biggest Car manufacturers, they would get money for the patents every mobile manufacturer uses, they would be invulnerable against most patent infringements, could be the biggest player in Networking and cellular technology, besides of having a foot inside of many standards nokia was defining (Microsoft standards are minority.)
They would have a name that stands for quality. I think Windows 8 damaged the name Microsoft because of the bad press. At least they could change Nokia to Microsoft during a longer period of time, when Microsoft had gained back some reputation. These things are why I'm beginning to get angry with Microsoft.
Don't tell me Nokia would've been too expensive for them. They make one big purchase a year, if they dont buy an other big company next year they would be fine.
Besides of that they've got big cash reserves. Instead they're making a share buyout program for 50 billions. Oh yes and as a secondary effect they would be one of the leaders in Network segment. (Between: I'm sure Google is heading into that direction, and now they'll be faster than MSFT again.) PS: I'm a (happy) Microsoft-Owner and wrote this message from my lumia 920.

My guess is buying all that either wasn't for sale or was crazy expensive. It's not like they turned down free dinner rolls. That stuff costs billions of dollars.

I agree with you, one of the main reasons that I bought my Lumia 920 was the Here Drive+, so I don't need 3/4G connection to use map or GPS.
So what can happen in the future? Here will go to android and ios devices? Won't be free on future lumia devices?
Microsoft needs to undestand that they have to make good apps for the windows phone, I bought the lumia for 3 reasons: office, here drive+ and the camera.

As I always say, great platform,bad ads,and far too many emotional fan boys. That being said I love my 720 more than any phones l have used.
The problem with them is they show only camera features in ads and the general public perception is they are only best at camera,while that's not true,they should show the amazing qualities of their software too.

I am happy and sad about Nokia to keep the "Here" devision, does this means that hare maps won't be free on the future lumias? or does this means that fure here maps will work and be free to android and ios devices?

Really depends on the deal MS made with Nokia.

Hope they did a good deal.

12M for Q4 would be a real coup. However, I expect them to surpass 10.5M for Q4. The 520, 925, 1020 & 1320/1520 should get 'em there. Though the 1020 is currently a niche product, I don't think that will always be the case. My daughter took her new 1020 to middle school last week and it was a major hit. (btw - thanks for the $0 2yr tip on ATT). Everyone recognized it from the commercial and 2 parents since then has asked me if the sale was still on. Now there are 3 1020s in my daughter's class. Changing 1 classroom at a time. My 5th grader now has her old 900 and he's loving it. I'm still rocking my 920 awaiting the 1520.

Also I didn't see anything here... Engadget claims Nokia reported a 118 mil euro profit!

Yeah, appsolutely...,that's what I was trying to say.

ASP is down by another 12€ for Lumias (143€ compared to 155€ in Q2), so basically Nokia sells more but earns less.

And contribution margin for Lumias is even down from the already bad Q2 numbers. Minus 17.1% compared to only minus 14.1% in Q2. So Nokia lost in Q3 more money with every Lumia sold than in Q2. Only its feature phones Nokia currently sells with a profit.

Something tells me most of these sales are in the low end market. I am seeing so many grandmas with nokia lumia phones these days.

Often i think of changing the platform due to frustrations but the interface and Nokia buid,design and quality holds me back..,i will wait for another 6 months for the features and apps i wish for or else MS and Nokia is going to loose another customers.

going by the discussion in the forums, it seems lot of ppl are expecting WP8.1 to solve all major issues and bring in lot of features, if MS fails to meet expectations, they sure will be losing many customers from their existing base.

That's what people said about Mango, Tango, WP8 and GDR1, GDR2 and GDR3...

That's bcoz people are hanging on for something spectacular by MS.

It's been three long years and MS has done little to improve the software and thereby no huge growth.

Yes and that's exactly why I think even wp8.1 would disappoint.

I am not a WP owner (wife still uses HTC Titan and still Loves it) but, one thing is certain.
I WANT Windows Phone to make it.
I can't help those numbers. There are a few apps I won't do without and windows don't have them.
I keep looking tho. Someday maybe/hopefully. Not compromising the way I want to use my phone just to support MS.
When the Apps are there, I will be all over a windows phone. I emailed my bank and asked them to make a WP app and I got a email back saying " We have no plans to develope for Windows phone platform, have a good day"

I currently have a Lumia 1020 and I previously had the 900. I think the Lumia phones are great and the WP OS is generally great, but its amazing the befuddled reactions I get from people when I tell them I have a Windows phone. Many people don't even know Windows phone is a thing. You ask them to name smartphone operating systems and they say Apple, Android, BB. Despite the ridiculous amounts of advertising Microsoft is doing, I don't think the WP market has that much visibility--and people are very resistant to change. I think eventually Nokia WP will gain a reasonable chunk of market share because they are putting out a great product, but it's going to be very slow going. Unfortunately, among my peer group at least, Microsoft has an un-cool reputation.

Yes ms reputation is real bad and combine that with naming the OS windows,
Windows Central Newsletter
Get the best of Windows Central in in your inbox, every day!
Thank you for signing up to Windows Central. You will receive a verification email shortly.
There was a problem. Please refresh the page and try again.