Nokia not officially releasing the Lumia 2520 tablet to the Philippines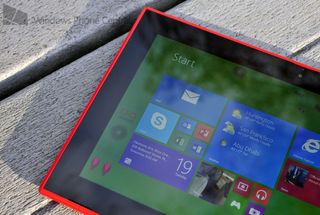 The Lumia 2520 is Nokia's first Windows 8 tablet, powering Microsoft's RT operating system. The product itself was unveiled back at Nokia World last year in Abu Dhabi, and while it has already launched in multiple markets, we've got some bad news for those who reside in the Philippines. According to NokiaRevolution, the company will not be releasing the Lumia 2520 in the region.
The website confirmed this fact with Nokia's General Manager (PAN Asia), Karel Holub during a meeting last week. The reason for this move is down to the growing number of Windows 8 tablets and competitive pricing of said hardware. As well as competition within the Windows ecosystem Nokia would also be contending against the array of cheaper Android tablets available.
If you're still wanting the Lumia 2520, you'll have to check out online retailers or other sources to order one.
Source: NokiaRevolution
Rich Edmonds is a word conjurer at Windows Central, covering everything related to Windows, gaming, and hardware. He's been involved in technology for more than a decade and knows a thing or two about the magic inside a device chassis. You can follow him over on Twitter at @RichEdmonds.
Who wants stupid RT tablet ???!!!

What's wrong with RT?.. Obviously people are more concerned with mobile apps than legacy apps considering the decline in PC sales vs tablets like the iPad, and numerous Android tablets.. W8 just needs to have more apps, and it's only been a year.. Trust me the apps are coming... This isn't WP we're talking about here..

RT is great. If one doesn't want an RT he should buy a laptop. The use of tablet is so different from PC.

+2520. I really wanna buy this one. RT is great you know.

Its alright but please release the surface in the PH Microsoft.

We don't have a microsoft store. You can order from Gaisano Interpace though. No, that's not a typo, it really is interpace and not interphase.

I have Lumia 2520 selling it in rush. 7k 09770873250 contact

+2520! I got it when it first came out and is great. The only thing is the lack of apps... Although, I get by quite nicely with the webpages, and the void isn't quite so bad. Mainly it is the games that are missing. It is just hard to come buy, also outside Philippines :-P I have been trying to buy the keyboard, but even the Nokia Flagship store in Helsinki has no clue, when the keyboard will be available... Just like Nokia wouldn't want to sell them?

Today's Windows RT , Tomorrow's Windows phone 8.1.

Well, WP9.0... AKA "Threshold".. We've got a ways to go... MS is working on something huge for WP as we speak.. This update hiatus is going to pay off big time.. Mark my words❕

I have a Surface 2. It's got Office, (usable not mobile version), many apps from WP. As opposed to my iPad I can actually work on the Surface.
Some annoying things, like no reference managers and some glitches where the shop doesn't show search results, but overall it's great! So I'd like a 2520!

What's to happen with the 2520, and other Nokia tablets, after the deal??..
I know, I have a lot of questions this weekend...

Absolutely nothing.
All Nokia products will still be supported by Nokia for as long as they're legaly bound by the warranties (for example, they'll have to assist the tablets for 2 years from the date of the purchase of the item).
As for "other" Nokia tablets....they might not happen. It's not clear if the 8 inch tablet project was or not canceled as there are rumours for every taste. We'll see at MCW.
At any rate, one would have expected the Dementor's kiss to be applied by now and neither Nokia nor MS have announced anything yet which leads to believe that the deal is not yet closed for some reason...

It's kinda weird thinking that MS would have Lumia tablets, and Surface tablets.. But they could ditch the current Surface RT tablet, and use a rebadged 2520.. The 2520 is probably more appealing than the SRT to most consumers.. That would be a good idea..

Hmm maybe. I mean, the Surface is not a hit at any rate. But then again, the Nokia L2520 tablet will most likely sell (once it's available) more on the Nokia brand than on the Lumia branding (just like the phones) so I'm not sure Microsoft will win anything by replacing the Surface (even if only the RT) with a Microsoft Lumia. I guess it will depend on how will they manage to keep sales of WP after Nokia leaves the scene. If by a miracle they prevent sales from come crumbling down and they manage to make the name "Lumia" as popular as, say, Xbox, they may drop Surface in favour of Lumia. But it's too soon to know anything. And we all know how much Microsoft sucks at naming products.
First of all we'll need to know who will be Microsoft's new CEO. And if, whomever he is, he will continue with the current hardware strategy or focus MS more on enterprise.


Any by "it has already launched in multiple markets" you mean "It launched in the US and the UK". Because it's not available anywhere else I know of.

Oh, I thought it was.. My bad.

I remembered Finland, but I couldn't find the Finn version (which would be the European version as far as chargers go) for sale anywhere. Is it only on a carrier?


No, it's freely available. Remember the Nokia Flagship store is still there :-) (but no finnish keyboard, yet?) Actually I don't know if it is available at all _on_ carrier?

It's not available in india yet.

LOL, reminds me of them not selling the N9 phone in many markets which were really keen on that phone. One would think they might have learned a thing or two during the last couple of years.

Starting to feel wrong move by Nokia to make RT. Widows 8 tablets are now cheaper then ever (Lenovo ThinkPad 8). Why Nokia wRT when you can have a full blown w8 that also has 1080p screen and great build quality. I think, wRT is on the death road.

Alangya bakit? (WTF why?)

Well its no surprise since Microsoft Philippines themselves didn't even feel that Surface RT was worth bringing to the market. Nokia only created the 2520 under pressure from Microsoft, as far as I know many within Nokia were not at all keen on producing an RT product.

Worst released product from Nokia

this is bullsh*t. i did not buy yellow lumia 1520 because there's no yellow 2520!!! i bought white because im planning to buy the white one! it's crazy. im getting tired of marketing nokia and windows. just when people around me are getting converted from android and apple, i'm getting this bullsh*t story. think of other ways to buy one??? think about the customs fee!

"Nokia not officially releasing Lumia 1520 in Canada"
I think this is the title I'm expecting to read anytime soon.

a. not enough stocks, they make it available in priority market only
b. they know it will not sell , because Philippines now, are an android country. people go to the to the store asking for a samsung phone with android, if they cant afford it, looking for some china phone with android

agree. Filipinos are looking for cheap android phone and android tablet with better specs.

I'm a filipino and I'm waiting for a windows phone that will have 3d time of flight camera and cortana AI. Same for tablet. So baka kakaiba lang talaga ako.


I dont see any other windows 8 tab here in the Philippines

The worst marketed tablet in the world is the Lumia 2520. 95% of people that purchased the tablet are still waiting for the keyboard to be released!! Nokia have destroyed the Lumia 2520, just like blackberry destroyed the playbook.

not officially releasing but will it be available in other channels within Philippines? I agree that the price is somewhat steep. Even Surface 2 has not seen daylight in Philippines. Clearly Microsoft has no experience yet in releasing worldwide but then again they have experience with Xbox....

Bro, Gaisano Interpace is selling microsoft surface tablets. Here in the visayas at least. If you're in manila, the only interpace shop I know is a itsy bitsy little stall in gilmore and I don't know if they stock them.


Why not 16:10? Really stupid.

Can't win marketshare without a product in the market. Just sayin'.

agree.. people don't buy other stuff because they can't see them around. fiipinos are naturally windows users on their desktops, so convincing them to buy windows phones is relatively easy. they are skeptical at first because of the idea that windows phones suck. but we know that's not true anymore. i am marketing my windows stuff and it's effective. i can even compete with office workers with apple phones and i can prove how my "old" lumia800 levels well with their "new" iphone5 (of course not in all ways). one of my friends even brought another friend to nokia because she remembered me telling how good WP's are. now how are they gonna buy one if it's not visible anywhere but the online stores?

selling my LUMIA 2520 7k slightly nego for more info contact : 09770873250
Windows Central Newsletter
Get the best of Windows Central in in your inbox, every day!
Thank you for signing up to Windows Central. You will receive a verification email shortly.
There was a problem. Please refresh the page and try again.