Nokia partners with Baby Genius for Lumia exclusives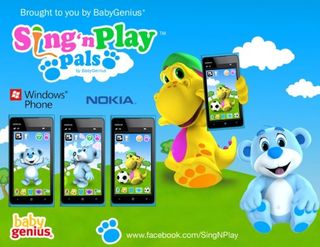 Nokia continues to strengthen partnerships with software providers to bring more compelling content to the Windows Phone platform. This time they are working with Genius Brands International to bring their *Award Winning* Baby Genius products exclusively to Lumia devices.
Baby Genius (opens in new tab) apps aim to help children transition from preschool to kindergarten. The first two apps from the series Sing 'n Play Pals will arrive this summer as Nokia exclusive content. The apps are said to contain both free and premium content that can be unlocked by a parent at their discretion.
CEO of Genius Brands Klaus Moeller had this to say about the announcement...
Nokia's Chris Surowiec also said.
Nokia continues to work with Software providers to help improve the app eco system for Windows Phone devices. One can only hope that with this type of continued partnering to get established software developers on board will eventually lead to more original apps being created as a matter of course. I find it interesting that Klaus mentions this content is "well suited for other Windows Platforms". I wonder could that mean Windows Phone 8 & Windows 8 apps are already be in the pipeline?
I'm not quite so sure I'd hand a very small child my precious Lumia 800 to muck about with but I'm sure this is getting to be quite common. Do you think you'd be interested in these apps for your little ones?
Source: Street Insider
Windows Central Newsletter
Get the best of Windows Central in your inbox, every day!
I'm shoched how i want it. Really. My kids now terorizing me, fuckkk

Nokia has brought to us strong support. :-)

I daughter uses ABCmouse.com and o know she will love this one. Imagine long trips are days at the store.

If I had a Lumia I would grab these apps in a heartbeat and let my youngest child play with them.

Believe it or not, my 21 month old loves playing Fruit Ninja!! I've go the 'Sesame Street 100 days of school' app but its not very interactive. So I for one am looking forward to this app to see how he'll do with it.

This is really cool. This is something my nieces, and nephew will love. Im loving Nokia even more by showing all its support to the lumia lines. I don't think I'll ever switch from Nokia WP

Do we know how long this will be Nokia exlusive? My children would love this and finding great applications for my little ones are difficult. I have debated on learning to develop applications just to fill the void in some areas. Baby sings/Sign Exact English (SEE)/ASL applications are either few or none. Can always youtube videos, but an application for this would be great. Umizoomie (spelling?), official Dora, etc applications would be nice too.
Speaking of children applications I thought MS had some apps coming for the xbox 360?

I'd rather have my preschooler drop my iPhone or iPod rather than my beautiful Lumia 800. :)

Nokia is doing a brilliant job of bringing new, quality apps to the platform. I expect like the CNN app they'll be timed exclusives for some months. Nokia did make the effort, after all. But then the rest of us should get these.

Where are all of the Exclusive EA Nokia games? They are taking too long. Hopefully these games don't take as long. My kids will like them. And I agree with MastrMeatWad, need some variation. Tired of Disney only having apps for Apple. Hope MS or Nokia or whomever has some things planned for the Win8 world. Can't wait.

Another reason OtterBox needs to make a case for the Lumia 900.

They do, if you're on the desktop site it should be on the right pane, in the WPCentral store ;-).

I stand corrected!

http://www.otterbox.com/nokia-lumia-900-cases/nokia-lumia-900-cases,defa...


My 3 year old isn't interested at all in handheld devices yet evcen if i try, just can'y grasp it, but my 4-going-on-5 year old loves it and always asks to play with it! Right along side my 6 and 8 year olds who are ALWAYS bugging me to play my phone (LUMIA 900). They are good with it, but don't let them use voice search!!!! because it almost always gives inappropriate results, which is kind of wierd..