Nokia partners with Six Flags for official Windows Phone app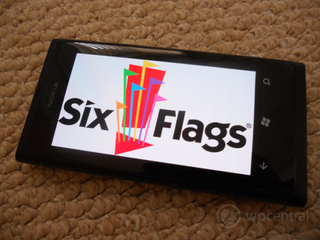 Nokia has been a busy bee with bringing more big brand support to Windows Phone. We recently covered the manufacturer creating partnerships with a number of companies for new official Windows Phone apps to be developed, and to add one more name to the list we have Six Flags. For those who aren't familiar with the brand; Six Flags is an entertainment corporation that owns and runs multiple theme parks across the U.S., Mexico and Canada.
Lumia Windows Phone owners will be able to enjoy a custom app, which will be available for all U.S. states, and Nokia will embark on a marketing partnership with Six Flags -- providing opportunities for the Lumia 900 to be advertised in amusement parks. Additionally, both companies will partner on national sweepstakes and retail promotions.
What about the app itself? The Six Flag app will sport unique content for each theme park, including an interactive map, attractions / ride information, cuisine and shopping, as well as special event listings. A customisable day planner enables visitors to plan their day ahead and check out rich media from Six Flags TV. Nokia will also provide discounts each night on select in-park retail, restaurant or games locations with Nokia Nightly Offers.
Check out the press release after the break. Source: PRNewsWire; Thanks Brian for the tip!
GRAND PRAIRIE, Texas, May 7, 2012 -- Six Flags Entertainment Corporation (NYSE: SIX) announced today an integrated marketing and mobile development partnership with Nokia to support the new Lumia 900 and debut a custom application for Six Flags guests for all U.S. locations. The partnership will provide Nokia with marketing opportunities across the Six Flags parks through its Media Network. Additionally, Nokia and Six Flags will partner on national sweepstakes and retail promotions.
The centerpiece of the program is the development of a custom Six Flags application exclusively for Nokia Lumia consumers. The application will feature unique content for each participating Six Flags theme park, including an interactive map, information on attractions, food and shopping as well as special event listings, a custom day planner and video content from Six Flags TV. In addition, the application will present owners with exclusive benefits such as Nokia Nightly Offers that provide discounts each night on select in-park retail, restaurant or games locations.
"This partnership exemplifies and takes advantage of our entire portfolio of marketing assets and provides an incredible benefit to our guests," said David McKillips, senior vice president of corporate alliances for Six Flags Entertainment. "We are really excited to see the Nokia brand integrated into our parks and to deliver exclusive benefits to our guests."
About Six Flags Entertainment Corporation
Six Flags Entertainment Corporation is the world's largest regional theme park company with $1.0 billion in revenue and 19 parks across the United States, Mexico and Canada. For more than 50 years, Six Flags has entertained millions of families with world-class coasters, themed rides, thrilling water parks and unique attractions including up-close animal encounters, Fright Fest and Holiday in the Park. For more information, visit sixflags.com.
Windows Central Newsletter
Get the best of Windows Central in in your inbox, every day!
Rich Edmonds was formerly a Senior Editor of PC hardware at Windows Central, covering everything related to PC components and NAS. He's been involved in technology for more than a decade and knows a thing or two about the magic inside a PC chassis. You can follow him on Twitter at @RichEdmonds.
Another reason why Nokia will be #1 WP OEM while others fail. In 1 month they've done more for the OS than others in a year.

"In 1 month they've done more for the OS than others in a year" AND A HALF
:-)
Bring It Nokia!

I'm getting sick and tired of these Nokia only apps. Contrary to what another report has said, this is causing fragmentation with Windows phone. OEMs other than Nokia will stop making Windows Phones and then we'll be left with only Nokia. LG has already dropped Windows Phone. Samsung and HTC have are getting disgruntled with the Nokia / Microsoft alliance and they soon will follow LG.

Source on HTC and Samsung getting disgruntled? Speculations. Last time I checked they weren't very invested in the WP platform to begin with. Which, if anything is the sad part here.

So join the Lumia family and you shall see only benefits. Also, Samsung is not going anywhere. They already said they are planning to challenge Nokia.

With what??? The focus 2...what a joke. I loved my first Gen focus and focus S but the lumia stands out in comparison. HTC & Samsung negotiate with developers for their android offerings, why can't they do the same for wp7? Let hold them accountable and stop blaming Nokia for their mishaps

So, you're blame Nokia for taking steps that other manufacturers won't take? Apparently the big app development companies aren't interested in developing for wp7 unless the manufacturers five the monetary incentive besides the percentage of funds they would receive from MS when a user purchases an app through the market place. I don't know why they're treating wp7 this way ( I don't think it's right), but don't blame Nokia for being willing to give in to their demands. And speaking of a single manufacturer; Apple is a single manufacturer of the iPhone and how well are they doing??? Are you sure this would be a bad thing??? I am in favor of variety, but Samsung, HTC, and Nokia should have teamed up the make a consortium offer to developers

And I'm tire of hearing doomsday predictions. Thank you for playing, come again :-)

Both HTC and Samsung had exclusive WP apps before Nokia. If they think Nokia is putting too much effort in theirs they will have to up their effort as well. Calling it fragmentation is just whining.

What about Dido? She is a good singer, sure, but what does she have to do with this?

I think you meant to say "ditto". :P

no fragmentation here. Nkoia is paying them to get thier app up on thier phones. why should samsung and htc get them when they paid nothing. its like if you bought a nice car with your money and im asking to use it like if i bought it and id still make you pay for the gas i use... there are no free rides buddy. if the other OEMs want this then they can bring up some cash just like nokia. Nokia is committed why shouldnt samsung and HTC? i wouldnt want to buy a phone from a company that is second guessing thier producting and not fully backing them up...
LG made a shit phone, and they didnt try to even make another one, let alone make one that would distinguish its self from the rest... Make a good product, stand by it and people will buy, and that is what Nokia is doing.

Samsung won't drop at all that's a fact

How about you make a phone, install Windows Phone OS on it, spend millions of your own money to get apps on the platform that otherwise would not be on the platform, and see if you'd like HTC and Samsung to get the apps you invested your own money in, while they sit on their asses and do nothing to help the ecosystem grow

I only have to say one thing. Go with Nokia, the customer service and experience is better over here :)

@mvierling...Lol! Realize this: Six Flags Entertainment Corporation could have easily said 'NO' to Nokia; they did not.

Nokia + Six Flags App...Superfantastic!

heh, and I thought Six Flags went bankrupt...

Y would they lol ther basically the only theme parks

Actually LG hasn't dropped Windows Phone they are looking to windows phone 8 and The Apps well only remain exclusive for a few months before they reach other OEM's windows phone as for fragmenting that's far from it

Sweet. Though I haven't been in a while, this would be a cool app to have if I get a chance to (if and when it becomes available for other WP)

Great on Nokia! If these things bother you, you have 5 choices; buy Nokia (you'll be glad you did), bug the other OEM's enough that they spend their money on these things, like Nokia (lmao, good luck with that!), wait out the exclusive periods, leave WP like a mad child taking his ball home, or just shut up.

I vote for the last option! j/k

Keyword there third party apps! HTC, LG, NOKIA, & SAMSUNG all have the ability to negotiate with developers for apps; who's doing so? Nokia. Are you suggesting that Nokia pay for apps to be allowed on rival manufacturers devices???? they negotiated on behalf of their android devices. They should do the same for wp7. I also think these app developers are greedy and selfish. After all, they get a percentage of all app sells and still want more because it's wp7.

Your comment is so inconsistent.

SinceI have a Venue Pro, I can't run Photo Enhancer *from HTC* or Now *from Samsung* or Play To *from LG.* These apps have ALWAYS been a part of the WP experience. Some thought of it as bloatware, others found good use of it. If Nokia's intention for choosing WP7 was to be able to differenciate itself (and get a pretty decent cash infusion), then I can't be mad at them for doing so.

Get over it.

@JohnnieLasVegas...Love it! I think this should be the defacto copy and paste response to those who complain about Nokia and the app exclusivity.



This really sucks. I purchased a T-Mobile Radar 4G because of the design and because it had a FFC. Also T-Mo is by far and away alot more affordable then the other carriers. Now I'm reduced to just the Lumia 710 if I want these apps. Don't get me wrong I think what Nokia is doing for WP7 is great for the platform but it is causing fragmentation

Learn the definition of fragmentation before commenting

If that's the only good thing you have yo say about WP, then you should be promoting the iPhone.

For the past year or so I can't even count the times people threaten to jump ship for slightest of articles. You guys should jump ship already, this entitled attitude, Whether it's against Nokia, against MS not wanting to release Apollo info yet, nodo never gonna arrive to your phone, mango never gonna arrive..and countless other petty things that are no better and intact worse on other platforms is very annoying.

All I can say is the more major apps, the better. It legitimizes the platform. At a certain point it reaches critical mass and publishers will feel they're missing something if they're not on WinPhone. That's how it happened on Android.

Cool. My sis (has the Lumia 710) would really enjoy this future app. Fiesta Texas FTW!!

Nice. We have a Six Flags here in SA.

What's this? Another WP user in the quint city of San Antonio??
Sweet!

Interactive map? There needs to be an app with this in it for literally every theme park.

I'm curious.

Why are people up in arms against Nokia, who's arguably on their last leg.MS & Windows Phone are there last hope to getting back on their feet. They are the most invested OEM in Windows Phone, everything is riding on it for them. I'd be doing all I could too if I was even half as invested in WP as they were.

Meanwhile HTC, making top of the line Android phones that are in competition with the Galaxy series, is seeing no shortage of money anytime soon, the same as Samsung, the largest manufacter of mobile phones are both treating Windows Phone like an after-thought with recycled hardware and entry-level devices-- WTF. Honestly.
Obviously some inter-OS competition is doing good for Android. Maybe just the tinniest bit of TIMED EXCLUSIVITY with a few apps will do some good for Windows Phone.

Now, somebody explain to me why people are up in arms against Nokia instead of more logical choices.

. . . . .

*throws soapbox*

/rant

I really don't think anyone is against Nokia itself. At least that's what I gather from the post

No one is against Nokia. I am annoyed that MS is back-flipping on its initial policies 1) updates come from MS 2) consistent user experience across all handsets. 1) has gone out the window by bowing to carriers so now we have fragmentation of updates depending on if your carrier feels like giving them to you and now 2) with so many exclusive Nokia apps we now have a fragmentation of user experience which means the average joe now needs to research different WP models to determine what apps they have access to/what is important to them. We're heading down the path of Android with different apps and different user experience across different handsets. iPhone users can pick up any iPhone and it has pretty much the same experience. If you pick up a WP it used to be the same, but now if you use a Lumia & pick up a HTC then you suddenly won't have access to a lot of things. I want WP and all the apps to work on all handsets. Obviously SOME apps are for device specific hardware, but otherwise it should be going towards making the WP platform as strong as possible for everyone. Strengthening the platform will draw more people and more people means more OEM's will make more cool phones for us. If we are limited to Nokia then we're limiting our hardware choices and might as well just buy iPhones :P

iOS has one manufacturer. I'm fine with WP having only one, as well. Nokia is doing what needs to be done. If Samsung and HTC don't want to get on board....F 'em!

I agree. I think Nokia's diversity in phone design, build quality and strength as a brand is good enough to carry WP alone if need be

More Nokia awesomeness! Keep it up, you rock Nokia!

Super, super cool! I love Holiday In The Park, and I should have my Lumia by then, so I am really looking forward to using this app.

Nokia FTW!

Screw 6 flags for firing people for no reason and for hiring international workers and giving them more hours (potentially overworking them) than their US workers who need the hours.

What's Six Flags?

Kidding. But really, I don't care either way, as the nearest Six Flags requires me to take a plane trip. But good for Nokia for striking up another co-marketing deal!

Samsung & HTC pretty much wanted to just hitchhike...and Nokia said F U. ;-)

Cool I can try this when I go this summer...luckly i live only 20 mins from six flags, lol.

Honestly, this is great and all but it is quite sad for me to realize how much Microsoft is NOT doing. All these, Microsoft by right should be taking the initiative to implement all these, but it ends up with Nokia.

I can't wait for this app! It would be awesome if they could somehow integrate flash pass scheduling into it.

This app looks like nothing more than the FunFinder app they released for the iPhone in 2010.
It's nice to have comparable app for WP, but this app is hardly new.

Its the marketing in the park that matters

I find this annoying and I do not think it is good for the platform. I think it's good that Nokia helping get apps to the platform, but at the same time this clearly making users upset. Its not like an exclusive on the Xbox because everyone has access to that platform. Nokia is not on all carriers, and personally I don't like the 900. Its too big for one thing. If the Focus 2 had 16gb, it would easily be my next phone. But instead I will wait for something comparable with my 16gb Focus. New users to the platform will care more that they can't get the app they want and they most likely won't find out about why they can't until after they mad their purchase. There should almost he a limit on exclusive apps, but I don't like that either on principle.
Windows Central Newsletter
Thank you for signing up to Windows Central. You will receive a verification email shortly.
There was a problem. Please refresh the page and try again.