Nokia Pro Cam available again for the Lumia 920, 925 and 928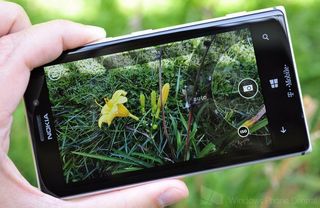 Nokia's Pro Cam is an excellent camera app for those who have access to it. Sure, time between shots could be decreased, but it's still a solid app for camera enthusiasts wanting granular control of settings. It was first available for the Nokia Lumia 1020, but later became available for anyone with a Lumia 92x device. Unfortunately, a few days ago we had reports in the forums that users were unable to install the app. Today it looks like it's fixed.
Want Nokia's Pro Cam app for your device? You'll need a few things. First you're going to need a Lumia 920, 925, 928 or 1020. From there those devices will need to have the GDR2 and Amber update. A few of our forum members had the above and couldn't get the app to install over the past few days. It appeared to have been hidden from users in the Store. If you had a link you could see it, but couldn't install it.
That all appears fixed. We uninstalled our Pro Cam app from our Lumia 925 and were able to download and install it again no problem. Whatever the issue with Nokia or the Store seems to be fixed.
You can download Nokia Pro Cam from the Windows Phone Store, use the QR code below, or swipe to the right in our app.
Source: Plaffo
Well they said till end of September almost 2 weeks left for us on att

Hold your breath for September 30th

What we need is an official countdown clock on the front page of WPC. T-minus 19 and counting...

why not for the 820? Same processor and RAM..

No PureView camera, I suppose.

Then what? it is still an 8mp camera..

Actually google search doesn't really lead to where it should, so here; http://www.phonearena.com/news/Glitch-allows-any-Windows-Phone-model-to-...

Works for me. But ProShot is better than that.
Also it crashes with manual zoom on 8X, but other things work ok. Well of course it does not shoot 38MP :)

i used a trick similar to this (using fiddler) and it works fine on my 521 (aka: cheapest, lowest end WP out there) and with exception of resuming after suspending (of course, due to ram), it works just great. it even has a warning if you have to many apps open in the background, making me wonder if this will hit other devices in the future

you forgot on your aka: greatest and most wanted wp8.

I wouldn't recommend it for anything under the 920, my could be unique but from what I noticed it only slowed down the camera with visual benefits... but the main thing was video. While recording everything looks fine, but when going back to view the video it was very glitchy and pixelated. Especially when there was sudden movement.

yeah but still no pureview, the underappreciated 820 a great phone i bought my mom one the camera is more like the lumia 900.

I got it on 820. Use Rekers proxy, just google it.

I really like the pro camera but my biggest issue with it on my Lumia 925 if you have a number lock on your phone you can't use the quick camera button on the pro app. This only works on the built in app. I hope Nokia and Microsoft can find a work around for it.


It's fairly easy to get Pro Cam on a non 9 Lumia, I have it on my 810 and although I won't be able to push the ISO to 3200 you can used all the other features. Here is what I did: First of all get an app pusher or a nokia updater from the store these two are my favorites
http://www.windowsphone.com/en-us/store/app/nokiaupdates/4744ea7d-2792-4a42-b1cd-907a81c09842 which now costs $1.49 and this one, but either one will do.http://www.windowsphone.com/en-us/store/app/sysapp-pusher/19d44d9e-f18e-4df1-9bce-36335242ed2e

After you download one of these apps open and find Nokia Pro Cam, it will say ( ! ) This app is not avilable for your phone... don't do anything don't close out the app just go to to Wi-Fi settings and make sure you're connected. Touch the connection until edit or delete appears, open edit and enable proxy. In Server/URL 117.135.139.179 in Proxy 8888 then hit the check mark. Go back to Pro Cam and hold the back arrow for approx 3 seconds and the page will drop into the background and then release it and hopefully the app will say Install, you may have to try this numerous times and when all seems futile it will eventually say INSTALL then hit install. The app may stall and it will say "attention required tap here" but that won't install it normally, what you need to do as the app is suspended go back to Wi-Fi settings and disable the proxy and then hit the check mark and make sure you're connected to your normal Wi-Fi and then tap the stalled app. If you get an error message you just need to do this procedure several times until it works and it will work. I've installed not only Pro Cam but Samsung's Video Trimmer ( better than Nokia's) App Folder and Mini Diary, I've even updated them BUT I had to uninstall them and download again to get the latest. Once you get the hang of it you'll feel confident enough to uninstall these Samsung or HTC apps and reinstall the updated versions. Don't install any system apps, they will just sit there in the list and do nothing except use 1MB of storage. Good Luck


for God sake Nokia, enable it also for 820 and 720 >_<

It doesn't work well with my 822. I don't know why, but it doesn't. See my explanation above.

Yea, could anyone explain, why its not for 820?

Only for Lumias with PureView camera.

So no updated version of ProCam...I thought it was removed or not accessible to have a new update in the store and hopefully fix the tint and blur problem to the photos...

I feel your pain. I stopped using ProCam because it was ruining pictures with an awful yellow tint when I click on the hi res review. I was hoping it was pulled to fix this issue, but apparently not.

Wish my 8X had this, or something similar :-(

You can use ProShot from the store. Works basically the same.

I think Proshot is going to drop HTC support in upcoming releases if HTC continued to limit access to the camera APIs.
Here's hoping for that not to happen.

I just wish I could launch it from the lockscreen using along press the way you can with the standard App.

I can on my 925. But I switched back to the built-in app, because some parts of ProCam didn't didn't work (don't remember what) without unlocking the screen first.

With Amber you will be able to set any lens to autostart with camera button

Thanks a lot at&t (sarcasm all the way)

Nope got error right after I hit download app?

Do you have Amber........?

That's a clown question, bro.

Its almost as if he was making fun of us on att.

Error message when downloading on my 920

How does this compare to "ProShot"?

Waiting for amber update on ee in uk :(

Not for the ATT 920's. You know the ones ATT seems to have forgotten about.

That's the same one I got

And this is why I want Att to not wait for gdr3....

No probs on my 928. Downloaded via SysApp Pusher.

Besides my 920 I managed to install it on my 625 with the fiddler method

Surprise for the att 920. WONT WORK YOU RUNNING OLD SOFTWARE. CLICK HERE TO UPGRADE. LOL

Try the Fiddler method, it worked for my 620 :)

How do your videos look? They were glitchy & pixelated when using it on my 822.

So far I've only taken one video with it. There was a tiny freeze at the beginning (for half a second or so) but other then that it shoots just fine, no pixelating. Way better then my old Nokia 5530, that sometimes froze for half the video :D

Got an error trying to download for my Lumia 920 running Amber

Oh god, my hate for AT&T grows exponentially as each day passes.

Yeah... It's getting obscene. I am dying to try this but stick without amber.

I wonder if it had something to do with the Skydrive upload issue. When Pro Cam was set as the default camera on my 920, none of the photos uploaded to SkyDrive. As soon as I changed cameras back to the built in camera, they all uploaded.

I've had this application from the beginning but I haven't noticed any yellow tint on any of the pictures it takes. 920 on Amber by the way. I've found it to be a decent camera application

Official, it'll be released September 31st !!!

Nice...we see what you did there.

I have AT&T for my 920 too and I am not going to make that mistake again.

Hurry up EE and push out Amber.

I have it on my 920. Now waiting for the gdr2 amber update so I can use it. Damn att.....

Wow, app is really GREAT
It's so handy

STUPID EE, im so angry ,IM GOING TO WRITE IN CAPS .

Hoply the new. Alledge 1520 ,and its snapdragon 800, will have zero shutter lag :-) , (lag from what i read) in uts pro cam

We better get it by end of month

I uninstalled the old version and installed this one.There's still yellow tint being applied after taking the photo.

Why is there no 3:2 aspect ratio on this? If it is a pro camera app then it should have the only aspect ratio which is actually on pro cameras. :)

ATT, you suck (from 920 launch customer)

Nokia whats wrong with u ? Why rnt u putin it up for d 820 ?
pls nokia and microsoft pls devlop d app for 820 and pls dont let them regret buying an 820

AT&T sucks.... no more AT&T for me in my whole life.

Getting error code when I try the link for app in marketplace. Like the app is gone again.

I'm having problem with this app. before had none. when I move the (i think it calls) shutter speed icon (4s) and ISO (3200) far right side and while taking second pic my phone (lumia 928) freezes and restarts by itself. first time this happened my flash was On and it stayed On during the restart and still was on until i opened camera (not an app, just camera). Anybody what might be causing this?
I didnt try anything yet, not even reinstalling pro cam app
Windows Central Newsletter
Get the best of Windows Central in in your inbox, every day!
Thank you for signing up to Windows Central. You will receive a verification email shortly.
There was a problem. Please refresh the page and try again.