Nokia Pulse Beta now out for Lumia Windows Phone 8 devices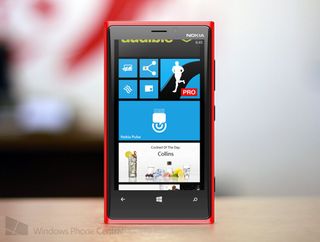 The beta app Nokia Pulse has jumped ship from Windows Phone 7.x to Lumia's running Windows Phone 8. We previously reported that the app would be built for Windows Phone 8 soon and it has, you can now download it from the Windows Phone Store. What new features does Nokia Pulse bring to the table for your Lumia 820, 822 or 920? Read on after the break.
You'll remember that Nokia Pulse is a beta app for Lumia devices that allowed for messaging and sharing of locations in a private conversation between friends. What makes it a little different for sharing your location compared to the native Rooms app (or similar applications) is the rich details that Nokia Pulse pulls in about that location. For example it will give you ratings, reviews, maps, directions and more for the place you've decided to meet up at. A rather handy feature when you're visiting people in a city you're not too familiar with.
Here are some of the new features in the Nokia Pulse Beta (0.10.19.0) for Windows Phone 8:
On Windows Phone 8, you can get turn-by-turn navigation to any place posted in a conversation.
Receive real time conversation updates while within the app.
Share your Pulse message to Facebook or Twitter when you want to let more friends know where you are.
Now you can set any photo within a conversation as a featured photo. When you pin the conversation to Start, your cover photo will appear on the Live Tile.
Emoticons for Windows Phone 7.
Removal of comments. See below for more info.
Comments were one feature that did not survive the cutting block in the Nokia Beta Labs. The team decided to pull them to make the user experience a little more streamlined and simplified. Responding to comments will now show up as a message in that particular conversation.
As with all beta apps, it is under development and you'll probably encounter a bug or two along the way. Do the team a favor and submit feedback through the app for any positive or negative things you come across. It's a really neat app for coordinating and herding a group of a people to one location. Could be handy when travelling abroad with a group of friends.
You know the drill – the app is free and you can grab it here in the Windows Phone store, use the QR code below, or if you're in our Windows Phone Central app just swipe towards the right and download there. Update - Folks in the comment can download it on non Nokia devices, we've been able to confirm as it works on our HTC 8X.
Source: Nokia Beta Labs (opens in new tab) Thanks for the tip Harry!
Works perfectly on my 920. What are you running it on?

Off topic: too bad this isn't Pulse the news reader... :(

Pulse reader app is no more. It will not come back to WP. This is because of their website. Their mobile site offers "same functionality" as the app. Only this way, they will save load of cash. Try pulse.me

Slow as molasses on WP7 and it is now organized by time of article and not by source.

Now, how do we get all the heathens to go out and buy Nokia devices so this great app can become mainstream?

They say that others (iphone, android) can go to pulse.nokia.com in their browser to use it. I haven't tried it though so I'm not sure it that's a total waste or what...

Already using this app for more than a month now on HTC 8S. Works perfectly. Toast notifications are super-fast. Availability of this app on all Windows Phones should not surprise anyone as Nokia has already announced that gradually this app will go cross platform for the sake of Nokia branding.

cross platform? When? now it only available for nokia, and symbian. No dorid and ios app means no succes

You are wrong, this app is available for all platform by visiting pulse.nokia.com on your mobile browser. For more info visit pulse.nokia.com on your pc.

website? :D this is 2013 man!
this won't compete with whatsapp, my friends will laught at me if if i'll recommend to visit the website to get my message.. lol

The man that breathed life into the app store on IOS (Steve Jobs) hated the idea of "apps". He would have rather had everything in "web apps" that are accessible from any phone, tablet, or computer.

ok but now there are 500.000 + apps in the store and Jobs (RIP) is dead. So what are you talking about?
And how i suppous to get instant messages anytime from a website? by e-mail?? don't make me laugh

I have to agree. I was excited by this app, but then I saw its by email, not SMS, and it requires a person without the app to sign up on a website for an account. I am not going to try and force friends to sign up for an account. Without a cross platform app, this will not succeed.

I'm confused. This is new? I already had it on my Rogers L920. Now I have two apps with the same name! One is version 10.24, and the one I got from this news story is 10.19. What happened?

Two apps in the store. 10.19 is not published by Nokia. 10.24 is by Nokia. The one by Nokia works on my 8X.

Nokia Pulse beta not published by Nokia hmmm same as saying angry birds not published by rovio, its very simple app we had before was for wp7.5, this one only for win8 devices, read the article

Sorry maybe you don't know but third party developers also make apps. You should look in app store as we have Facebook apps but not by Facebook.

Yeah, talking about Pulse reader, any other alternative news aggregator in the store?

try weave and fuse. Fuse is like Pulse on ios but i like Weave instead.

Sam, this app doesn't work on my phone. I have an 8x.

It does work actually, but you have to search for it in the marketplace. It from Navteq instead of Nokia then. :)

Guess I will pass, don't know much about it. Like what website to put

"What new features does Nokia Pulse bring to the table for your Lumia 820, 822 or 920?" No love for the 810?

The version 10.19 is for Wp8 devices only while The version 10.24 is for Wp7.

I know right? What is so hard to understand? Simple as that

The new wp8 app strips away a lot of what what made the older app great. The ability to have multiple conversations in the same thread, along with with searching for an address within the app were killer. Seems we have lost point #1. The pulse beta users have mostly abandoned it and conversations are no longer vibrant. Plus I liked the metro version of the old pulse.

Thanks for the jump to the 822 in the article. :(

Anyone else getting an error when trying to download?

I am unable to download it. I think the Store may be down.

I'm getting pretty tired of the store being down so much. I never had this problem with Apple. If they want to compete in this market they need to be flawless. I love my Windows Phone and probably will never switch back but this is very frustrating.

Appreciate the app but I don't know anyone who uses it when compared to Viber and Tango,...so considering those apps already exist on our previous WP's, could we please put more effort on those apps and then give us the apps that are nice but no one uses yet?


Windows Central Newsletter
Thank you for signing up to Windows Central. You will receive a verification email shortly.
There was a problem. Please refresh the page and try again.