Nokia demonstrates new Refocus technology for Lumia Windows Phones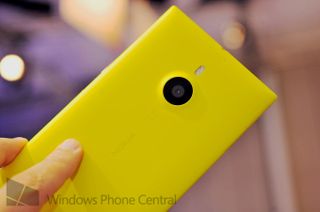 Nokia not only announced new products and accessories at Nokia World 2013, the company also unveiled some new software features - one being Nokia Refocus. The app enables you to capture an image, much like you would with the Nokia Camera app, with the ability to alter which elements of the photo are in focus afterwards.
It's a really cool idea that Nokia is now discussing on their Conversations blog.
So how does the app work this magic? When snapping a shot, the Windows Phone will take numerous photos over the focus range. This makes it possible to simply hit the shutter button without messing around for three days to get the right object in focus. Think about this example: you take a self-shot and the background is in focus behind a blurry face. With Refocus you can select your own self and boom, the focus is now corrected. Alternatively, you can choose to have the entire shot in focus.
See the image samples below (though you will need to be in a browser, not our app). Simply tap on different areas with your mouse to see refocus in action:
Not only will you be able to mess with objects to correct mistakes or achieve perfection, but you may also notice something new in the photo you didn't spot previously, potentially leading to new results. The best part of Nokia Refocus is how simple it is. Nokia really is pushing photography hard by taking advanced techniques, simplifying and then introducing them to the average smartphone consumer.
Finally, Nokia Refocus doesn't simply end with editing photos on your Windows Phone. When sharing the results with friends and family, they'll be able to choose parts of the photos to focus when viewing them on Facebook or the web. This all sounds great, but when will Refocus be available and for which Windows Phones?
If you own a Nokia Lumia 920, Lumia 925, Lumia 928, Lumia 1020 or Lumia 1520 you're set to go when the app launches in the coming weeks.
Here's a quick look at the app from Nokia World 2013, courtesy of Nokia's Juha Alakarhu and our Daniel Rubino (who should really do modelling after this encounter):
We'll be sure to update you all with details when the app hits Nokia Collection and is available for download.
Source: Nokia Conversations; thanks, unnatixlr8, for the tip!
Windows Central Newsletter
Get the best of Windows Central in in your inbox, every day!
Rich Edmonds was formerly a Senior Editor of PC hardware at Windows Central, covering everything related to PC components and NAS. He's been involved in technology for more than a decade and knows a thing or two about the magic inside a PC chassis. You can follow him on Twitter at @RichEdmonds.
Is this thanks to Pellican?

You looked so nervous lol :-P

I thought Nokia purchased Pellican to do this type of stuff?

For one, Nokia did not purchase Pelican, they simply invested in them and two, nope, this is Nokia's own tech as it does not rely on multiple lenses (which is what Pelican does).

Oh, alright. I thought they purchased it, and would use it to help their smartphone cameras.

They did buy that other firm. Can't remember their name, but they example did BB10's camera UI. They are based in Sweden, if I remember right.

scalado or something right

So wil the app not take 38MP photos on the 1020 if I use it instead of Nokia Camera?

I don't think refocus is some magical technology
It just burst shoots the image by varying the focus of the lens
Unique true. But nothing astonishing.
I'd be happy to see this feature integrated in nokia camera (smart mode) since it also takes a burst shot.

+1
Wish a lot of these lenses were already integrated with the phone however as a separate app it allows easy updates.

I really hope to see all the nokia apps integrated into the Nokia Camera so that i shot once and do everything from the same app.

I own a Lytro myself (as well as a 1020, a Canon s110, 7d and 20d... what can I say, I like to take pictures), I'll have to say Nokia did a pretty darn impressive job with this.

Lytro advantages
- The plenoptic technology in the Lytro seems to work a little better as the transitions from different focus points aren't as jarring. That's understandable since the Nokia has to pick X number of focus points, whereas with the Lytro there's many many more
- Only one photo is taken, versus several with the Nokia method. Subject motion is less of a concern
- There is no auto-focus, per-se, so there's no real concern with the AF picking an incorrect focus point

Nokia advantages (considering 1020)
- The larger sensor on the 1020 gives a greater depth of field and can potentially have a greater effect
- Pictures are MUCH better than with the Lytro
- I always have my 1020 on me

With the Lytro and I suspect with Nokia as well, how much it can refocus is very dependent on composition. If you take a landscape photo with the Lytro, there's not much refocusing going on. Given the examples that have been published so far, I would be surprised if it's any different on the Nokia.

Having said that, I can't wait for it to come out. Really wish the refocusing stuff that you publish to the web wasn't done with Flash though. Would have preferred HTML 5 as I'm trying to avoid completely avoid Flash.

With regards to the subject motion concern, watch the video. you can see Daniel's face changing slightly everytime there is a shift in focus. Its there but thankfully minimal and without blurring.

Damn....no 8xx support :(

Hmm.. Nokia is the one making it lol

He means like 820 or 822, not an HTC 8x lol

The article just said initially 9xx and higher so we may get it with the black update i guess

Aren't you really the 4th?

He can't count and you want him to do subtraction? Man, that's just mean.

I took the replies into consideration too :P !!! clearly not anymore !! oooopsss !

I thought so. Maybe next time your ship will come in.

May the fourth be with you

So this won't be supported for the Lumia 822?

Yes! Nokia black will also give it 20 mp

just before installing make sure you keep the back cover open.

Damn! We need a like button in the comments section. Hey Daniel, can we please please please please have a like button in the comments section??

And 1080p with 3 rows and Quad-core CPU

Very funny guys and gals... I was being serious though asking if the 822 is supported. I take it from these ammusing responses that it isn't and my question may be percieved as dumb... If someone would kindly point out why this wouldn't work on the 822, that'd be great. Thanks.

It doesn't have a PureView camera, which is found in the 92x's and higher.

Before modeling, Dan should get some more sleep. You look knackered dude!

I really hope this innovation does not stop with the microsoft take over....

Yes, we can all sleep now.

People if u wanna love photography get 9xx or 1xxx series

If you wanna love photography get a proper DSLR.

Photography isn't always about using a DSLR you know.. True.. DSLR's are the best when it comes to photography.. but not everyone can afford a DSLR.. neither can they afford to carry them around wherever they go..

I've seen countless amazing photographs from everything as shitty as a disposable to DSLR. I think you meant "for hi res images get a proper..."

/\THIS/\

If you want to love doing photography, get a camera you're comfortable with, learn its strengths and then use the heck out of it!

I'm really starting to dislike the "in the coming weeks" timeframe that they keep using.

You'd rather not know now what is coming later, but rather be told all about it when its available? Interesting... Are you disappointed that the Xbox 1 and PS4 were announced prior to release? Just a strange perspective to have.

I think he means he'd rather have a specific date rather than a general time frame

Don't you feel foolish now.

Haha me too, that shit could mean anything

Just post that everybody will get it ...as the proxy trick will give the majority of us who are less fortunate also a chance to download and use it

no hardware limitations ?

Yes! thats true dude.. ;) v cn use d app evn though its only fo pureview... ;)

This is really cool, but you have to keep in mind the limitations. Because it is taking multiple shots over the focal range, the subject has to be static, not in motion. This looks to me like a new implementation of the Smart Camera app, where instead of taking a picture of a moving subject and selecting what part(s) you want to keep, you're taking a picture of a still subject, while the app changes the focus range, and you decide which shot, or parts of shots to keep.

YEAH ZOOM WHEN YOU RECORDING A VIDEO


My 928 has supported zooming while recording for a long time now.

Awesome video!!! Great Nokia work!

Refocus app is already in the marketplace doing the same job nothing new in that

The same job, sure, but not as good.

Jus go n search for refocus can use in trail also

This is one of the coolest things they announced in the Nokia World Conference, to me.

Hurry and release the phone already XD

Sooo no more love to 620.. Will have to grab a new device soon..

No choice... 1520 for me.

Damn. Bummed out it won't be integrated into Nokia Camera app.

Very excited for this app!

double post? huh... never had this before

It seems really quick shooting the entire focal stack. Do you know if the resulting images full res? That'd be an amazing achievement for sure.

what kind of sorcery is this? somebody call the spanish inquisition

This should be integrated into Nokia camera and made possible by selecting Smart. After taking a picture in Smart, Refocus should be one of the selctions along with Change Faces, Motion Focus and all the rest.
That way, we will only have one app. The downside is this awesome feauture may be considered "buried in menus" by some.
Maybe they can integrate it in Nokia Camera AND keep a separate Refocus app just like how Smart Cam still exists. I think that would be great to get exposure to the feature first.

Exactly what I was thinking. I'm pretty sure it'll be eventually integrated into Nokia Camera.

Yes! I can see taking a shot with another lens only to later wish I had used the Refocus lens instead.

Another application they really have to work on is the HERE Drive + There is this message " NO NAVIGATION Your route runs through a country or area where navigation isn't available yet" so one can not use this application and one is left with the option of using HERE maps, the two application use the same Data maps, HERE maps clearly marks the route,
My suggetion is why Nokia does not put another option of manual navigation of some sort where the user can just follow that arrow on HERE Drive rather than following the dot on HERE maps?


I really like the single colour selection. I think you can get some pretty interesting shots with that feature.

HOLY S***! I've seen this impressive technology on some special cameras before, but I can't believe this is coming to the Lumia high-ends. Another reason to love my 920.

I am wowed by this functionality. Bring on the next few weeks!

I automatically swipe left in the article to go to the Download app... disappointed again....

The funny thing is, I couldn't see the 2 samples using Microsoft Internet Explorer

There is an application in the marketplace now that does that. It's called "refocus"

Focus bracketing for dummies. Nice!

Is this different from App Cave's Refocus app?

What is the bit depth of the raw images? Do we get access to the full bit depth of the sensor, or are we still only on 24bit? (this is where the true advantage of RAW comes into play)

This is admitedly kinda gimmicky... you won't find many uses for it, and that's why Lytro - despite getting awards and lots of praise for the interesting new device and tech - never became a huge mass marketed thing. Not trying to put Lytro down here, though.
But as an app for a smartphone camera it does makes more sense. I mean, it's not the perfect reproduction, relying on burst shots which can present differences between them rather than specialized lens, but I'd say it's good enough for the effect while not needing a dedicated device.
What makes me glad I got a 1020 though is the fact that such things are coming in a very fast pace, both from Microsoft and Nokia. They are running these research programs that are trying to bring new uses for the cameras that impresses me on every new announcement.
This is not only good for us WP users, but for the industry in general. Google seems to be also going for advanced photo and video apps and software with recent announcements. All in all, we photo and video fans win.
Windows Central Newsletter
Thank you for signing up to Windows Central. You will receive a verification email shortly.
There was a problem. Please refresh the page and try again.