We talk imaging with Nokia's Juha Alakarhu and get a hands-on with Nokia's new Refocus app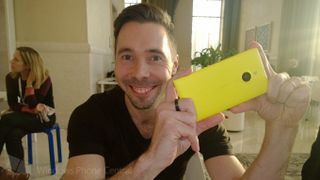 Over the past year we've had a handful of chances to sit down with Nokia's Juha Alakarhu. He is Nokia's camera guru and is one of a handful of individuals responsible for Nokia's dominance in mobile photography. We first saw him at CES last year where we learned about the future of optical zoom on mobile cameras and saw his Frankenstein 808 PureView.
We just had a chance to sit down with him again here at Nokia World 2013. We saw Nokia's new app called Refocus, learned about RAW support for Lumia devices, and how Nokia Black is going to make your current smartphone better at pictures.
Lumia Black
Nokia has been very consistent with taking camera tech for future phones and applying them to devices already on the market. Case in point, new algorithms has been developed for the Lumia 1020 that will come when Lumia Black ships. The algorithms center on the oversampling magic that Nokia uses when making images from the 41 megapixels on the Lumia 1020. You'll see improvements in how your Lumia 1020 handles tone mapping and noise filtering. These algorithms have basically been built from the ground up and Juha tells us your Lumia 1020 will feel like a new device when you get Lumia Black. He was most proud of how they've improved the noise results in the Lumia 1020. Your pictures will look much more natural.
OIS Today
Improving the imaging capabilities of smartphones is something Juha and his team are continually doing at Nokia. Optical image stabilization debuted with the Lumia 920 last year and has made improvements since. The latest incarnation of their OIS technology inside the Lumia 1520 is pretty incredible. You can see the video above where Juha demonstrates the OIS by filming Daniel.
Focus later
He also gave us a hands-on demo of Nokia's new Refocus app for Windows Phone, also in the video above. You'll take a picture in a fashion similar to Nokia's (now defunct) Smart Cam application. You can then change focus on your photo after you've taken it. Alternatively, you can also have the entire image in focus. Watch the video above to see it in action. The app is pretty cool.
RAW baby, RAW
RAW support on a smartphone? It's finally happening. This is a feature Juha and some members of Nokia has wanted for a long time. Why was it just now implemented? Feedback from professional photographers using devices like the Lumia 1520 gave Nokia the push to introduce RAW support. You'll first only see it in the Lumia 1020 and 1520. What about other devices? He wouldn't say, but we can't imagine RAW files being useful on devices lacking the 20 and 41 megapixel sensors found in the both of those high-end phones.
What's next?
What's next for imaging from Nokia? He wouldn't give us any specifics, but did stress that Nokia is never resting when it comes to innovation in imaging. Devices like the Lumia 1520 and 1020 make us excited for what big thing Nokia has planned next.
Nice one can't wait for Lumia Black will be refocus available for Lumia 925?

I hope so! After all, it packs the PureView technology.

They say "what will be next from Nokia?". Nokia isn't making anyting anymore, is it? I would like something smaller than 6" with quad core, but don't know if it's going to happen...

i think we'll have some new devices at CES, like they did with the 520 and 720. I hope some 5" with Snapdragon 600, that would be AWESOME.

i freaking weird why some moron consumers still demands for 5 inch device?

Moron? I think most people want phones that are 5 inches or less.

+920 5 inches is the limit for me.

Yeah. Not smaller than 4.5", but not as Big as 6".

How is that name pronounced?

It should be mentioned that on the new nokia camera app pic to pic times have been reduced for me . Also the start up times on my 1020. So combine this with a new firmware update and I am drooling.

Yeh rly? cool i'm also going to test this! The media is whining to much that the pic to pic times are too long, no were mentioning that a firmware update could fix this :/

The nokia cam update made a big difference and so did the gdr 3. I cant test if the black firmware update fixes it because its not available to ATT customers yet. Go to check for update if the firmware update is available to you.

Firmware updates can always improve things like this. It's one of the problems with reviews when they don't get updated down the line; products can get bad reviews cos of software issues that are later resolved.

This is just amazing what Nokia has released today! It's gonna be LEGEN- wait for it -DARY!

Very cool stuff. This is the biggest news of the day for me!

Argh the black update is already available to some countries but of course not to the att 1020's. I really dont want to wait for 3 months.

No, Lumia Black isn't available.

Crazy right? And that zoom!

And here I was thinking the 1020 couldn't get any better - except for the Megapixels.

Dude, will it be brought into older devices as a frimware update or is it a hardware based feature
BECAUSE THAT IS AMAZING.

That part of the video where we get to see a glimpse of Refocus app.... Mind blowing!! ;)

Really REALLY Cool! I want one!

So I have to wait for Lumia Black for camera improvements on my 1020?

Go to about and check for update. Its available in some countries as of right now. As usual not for att

Directly from noka
https://twitter.com/NokiaSWUpdates/status/392410372310716417

The OP asked for Lumia Black update, your post points to the new Nokia Camera update, both are different things

I hope there will be a fix for the noise in our lumia 720 in the next update...

when can we expect to see that refocus app? or is it just for the new lumia?

Thanks Sam. As always great job to you and Dan!

The OIS has been improved alot. Really want the 930 to have the same camera...if not better :D

It was even better in person. Wait till you try it out in person!

Is the OIS improvement coming to Lumia 1020? Or it's purely hardware magic?

These guys and gals from Nokia deserve €10.000 monthly salaries. Brilliant minds. Btw, I giggle a bit every time you mention Juha's name. "Juha" means soup in Croatian, it's even pronounced the same, I think. :)

How does refocus work? Does it take multiple shots with different focal points and then create a composite ?


Yes. Supposedly it takes something like 8 shots and combines them.

I hope this applies to 920 too

i cant believe how stable the camera was during video capture impressive !

Can we get to see the recorded video?

Ugh Nokia should do what Microsoft did with gdr3 bypass carriers I want that update.

Digital slrs have used raw for years even when they only had 4 or 6 megapixel sensors so i would like raw support on my L920 please :)

My head just exploded lol

RAW support for my 1020....there is a God! :D
Getting tired of the 1020's overly saturated and soft photos due to the post processing....get'er done Nokia!

Wow, RAW support is epic. The biggest news today for me. I've always wanted it but never thought they would deliver it really. This is great news for photo enthusiasts.

Regarding sub-20M pixel cameras needing the RAW support, it's not about the pixel count. Color and sharpness/noise reduction controls are VERY important and you need RAW post processing to get the most out of your camera regardless of the pixel count.

Looking forward to post processing in Lightroom! Adobe, get to work! lol

Aren't RAW files typically 2-6 times bigger than a jpg? If that's case you wouldn't be able to fit that many photos on your phone. Also that could cause a major lag on the phone when writing to storage. We shall see how well it works.

Sure RAW files are big. I'd imagine 41Mp photos will be about 40-45MB each. But storage won't be an issue with 32GB of memory as long as you download your photos once in a while. That's what most DSLR shooters do with their camera and SD cards anyway. With 16GB of free memory, you can shoot about 400 RAW images. That's a lot. And if you care enough to shoot in RAW, you probably want to download for post processing in LR or Photoshop right away anyway (and create backups).

Solution would be to enable camera to store raw files on sd card for post processing with whatever software. At least for the 1520 since it supports sd cards.

I completely agree. Whatever current or future Nokia devices that will have raw support suddenly becomes very attractive to pros and photojournalists who are always on the go.
Is this a first for a smartphone camera? Don't know of any other smartphone that has raw support.
Also that refocus app is unbelievable.
Super job Nokia !!!!!!

Pretty sure there's no other phone with RAW.

Juha and some members of Nokia HAVE wanted.

Now they should push for higher storage b/c 32 gb wont cut after os, apps, games and other media storage. Or allow for sd capabilities with direct write (or the ability to enable this in settings) for media from the camera app.

I happened to be reading a review from The Verge earlier on Nokia's Refocus, and in the comments, saw a guy mentioning his displeasure with Nokia - apparently he/his company had created an app by the same name and similar function. I just did a check in the store and notice it's really there. Not sure what is the company going to do about it...

I don't here Rudy gripping that instagram is releasing an official app

True... Rudy never grips heh.

Yeah I think it was even featured on WPCentral. But are many apps that do the same as Pro Camera, and other apps that do similar things to Smart Cam. And there aren't many other names you can give to an app that refocuses your photos.

That is a stunning quick demo of some wonderful digital imaging technology. When it comes to cameras in phones Nokia are amazing, just wild.

They just announced the integrated Nokia Camera and now this is another app?

Damn the OIS on that 1520 is awesome! And that refocus app is great too. Can't wait for it to come to the 1020. Hope ATT doesn't freaking take forever for the update.

6" is simply too big for me. It might even be a deal breaker.

Come December I will need to make the hardest decicion of my life...
1020 OR 1520????

Did you ask him why all of my post-Amber 920 photos turn into soft yellowish messes once Nokia's image processing is finished with them?
Windows Central Newsletter
Get the best of Windows Central in in your inbox, every day!
Thank you for signing up to Windows Central. You will receive a verification email shortly.
There was a problem. Please refresh the page and try again.