We talk imaging with Nokia's Juha Alakarhu and get a hands-on with Nokia's new Refocus app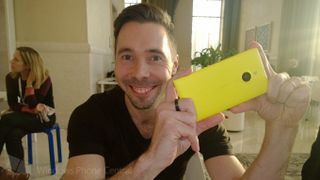 Over the past year we've had a handful of chances to sit down with Nokia's Juha Alakarhu. He is Nokia's camera guru and is one of a handful of individuals responsible for Nokia's dominance in mobile photography. We first saw him at CES last year where we learned about the future of optical zoom on mobile cameras and saw his Frankenstein 808 PureView.
We just had a chance to sit down with him again here at Nokia World 2013. We saw Nokia's new app called Refocus, learned about RAW support for Lumia devices, and how Nokia Black is going to make your current smartphone better at pictures.
Lumia Black
Nokia has been very consistent with taking camera tech for future phones and applying them to devices already on the market. Case in point, new algorithms has been developed for the Lumia 1020 that will come when Lumia Black ships. The algorithms center on the oversampling magic that Nokia uses when making images from the 41 megapixels on the Lumia 1020. You'll see improvements in how your Lumia 1020 handles tone mapping and noise filtering. These algorithms have basically been built from the ground up and Juha tells us your Lumia 1020 will feel like a new device when you get Lumia Black. He was most proud of how they've improved the noise results in the Lumia 1020. Your pictures will look much more natural.
OIS Today
Improving the imaging capabilities of smartphones is something Juha and his team are continually doing at Nokia. Optical image stabilization debuted with the Lumia 920 last year and has made improvements since. The latest incarnation of their OIS technology inside the Lumia 1520 is pretty incredible. You can see the video above where Juha demonstrates the OIS by filming Daniel.
Focus later
He also gave us a hands-on demo of Nokia's new Refocus app for Windows Phone, also in the video above. You'll take a picture in a fashion similar to Nokia's (now defunct) Smart Cam application. You can then change focus on your photo after you've taken it. Alternatively, you can also have the entire image in focus. Watch the video above to see it in action. The app is pretty cool.
RAW baby, RAW
RAW support on a smartphone? It's finally happening. This is a feature Juha and some members of Nokia has wanted for a long time. Why was it just now implemented? Feedback from professional photographers using devices like the Lumia 1520 gave Nokia the push to introduce RAW support. You'll first only see it in the Lumia 1020 and 1520. What about other devices? He wouldn't say, but we can't imagine RAW files being useful on devices lacking the 20 and 41 megapixel sensors found in the both of those high-end phones.
What's next?
What's next for imaging from Nokia? He wouldn't give us any specifics, but did stress that Nokia is never resting when it comes to innovation in imaging. Devices like the Lumia 1520 and 1020 make us excited for what big thing Nokia has planned next.
Get the Windows Central Newsletter
All the latest news, reviews, and guides for Windows and Xbox diehards.