Nokia rolls out updates for its HERE suite of Windows Phone apps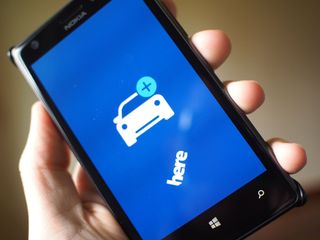 Nokia has rolled out a batch of updates for the HERE suite of Windows Phone apps. The company has bumped HERE Maps, HERE Transit, HERE Drive+, and HERE City Lens. The navigation solutions from Nokia ar
So, what's new in these releases? We're not too sure, unfortunately. Each app listing states that the latest updates add bug fixes and minor improvements, though we're unsure as to how accurate and up-to-date said listings are. Here are the latest version numbers from the Windows Phone Store:
HERE Maps - 3.8.145.1
HERE Drive+ - 4.3.184.1
HERE Transit - 5.3.149.1
HERE City Lens - 2.4.93.1
Let us know in the comments if you've received them. A big thanks to everyone who tipped us!
Windows Central Newsletter
Get the best of Windows Central in in your inbox, every day!
Rich Edmonds was formerly a Senior Editor of PC hardware at Windows Central, covering everything related to PC components and NAS. He's been involved in technology for more than a decade and knows a thing or two about the magic inside a PC chassis. You can follow him on Twitter at @RichEdmonds.
A medal for being a douche. WC staff asked people to refain from this juvenile BS, yet here you kids are.

ive been on WC for like 2 years... and still dont get the idea why ppl say seems faster

Maybe it is something to do with the placebo effect of an update thinking of is faster when it isn't

u should get a medal too.since 2 yrs u don't know whats seems faster means at windows central

Its an inside joke .. Read: http://www.windowscentral.com/seems-faster

You people are never sure what is new in the app updates anymore...lazy...

Why is it showing 'item aint available in store' for HERE maps?

What's the correct link then?I get this error msg"This item isn't available in the store"even when searched for the app through bing.

Store is having massive errors &bugs at present.. It always shows "Attention Required" Try again most of the time...

That started happening to me out of the blue, but I found that apps (perhaps of a certain size?) would download fine once I did it over WiFi. I don't recall messing with that setting, but whatever.

I'm going to go out on a limb and assume that the store message does not use the word "ain't".

Even when I search for it, it doesn't give the option to install nor update the Here suite.

Update: Thanks to suggestion from Captain_Eric, uninstalling and reinstalling it from the old Store works.

I don't remember the last time the store was a redneck.

Try this address... http://www.windowscentral.com/nokia-rolls-out-updates-its-here-suite-win... this should help.

Please provide store maps on SD Card.

Cause that's totally something Windows Central can do...

Agreed. I didn't care when I had a 32GB 1520, but on a 16GB ATT model t's getting tight.. :(

Same here. I no pics, music ,photos nothing on my phone yet I have 700mb left. Tf? 16 Is a joke!

You already can, you just need to install the Lumia Storage Check app. It works fine on WP 8.1. http://www.windowscentral.com/nokia-updates-lumia-storage-check-beta-all...

Sadly as reported on WC some time ago MSFT have withdrawn the Lumia Storage Check app which enabled saving map data to SD card. Side loading also fails now so if you had the app, like me, then have to hard reset your phone to fix one or other OS faults, like me, then you lose the app and SD card storage for maps. This is bad news for 8gb phones (3.4 after system, other etc.). No reason given by MSFT or alternate fix either.

Good reason not to buy a new Windows Phone! You will lose your maps!

You are stupid? This App was removed from the store a couple of months :P

Try using storage sense. And download your map to sd Card.

Try it for yourself and see that it is impossible :P

I hope this fix my Here Drive+, it freezes and crash all the time and this literally drives me crazy

Which is why it has the plus, perhaps? :P

I got this problem and I resolved it by uninstall/install the app.

If you have VZW Navigator and Here Drive+, removing VZW Nav seems to fix about 80% of the heat/crash problems. Further, setting to offline mode fixes the heat problem (constantly trying to find a wifi and chat with data - krazy, huh??

Thanks for this. I will delete it and see if it helps. I had the same issue while out of town. I was so frustrated.

I turned off the internet connection and it stopped freezing, so far.

There was a bug with Here Drive+, where if you turned off data - it wouldn't find Routes to most addresses and had issues staying on the road (Nokia iCon). I just did the update - and the Offline mode appears to be finding routes that it wasn't finding a few days ago! Thank You @Here for the quick fix / turnaround!

Could they make an update that actually says which exit you're supposed to take on American highways instead of just listing the name of the highway itself?

no kidding! Driving the highways around the Boston area where I live, just being told "now take the exit" is stress-inducingly vague when I see two or three exits at the same place and I don't want to take my eyes off the road to look at my phone and figure out which exit is being referred to.

This is one of the two main reasons I stopped using the app. When you're driving in a metro area with tons of exits and cross streets, just saying "take right ahead" is useless and even dangerous. The other reason is that the app has been laughably inaccuate where I drive in the Washington DC area. And not just on all these new roads we sometimes have. I was very excited about Nokia HERE Drive and HERE Maps and saw it as a valuable differentiator for Windows Phones, now I only use them, if ever, to get a general idea before I use something else.

Hello D.C.! I haven't had accuracy problems here. Then again, I mostly use my car's navigation system.

I was in Chicago a few weeks ago and I saw exit number noted in with the name on screen. wish it would vocally say it though (maybe that's what you meant too)

I hope they provide the functionality found in the iOS version of this app..
Specifically, one app that combines both Maps and Drive...and more importantly, alternative navigation routes.
It's disappointing to see this app withering on the vine...though not altogether surprising

Windows 10 won't depend on HERE Drive anymore. The built in maps app of that is miles better. I can understand why it's not being so feature updated anymore.

With Google Maps presumably getting off line maps soon, HERE will be squeezed more and more.. I guess their good global coverage is still an advantage they have.

Does everyone think that the new maps in win10 mobile is a valid replacement for at least the Nokia drive and maps apps? I do. They even look similar which is nice.

Not even close to good enough yet, but hopefully it gets there

I think its better already, minus a few features.

Hate to say it but I recently switched to an iPhone for work, and what Nokia is putting out for the HERE suite on iPhone is FAR superior to what's on Windows Phone.

In the same way that my comment is FAR superior to yours.... duh! :P I hate when people give an opinion but don't back it up. It's maddening. I don't have an iPhone... how is it better since you're taking the time to say it is, although you "hate to".

I doubt I need to... You can check it out if you have any android or iPhone. If not, you can check out some hands on videos and I am damn sure you won't miss how much better it is on any of the two OSs

I can categorically say its worse on an iPhone. What are you talking about?

Hopefully this update fixes the freezing issue. It would freeze 3 times in 5 minutes. Not good when you're in unfamiliar territory.

No change log = lazy developer.

I bought lumia mostly because of Here! And pureview pro, and windows system.

Don't you mean Microsoft? As far as I remember, it was them taking over development on behalf of Nokia..

HERE is not included in acquisition. Nokia owns it

Did they fix the delay via Bluetooth problem ?

Telegram no longer have the beta tag.

Still no map rotation. Have to have Maps app right next to Here Drive simply to have the map rotation feature. WW

this work better on android in my country. not surprised ms still limit this in Jamaica.

I can only get Here Drive+ version 4.2.5964.1 on my 1520.3. Anyone? Edit: I fixed it by deleting the old version, and downloading again from the old (not beta) Store. Now if it would only find a route and give turn by turn navigation here in Guatemala!

I wish they'd add something like showing a picture view of the address when you're on the street that would be awesome. I use this app everyday and its the best nav app out there

Or simply say your destination is on right/left side. I know TomTom navigator has it

I updated. I am still seeing internittent lockups and the lack of real time traffic re-routing is a serious flaw imho.

Making the apps windows 10 ready perhaps? Or perhaps signing off all the apps with one big pushed update? There's a lot going on below the surface with navigation and digital maps lately.

I wish here drive had a travel via option

Been trying to use this on a recent 700 km drive and Waze which is abandon ware is still far superior. No alternate routes, come on Nokia.

I wonder if the speed of road updates, POI and traffic data have improved since porting to iOS and Android.

HERE Maps is fine, but HERE Drive's routing was always its weakest point. Getting you around New York City and the surrounding tri State area and suburbs is very hit or miss, usually a miss. If you miss a turn, or sure that you know a shorter route, HERE, unlike Google Maps, doesn't do re-routing, but insistently tries to get you back on to its original route. I always found Mapquest's, Google Maps and Waze's routing and driving turn by turn to be more spot on.

Bug fixes. Wel fixed pretty much bugs, I live in a country where no navigation is possible? Voice guiding didn't work for quite some time but now navigation is impossible on my Nokia Lumia 925.
I reinstalled all of the here apps and now I cannot install City - lens anymore.
A lot of bugs, isn't it?

I gave up on HERE Maps Drive+ long time ago and now use Navigon for offline navigation or Waze.

The Here Map is faster after the update than it used to be. It is accurate too
Windows Central Newsletter
Thank you for signing up to Windows Central. You will receive a verification email shortly.
There was a problem. Please refresh the page and try again.