Nokia's World of Apps promotion could land new U.S. Lumia owners a $20 Windows Phone Store voucher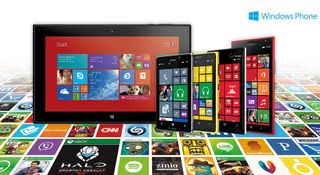 Have you recently switched to a Nokia Lumia Windows Phone or planning to in the near future? You could be eligible for a $20 Windows Phone Store voucher with Nokia's latest promotion, the World of Apps.
If you have purchased a Nokia Lumia 521, 925, 928, 1020, 1520 Windows Phone or a Lumia 2520 tablet all you need to do is head over to this website (opens in new tab) and register. If eligible, a PIN code will be emailed to you with instructions on how to redeem your $20 voucher.
The offer applies to purchases made from authorized retailers in the U.S. made between November 15, 2013 and January 15, 2014. Vouchers are only available while stocks last and you have until February 15, 2014 to stake your claim. Once redeemed you will have 180 days to spend the gift card.
It is an easy way to get a jump on purchasing all those apps and games for your new Nokia Lumia Windows Phone.
Source: Nokia (opens in new tab)
George is the Reviews Editor at Windows Central, concentrating on Windows 10 PC and Mobile apps. He's been a supporter of the platform since the days of Windows CE and uses his current Windows 10 Mobile phone daily to keep up with life and enjoy a game during down time.
Starts today isn't 'recently' like the first line says. You made me a sad panda... It's ok I forgive you.

I did it on my day one purchased 1020.

Here is the 1020 link for Canada too!! http://www.nokia.com/ca-en/world-of-apps/

I did it for Canada earlier.. It gave me an error tho:'(. 141107-GfeFBwAAAAAAAAAA-75004128-d6cb-4481-a9d8-8bb71b862629. I didn't buy my phone in the time period, got a code from nokia, but my account won't accept the gift card.

That's one sexy picture. Can't wait to see the NL 929 in that lineup... And in my hands.

This + $50 from Microsoft on the 1520 preorder. What the heck does one spend all that one? Especially considering I don't play many games.

You can get music or movies perhaps?

halo spartan asault is a good start

Halo Spartan is free too with the 1520.

Use it to buy games on your Xbox one

Xbox 360 games, avatar stuff, move all your free apps to the paid add free versions, Xbox one games, phone accessories from the MS store?

Simple, if you say you don't play many games, you can move all your app to paid version which more nicer that will remove advertisement. As simple as that dude. I am willing to get Lumia 2520 expecting at the end of this year but not eligible to get this voucher since I live in Malaysia. A little sad but still looking forward for the release of Lumia 2520. (:

Give it to the poor like me? :)

Anyone have this image in 851x315? Would be a nice Facebook cover photo...

Check out the website and try to make one yourself?

This ! www.picresize.com Cheers (:

I didn't get anything for my 920 except an awesome phone.

it works in Canada took!! http://www.nokia.com/ca-en/world-of-apps/

Oh man, I got my 925 in October. I still signed up, though... All that they asked for was the IMEI and your email address. Hopefully they send me the voucher :p

I got my 925 in October as well...i will try signing up

My voucher is on the way!!!

Mine too and I got the 925 day 1. Awesome!

thank you for sharing this my voucher is on the way

I just redeemed mine on my 928 that I got 3 months ago

I did it on my day one purchased 1020.

Did you get anything back yet? I also redeemed mine a few days ago from my 928 that I got on launch day. I got to the confirmation page but haven't gotten anything in my email yet.

Interesting, I just got accepted for my launch day Lumia 928...Thanks Nokia and MS!

I just got a voucher for my 928 which I got in July.

Why only all offers in us only, y nokia not considering India also

That's because they know Indians would hardly spend on apps. All that Indians care about is good hardware, Facebook messenger, Facebook & good camera. Except a good fb messenger Nokia is good at everything and they don't need to give these app vouchers. But getting this vouchers would help me buy those gameloft & ea sports titles, which are very big and need wi fi which is not available very easily in India

Are you kidding or over-generalizing about Indians not buying apps? I'm just curious to know how true that is (and the reasons why).

I just registered a used 928 that I bought off of eBay a few weeks ago and it told me a voucher was on the way?? Going to be pretty awesome if I get it!

Nice offer, but whomever was responsible for the pic needs to be beaten. There are more than enough apps in our store to NOT have to repeat icons. This just fuels the iDroid herptyderp app store argument fires.

Just got my voucher. Thank you Microsoft & Nokia :)

Did you get the email yet? Still waiting for mine.

Got mine It took my code but errors with my Microsoft account when I try to redeem it :'(

Same here. I got my code from Nokia and the device i won in a raffle so i don't know its exact purchase date. When i try to redeem, i got a please try later error. Help..... UK user btw.

I'm still waiting for mine :/

Bought my 925 in August and it says I am eligible and voucher on the way. Thanks!

Got my 925 in October and it says my voucher is on the way too

USA customers? It's #TimeToSwitch. :)

US only. Bummer. They really should have equivalent promos outside the US...

Works in canad! http://www.nokia.com/ca-en/world-of-apps/

Doesn't work on either my 1020 or 925 IMEIs. They're Philippine variants :(

U can find here all about India and all about the world,just clik nd see all information in the world.letest news about india and about the world. india states indian food population of india How Many Countries In The World National Parks In India

Got my Lumia 928 last week. Filled out the form anyway to see what happens.

Did I spam enough it works in Canada took!! http://www.nokia.com/ca-en/world-of-apps/

What about 920, no love. Should be all phones

Seriously. Why not the 920? I mean that's an awesome thing to do for your customers but why not ALL of them?

En-us. En-ca. Work .. Try other combos

Just got mine for my L925 I got back in October :)

Seems to work for me. I was able to get it for my 1020 I purchased in September. Will this work again if I get the 1520 next week?

How about some recognition for everything non US. U know,where the market share is higher than 2%.

While I'm in the US, I agree with you. On the other hand, this may be a way of trying to generate some more word of mouth buzz here in the US where it's needed. You'd have to imagine the number of people who will sign up for thie x$20 is going to be less airing an ad on TV and they'd hope those people will talk about it. Plus, we didn't get in on some of the goodies like free Monster earbuds when the rest of the world did on previous promotions :D.

works in Canada aswell!! http://www.nokia.com/ca-en/world-of-apps/

I have a 1020 that my job purchased for me in October. Looks like when I entered my code, it was accepted and displayed a message mentioning that I'll receive my voucher within 24 hours. :-)

This is great. I'm scheduled to buy two 521's for my in laws. This just makes it that much easier to get those lumias. Thanks Nokia and MS. Love my WP's.

Thanks for this! If it goes through, it'll definitely sweeten the deal for my new Lumia 1020

Got one for the 1020 that I got from amazon when it was 199 off contract!

Bought my 521 around 2 months ago. Darn it all.

bought my lumia 521 a couple months ago, and they accepted me, this is awesome.. this is why I love nokia! They share the love :P

Said my 1020 was not eligible :(. Got on launch

my code gives me an error, sad faced

Same I get an error contact suport

online support has sent me to call in lol...gg

which number did you use cause I'm Canadian too and online support sent me to call in gg

have you noticed that the voucher is in Euros and not CAD? I've emailed support as well...

Oh I noticed that and tried to reach out to Nokia on twitter but no reponse

Crap, I threw away the box for my 521 :/

How long does it take to get the code? I filled everything out and it said they would send a voucher sometime in the next 24 hours and its been 18 hours now. Tick tock.

Same Here, i'm Kinda concerned since reading this from nokias website ?? http://www.nokia.com/us-en/contact/corporate/ Warning on hoax lotteries/promotions: We would like to warn our customers that there have been several hoax messages about promotions and lottery campaigns, sent via email or SMS, purporting to originate from Nokia. Nokia has not initiated any such campaigns and has nothing to do with them - the messages have been sent via parties that are not associated with Nokia in any way. Please do not reply to these messages or pass them on, as it is possible that by replying to such emails that your personal information could be misused by the originators of the message or others. The most effective action is to delete the message without responding to the sender.

Worried about this now...

It's been almost 36 hours for me, still no email. :/

It has been 48 Hours. Has anyone received the email?

Can anyone confirm getting a real email? Seems strange that nothings happening.

Nope it said 24 hours but I'm still waiting day 3

Nope. Nothing here either. Has this worked for anybody here? If it has please let us know.

No email. Maybe tomorrow, when the weekend is over?

I registered my new 521 right after receiving it. The website said I'd get an email voucher within 24 hours. I didn't. After 72 hours I decided to check with Nokia. They said this was a trial and there might be some irregularities along the way. I gave them my IMEI number again and they just today said my voucher would be sent within 5 business days. Glad I said something. I'm guessing they're rolling this out in the USA perhaps as a trial run to iron out the kinks, at which point they may go live worldwide. Hopefully.

Took a week (since the 15th) but I finally got my code! This is awesome! Thanks Nokia and Microsoft! I have redeemed it and its 100% legit! Just wanted to report.

Thanks for highlighting this! Glad I picked up a Nokia within this time period...
Windows Central Newsletter
Thank you for signing up to Windows Central. You will receive a verification email shortly.
There was a problem. Please refresh the page and try again.