Nokia shows off the Lumia 920 at Photokina, who would have thought?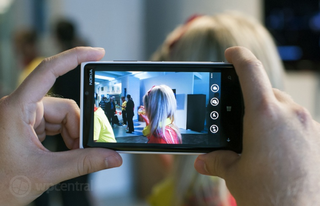 Nokia shows off the Lumia 920 at the 2012 Photokina camera trade show
Nokia is busy making the rounds promoting the Lumia 920 Windows Phone and this past week they set up shop at the 2012 Photokina trade show. If you aren't familiar with Photokina it is the largest trade show for the photographic and imaging industries. The equivalent for smartphones would be the annual Consumer Electronics Show or Mobile World Congress.
Nokia jumped on the opportunity to set up shop at the Carl Zeiss booth at Photokina to show off the Pureview Cameras on both the Lumia 920 and Pureview 808. A demo box was set up, like we saw at the New York reception, to demo the low light performance of these cameras. Nokia reps also demoed the image stabilization and how it improves video quality.
While the Photokina coverage on the Lumia 920's performance has been positive, the fact that a smartphone camera has drawn so much attention at Photokina illustrates how far these tiny little cameras have come.
You have two Nokia smartphone cameras no larger than a quarter rubbing elbows with the likes of Canon, Nikon and Olympus. At this booth you would see Canon's latest full frame digital camera, the 6D (opens in new tab) and two booths over you'll find a Windows Phone. While the Windows Phone camera may seem out of place, it is a sign of changing times. It's like Henry Ford driving his Model T to a horse and buggy show.
Nokia's Pureview 808 and Lumia 920 cameras
I've been around cameras for as long as I can remember and have had my fair share of reservations on the smartphone cameras. Over the years I have seen these small cameras improve where they have gone from more or less a novelty to a legitimate camera. The last generation of Windows Phones showcased these improvements with the HTC Radar 4G and Titan II. The Titan II for it's higher resolution and independent processor. The Radar 4G for its BSI Sensor and large aperture lens.
These improvements haven't slowed down and the next crop of Windows Phones look to take our cameras to yet another level higher. Nokia leads the charge with it's Pureview camera that not only features a fast aperture lens but also optical image stabilization (OIS). HTC isn't relaxing either by continuing to use the BSI sensor, fast aperture lens and independent imaging processor in the 8X.
The technology that is in store for us with these cameras will make the way for better low light images, faster times in between pictures and a reduction in camera shake that blurs pictures. I fully expect that the cameras on both the 8X and Lumia 920 will replace some of the point and shoot digital cameras many rely on.
While Canon, Nikon, Olympus and other camera manufacturers continue to take center stage at Photokina, it is nice to see the development of Windows Phone cameras reach the level to earn them a seat at the table.
Pureview camera photo via: CNET Asia (opens in new tab), Video via: Engadget (opens in new tab)
Windows Central Newsletter
Get the best of Windows Central in in your inbox, every day!
George is the Reviews Editor at Windows Central, concentrating on Windows 10 PC and Mobile apps. He's been a supporter of the platform since the days of Windows CE and uses his current Windows 10 Mobile phone daily to keep up with life and enjoy a game during down time.
Slightly off-topic, but DAMN that limelight yellow is hot!

I know, it would be great to take on hunting trips this fall... They should have made a bright orange one too.

It looks like color of a tennis ball. Very cool color.

Lol. It looks nice though, even though I love the 920.

Im so excited for Nokia with their amazing device. I cannot wait until it is released. Nokia has to do all they can to get it to everyone's eyes. Who knows some isheep might wake up.

Lumia 920 that phone is new iphone. Apple shame you

I been on alot of compare videos on YouTube and been commenting on all of them to get more Nokia out there yaw should too so that windows phones r more thought about :D

I love this! I hope someone does a comparison soon on audio quality. Hopefully there is a way to use the 920 on my beloved T-mobile USA.

Who knows. I'm guessing, the 920 will be for AT&T and Verizon, and the 820 will be for Verizon, AT&T, and T-Mobile.

I wish with all this publicity, Nokia would come out with prices, carriers (internationally not just US) and an actual release date.... Why get all the hype up and still not give the relevant info out consumers want!

They just wanted to get a quick start before Apple's iphone event. None.... I repeat, None of the speakers put a show for a device of that stature.

I think that they probably would like to. But there is Microsoft who has a say in this as well. I think they doesn't allow the OEM to announce a release date. So meanwhile Nokia is doing their best to stay in the spotlight, or at least close to it. Just my speculation of course, i could be totally wrong. It's just the impression i've got.

HTC gave a November release date and a price, if Nokia would just give us a price and allow pre-orders they can have my money now and il wait patiently till November.

hmmm, ironically upon playback of his recording, the presenter's own handshaking is distracting enough to distort the demonstration.. yes, you can see it working, but had he put it down on a solid surface, the quality of the video shot would have been better- and less headache inducing. anyone agree with that? . impressive video though, and it certainly confirms that this phone will be mine. oh yes.

Maybe its just me but i still can't really get a decent pic with the 900, even after the supppsed camera update. Not holding my breath for the 920.

The camera quailty is being proven over and over again and the proof is right in front of you without any kind of tampering...still breathing easy...??

You are not using it correctly then.


Then stop shaking it, it's not a maraca! 900 does not have OIS!

The Lumia Camera can beat any entry to mid level P&S camera. I am getting both the 8X (limelight) and the Lumia 920 (Cyan if it exists). That way, me and my wife can swap the phones when needed.

Cyan will come , cause it showed on a Nokia video , but only at the end of the year maybe.

That was a 900 showing. many seem to not be able to tell the difference between the 900 and the 920 when shown in a video.

http://www.youtube.com/watch?v=mPlGg9ZWFTo&feature=player_embedded yep TOTALLY a 900 with the WP8 logo on it.....

There are people in cyan body suits running the streets of Helsinki promoting wp8 - Nokia employees, have you seen the photos?

If only the 920 looked like the 8X but with its hardware, especially that camera. that would be slick. I hope Nokia's next round of phones take note from HTC and slim and smooth out their design. I don't like the blocky top and bottoms of the Lumia. Just looks bulky and clunky. Still a decent phone tho. And love that pureview camera.

So true. Corners don't belong on a phone.

I think its kinda neat becuz you can leave the phone standing.

Off topic, u guys are sometimes not as fast as WMPowerUser. Nokia viber version has been released...

If there was a green Nokia lumia 920 I would get it and put hulk on it :)

Has anyone get new Viber on their Lumia i also seen it on wppoweruser

Yes!! I tipped WPCentral like 5 hrs ago. They don't read their news tips. WPCentral is going down by the day.

I can't find it on my marketpkace by the way croatia is my region

Can't go down when the tip given is a false/positive :-D

It's not just that... Sometimes, they are like 4 days late to the news.

Look for applications published by Nokia corporation. It's not in Nokia collections though, nor can it be found searching for cover.

Its NOT a viber version. MS asked viber to block the service to all phone bu Nokia,,,so its possible its only a matter of time before it comes to all WP8 phones.

Where is a link to the video demonstration?

Stop showing off the dam phone and let us show it off! I swear, this is worse then a drunken prom date before she's drunk - always showing the goods before delivering, lol

Download the "Sophie Cam" app for high res pics with your Lumia 900.
By the way the new Lumia 920 will be a huge leap forward in terms of camera quality. From the videos uploaded you can see it has really good white balance and natural colors.

They should have the lumia 920 1 week after the launch I bet you it would have been many people buying it just like iphony 5. But no have fricken wait till next month

Funny how this was meant for lumia 920 camera. When I see a HTC neon color hahaha

No wonder the phones thick if that shit is in it. >_>
Windows Central Newsletter
Thank you for signing up to Windows Central. You will receive a verification email shortly.
There was a problem. Please refresh the page and try again.