Nokia signs Spain's CaixaBank up for huge 30,000 Windows Phone deployment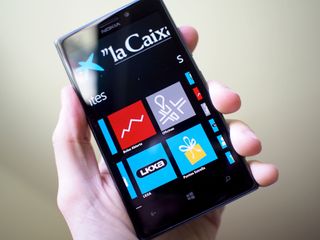 Nokia has locked down a fairly juicy enterprise contract with Spain's CaixaBank. This will see a whooping 30,000 Lumia devices rolled out across CaixaBank's workforce. The Lumia 925 will be deployed as the first phase of this program, while employees will have a chance to get a deal on Nokia devices for friends and family as well. Tight integration with Office apps, NFC implementation, and strong encryption are just some of the reasons CaixaBank cited for their choice.
CaixaBank is already involved in the Windows Phone ecosystem with their own dedicated app (opens in new tab), and obviously you can expect it to stick around with this new partnership.
We have any Spanish readers in the house? How many of you guys would like to see Windows Phones as the official handsets for your workplace?
Source: Nokia
Get the Windows Central Newsletter
All the latest news, reviews, and guides for Windows and Xbox diehards.
This is Great news Caixa Bank its one of the bigger Spanish Banks, and their app is been on the marketplace since the beginning of WP

Telefonica also uses Lumia as corporate phone, Lumia 520, Lumia 620, Lumia 820 and Lumia 925. Windows Phone is very close to be the 2nd option in spain: http://nokialumia.es/2014/03/31/windows-phone-es-el-s-o-movil-que-mas-cr...

... which means Spain will take Fifa 2014 !! <3 <3

You got that right. Go SPAIN!

Great job Nokia. It's good to see WP8 chuck out Android ! I would be very happy to see android fall because of the selfish attitude of Google towards Windows Phone users.

That is a huge contract. Good job! I believe blackberry is being replaced..? Either way this is a huge win!

You mean they were using berry's?

Yup, I can confirm. At least some of them.

Lumia 925 is a good choice!

If it has 32gb instead of 16gb offered at T-moble.

I would apply for job there if it was the L1520

Hahaha. You made me lolzzz :P Why not find for a job paying you even better. So you can get the 1520 + buy some goodies. :)

Don't spoil the joke, please. LOL

How about buy a Lumia 1520 and then apply for the job there.

It's April 2 here, where's my wp 8.1 :P

Looking at his name, he is from India and he's making you an April fool. ;)

I am from India...currently in North East side of it.. It's past midnight here

The keynote announcing wp8.1 starts at the earliest 8:30 am eastern USA time. That will be the announcement that it exists, what the features are, and any new phones that will carry it. Those new devices are going to ship with 8.1, but the update for your phone, whatever it is, depends on your carrier. Microsoft still has to send out developer updates. I wouldn't expect 8.1 for weeks to a few months. Unfortunately, these updates do not release like an apple update release.

Dude, was it a joke. Isn't a real question. Relax!

Isn't build starting today...?? Why are there no updates about the event?

2nd April, so tomorrow...but I'm surprised there are no leaks which usually happena lot the day before...then again we did practically get lots of leaks before, so guess nothing is left =P

Build is April 2nd in the US, so in 20 or so hours.

I hope these guys are part of the purchase because they seem to have something that is beyond MSFT's employees : the ability to sell windows-based mobile devices to business. Wasn't delta part of a deal not log ago to have lumias too? and now this? Satya better own them.

Delta double dipped devices

Yes yes❕... MS needs these dudes,, whoever at Nokia is making these deals..

I am from Barcelona. Caixabank (known as LaCaixa here) is the most important Catalan bank here, I myself have my account there, and have family working for them. It will be nice to see other Windows phones around other than mine lol

Well i see a lot lately specially 520

Caixabank (LaCaixa) I think is the third bank in size in Spain. This means a huge deal considering the size of the other two, specially Santander, among the top 3 in the world.

¡Qué bueno! Aunque no utilice Caixa Bank

Im from spain. My workplace use too Nokia for business and all server ecosystem comes from Microsoft. Its an International Enterprise, JC'Decaux. Nokia is doing good.

Its not on national news yet but will probably make it to the digital papers later on tonight. Its great that such an important bank is behind WP, itll help spread the word, not only to clients through families but also through the banks clients. Maybe this way some of our other national banks will look at the example. Another huge company (Telefonica, biggest mobile operator in Europe...) also had a huge deal last year with Nokia, replacing all of the blackberries in the firm (some tens of thousands!)

Nice job Nokia, and thanks for letting us know. Australia.

I want Lumia phones at ATOS Romania too. Here they are using android phones, :( very unsecure

The company where I work also will exchange all cell phones for Windows Phone. :D

Average members are getting a L520 and Directors are getting a L1020.

sweet!! getting more Windows Phone devices in more hands is super important. That means those people are going to get experience with them, potentially talk about it with their friends, and perhaps even buy their own WP device when time comes to get one's own personal cell phone....

Hehehe, good for keeping a 41mp eye on their minions

How many people work in your company?

68.000 members around the world, but I think that others units already have WPs, these L520 and 1020 that I talked is about here in Brazil.

Nice job Nokia. Right before the buyout. That's Nokia devices. So the question is really should Microsoft be out doing deals such as this one, or should it be the manufacturer?. If its the later than Nokia will be the lone player. Lest on WP.

Great news :)
I knew it all along, Spanish people are smart :)

I love it. And a very good choice by picking the NL 925 to go first.

Hehe. Huge win for WP. Next up, let's see if we can convince Wells Fargo & Bank Of America to go #Lumia

Muy bien! My company is stingy. They don't give out any devices, it's all bring your own (Blackberry or iPhone). And they're a big bank! But they have even thrown the plants out of the offices to save money. Yeah, those people watering the plants are SO expensive.

i wish nokia though having a good reputation on the subcontinent of india having a fairly better rapport amongst the consumers against samsung goes ahead with its mobile ecosystem and grows. the only thing stopping them is that they should have a global launch across the globe with the markets they have a good hold on like the spain,the uk, india,latin america,south america europe and etc rather than just launching in the united states first . if they come across the contract and carrier barriers and launch the device on the set day and across their major markets they will have a get go to at their forte and increase their current market supply to only where theres a huge demands cause hey the globe does not only contain china,us and japan. & india;; no hard feelings the only boost for the consumers who are hesitating is loads and tons of marketing wishes of a wp fan still stuck on android due to lack of dual sim wp phones

I'm from Barcelona spain. well that's a nice deal for nokia. but i feel this deal with scepticism many Spanish banks was/are having financial problems , the "crisis" is still impacting many lifes caixa bank, like many Spaniards banks invoice you for a many commun banking operations, tranferts account fees, etc etc and know they are buying high end devices for their employees ? should not they optimise what they do with their money ? there are so many banks today which do not make you pay for banking services, that seeying this one still doing soo, and making a deal for 30000 high ends smartphones, sounds like a lack of comun sense...
but most of the banks here in spain work like that:
- you have to pay for everything ( ING, and other "modern" banks are not like that)
-making some bank operations requires you signing plenty of docs, getting autorizations, waaiting for proceses to be done etc etc.. well I do not understand hahaha they are able to keep on business working like that I'm not with caixa bank but i heard some friend complaining about caixa bank & cie

This is definitely a big win for Microsoft and Nokia.