Nokia teases Imagin8 camera app, turns 'any environment into a digital playground'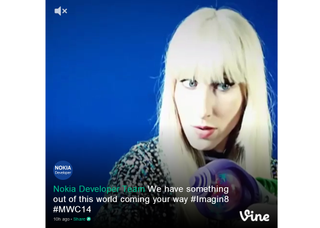 Although the main news at Mobile World Congress from Nokia will center on Nokia X, we're sure the Lumia makers will have some new Windows Phone apps and goodies on hand.
Indeed, Nokia via their Vine channel, have posted a short movie showing a woman taking "selfies" with her Lumia 1020. While some have jumped on this as a new device announcement – it's not – we're confident that this is for an Imagin8 app, used for adding digital effects in real time. Think of Kinect, but for your phone.
Doing a cursory search, we found this video demonstrating the technology, which was also featured at CES. In fact, heading to around the 0:35 second mark, you can see the same model demonstrating the technology.
In short, Imagin8 works by using cameras and sensors to add effects to a video or image. Users can then interact with the virtual digitial goodies, creating interesting and unique works of art. We're not 100% certain how the Imagin8 app will work for Nokia Lumias, but watch the two videos here should pique your interest!
We'll of course be there at MWC starting Sunday through Wednesday, so stay tuned for more details.
Source: Nokia Dev Team (Vine)
Windows Central Newsletter
Get the best of Windows Central in your inbox, every day!
Daniel Rubino is the Editor-in-chief of Windows Central, head reviewer, podcast co-host, and analyst. He has been covering Microsoft since 2007 when this site was called WMExperts (and later Windows Phone Central). His interests include Windows, laptops, next-gen computing, and for some reason, watches. Before all this tech stuff, he worked on a Ph.D. in linguistics, watched people sleep (for medical purposes!), and ran the projectors at movie theaters because it was fun.
Damn i was hoping for a new Lumia

We've said a billion times, no new Lumias! Sorry.

So all rumors of a Lumia 1820 aren't real? Can we still expect some flagship WP8.1 announcements soon?

Apparently we have to wait to build for Nokia stuff that is actually of Importance and use to wpcentral users.

No, they are not. There's no such thing as the Lumia 1820. Nor 1520v. The only expected Lumia devices are what would be the 930 (Goldfinger) and the 630/635 (Moneypenny). And none of those is likely to see the light of day until the Summer. If nothing bad happens in the process. (like, for example, Microsoft deciding to re-design and rebuild those models to make them more in line with the Surface designs or something).

I think they may be real however, no new lumia can be announced until April. How can they announce a new WP 8.1 device when WP 8.1 itself hasn't been announced publicly? Probably they will announce it during build 2 or after it.

Yea i know but i was hoping for a Lumia 925 successor :(

@Daniel when you day "No new Lumias" do you mean that MSFT bought Nokias hardware not for the purpose of making its own??

I hope MS will at least double Nokia's production lines. We need 5 to 10 more lumias for WP8 to kick off all the way to 10%...

what about that all aluminum phablet ? that was leaked even before the 1520, that one had the camera array, maybe this is the unveling of it and the first microsoft phone?

You forgot the unicorns...

Nokia X is Lumia. The first dual-SIM Lumia. No Android, sorry.

Have u seen the interface?

make it million +1 )) So you are saying Lumia Icon is the last and period? I was kinda hoping Tmo and ATT will get also something new


no new lumia is good. let the people -soak in- on all the available lumia phones for now. its still plenty. and too early to replace/upgrade their line-up

WP8 need's new user's, not ancient users thinking of an upgrade. The more choices the best. We need something new every month, we don't need escuses to keep waiting for some crazy event/update. We need an international Icon like one year ago! They need to change their attitude!


Something new every month? Are you for real? Look at the iphone, a single phone every sixth months, doesn't seem to hurt them. We have a huge selection out now - too many new devices at once is almost worse..

This is not ios nor it's anyone pretention to be

Not by the time they would go into production.

If no new Nokia phones........ maybe a Surface phone?

Nokia is the master of teasing.

Teasing a cheap android already shown all over the internet just to please the Android freaks. If it was something innovative that may give the upcoming GS5 a little something to fear, then I maybe a little excited.

It would be good. Nothing comes close to the imaging capabilities of Nokia.

I'm so ready for mwc to be over as I am not ready for the unnecessary amount of coverage I am sure we will see for this crap Nokia x. That being said this app is right app my forte since I am a selfie addict lol

I too am scratching my head for all the coverage being posted for an android phone, and a low end one at that. Its not as though its going to be recommended to wpcentral users over the 520/525 so is it just for clicks?

As Daniel Rubino he says, he is the boss though I really don't see the purpose of the constant daily reminder about the x. *shrugs*

Chant with me... Build... Build... Build... =)

april 2 april april 2....

40 days 40 days 40 days left.

Black , black , black . Huh ? Wrong update :P Blue , blue , blue !

You must own a L920, as I have two of them myself.

God enough with the photography apps.

Wish we had some video apps

Photography and imaging is one of the key selling points of the high end Lumia phones. So they got to keep ahead before others catch up. You don't have to download them if you don't want. But I do agree there are too many different apps that instead should all be consolidated into one app... so whatever this is, I hope it's integrated into the new Nokia Camera app.

You're wearing a scarf Dan.

Monday: galaxy s5 will be announced

Android central is down the hall, 3rd door on the left.

Well wpcentral has been hyping the Nokia android phone so seems like a legit comment....

Next time you use Here and you don't get lost.

I heard it has 5 holes (one more than S4) on top edge of the bezel. LOL.

Yay, another photo app :/

Theres another app with the same name in the store right now. whats with that. file size abt 3mb

I wonder if this App isn't some sort of equivalent to Sony's AR Effect App on their Xperia Z1 line.

Possible. I hope there is an update to creative studio soon it could use more options. Also integrate it to Nokia camera.

Will Nokia ever come up with an app that's not camera related? Nothing camera-related will blow our minds at this point or our competitors' minds, for that matter. Innovate, please, or be prepared to vanish into irrelevancy.

Considering it is what they are known for now I don't see what they are doing wrong. They were the first one to Innovate when it came to smartphone cameras and competitors still have yet to come up with something comparable to the 808 or 1020.

Don't think there will be so much innovation shown. Samsung for one has stated that the s5 is an "upgrade" from s4.
So I'll rather take great apps from Nokia :)

When you take a lot of footage in developing countries you just fall in love with the Lumia. Low light and so much noise is made beautiful with a Lumia. Keep creating Nokia

I think I have seen these same style interactive effects on the floor in the Discover Mills mall in Georgia.....I saw a group of kids jumping up and down in virtual water and another time they were popping bubbles, chasing leaves and the like. If it isn't the same tech, it is extremely similar. I have no idea how this will be integrated into current devices and it will be nice to find out how.

looks nice to create some very creative moments..now i have to really consider to upgrade from my 720 & 820..would love to have a compact 1520 in my hand..that would be really awesome..

dont think there be no more lumias only lagdroid fans wishes :D keep making this awesome phone

What's about this teaser?