Nokia Transport 3 for Windows Phone 8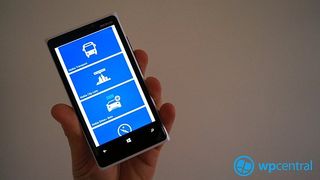 We're pleased to report that Nokia Transport has hit Windows Phone 8 Lumia devices today, signalling the completion of their location based app line-up for the next generation OS.
The new app boasts an improved user interface and takes full advantage of the now built in maps platform to deliver something a little bit more special as it hits version 3.
All of Nokia's location based apps were going to benefit from the new underlying improvements in Windows Phone 8's mapping, so it's no surprise to see that Nokia Transport gets some nice bumps in performance and usability. Most notable of which is when clicking on the route itself, jumping quickly and fluidly into the map overlaid with the step by step points of the journey.
Unlike in Windows Phone 7 you now have a bottom bar which slides left and right, allowing you to step through each stage of the journey. The map pans and zooms very smoothly to show you what you're doing next. If you're in the walking section of your journey (the horror!) you can swipe up to reveal more of the menu and select "Start Navigation" which then launches Nokia maps to guide you through. I got some odd results when I tried this with Nokia maps planning more of a driving route for me on a few attempts.
The bottom bar does a nice job of making the route easy to step through and if you want more information or help navigating by foot you swipe up to reveal more about each stage. It's a progression to how the UI worked on Windows Phone 7. You'll also have the options to tailor the time more accurately by first defining the exact date in the future you wish it all to happen both with a departure time and an arrival time. Knowing how our Tube network can be here in London it's easy to believe that leaving now and arriving another day in the same city are at least a possibility, I joke, of course, I joke.
The overall experience above what we have seen with previous versions is clearly visible, the maps look great on the Lumia 920's screen and they update much more smoothly now. With the older version I had problems with the map showing me nothing for a good deal of time before finally coming back to life. I'd still like Nokia to bring richer features to Transport, for instance I'd like to see live travel updates for UK tube and bus networks integrated into the app and perhaps built-in metro maps? What we have now is a very capable urban route planner and it's a pleasure to use.
Very good to see Nokia continuing to tie up the loose ends with its excellent location based apps, for many including myself these constitute reason enough to choose Nokia. There remains much promise as to what can come next for all these products but we are getting closer to that goal of location based bliss at each update.
We're always keen to hear from you, if you have something you'd like to share please do so. If you have any questions please fire away and I'll do my best to respond in the comments bellow.
Grab it from the marketplace here or scan the QR code below.
Get the Windows Central Newsletter
All the latest news, reviews, and guides for Windows and Xbox diehards.