Nokia updates HERE Maps to include Deutsche Bahn transit info from Germany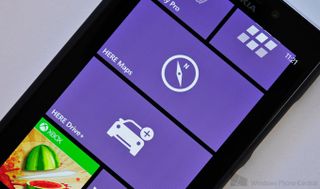 Nokia has updated its HERE Maps app and HERE Transit with new train and transit information from Deutsche Bahn in Germany, allowing users of the Windows Phone apps to access train connections and timetables in that country.
In addition to information about Deutsche Bahn's routes and schedules, the update also includes the same information from all the regional transport operators and transport companies in Germany. Nokia stated:
The update to the maps information is server based and does not require an update to the actual HERE Maps apps. If you live in Germany, will this be a help as you travel by rail across the country?
Source: HERE blog
Windows Central Newsletter
Get the best of Windows Central in your inbox, every day!
From the article above: "The update to the maps information is server based and does not require an update to the actual HERE Maps apps. "

Hi Do you have any idea when we will get a distance "meter" on the Here maps? (Like 1cm= 1 km) And will South Korea and Japan be avalible soon?

Daniel Rubino doesn't work for Nokia or Microsoft.

some people just lazy to dig deeper

maybe he doesnt speak english :)

Did you seriously attach Android screenshots in a WP article? Whatever you guys are drinking there, I want some of it.

somehow I think I'm tipping this news earlier

@Wael Hasno Yes, we did! HERE is why (pun alert). This is update is also for their Android HERE app as well, and the above images were posted by the HERE team to demonstrate the new ICE feature. Regardless, it is trivial and not the main intent of this article. I think we are going to 100% get rid of all graphics on WPCentral so everyone can just read the article and not be distracted by the pretty pictures ;)

Fair enough. Was just kidding anyway! I had forgotten that Nokia doesn't care about us anymore. I'm not seeing any updates here.

No update from the apps. The data updated automatically from server side while the apps didn't get update. In conclusion there isn't any change on the apps. But there is change on their database. Your apps feature will automatically updated as connected to the Internet

Thanks. Was thinking it might have been the deal but I wanted to be sure.

HERE have confirmed lately a new update is due, for instance, to migrate our "nokia" accounts to a new "HERE" account (needed on beta.here.com or for the android beta). Besides, new features included in the android beta are to come to WP. When, I don't know, but probably when the Android version is released (=end of the year I presume).

Whoa no way, I really like the embedded pictures, always amazes me how good they look and how bad mine look!

Nice, Guess we will see more of this as soon as they are wider spread across all plattforms ..

Ausgezeichnet! Though the DB app is pretty excellent on its own.

Works perfect here in Germany. Finally this long awaited feature is out. This makes traveling by train and bus more comfortable.

Needs some suited speed improvements

what? I've used here transit and it's plenty fast enough, it can work out a route quickly and efficiently...

Thanks for the info, but please use windows phone screenshots and not Android screenshots.

android haters bro ? that's just a screenshot demonstrated by the HERE team dev thought HERE apps also available on android platform. that picture just for illustration purpose and the article is the main focus :)

Isn't anyone adressing the TrueCaller Beta version getting the Caller Id today. Its great finally caller id has come to Lumia or WP(Not Clear because they asked to update to the latest Network+ from the store).

Wow really!!? Finally, thanks man for giving us this news! Was waiting for this.... How do you sign up for the beta?

Just open Truecaller. Send a bug report or suggestion. A support executive will mail you. Just ask him to add you to the beta list. He will send it to the developers. And done! They'll send you the beta link.

Didn't this happen like last month?

but probably officially announced today.

No already announced by HERE at least last week or before.

And? Not everyone live in the U.S.

Now you know how we Europeans feel every time we try to use a Microsoft service like Bing. Posted via the Windows Phone Central App for Android

I wish it was included in the native maps and Cortana experience...

BEWARE... the new update turns your phone into android !!

Thank you for traveling, eure deutsche Bahn. ;).

"IHRE Deutsche Bahn" heißt es.

Ja, war ein Grammatik Fehler ;), bin jedenfalls Deutscher.

They REALLY need to work on the New York City transit system inside HERE maps. It's one of the largest and most used in the world, however, they don't even have simple TRAIN LETTERS in their program. It's rather embarrassing compared to what's available on competing platforms.

Agreed. For NYC transit info, Hop Stop and Google Maps are still king.

And now Switzerland please.

It's a great and very welcome improvement but this news is a few weeks old isn't it?

Nice, I like update...But Here Drive is crashing randomly on my L635. It was working great for 22 months on my L920…I'm the only one? California map, Here map and Here Drive are install on the phone not on a memory card. PS: Sorry, I know we are talking about Here Transit.

This is great. I'm constantly on the trains here in Germany and I've been very happy with the Deutsche Bahn app, but I also walk around alot, so I'm constantly switching apps. Looking forward to see how good the information is

Very good :-) I will test it. Currently I use the DB Navigator for the Deutsche Bahn.

You didnt mention (or am i blind) that it also shows if trains are delayed and how much...quite important because they are always late here :)

Does that mean I could uninstall the Deutsch Bahn App?

I wouldn't. The DB navigator app does much more. Like show me how I can get from A to B in two days at 7am. Nokia works for right here, right now only.

Actually you can set the date and time in HERE Transit to a future point in time of your choice as well

While this is not news (I noticed the addition of bahn.de data to HERE Transit already in late September) I really appreciate an article on WPCentral which is only relevant in Germany. :) But what is still missing are the platform numbers when they tell you to switch trains. Sometimes you only catch a train in such a situation if you know exactly to which platform you need to run.