Specs for the Nokia X, Nokia X+ and Nokia XL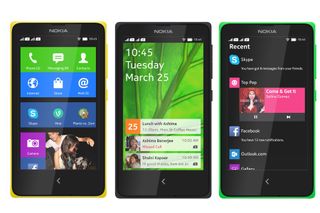 Nokia has just announced a new family of devices in their portfolio. The first three devices in this category are the Nokia X, Nokia X+ and Nokia XL. These smartphones all run a forked version of Android and therefore run Android apps, although you won't find Google's services on here. Instead you'll find Microsoft and Nokia powering your experience. Here are the specs for these three new phones.
Nokia X and Nokia X+
115.5 x 63 x 10.4 mm
128.7 g
4-inch WVGA IPS LCD display (800 x 480), 233 ppi
Capacitive two-point touch
Ambient light sensor, Accelerometer, Proximity sensor
Micro SIM, Dual SIM support
USB 2.0 / Micro USB-B
3.5 mm audio connector
Bluetooth 3.0 + HS
Wi-Fi WLAN IEEE 802.11 b/g/n
WCDMA: 900 MHz, 2100 MHz
GSM: 850 MHz, 900 MHz, 1900 MHz
1500 mAh battery
Dual-core 1GHz Qualcomm Snapdragon S4 processor
512 MB RAM / Nokia X
768 MB RAM / Nokia X+
4GB of memory
MicroSD card support (up to 32GB cards supported)
3MP rear camera, no front-facing camera
Nokia XL
141.1 x 77.7 x 10.9 mm
190 g
5-inch WVGA IPS LCD (800 x 480), 187 ppi
Capacitive multipoint-touch
Ambient light sensor, Accelerometer, Proximity sensor
Micro SIM, Dual SIM support
USB 2.0 / Micro USB-B
3.5 mm audio connector
Bluetooth 3.0 + HS
Wi-Fi WLAN IEEE 802.11 b/g/n
WCDMA: 900 MHz, 2100 MHz
GSM: 850 MHz, 900 MHz, 1900 MHz
2000 mAh battery
Dual-core 1GHz Qualcomm Snapdragon S4 processor
768 MB RAM
4GB of memory
MicroSD card support (up to 32GB cards supported)
5MP rear camera with flash, 2MP front-facing camera
Again, these aren't high end smartphones. They're meant for emerging markets and to introduce smartphone owners to Microsoft's and Nokia's services. The idea is that the next smartphone they'll be after a Nokia X/X+/XL will be a Lumia handset.
You can get the Nokia X, Nokia X+ and Nokia XL will be available in black, blue, green, red, white and yellow.
We'll have hands-on with the devices shortly.
Windows Central Newsletter
Get the best of Windows Central in in your inbox, every day!
I wanted a 1 Gb ram phone android coz it sucks at lower ram

Nokia threw away all those google bloatware, making these faster than stock android.

That is completely false. The Verge said in their hands on article "Using the X can be quite frustrating, however, as the entire interface is prone to slow response and a lot of lag. Closing or switching between apps on the X takes far longer than other, even entry-level, smartphones, and browsing the web will quickly test your patience." Don't spread misinformation please.

Yeah, like The Verge would ever say something good about a Nokia device hahaha I'm sorry, but that source is biased :/

I feel that the Verge always reviews devices fairly. They only get called biased when the say something people don't agree with. Multiple sites are saying that the phone is slow. Would you say they have something against Nokia as well, or would you say that maybe they phone may very well just be slow?

I never thought I'd say this but the whole point of the phone is to be crappy, so in this case I totally believe what the verge says. :) Posted via the WPC App for Android!

But still Android keeps running all the apps until you actually close them instead of suspending them like in WP, so I don't think there would be much difference and a 512MB RAM Nokia Android would still be lagdroid.

Ugly, heavy, bad design, massive bezel. 190 g? Is this a brick or phone?
As bad as it gets. Total miss. Sorry.

Total miss for you, great cheap phone for people on a budget.

They have almost identical specs to the lumia 520, so the only cost saving here is the operating system being free (well they have to pay for the patients it infringes), based on that they do seem pointless. A better deal would have been Microsoft reducing drastically the software cost for the low end hardware to seed the market.

Free as in, had to port every one of androids APIs ... Alternative motive here was to one up goog

It's supposed to be crappy believe it or not. Posted via the WPC App for Android!

I guess this is what Nokia has been busy with, instead of bringing out more WP devices.

It would be stupid for nokia to release a windows phone 8 device just months before Windows Phone 8.1 devices come out.............

Agree.. Just wait it put Guys...

You gotta be kidding. There's a Lumia for every budget and need right now.

Do you know something, i thought this was WPCentral ,dedicated to WP, i must be wrong. But Iin saying I'm glad i came to the wrong site as this Android phone looks amazing and I'm going to ditch my WP and buy one of these bad boys as soon as its available. By the way, for people that don't get sarcasm, that was sarcasm. But honestly why is this droid phone on WPCentral.

You might need glasses ;) ...all in good fun.

Go home zaidgkhan you are drunk ;)

Zaidgkhan might be right. Look at this video shared by azcruz. http://m.youtube.com/watch?v=oUCEN-XvC7g&feature=player_embedded

They should have threw in a 720p display for the 5 inch model

Yeah 480 will look horrible on a 5" display. It looks bad enough on my little 822.

Agreed. Even 246 ppi on my 620 isn't enough for me. But well, they are budget phones, what can we expect.

The worse it looks the better... It will make user's transition to WP all the greater.

Or people will just avoid Windows Phones because these phones give a bad impression of them.

THIS IS NOT WP, and people will know that.

What's a windows phone? Posted via the WPC App for Android!

Windows Phone (abbreviated as WP) is a series of proprietary smartphone operating systems developed by Microsoft. It is the successor to Windows Mobile,[6] although it is incompatible with the earlier platform.[7] With Windows Phone, Microsoft created a new user interface, featuring a design language named "Modern" (which was formerly known as "Metro").[8] Unlike its predecessor, it is primarily aimed at the consumer market rather than the enterprise market.[9] It was first launched in October 2010 with Windows Phone 7.[10] Windows Phone 8, which was launched in October 2012, was succeeded by Windows Phone 8.1, which was released in preview form to developers on February 10, 2014.[

Maybe they could launch a 5" hd phone with 1 gig ram better camera and battery to compete with moto g at the price of moto g.

And ship one running kit Kat while there at it!!

720p with a 768mb ram will lag like hell.

Are there any other announcments coming from Microsoft or Nokia to be made later?

Weak specs, heavier and thicker than the 520. Hardly a smartphone.

why do we care? this is an android device.. and this is wpcentral, not android central!, why is this published here!

Because this is also NokiaCentral.

This could be a big time hit in emerging markets. More than the 520. Which could be bad considering that Microsoft doesn't make a dime from those phones.

Why do you think it will do better than the 520?
Sure the XL has a larger screen and front camera, but that's it. Nothing else trumps the 520 (specs wise) and the X/X+ aren't up to par at all.

It will be cheap so it will sell. But yes the 520 is better.

They shown up on NOKIA india website

Death of wp in India,people in India buy lumia phones just for quality which nokia provides.....this and hardly I'll be able to see any lumia devices.....good for nokia ,bad for the big brother mico

I agree I feel the same. Well its here lets see what happens the next couple of years ahead.

Plot twist: after wp8.1 announcement, nokia announces that the x can be switched to windows phone since 8.1 will support these hardware.

I never thought of that! I'm not sure if you are partially joking or not. But that sure would be one hell of a twist.

My thoughts exactly! If WP 8.1 gets optimized even further for lower memory/spec devices, this would be the sane way to go.

"The idea is that the next smartphone they'll be after a Nokia X/X+/XL will be a Lumia handset." I keep on hearing this, but can someone please explain it to me? 1. It does run like crap (says the verge in their hands on), how is that going to pull people into WPhone (which runs beautifully on low end hardware, ironically) 2. The upgrade path - at least from today's perspective - looks like a nightmare for the average dude when compared to low end Lumias. 3. They are not more expensive than low end Windows Phones 4. It is ugly as sin. The UI looks like the 90ies had a comeback (seriously, why would ANYONE get this over a 520? Anywhere, at ANY time?) Someone please enlighten me... Also: Apple's single greatest move was to establish a fan-base to an extent, where people essentially would by a brick if it had an apple sticker on it. Way to alienate your customers, Nokia...

Getting hooked into Microsoft/Nokia services.

Can't they get all of those services on iOS & Android already?
(and in some cases better apps on those platforms than what is offered on WP)
Also, if reports on poor performance are true, it might have the opposite affect by giving the user poor experiences with the services.

Yep,pretty bad when OneDrive and Oulook mail run better on iPhone than WP.

Like those they can get on a 520? Also, those better run smooth as butter on forked Android! Because if the user experience is anything but heavenly it will make people steer clear of anything Lumia for sure. Heck, all of my friends who now have Windows Phones came from cheap Android devices running choppyly! The irony...

And how likely are people in emerging markets to let themselves get "hooked" into anything? If they go for cheap phones, they'll probably only go for free stuff from the store if they use the store at all. And free stuff like Skype and OneDrive hardly hook up anyone, specially when those services are available on normal Android and iOS. Actually I can't think of a single Microsoft service that isn't available on iOS or Android apart from the Office suit...and that's very likely only temporarily. Not sure that's the wisest of reasons to go for.

They can just release those apps

Can't believe you actually fell for that load of crap. Buying this phone has absolutely nothing to do with a Lumia.

Tech crunch wrote what I wrote in a comment here this morning.
http://techcrunch.com/2014/02/24/nandroid/?utm_source=feedburner&utm_med...

It's not a rational world, but if it was, the only people who would buy the X range are total appheads. The kind of people who feel a burning need to be able to say "Yes" every time someone asks them if they have Crappy Birds or whatever the next big thing is

Instead they should have used the same hardware and launched 3 new lumias

Indeed, I think even the lowest spec'ed of these phones fulfill the minimum requirements for WP7. Instead of helping out Android, they should've re-released WP7. That would help out app developers who made apps for WP7, bring a little bit of new life to the platform (which I believe is still 20% of the Windows Phone market share), and would've been a much better "gateway" to WP8 than a crappy Android device.

No. That's even worse than what they did.

WP7 is dead and buried... It would've been even worse than releasing this android crap.

20% of the WP market is on WP7. Not dead, it's just being treated so by Microsoft. This would've been a nice olive branch.

So.. Can we already buy these low end beauties?

Why on earth a lumia user buy this crap??

It's just cool to have it as well.. I would only buy it because of the forked Android... Another experience..

Jeez I don't know. How about MORE APPS? Last I checked Plants vs Zombies 2 wasn't on WP.

Lame. Lame. Lame. Lame as fuck. Lame.

Sorry! The process "Lame" is not responding. FORCE CLOSE.

The app is not responding please wait...

I know Nokia X are meant for growth market, hence they should be budget-phone family. However I was hoping for a high-end Nokia X so bad. Nokia XL's specs leave me hanging over there, undecided to switch or not.

I don't get angry when I think of them as phones similar to the Asha line.

I think this is a nice move from Nokia and Microsoft! Slowly move into the market. You well an know that they will be a success as Nokia like the iphone the older generation use it and people like simplicity and Nokia as a name has always been big. Wait until a full android phone come from Nokia lunia range will get bigger!

Lol, after reading the Verge's hands-on which seems to comment that the performance is horrid, (and it runs 4.1.2!!!, and not 4.4 as earlier reported by some sources), suddenly, i have lost all excitement about this new device. WP, FTW!

If you're using the Verge as a reliable source, you're doing life wrong...

Haha, well, let's wait for WPCentral's hands-on then.

Yes. Visit WPCentral for all the unbiased news regarding an Android phone...

Should come with porn apps to compliment the XXX naming convention. Would be a really big hit in emerging markets. ;)

Browsing for porn is better instead of apps

Intensive coverage of an android phone on WINDOWS PHONE central?
Go home WPC, you're drunk.

Official video- http://www.youtube.com/watch?feature=player_embedded&v=oUCEN-XvC7g

Thanks nice Video. Its is a very looking low end phone. Good for Nokia not good for Windows Phone.

What is the Price of the three models?

Besides the lesser storage and cuts to quality, how the heck is this any different from the Lumia 520? I am pretty sure these specs would be sufficient for Windows Phone 8.1. To be honest, I think the real motivation behind these phones is to attack the emerging markets where Lumia isn't doing as well, namely China. I highly doubt that Nokia would risk cannibalizing Lumia sales in markets where Lumia is making in-roads. There was quite a bit of emphasis on 3rd party app stores and we know China is pretty well stocked with such stores for Android.

That's why they announced the X line to be available in over 60 countries in Q2....

True, but they can make it 'more available' in certain countries (and 'less available' in others).

Apps. The problem is, as always, Apps. WP lacks apps. Android has them to spare. So they're trying to mix both. A WP UI and the Android app stores.

No Google Play access unless people can get it sideloaded.

is it just me or this phone is kinda racist.....

The X family looks more like an Asha with an Android under the hood. Asha was missing apps and this drawback was addressed thorugh AOSP.

Is good but I think It will bring more people confused and I bet people will said I have a windows phone and someone will said nahhhh that is an android phone. I hope these is the first and last device with android os. Microsoft should,only concentrated in wp

I just got my 1520, I own you all, I feel like I am carrying an iPad mini when I am on a call covers all my face but love it.

Hopefully Microsoft will cancel these monstrosities when the deal goes through. Now that WP has more relaxed hardware limitations it should be no problem to release a 400 Lumia line with similar hardware and price (and which runs smother)

Agreed. Get these bugdroid abominations off the shelves pronto. Sack the Muppet who's idea this was. Nokia must be be playing a game with Microsoft saying u better go through with the deal or this is the future.

They only thing I'm jealous about is that damn green color. Give it to us LUMIA users.

Orange for me. Though the 1520 has one but I ain't getting a 6" phone.


The only thing I see of this is they want to replace the shitty Asha models which hanged alot always, atleast the low end handsets from nokia will not wait for the video to start in 2 secs. Apart from this seems like a mix of all worlds.

I was waiting for the hands-on videos and then I remember this is wpcentral.com, lol

If/when it gets Cyanogenmod support.. I'll buy one! Or two! Maybe start making my own custom roms for these little bastards..

For a larger display put some old specification... I don't need this scrap without a minimum 2 GB ram, good processors and gpu. And display, they broke this device when already HD display it's a standard for this size screen.

good phones for low/mid class ppl in emerging market! can get super sturdy durable rock solid and reliable smartphones at affordable price.. Love u Nokia.. My Lumia 820 rocks!!!

Nokia Lumia 520 is better, and no front face camera on the X and X+......bad move.

Tell any person to take your pic.Sorted dont use front cam

And XX gonna be high end model

And XXX gonna be highest ;)

Enough of the Android reporting already.. We have Android Central for that..

This is dumb, if I buy a Nokia x believe me I wont look at a Lumia or any other wp8 phone Google has the majority of Microsoft services and has a ton more of great games and apps I just get a better android phone. So this is good news for Google not for Microsoft.

The worst thing is when regular, non IT folks, will start mixing this with regular Nokia WP phones. Imagine a dude in a bar overseeing another dude using this thing and thinking "hey, that Nokia is really laggy, I didn't like it. I'm gonna buy Samsung, WP must suck if it lags so much".

normally there is no dude in bar with WP or nokia :D

Then you should go out more often.

There is glance screen for the x. Why is there no glance screen for 520 with the same screen quality????

dual sim support microsoft lost that battle lol.. this will sell more then 520 and 521 and 525 , micrsoft wont release dual sim till july.. here goes the drop on WP sales on 520

Helllooo Lumia users, have you ever heard one of Nokia products which is called Nokia Asha? Stop complaining and don't ever compare it with WP, cause they're on different level and market.

Hope this won't kill lumia family

Make it a Windows 8.1 Phone, and center the screen vertically.

Can this run windows phone 8.1, it looks like it!

The second screenshot reminds me of Symbian.

White flags devices from one of the almost gone turkey

This has been such a waste of time... All the hype for this bunch of crap. They could've released the 630 with Update 3/Lumia Black and people would be happier.

I'm eager to see nokia lumias and new 'x' series dominating the phone market , beating all other handsets behind :)
Nokia the best

Asha with half backed android/WindowsPhone

Nokia just took a shit all over the WP platform. Expect android & ios fanboys and tech journalist to crow about how Nokia lost faith in WP for years to come.

Interesting concept, but with legendary Nokia build quality a consumers next smartphone may not be for many years :P

Welcome, Nokia X. Now get out of our sights before we change our minds.

I hate this and everything that has "X" in it!!!

When I woke up this morning checked for messages on my 920.Eleven notification's on my WPC app about Android :/

Suggestion to admins. This is a windows phone site, please post all android devices and related stuff in androidcentral. Thanks !

If i want to start android development, is this phone good enough then for testing etc.?

Thanks for writing Nokia XL Specificatio and Review.&
I would like to nokia mobile online shopping today. at shopping.mywannado.com - Nokia XL Only Rs. 9400.
Windows Central Newsletter
Thank you for signing up to Windows Central. You will receive a verification email shortly.
There was a problem. Please refresh the page and try again.