Nokia's Camera Extras & Play To available for Lumia Windows Phones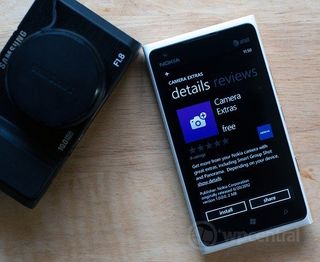 Looks like Nokia was sitting on the release of Camera Extras & Play Now for its Lumia phones as you can now go ahead and download both apps from the Nokia Collection.
Camera Extras is what it sounds like, yet another camera app from the Finnish company that adds a lot of unique features to hopefully improve some of those pics. Features include:
Smart Group Shot - automatically selects faces, lets you create the perfect picture
Panorama - takes numerous photos and stitches them together
Action Shot - rapidly takes photos
Self timer - 10 second countdown
The app downloads as a separate program but it does integrate into the camera module meaning you can just quickly load the whole thing by hitting your dedicated camera button. Overall, the features are pretty good and we think many of you will enjoy the new additions. Nokia may be late to the game but they often get it right in the end.
Next up is Play To, Nokia's DLNA app which has finally made it to their Collection. Allowing you to "stream" your Music, Photos and Videos to any DLNA capable device e.g. your TV, the app is a great way to show off your photos to friends and family.
The system auto searches for any DLNA devices over WiFi such as BluRay Players, PCs and more. We don't have one in house so can't test it, we'll leave that to you for now.
Note: For both apps it says you may need the latest update for your phone in order to work--that would be Windows Phone "Tango" (8773) for some of you or Nokia's latest firmware for others. Things like DLNA require some "ground work" done by Nokia in their firmware to be installed so if you can't install these apps or you don't get all of their features, you may have to wait till you get a phone update first.
If not available in your Market (It appears to be US, China and Inida right now) stay tuned as Nokia is rolling these throughout July.
Pick up Camera Extras here and Play To here in the Nokia Collection. Thanks, CaliforniaDrew, for the heads up
Windows Central Newsletter
Get the best of Windows Central in your inbox, every day!
Daniel Rubino is the Editor-in-chief of Windows Central, head reviewer, podcast co-host, and analyst. He has been covering Microsoft since 2007 when this site was called WMExperts (and later Windows Phone Central). His interests include Windows, laptops, next-gen computing, and for some reason, watches. Before all this tech stuff, he worked on a Ph.D. in linguistics, watched people sleep (for medical purposes!), and ran the projectors at movie theaters because it was fun.
It can't find my blu ray player. Please someone help me!!! I have the Panasonic bdt210. dlna mode is turned on on both devices (ik the same words thing). HELP!!!

Play to won't allow me to download. An error code pops up

Pleasy apply further information regarding the error.

I got an error too when I flicked over to look at the Reviews page. However I hit OK to the error and went back to the app main page and downloaded it fine.

Its good to go now for me. (US) I just checked it and downloaded it just fine

Camera Extras is only available initially in the US and China I believe. UK and other markets will follow soon.

This is starting to make me sick. Us Europeans have always been treated as second world citizens by Microsoft, and now Nokia learned to do the same. They try so much to suck up to the American public, with their next day fixes and $100 bonus. Meanwhile in Europe, we get buggy phones with no battery life and wait 3 months for an update. Then when they finally deliver that fix, they introduce a volume bug and never release a fix for it. It's been another 3 months now and it seems that they decided to skip it and release the tango firmware, which probably is not due for another month or two. I'm gonna switch to samsung or htc for wp8 if Nokia keeps this level of quality and support for Europe.

I agree 100%
tango on lumia 800 is nothing to write home about

Nokia Lumia 800 update 12072 (volume-bugfix):
http://download.windowsupdate.com/msdownload/update/software/dflt/2012/0... Please push this onto ur device through wp7 cab sender

Thanks Nokia. You only love us.

Seems like we need the much anticipated latest update to download this. App is in Swedish for me but I need an update to download. Fuck you 3(carrier).

The new update (tango) isn't available for any carrier in Sweden yet.

Camera Extras availability is not about tango, it's just regionally restricted. The puzzle is: why isn't nokia releasing it globally - are they mistreating Europe or treating US and China as beta testers?

Thanks Nokia I'm just upset I can't get wp8 on my 900

I'm upset I can't get new hardware in my phone :(..............................

U kind of are. People are making 7.8 a big deal. They could have called it 8, yet the same thing and people wouldn't criticize. No one criticized the 3GS and 4 when the 4S got exclusive features.

No no no, but the point is that we can't utilize apps written in native code. Its.about the new features, its about compatibility of new apps which won't run on 7.8

Not all apps will use native code, everyones talking like no WP8 apps will run on older WP7.8 devices and its horse shit - only afew apps will require native code so chill.

Camera extras not available in Canada:[

I can see it...but phone needs to update to Tango first.:(

I don't have tango update on my lumia 800 here in US but I was able to download both applications.

Tango first :( Telus is still days away from rolling that out

Not yet available in Germany.

Just was able to get Play to/Externe Wiedergabe C/K amara-Extras say's unavible for your Phone so the 8773 FW is needed for that.

Camera extra needs Tango??

Yes, It says phone update is required.

No. I downloaded Camera Extras on my Lumia 900 (AT&T). Works just fine.

I don't have Tango but the camera app is working fine on my Lumia 900

That is because we got that firmware update not long ago which apparently is what was needed. If you live in a country that didn't get that update, you need tango if I understand it correctly.

I thought it would be natively integrated in the camera features

Technically, it is. Once you install it it's built into the camera features. You just need to launch the camera app via your hardware button and they're there. Much better than having to wait for firmware.

So possibly for the tango update (and firmware) we could see the camera extras natively integrated?

It is the same style as HTC.

Camera extras not available in UK.

Camera extras would not work on this version of windows phone. Lumia 710. Tmo

You need Tango with the latest firmware.

I have Tango on my lumia 800 but can't Download camera extras here in Germany.=(

Play to available in Netherlands.
Camera Extras not yet.
Thanks for the info, probably will happen soonish.

Just install the Camera Extras. Even though it adds the "Extras" to the Camera app, it also adds an Application on the Apps List, which is strange. Never saw that with Samsung's Camera Extras.

Having it listed among the apps enables you to uninstall it if you happen to have such a whim.

Why would a smartphone use a self-timer? I mean, WTH.

Idk. Some people have use to it.

Same reason someone with small i in their name would post on a windows phone site. To be in the picture.

Yeah, not sure either. Guess some people would invest in a tripod for their phones, but id assume they'd have a dslr or a point and shoot by then. Then again if you have the Lumia 900 the phone does stand vertically in its on. Another hidden feature, lol.

Why wouldn't you use it? I just ordered a iStabilizer for taking group photos and this will save me trouble of finding a timer app.

Lumia 900 with Tango here in the UK, not available :/

No love here in Oregon... neither app shows up on either my Lumia 800 or Lumia 900 (both AT&T) ///


"Sorry, but this app won't work with this version of windows phone. The good news is that you may already be able to download an update from Zune. Head to Zune.com to get started.
Download Zune to your computer, connect your phone, and check for updates. There's plenty of helpful information on Zune should you need it. "
Doesn't seem to work on the Nokia Lumia 710 on T-Mobile.

Same for me and after going to my comp and connecting to Zune all it said was my version was up to date :(

Please check again in a few weeks on this website: http://www.nokia.com/global/support/software-update/lumia/software-updat... just to find out that only black and white variants in your country just got the update while your cyan version is still waiting for someone's aprooval, even though it's retail and not carrier variant. After two months, when you are fed up waiting for nokias blessing, just head over to xda and grab a cab for a manual offline firmware update. Good luck!

Actually, 'Play To' is available in Mexico. You just have to scan the QR code.

It'd be nice if Camera Extras would obey the disabled camera shutter sound I selected in the Camera Settings... or at the very least had its own settings to let me choose.

It's not a huge deal, I just dislike hearing that annoying sound when I'm taking a picture on a camera that doesn't actually have a physical moving shutter.

So annoying. Nokia, get it together, abide by my settings!

You have to turn the shutter sound off the old way, pre-mango. Turn your volume all the way to zero. I also hate they took the disable shutter sound option out...
:-S

Nokia should be concentrating on fixing the picture quality issues rather than delivering new camera features.

You can't improve something that the hardware isn't up to.
Nokia Lumia phones lack BSI sensor that's inside of the most of the high end Nokia's Symbian, HTC, iPhone devices.

no love for lumia 900 att chicago, usa...usually takes a llittle while longer after you post stuff so probably this weekend

Nokia Collection takes weeks to update for me, i just follow the direct links in the article. Works fine in US.

Why would Nokia put out an app that requires Tango when 80% of the Nokia base doesn't have the Tango update yet?

Doesn't require tango from what I understand. Many users on 900s got it without even 8107. Seems like thats the excuse used to keep it in certain regions or on certain carriers.

I love this, but I wish all Windows Phones had it built in, that way we can more photographically artistic customers!

Camera extras not available in Angola! We want it too. Love lumia

Only seems to work in Landscape mode... it has definite places it wants you to aim the camera.

With Photosynth I usually assemble a panorama from 2-5 portrait-mode shots side by side. Nokia's Panorama mode right now seems useful mainly for assembling a long stripey picture... I hope they allow it to work in Portrait mode, or with exposures one above the other instead of strictly side by side, at some point in the future.

TL,DR: If you really want to shoot panoramas, check out the Photosynth app.

Somebody please get me a N1000.

The auto settings are crap in the default camera app. Does this improve that? It's not available in my country of residence yet. So can someone please tell me if the auto settings have improved!

Don't see it under the Nokia Collection on my 900.

That's why we provide you links and QR codes ;-)

QR works, but the link doesn't, so someone didn't do their homework.

The link on WPCentral app takes me to the marketplace link on my HD7, but obviously I cannot get it. Seems like the link works though

@wsantosf link worked fine for me :)

It has usually taken 2 days or a week before it appears in search and Nokia Collection.

Scan the QR code with your Bing vision get it downloaded right away.

Camera extra now not available in India

Camera extra is not for UK yet

Neither of these are showing up in my Nokia collection. I live in Colorado USA

Playto - Downloaded, installed and played with... thoughts... I like it... it's easy and fast, but one problem that I haven't found a solution to... When I play a video... no sound :-(

I have a Panasonic P46ST30 (2011) plasma with DLNA. As a matter of fact, my bluray player is also DLNA but Playto doesn't recognize the player. My Onkyo NR609 works fine with music.

I hope there's an answer to the video with no sound. Makes no sense if you can't hear.

Play to available in UK, but not got any DNLA devices to test it with.
Camera app not yet available in UK

I follow the link on my UK Nokia Lumia 900 Tango and it says not compatible with your device!!

Probably because it's not supposed to work in the UK yet.

Yes you're right. I figured that out as soon as I posted the comment. I forgot that not compatible with your device can also mean not available in your region.

Not showing up for me. ATT in the U.S. of A.

Unable to find them in the marketplace on my Lumia 900 :(

Anyone else have Play To crash when trying to send music? Also it can't find my PS3, found my blu-ray player just fine though. Pictures worked but nothing else.

I can't get it to see my ps3 either, :[

FYI L900 & ps3 both up to date

Me too, crashed on music but pictures and videos send fine. another issue is it will only find my computers (Windows media player enabled playto features), it doesnt see my blueray player or Xbox - I mean xbox ffs come on guys!

Can't seem to download the camera app ... When should I see the software updates released?

Camera extras is a letdown for me. Photosynth and TurboCamera are so much better. Hopefully the next version will be better.

Wtf Nokia sort your crap out. Nokia lumia app that done install on phone.

Great to see that I need a newer firmware version that I don't have because my carrier is playing with it for weeks...

Cares Extra not downloadable here in India. Says your mobile needs an update, which is also as of now not available.

Cool beans. Nokia Play connected to my WD TVLive over Wifi. Just connected and go. How awesome is that? Just swipe to the next pic and boom, there it is. I haven't played any video over this app yet but that's next. Works as expected.

Video's work flawlessly. This is a win for my Nokia Lumia 900. Awesome.

I was on the phone with Nokia for an hour trying to fix my play to. Still doesn't work. Does it work over locked (both are connected though) networks?

FIY this "play to" app is already version 1.2
1.0 was already publicly available for a while now, however it was considered beta and thus not visible in the Nokia collection.

Not sure if its a bug or a limitation because I have a Zune music subscription on my Lumia 900. The app plays video and images well but music causes the app to quit. Restarting the phone doesn't seem to help.

Me too, starts to look for music then closes. Pics an vids work fine though.

Camera Extras is STILL NOT AVAILABLE IN AUSTRALIA!!! WTF Nokia....?

Got Tango on my Lumia 800. Come on release it for the UK!

Losing all faith in Nokia

After long long time waiting for the update, finally I got it and... The camera app is not available in Spain... Thanks Nokia.

Germany Not available too :(

Just got the tmobile UK tango update (lumia 800) - waiting for camera extras to be available now! Come on marketplace......

Colombia, not available...waiting, come on Nokia!

I really want this for SOMNIA W..!! =P

Seems not avilaible for Lumia 920.............