Nokia's new DT-903 'smart' wireless charging plate with Bluetooth is brilliant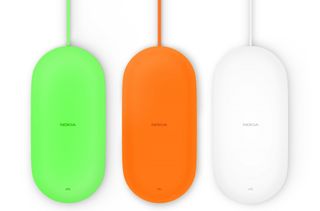 Berlin, Germany – Today, Microsoft and Nokia announced a new accessory for Lumia smartphones with Qi-wireless charging enabled. The DT-903 is the 'next generation' of wireless charging plates that feature Bluetooth 4.0 connected technology and a glowing LED notification light for an enhanced user experience.
The DT-903 pairs with Lumia smartphones running Windows Phone 8.1.1 (Update 1) through Bluetooth. When a user is nearby, and their phone has less than 30% charge, the DT-903's LED will 'breathe' (slow pulse) to let the user know they need to charge. The LED light emanates from the bottom of the plate, creating a glow around the base. Once the device is placed on the DT-903, a constant glow is enabled. Likewise, for a missed call or text, the plate blinks twice to let the user know of the missed event.
User settings for the DT-903 are controlled on the Windows Phone via the new 'accessory apps' section in Windows Phone 8.1.1. For easier pairing, the DT-903 also features NFC.
The DT-903 comes in three colors, including green, orange and white with corresponding LED colors for the glow. It is priced at EUR 59 / USD 59 and becomes available in October.
Look for our hands-on with the DT-903 shortly.
Windows Central Newsletter
Get the best of Windows Central in in your inbox, every day!
Daniel Rubino is the Editor-in-chief of Windows Central, head reviewer, podcast co-host, and analyst. He has been covering Microsoft since 2007 when this site was called WMExperts (and later Windows Phone Central). His interests include Windows, laptops, next-gen computing, and for some reason, watches. Before all this tech stuff, he worked on a Ph.D. in linguistics, watched people sleep (for medical purposes!), and ran the projectors at movie theaters because it was fun.
I bet we'll never see it in the US. We didn't even get the wireless car charger.

Order one online? I don't ever wait for accessories I want to come to Australia.

You had the previous wireless charging plate, and it often sold on offer for $20. It's still around $45 in the UK. I expect it'll be available stateside and we'll be paying 50% more here in the UK. Business as usual.

Keep in mind UK prices include 20% VAT, whereas sales taxes are added to the price at point-of-sale in North America. For things like game consoles, adjusting for VAT usually entirely eliminates any price difference. Where it doesn't eliminate it, it at least mitigates it.

Lol it is not around $45 but £45 that is a quite a big difference if you take into account the currency rates :P.

We did get the wireless car charger. Got mine at the Microsoft store a few months ago...

I got the wireless car charger, on Amazon I think. I use it every day quite happily with me 928 here in the U.S.

I just checked and it's sold by Modern-tech. $115.95. Ouch.

I bet we will see it, and by the way we did get the car charger, just head on pver to the microsoft store and you can buy one.

Absolutely. Can't believe they don't offer a black one.

These fluro colours sure are hideous compared to the old pastels :(

Yeah, I don't know why they don't have it in black. Batman will be disappointed.

They probably dropped the black color due to the light beneath.. But it could work with a white light..

Black plate with blue light would be cool.

or a black light. i wouldnt mind that plus the glow if it wouldnt keep me awake at night.

I'll import one of these and move my oils plate to the bedroom and keep this one near my pc.

Again this is why I chosoe Lumia :) I want this for my phone<3

Only if it's power supply doesn't have the same noise emission problems as its predecessor...

I also have a noise problem on my DT-900. Is this common?

I have the DT-910 and the power supply is emitting a high frequent noise. If you read reviews at Amazon (at least in Germany) you will see that this is a series fault.

the dt-900 that i got free with my 925 over heated the phone badly . i've been using my £21 qi/full charger and never no bother with it ! as the dt-900 was free i never bother replacing it or returning.

Thanks for snark, I either missed it or the article was edited. Probably missed that it is Qi....

Seriously. I at least include the answer in my snarky responses: "Had you read the article, you'd know it is Qi. ;)

You chose to type 16 characters vs 2 and helping a fellow man: "Read the article" vs "Qi" Let's all try to be a bit more friendly around here when we can. And this is coming from a guy that readily admits to being an a--hole at times. Thanks :)

Teach a man what the article says and he'll post a question a day. Teach a man how to read an article and he will be a respectable gentleman for life.

Oh thank you wise one for that clap trap. I apologize profusely that at 2:30 in the morning Pacific Time I missed that. Is there any other wisdom you can defecate?

Wpc's database doesn't list it yet guess well have to wait

Did u find it in India.. Send me the link..! joelshephrd@live.com here plz..

I don't know how people can still go with Samsung or Apple if Nokia/Microsoft makes way cooler devices and accessories… I am guessing that they are not clued up about the latest and greatest technology...

A galaxy or note can have wireless charging

Read the article. This charging plate pulses when your phone is low on charge, and blinks when you have unread notifications. That's pretty cool and (currently) unique to Lumia.

'Nokia' along with MS announced this...? Sorry I haven't seen this video so I dunno if they still make accessories for lumia or something...

Nokia accesories as always too expensive

And always awesome. You get what you pay for. You can always buy cheaper stuff with QI.

true.. but the cheaper stuff is not allowed to access data within the phone like battery status.

The other Qi plates cost just as much and do much less. You can buy a few cheaper now, but remember what the DT-900 charging plate cost when it released?

Exciting :) my old 820 is proud right now

I wish Microsoft will make this available to all their markets worldwide. One thing I hate about Nokia accessories is its availability. It's one of the things Microsoft should look into, I reckon. Availability! Availability Availability!! And I wish they come up with the DT-910 iteration too!

Wow windows phone keeps getting better

I guess orange is the new yellow for Nokia/MS Mobile. Miss the CMYK color scheme very much. I still love my yellow 920.

Well I have 5 of the previous QI chargers may try to offload a couple to to get one of these.

Yeah I have to say I'm not a fan of the new colours either, I still don't understand how this works looking forward to the hands on.

Now this is the kinda innovation I've been waiting for from Microsoft. Take my money!!

Just another reason I am still incredibly upset with AT&T for their unpardonable emasculation of the 1520. As one who can't afford the 1520.3 I am only able to update with carriers subsidy and will never understand why they all but killed a phone that would have sold thousands more if it had been offered as originally intended by Nokia!?

AT&T knows best. Don't believe it? Just ask them. Spoken as one who bought the 1520.3 with 32GB and Qi charging.

Absolutely. AT&T are being major assholes with this Qi/PMA thing. "We'll force PMA down their throats by stripping Qi from all devices!" "Sir, shouldn't we at least offer PMA with those devices then?" "Huh?" It's so ridiculous.

I'm definitely getting a green one when it's available.

Yet another thing glowing in my room.... No thanks but good idea. I prefer portable qi charger. IFA looking good so far.

Wait, we can charge our phones via Bluetooth? I'd love that!

Bluetooth is there just for communication between the phone and the plate. Charging uses Qi.

Ah that's poo, wouldn't it be cool if we could charge with Bluetooth!

This is really cool. Well, except the part where AT&T will strip the Qi out of the 830 and make this a pointless accessory for 830 users. Will this work with the 920? I don't see why not, since isn't it supposed to get BT 4.0 at some point (or does it have it already)?

It will work if the 920 has cyan.

So it'll never work on my 920, since AT&T's determined to have me in a grave before they release it.

I don't get what's so brilliant about this too be honest... (a) requirest BT always on i.e. more battery drain (b) I pick my phone up from my pocket at least once an hour and see how much battery is left.

Bluetooth LE; the energy use is so low that you won't notice it being on.

This is moot! Why would it drain your battery when it's charging on it anyways? :D

Exactly id prefer a qc 2.0 wall adapter & a 10ft. Micro usb cable over this its gimmicky @ best accessory have they not learned from touchstoned's failure untill I can truly wirelessly charge my phone from a couple ft. Away im not sold on the idea

Wireless charging is the best ever, and no wear on USB ports. Works great.

Needs updated Qi charging protocol with increased charging distance. THEN would be perfect

Would be cool if you it could notify you when the battery is full with the lights.

So gorgeous, I like Nokia for brining colourful phones to me. Really makes the phone stand out and also kind of a nice marketing strategy (although many people just think it's a case, but they're amazed when it's not)

Phones with update 8.1.1 will get it.
I am going to order one for my 520.
Possible Mr Daniel Rubino?

Seems pretty cool, but useless considering I have to be around it in order for these lights to make a difference.

I remember this feature when I was using Nokia 5233 where the home button LED will breathe whenever the phone receives a call or a msg. It will be good if MS bring the same feature to Lumias...

In the case of the Nokia E-Series, The home button's LED 'breaths', continuously, and blinks when there's a missed call/text. I agree, MS should bring back this feature.

The HTC M8 has a notification led, but I assume 8.1 does not allow it to be used.

that feature is turned of with the htc one

Can you turn the glow off? Wouldn't want it glowing while I sleep.

Which phones will have tho accessory?

Is this completely wireless like the DT-50? If not I am hoping it doesn't have a properitary power plug...

One more reason AT&T and I are frenimies! This is useless to my 1520 with them.

It won't work for the 1520??

If you purchase the seperate Qi charging case or have an unlocked 1520 or followed the mod posted here one time to add Qi to the 1520. But if you purchased a 1520 from AT&T like myself and others then anything Qi is a no go as its removed for PMA. :(

Sure sounds cool but I think I stick to the DT-910 I just ordered. I kinda prefer the standing position were I can see the display.

What's the cheapest and thinnest way to add wireless charging to the 1520?

To go one step further, I have a daughter and a son that both have a little star that goes blue when its too cold in the room and red when its too hot and white when its in an acceptable range. If Aden + Enais can do it with a little nightlight, I would think the introduction of other hues into a light could add some more information to it. I think its a good start though for sure. When I get my new phone with Qi, I will make sure that this works.

I hope it's better than previous version because it's not all that great. Sometimes the phone is sitting on it but isn't charging and you never notice the light just blinking away. The wall charger is still the fastest and most reliable.

The LED is a great feature that is only great because manufacturers cut corners where ever they can with our phones. A blinking LED for notifications used to be, and should still be, standard on every phone...

I don't see the use of it if you have Glance. There are so many different events that can happen that I might be notified of... Glance can show me five different types of notifications with icons to differentiate them without ever touching the screen. Isn't that much better?

Glance is nice but it doesn't exactly replace a blinking LED depending on how you have it set up. If you have it on all the time, then it fully replaces the LED but it also drains the battery significantly more than an LED. If you have it on "peek" like I do, you need physcial access to the device to see it. This works perfectly for taking out of my pocket and putting it back in my pocket without ever needing to press the power button, but if my phone is sitting on my desk I need to reach over and flick the proximity sensor. Moreover not all phones support glance and not every person with a glance supported phone would want it on. The LED has no negatives for the end user and is cheap enough to produce that even with glance I find the lack of one annoying.

What is the output ampere rating? I tried wireless charging in the past but found it to be slow.

Waiting for the hands on!!!!

We need WP 8.1.1 (8.1 for that matter) first. Thanks (for nothing), VZW!

will we see this in middle east?
Windows Central Newsletter
Thank you for signing up to Windows Central. You will receive a verification email shortly.
There was a problem. Please refresh the page and try again.