Non-Smartphone Handhelds Are a Dying Breed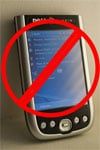 Matthew Miller (opens in new tab) points to an IDC study which shows that handheld shipments - like the traditional Palm Pilot or Windows Mobile Not-a-smartphone-of-any-sort - have dropped just over 40% year over year. This while the smartphone market is red-hot and well on its way to getting white-hot. Dell already dropped their Axim line and Microsoft has named their non-smartphone WM6 edition "Classic." "Classic" as in "Really? Why are you bothering?"
Say goodnight, handhelds. "Goodnight handhelds."
Read: IDC - Press Release
Windows Central Newsletter
Get the best of Windows Central in your inbox, every day!