Explore an interactive periodic table with NOVA Elements for Windows 8.1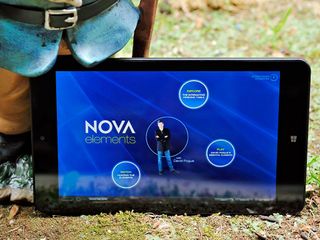 NOVA Elements is now officially available for Windows 8.1. The popular educational app has been available for the iPad for quite some time, but now Surface fans can learn all about the periodic table on their favorite device.
Nova is a popular science television series from the Public Broadcasting Service (PBS). Nova has a spinoff program called Nova ScienceNow that's currently hosted by David Pogue.
A two-hour Nova program, Hunting the Elements, was hosted by Pogue and focused on the building blocks of our universe. NOVA Elements is a companion app for that program and includes some features to help you learn.
Here's what you can do with NOVA Elements:
Learn key facts about each element: its discovery, appearance, real-world application and more.
Play in an atomic sandbox to create any or all of the 118 elements by adding the correct number of protons, neutrons and electrons.
Combine the elements you've built into 3D rotatable molecules found in everyday objects, like a banana or a watch, in the "My Essential Elements" game.
Jump to related segments in NOVA's "Hunting the Elements" program with the tappable periodic table.
Share your exploration and discoveries with tweets.
Watch the complete two-hour NOVA program, Hunting the Elements. Streaming is only available in the U.S. and its territories.
By far the coolest feature in this app is the ability to watch the entire Hunting the Elements episode. The ability to explore an interactive periodic table is fun as well.
Take this app for a spin and let us know what you learn!
*Thanks for the tip *
Windows Central Newsletter
Get the best of Windows Central in your inbox, every day!
And here come the organic chemistry flashbacks...

Wrote a chemistry exam a week ago of which 20% was organic chemistry. Turned out great too!

I just wanna know how to make crystal methamphetamine...

I think David Pogue's Surfaces vs. iPad video should be in the app. Just for fun. Because a chemistry class is the most boring form of torture ever created.

What the heck is the device in the picture?

Gotta be a Lenovo or Toshiba

Saw this and had to tell my sister. She's a nuclear physicist and has a use for this kinda thing... I work on computers so... jejeje

Cool! So now I don't always need to look up at the periodic table hung in my room :3

First thought: Wow an app from Nivea (skin)cream! Lol :-)

LOL! Yeah, the colour and the font style...

US only? Can't find it in the store :/

Looks that way, at least, it's not available for Canada. Hate that crap.

Phone? Argh, want more mobile! Lol =P

Is that tablet leaning against a gnome?

Yup, he's my addition, lol

It was the first thing I noticed. Lol

Glad to see another good education app on 8.1/RT. Pogue is starting to have a better attitude toward Windows as well.

Would have loved to have put this under the nose of our Science Department at our school (700+ Windows 8 machines) - shame it's not available in the Australian store! This damn regional exclusitivity is so frustrating - it's a global market guys, are you all in or what?!

Exactly. There is a whole world outside the US, but some people clearly aren't aware of it.