[NSFW-L] Who needs Android? Not anyone who's used a Lumia 900.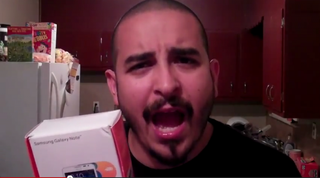 Sometimes we come across odd things on the internet, after all we frequent reddit and 4chan on occasion. This video certainly ranks up there for entertainment value as it features someone very infatuated with his Lumia 900 and who also likes to rip into Android.
The result is crass, debased, juvenile and at times spot on. We also laughed. Obviously, satire and off the wall humor is not for everyone and due to language, you'll want to watch this with headphones on. We're not sure if Microsoft or Nokia would want him as a spokesperson but the guy is a character.
Normally we wouldn't cover this, but our frenemies over at AndroidCentral posted it to troll their audience (talking about being crass) so we figured we had to share it as well.
Video after the break.
Windows Central Newsletter
Get the best of Windows Central in in your inbox, every day!
Daniel Rubino is the Editor-in-chief of Windows Central, head reviewer, podcast co-host, and analyst. He has been covering Microsoft since 2007 when this site was called WMExperts (and later Windows Phone Central). His interests include Windows, laptops, next-gen computing, and for some reason, watches. Before all this tech stuff, he worked on a Ph.D. in linguistics, watched people sleep (for medical purposes!), and ran the projectors at movie theaters because it was fun.
Had Android over a year. Exactly how I felt...messy. Haha funny stuff.

LOL !!! That was entertaining for the most part but, worth watching. Maybe that will get the point out. A lot of it was so true (I like xbox live, so maybe not that)...

I want what ever that guy is on !

PS: He cracked on HTC and Samsung but, they were some of the first Windows Phone 7 based devices, right ? (my HTC Trophy works the same way as the Lumina)

Lumina? Get the name right.

I lol'd. It was kind of entertaining. I agree with most what he says, not how he says it. Nokia Lumia 900 all day!

Where did he get this T-Shirt?

Get him on the podcast, ASAP!

rolling on the floor here laughing. Maybe the platform has indeed turned a corner for the good.

Class! Get this guy for Nokias next Ad campaign! After your kids have gone to bed! He may possibly be on crack but he knows where his people, and messages are! Fab. Luv it! Just be playing with my wifes Samsung Galaxy S 11. the OS is all over the place, nothing seems easy to do. Uninstalling an app was stupidly complicated and wft a big mess.!

This was sooooooo funny! LMAO

Well, I was enjoying it up to the point where he bashed Xbox and Xbox Live. :-\

I use a HTC..... Titan. :) Got to agree with Android being messy, my Samsung Galaxy SII used to have a different look for every single application and widget, loved the customisation though. I prefer WP7 in every other area.

The best part for me is the comments for the video in YouTube!!! Go read 'em! xD

It was so worth it, YouTube rants are funny XD

Had Android for 2 years and I had to load custom roms and tweak the phone for hours and hours always looking for the next best rom . I got so tired of that and it was still messy and laggy. Now with WP7 I have no issues and always fluid.

that shirt really didn't need to be worn...haha

I actually kinda like it...

A little over the top, but his point was well taken. I fought FOR Android for so long, but it took me getting away to see some of what he's saying. Not even going the iOS route. Have tried it on 3 occasions and there's just no way.

Couldn't bring myself to watch more than 10 seconds, horrible.

Wonder why he doesn't like Xbox.

Was pretty funny, obviously suppose to be over the top.
It seems funny how he calls android a mess yet is a playstation fanboy and it's a similiar situation with consoles, playstation is a mess compared to xbox.
Maybe he should give xbox a try.

I think this guy could be the next Brandon Foy for Windows Phone. Hire him! "Android Who?!?!?" Has a good ring to it.

Relax, he's from the hood but does get his point across. Messy? Yes, he forgot to mention clunky, freezing, shutdown errors, malware, and horribly fragmented. Android fanboys been waiting for ice cream sandwich for about 8 months...but ill be tango'ing soon..what about that android???

Awww man now that was a good laugh! And really, I have empathy with this guy when it comes to my experience with an Android phone.

Wow that's just crazy. I don't really like android aps, but that is just too much. If I had to use an android phone, it would not be the end of the world. As for iOS, I am typing this on my iPad so I love it, but I did replace my iPhone 4, with a lumia 900. It got stale after 5 years of iPhone.

He has about 3 other awesome Nokia Lumia 900 videos on YouTube. They are great! He claims Nokia sent him a bunch of goodies and he shows them...headsets (every color), Nokia speaker, etc..

Made me not want to use a Lumia in fear I would be associated with that thing.

Ahahaha... Wow, guys, check out his previous video on the galaxy note with lots of likes. Shows how much of a big turn the general made. I'm impressed.

That guy has got to be drunk, high, or both. I could see joking around like that with your buddies at home but, putting it out there on YouTube for the world to see?

Just wants to get attention. Or does not care.. Or both

I liked it when he said WHERE MAH PEOPLE AT....

Meant to be funny and I did lol, even if I didn't agree with him about Xbox live and the HTC/Samsung devices. Just another fan, making a video of his favorites, no different than every other platform. I really do lol at all of the funny ones. Have to go and read the YT comments now.

I almost shit in my pants LMAO!

Android might be getting smoked by Windows Phone but it's clear that crack is getting smoked by him. LOL

Well it looks like Microsoft found their new marketing manager for Windows Phone.

absolutely.... he is better than the whole microsoft marketing team LOLLLLLL ....... MS should hire him YESTERDAY!!!!!!

Hahahah watch this one with him as well. http://www.youtube.com/watch?v=hDOHG1r62xI&feature=endscreen&NR=1

Best. Review. Ever. Those of you that can't take a joke, go soak your head.

Alot of both Apple and Android fans sound similar, he is good for a laugh uf nothing else.

F*** yeah! You know your platform has arrived when you start reeling in the d-bags.

Lighten up people..enjoy it for what it's worth. Elbow punch.
;)

Really disappointing to see all these people here calling Android "messy", "clunky" and other nonsense. If you believe what you say you have clearly not used the Galaxy Nexus or HTC One X. There is nothing messy about those phones unless YOU make them messy. Sure I can put hideous widgets all over the screen, but why would I do that? A common justification for smartphone owners is to put down a competing operating system entirely with unjustified remarks that show they have not used the competing devices. After having seen the HTC One X's design and screen, I'm returning my Lumia. The One X's screen is the most gorgeous screen on any mobile device (excluding tablets) and has far better gaming capabilities.

Also, Windows Phone 7 devices have custom ROM's to, but just like Android, you don't need to flash them all day long.

Not disappointed in the video though, I found it extremely entertaining, especially when he headbutted the box haha

Enjoy your messy shit! (but seriously good luck)

android is a crrraaapppp on any device..... I have tried it working and in ANY crapdroid device you could name it works as smooth as a windows phone...... you are just one typical 'blind minded' android fan

Probably shouldn't have watched that with my son. Good thing he's not talking yet. Hope mothaf$cka isn't his first word now.

This guy was 10 pounds of annoying in a 5 pound bag.

1- the answer why he doesn't like xbox is because he IS a videogames fan, he likes nintendo I think... and in the games world there's a rivality between consoles 2- he is a HUGE nokia fan.... he didn't care about the WP PS until nokia anounced the lumia, watch here what happened when FEDEX didn't deliver the lumia900 the release day
http://www.youtube.com/watch?v=gB3lRSo0Slg&feature=plcp
and watch here the day HE RECEIVED THE LUMIA ... LOLLLL
http://www.youtube.com/watch?v=hDOHG1r62xI&feature=plcp
he is a convert.... he was an iphone and the nandroid owner! the last video 'excitement' got the attention of nokia US president, you can check it out in his twitter, the nokia US president wrote to him and also gave him some presents including the t-shirt.

This guy is too funny. He's like the Hulk Hogan of Windows Phone with a touch of Samual Jackson and Ice T. But those of you that are criticizing the video and generalizing all Windows Phone fans because of this video, just lighten up and leave us alone. Our phone OS of choice is at the bottom of the barrel so it's kind of nice (if a little too vulgar) to see someone so enthusiastic about Windows Phone and the Lumia 900. Actually I find it funny that the dude is throwing the F word all over the place and acting so "hard" but yet holding up a light blue phone, which some may call a bit feminin. LOL!

I couldn't get past the first 30 seconds. I cannot stand listening to someone who sounds uneducated.

If comparing OS interface, android and iOS are so yesterday, do you think android can handle 300 apps installed yet running smooth? Imagine how powerful is Windows Phone OS? Only 1Ghz Single core can handle 300 apps

Lmao holyshit that's true NOKIA FOR LIFE BABY
Windows Central Newsletter
Thank you for signing up to Windows Central. You will receive a verification email shortly.
There was a problem. Please refresh the page and try again.