NVIDIA GTX 1080 vs. 1080 Ti: Which you should buy, and why?
To Ti or not to Ti? That is the question.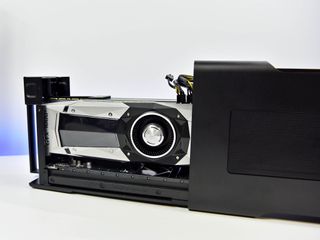 The NVIDIA GTX 1080 (opens in new tab) is an excellent graphics card for 1440p and some light 4K gaming. The GTX 1080 Ti (opens in new tab) is a more expensive version of the same card with more memory, bandwidth, and other improvements to push even more pixels through to connected monitors. The question is which is best for you? This depends on a number of factors, including what games you play, what resolution you game at, and your available budget.
Comparing specs
Swipe to scroll horizontally
| Category | GTX 1080 | GTX 1080 Ti |
| --- | --- | --- |
| Fab | 16 nm | 16 nm |
| Transistors | 7.2 billion | 12 billion |
| Die size | 314 nm | 471 nm |
| Base clock | 1607 MHz | 1480 MHz |
| Boost clock | 1733 MHz | 1582 MHz |
| Memory | 8GB GDDR5 | 11GB GDDR5 |
| Memory clock | 1251 MHz | 1376 MHz |
| Memory bandwidth | 224.4 GB/s | 484.4 GB/s |
| Texture rate | 257 GT/s | 331 GT/s |
| Pixel rate | 102 GP/s | 130 GP/s |
| TDP | 180W | 250W |
NVIDIA GTX 1080
Launched in May 2016, the GTX 1080 replaced the aging GTX 980 and was considered by many to be a substantial step up in gaming performance. Sporting just over seven billion transistors, it's a powerful family of cards that can really pack a punch when matched with a capable CPU, like an i5-7700K or above. Should you be looking to upgrade from an older generation of GPUs, migrate from AMD cards, or look to put together a new PC, the GTX 1080 is a solid option.
It's a card that's great at 1440p but is unable to really push 4K content at an acceptable frames-per-second (FPS) rate without dropping quality. If you're only rocking a 1080p display and aren't looking to get a new one anytime soon, you'd be better off with a GTX 1060 or GTX 1070. Prices are around $549.
Pros:
Great for 1440p.
Excellent value.
Cons:
Not powerful enough for 4K.
See at Best Buy (opens in new tab)
NVIDIA GTX 1080 Ti
The only reasons you'd really need to pick up a NVIDIA GTX 1080 Ti is if you have the necessary funds available, require the extra horsepower for 4K gaming and are unable to pick up an Nvidia Titan X. The issue with the Ti version of the 1080 is the diminishing returns for your money. This card is more expensive than the 1080 and offers more performance but the frame rate gain for the price makes it harder to justify.
That said, should you happen to get hold of one and install it inside your gaming rig, it'll transform your PC into a kick-ass interactive entertainment machine. The Ti usually goes for around $699.
Pros:
Great for 1440p and some 4K.
Stunning performance.
Cons:
Doesn't offer great value for money.
Same TDP as Titan series (250W).
See at Best Buy (opens in new tab)
No wrong choice
Thankfully, regardless of which option you go for, there's no "wrong" choice. Both the GTX 1080 and Ti GPUs offer excellent levels of performance and will be able to play anything at 1440p with high settings configured, placing them among the best graphics card options available. Go with the GTX 1080 if you're on a tighter budget but need the power to get through more demanding titles. The Ti is a great upgrade for those where money is not an issue. For everyone else, hold off and see what 2018 brings.
Windows Central Newsletter
Get the best of Windows Central in your inbox, every day!
Rich Edmonds was formerly a Senior Editor of PC hardware at Windows Central, covering everything related to PC components and NAS. He's been involved in technology for more than a decade and knows a thing or two about the magic inside a PC chassis. You can follow him on Twitter at @RichEdmonds.
Went for the 1080ti in my PC and I found when it comes to CUDA video editing to HEVC, the Ti performs much smoother with much less load than the 1080 I have in my office PC.

I'm have a 1070 for my laptop, it is amazing up to 1440p with max settings. I'd like a 1080TI for my desktop by my old i5 4670k and motherboard needs to be replaced resulting in a lot of money to be spent to bring my desktop to a level where a 1080TI can be fully utilized. I'll have to be satisfied with my GTX 970 for the desktop for now and wait until prices go down over the next few years. All of my monitors are 1080p at the moment. I had a 4K samsung monitor but I returned it as the color accuracy wasn't great.

Have you the prices for these cards lately? Insane.

Mining. Now that Bitcoin is tanking, the prices will come down.

EVGA 1080Ti SC2 nuff said. Runs like a dream. Personally I dont feel the FTW3 is worth it, but I dont overclock.

SC2 stands for StarCraft? You can easily go with an older card and push settings to extreme. SC2 is eight years old!

No... it is a card... a very good one... possibly the best... Possibly stands for super cooled? Super clocked? Soup Chowder? No idea. I didnt name it.

I'd go 1080 GTX, better bang for your buck.

At this point, would it not be better to wait for Volta...

I'm no gamer, but I've got a 1060 with two 4K monitors and 4K videos play fine, but as I said I'm no gamer so as long as videos play fine I've got no issue.

I went 1080TI for a real 4K experience. No regrets.

Honestly? Vega64 is better than a 1080. If you can afford a Ti go for it. At the same time, the market is all over the place and every GPU is up to twice more expensive than MSRP prices. It's absolutely a terrible time to buy a GPU.

Do you happen to know the reason behind it?

Hmm. Reviews and tests seem not to agree re. Vega versus 1080, and it's one hot little power sucker. I'll look at AMD again next gen. Loving my Ryzen so keen to see what they can do with video next.

The die size is 471 nm and 314 nm? You may want to check your measurements, because you are off by a factor of about 100000.

Got a GTX1070 in mine. It even plays the Witcher 3 at 4k with decent frame rates on Ultra. So, no issues with cheaping out on that. The PC is a Skull Canyon NUC w/ 32GB RAM & 1TB (2 500GB nvme ssds) & a Razer Core.

I can easily achieve a steady 30 FPS at 1440 and max settings on Hellblade: Senua's Sacrifice using a GTX 1060 and i5 7600k. Seems like the 1080 would be able to handle 4k just fine.

Sure but 30 FPS, I guess I am a 60 FPS or bust kind of guy

Well if you have a lower card such as a 1050, 1060 or 1070 now is the perfect time to upgrade if you can snag a 1080 or 1080 Ti since resale value is very high. It's not unheard of getting back MSRP or even more when reselling your card. I have moved up from a GTX 1070, to 1080, and now a 1080 Ti. There isn't a big difference between the 1070 and 1080 interms of 1080P or 1440P gaming, however the 1080 can do some* 4K gaming while the 1070 struggles. Now if you consider the 1070 Ti the the 1080 performance to dollar ratio closes even more since the 1070 Ti is basically a slightly dumbed down 1080 and can be overclocked to reach 1080 levels. The 1080 Ti however is a great value pick compared to a Titan Xp ($1,200) which is only in a FE form, but offers practically the same gaming experience. The 1080 Ti card destroys 1440P which will be the standard in a few years and games around 60 FPS on Ultra on a 4K 60Hz screen. With this being said the 1080 Ti is the most future proof card even when considering Volta since rumors* have a 2080 Volta chip MSRP close to $1K!

Who said GTX 1070 can not handle 4K? It even says on the box of 1070 that it works with 4K, and thats true, i play FIFA 18 on 4K tv with higest possible settings i get minimum 60fps, Assasins Creed Origins, 4K everything on Ultra, i get 30 - 35fps, which is enough for comfortable gaming, Batman Arkham Knight also works super smooth with 4K, Oculus Rift - Not a problem on highest settings, im not talking about 1440P and 1080P, its a joke for this vedeo card, its just my expirince, i had a lot of troubles optimizing it, but with latest nvidia drivers everything works perfectly!