Rumored NVIDIA-ARM acquisition could massively shake up the chip industry
This could massively shake up the semiconductor industry.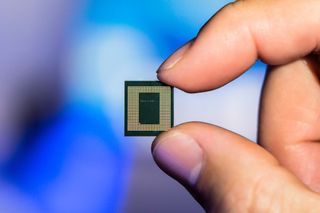 (Image credit: Qualcomm)
What you need to know
NVIDIA has allegedly approached SoftBank Group Corp with an offer to purchase full stakes in Arm Holdings.
This would likely be the largest-ever acquisition in the chip industry.
NVIDIA's shares have risen by 76% in the last year.
ARM chips power an enormous number of electronics worldwide, including virtually every phone and tablet, and according to a report from Bloomberg, it seems that NVIDIA could potentially be eyeing a takeover of the Cambridge-based company.
Arm Holdings is currently owned by SoftBank Group Corp, a massive holding company operating in countless segments such as broadband, e-commerce, advertising, and telecom services — including Sprint in the U.S. Following a report earlier this month that SoftBank was reviewing options to sell Arm Holdings, NVIDIA Corp (based in Santa Clara, CA) has allegedly made an offer for an undisclosed amount. This comes following a 76% rise in NVIDIA's share values this year.
Though we don't yet know the terms or status of NVIDIA's proposal, such a deal would massively shake up the semiconductor industry, and could raise some anti-competitive concerns from regulatory bodies. Still, if approved, a full buyout would likely be among the largest acquisitions in the history of the chip industry.
How SoftBank's sale of Arm Holdings could go very right, or terribly wrong
I wonder if this could shake up the industry?

more like vibrate.
later
-1

I am surprised you have any more ones to lose at the rate you lose them.

ARM better remains a UK company.
Becoming a US company makes it possible for their government to ban other companies at will, such as "you can no longer license ARM designs for your chips".
Take the Huawei ban as an example.

Huawei had that one coming. No one to blame but themselves.

Will it be right for ARM, or left?

Acquiring ARM would really give Nvidia's already great financials a positive shot in the arm and will give them legs to stand on in this market. Other bidders are probably weak in the knees knowing how disruptive the market will be with Nvidia using ARM as the backbone of their mobile efforts. I can't wait to see where they are headed as Nvidia nose what they are doing.

True. Because currently the Qualcomm that is the primary phone chips supplier uses AMD GPU tech in their CPU now samsung is doing the same with their next gen chip. So it is only natural for nvidia to be excited to grab Arm to make their name in the GPU game in mobile computing.

I have no skin in the ARM game to care but I imagine Nvidia can only compete in ARM if they own the entire OS like Apple.. Apple's "Apple Silicon" isn't gonna dominate CPU markets by itself - it's the combination of hardware/software/OS and complete control thereof where it will shine. Nvidia adding GPUS to arm that still burn CPU cycles because of disparate OS and disparate Apps won't make N-ARM win over any other ARM or even X86

"Apple" and "dominate" in the same sentence...now that's great humor.
Windows Central Newsletter
Get the best of Windows Central in in your inbox, every day!
Thank you for signing up to Windows Central. You will receive a verification email shortly.
There was a problem. Please refresh the page and try again.