The Oculus Rift will launch with 30 VR games on March 28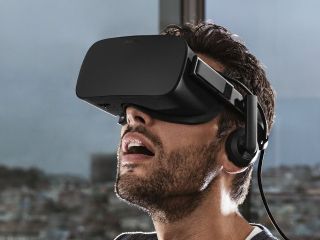 When gamers finally get their hands on the Oculus Rift virtual reality headset on March 28, they will be able to get access to 30 games right off the bat. The launch titles will be joined by many more in the coming weeks and months, with over 100 more titles planned by the end of 2016.
Here's a list of the 30 games (opens in new tab) that will be available, for various prices, for the Oculus Rift:
AdrIft
Adventure Time:
Airmech: Command
Albino Lullabye
Audio Arena
BlazeRush
Chronos
Darknet
Dead Secret
Defense Grid 2 Enhanced VR Edition
Dreadhalls
Elite Dangerous: Deluxe Edition
Esper 2
EVE Gunjack
Eve Valkyrie Founder's Pack
Fly to KUMA
Herobound SC
Keep Talking and Nobody Explodes
Lucky's Tale
Omega Agent
Pinball FX2 VR
Project CARS
Radial G
Rooms
Shufflepuck Cantina Deluxe VR
Smashing the Battle
Vanishing of Ethan Carter
Vektron Revenge
VR Tennis Online
Windlands
Gamers will also be able to check out the main interface for the Rift, Oculus Home:
The Oculus Rift is priced at $599 but orders made today won't ship until July. Pre-orders will get two games for free; the space shooter EVE: Valkyrie and the platformer Lucky's Tale.
See at Oculus (opens in new tab)
Why do all these people in pictures with the Oculus Rift have their mouths open?

I think it's supposed to express the fact that they are awed by what they see but it just looks like they're tripping to me. :-/

Because Oculus know that 99% of the use of the rift is going to be porn, so you need to be aware of the faces you'll be pulling when your completely dismembered from reality.

Which one is the porn game? Lucky's Tale? Rooms? Adventure time?

He's virtually jerking a dude off and is being professional about it ok

No, its because they are watching samus
Windows Central Newsletter
Get the best of Windows Central in in your inbox, every day!
Thank you for signing up to Windows Central. You will receive a verification email shortly.
There was a problem. Please refresh the page and try again.