Official BBC iPlayer Radio app now finally available for Windows Phone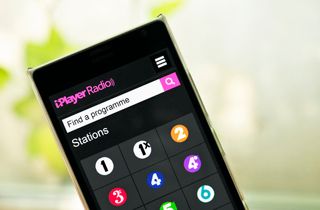 BBC Radio access has been absent on the platform (officially, anyway - see Podcast Lounge), but finally UK Windows Phone owners are now able to enjoy their favorite radio stations while on the move with the official BBC iPlayer Radio app. Whether you're a hipster with BBC Radio 1 or prefer a more laid back experience with BBC Radio 3, this app will provide you the means to tune into live programs and enjoy some beats.
As well as the live streaming, the iPlayer Radio app also contains up to seven days' worth of content. All BBC radio stations are supported with hundreds of on-demand programs available. The app itself is another hybrid experience, mixing the best of the web with some neat Windows Phone functionality. While the main interface itself resembles nothing more than a web wrapper, users will find working Live Tiles (all sizes) and player integration.
Sure, it's not a native experience, but what the developers have managed to pull off as an initial release is a functional, working app with access to top content. Want to see a fully native experience? The best way to show support for the platform is to use the apps and reach out to the BBC with feedback and suggestions. That said, it's less important for apps such as the iPlayer Radio app as it'll be running in the background the majority of time.
Before downloading, please note that this app utilizes data connectivity, so be sure to monitor usage if on a capped mobile plan. Also, it appears as though iPlayer Radio access is region restricted.
Thanks, Chris B, for the tip!
Windows Central Newsletter
Get the best of Windows Central in your inbox, every day!
Rich Edmonds was formerly a Senior Editor of PC hardware at Windows Central, covering everything related to PC components and NAS. He's been involved in technology for more than a decade and knows a thing or two about the magic inside a PC chassis. You can follow him on Twitter at @RichEdmonds.
Finally, some good news....

No USA support. Awwww man ;)

Since we all have to pay for the BBC here in the UK... good :)

Some of us live abroad... Posted via Windows Phone Central App

... and pay the licence fee?

I miss the BBC....BBC1 BBC2 BBC3 BBC4 etc,

Radio is available worldwide without a license fee. The app does not support it.

Oi, that's bloody fantastic!

There definitely was an unofficial app that allowed you to listen to UK radio stations when I first joined WP. Unless it's been pulled I don't think you looked hard enough. Radio Lounge UK for example. Seems that the article has been edited to omit the original line I was replying to.

Hipsters don't listen to Radio 1, do they? I thought that was One Direction fans. 6 Music has the good stuff.

TuneIn Radio always allowed my to listen to BBC, often do on my walk to station in the mornings. Have I missed something here?

It's the on demand feature I like. The offial BBC Radio app seems to have more programmes available compared to podcasts and the unofficial Listen Again app. You and Yours, for example, a consumer programme on weekdays at 1200, is only available through the BBC app.

6 Music ist the stuff. Lauren Laverne ftw! Best show on Radio, worldwide.

All we need now is for them to deign to allow us to view embedded video content (instead of emblazoning "your device is not currently supported" across every video window) and we're golden.

Radio lounge has worked for me pretty much every day for the past year... All the bbc stations plus ma others like capital, heart etc.. Still good to see an official app though..

The bbc can royally go *#%$ themselves!

Noooo! If they did that they'd have no time to write apps!

Web wrapper and beta-forever apps is the new black (at least for Windows Phone).

Microsoft, I mean Satya Nadella better start trolling forums of sites like WPC to see the disruption he's causing by allowing many of the things he's allow on other platforms as well as the rumors and or facts about an android powered Lumia to be produced. As much as many loyal Nokia fans wanted a Nokia branded Android device, the x line shows just how little impact they will have outside of their personal desires. It doesn't matter if it's the x or Lumia line, it will be putting money in a failing experiment and Satya need s to recognize that and use that money to pay developers to make the apps loyal WP users want! Our be will be the shortest tenured CEO Microsoft has ever had!

A good app to download it outside the UK just change your region to the uk

NOT loving it in Malaysia....

Great App, Smooth to use, Excellent Looking, Well Done Mr BBC...!!!

Whatever, BBC. Footy is nearly over.

Premier League starts in August, yeah?

So much momentum for what? The moment that Lumia Android is released I doubt developers will bother much.

So now that we have this official "app", does this mean we can watch when they decide to live streaming? Or will it not work? I will be testing tomorrow

About time. I feel like BBC really don't care much about about Microsoft ecosystem

Oh dear, I know I should be more grateful but it's another "day-late-dollar-short" web wrapper from the Beeb. Luckily I've already got the decent Radioplayer native app which the BBC supports (I think they partly funded it) and I'm more than happy with that. I guess if this helps to close the psychological 'app gap' and persuade converts to WP, then it's a good thing. Slightly off-topic, am I the only one to totally dislike the 3-bar "hamburger" menu icons that websites have adopted?

Your not the only one that dislikes that icon... even MS has too lol. In regards to this app, better late than never as we need all the official apps (wrapper or native) we get lol.

Now if we can only get an official npr app.

No Irish app - 800 years of misery - the least the British could give us as a means of payback is access to a free app

RTE allow UK to download their apps on other OS so BBC should allow the irish an app or two!

WTF are you on about, 800 years of "hurt"...? If you are equating tens of thousands of deaths with a phone app your a very very sad person... Its a phone app, keep it real...!!!

For live radio playing, it's about the same as using RadioPlayer. For catchup services, it's very temperamental, the streaming "applet" that loads when you choose to listen again to a show just seems to sit there and do nothing, until you press back, or the screen times out. Then it starts playing! With the downside of if you chose back, you now cannot scroll to a place in the programme (tapping on the listen again link for the show stops the current playback and starts the buffering again). But at least once it is playing, it has better sound quality than the Listen Again app (which always sounds like its at the bottom of a well). Needs Attention. Must Try Harder. B-/C+

I agree with AndyM72 - had the same problem. One past radio program I tried to load didn't load at all. Tried the same program on my daughters iPod and it works fine. The iPod app is so much smoother and responsive to use. The windows phone iradio app is sub-standard, as are several apps. Making me start to wonder if I made a mistake getting a Windows phone.

Why is it that I can listen to iPlayer at will on my Windows 7 PC for free, in Canada, but this app is not available to me if I'm outside the UK? I understand that UK residents pay a licence fee, but that doesn't explain why a phone app is treated differently from the PC.

Not showing up in the Store on my 1520 when I search, and when I QR it I am taken to the page but there's no install option so I tried a manual download and install and got the xap to my media card but when I tried to install it I get a "can't install company app" message.

Dan and Phill! here we go :)

What about the US? I tried downloading but says it's not available.

I'm quite impressed although I can't find anywhere to download. I was wondering if I could use this in preference to Episodic which is one of my mostly used apps but no use for browsing.

Erm, hipsters listen to BBC Radio 6Music ;-)

It doesn't support Lumia 820? Funny. O.o