Digitally Imported official app grooves its way to Windows Phone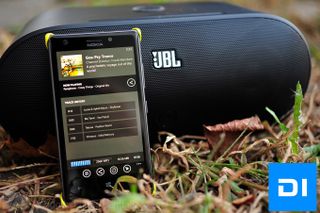 We've been boasting about Digitally Imported (www.di.fm) for quite some time on this site, specifically with the unofficial app Beem, which is so good we can't refuse it. Earlier this summer, Digitally Imported aka DI.FM, started up their Windows Phone app beta program, which concluded a little over a week ago.
The result? The official, free and fantastic app is now live in the Store for all Windows Phone 7.x and 8 users.
The app is very similar to the one we demonstrated previously (and seen above in our video tour). The one major change that we asked for has been delivered as you can now pin individual stations to your Start screen for easy access. Other than that, the app is still free to download and use, while Premium subscribes will get higher bitrate streaming and an ad-free experience.
Digitally Imported is the premier online electronic music streaming service. It's akin to Pandora or Songza, although you don't skip songs. Rather, you tune into preset stations, each dedicated to a specific style of electronic music. What are some of our favorites as examples? Glad you asked:
Chillout
Epic Trance
Goa-Psy Trance
Cosmic Downtempo
Progressive Psy
Chillstep
Vocal Lounge
There are of course many other stations available like the ridiculous Gabber of the old school House. Regardless, it's a great app for when using at the gym, relaxing or just wanting to hear some good electronic music.
How does the official app compare to Beem? The streaming logic is better with the official app, though Beem gives many more features, including linking into Xbox and Nokia Music to grab tracks. Beem also allows recoding and backup to SkyDrive, which is pretty killer. But as an official app, Digitally Imported is top notch.
Head to the Store here to pick up Digitally Imported now. All Windows Phone devices. Free.
Via: @wpscoops
Daniel Rubino is the Executive Editor of Windows Central, head reviewer, podcast co-host, and analyst. He has been covering Microsoft here since 2007, back when this site was called WMExperts (and later Windows Phone Central). His interests include Windows, Microsoft Surface, laptops, next-gen computing, and arguing with people on the internet.
Definitely more attention being paid to the WP platform in terms off app development, and quality.. And, it seems as though developers plan their big updates around device launches, and big announcements.. We need more device launches, and big announcements.. Lol❕.. It all helps.

More official apps everyday it seems! :)

Yay epic!!! Been waiting for this day! Beta was great. Looking forward to chilling out later with this

Slightly off-topic I know, but what case is being used on the phone in the main picture at the top of the page? I've seen pics of L920's on this site with the same case but can't seem to find one for mine!

It's just the official Nokia Qi wireless charging case.

Too bad the charging covers for the 1520 will be PMA. :'(

I sure hope, and would think, Nokia will make a Qi cover for the 1520! The technology will be in the cover and charging plate and not the phone. The cover will transfer voltage to the battery via the contact points on the back of the phone.
Nokia supports Qi and since they know that all of their past customers that have used one of their phones with Qi will have, and want to continue to use, their exsiting charging plates.
Just like the Lumia 1020.


Where do you guys keep getting this misinformation? NO WHERE has it stated that PMA will exist, anywhere. Simply that Qi is being removed because AT&T stands behind PMA. That's it.

Where in my comment did I say that? All I said was that it's too bad the charging covers for the 1520 are PMA.

You just said it again. You are saying that the Nokia charging covers for the 1520 will be of the PMA standard. This has never been said, anywhere. Simply that AT&T forced the removal of Qi from the phones themselves, because why would they feature things like Qi while they stand behind PMA. Nokia is still building the charging cases with Qi.

I didn't say it would be for all att Lumias, I said it would be for the att 1520. Don't get me wrong, it would be nice if the att 1520 would also sell the qi cover.

I am reading it that you are saying that the ATT 1520 will include covers with PMA. I am saying that is incorrect and has never been said. Unless you have a link to show me.

Sorry for the late reply, but here. http://www.wpcentral.com/att-removed-qi-lumia-1520-make-room-pma

11MB? I'll stick to Beem since my "other" memory is close to 4gb. :(

11 MB is practically nothing. I have numerous apps & games especially that are 100-250 MB

11 MB is big if you're rocking a 720 or lower with only 5 gig of usable storage out of 8 lol

Now we need a soundcloud app (officially). Audiocloud is a great alternative though.

Audiocloud is so good, I can't think of how an official app could possibly be better

Audiocloud is the bomb! I use it every day!!!!!

Awesome! Streaming right now. I was a regular in the early 2000, I think the url was digitallyimported.com back then and full quality was free. :)

While Beem has some issues on my 8X this comes in the right time. But it's some kind of sad to see third party developer losing battle to the official apps, cuz their work uplifted platform to the level that the big players now consider making official apps.

Not really, official apps help 'validate' Windows Phone to those outside or thinking of joining. Plus third party developers can still beat official apps. Beem for example has features that the official app may never have - like SkyDrive backup! Instagram is another example. While it'll be nice having the official app on Windows Phone, there are features that are in 6tag I don't see the official one having anytime soon - multiple accounts, regram, etc. Official apps and third-party apps can coexist fine on Windows Phone.

Agreed. Those first-party applications will have all the support they need as Windows Phone grows and as new users compare official vs alternatives, the third-party apps will earn support as well. Windows Phone needs the official apps to legitimize the platform which should help the indie devs in the long run.

I was a part of the Beta, glad to see v1 official app. More features are going to be added soon which should make this better than iOS and Android versions eventually.

Cool. I cant get a stable stream on wifi though. The stream keeps stopping. However on Beem its totally fine.

I already tired it. Doesnt work. It stops every 12 seconds and keeps doing the same thing in a loop. I am 4ft away from my router. Beem plays fine. Proof video: https://db.tt/q2CnGtxp

Hi Kadcidxa, please get in touch with our support team at support@di.fm and we'll get to the bottom of this.

Daniel since TuneIn app was updated about a week ago my Lumia 925 gets overheated,and the battery gets drained pretty fast..Do you know if theres something wrong with the app? .because am afraid that could be something wrong with my phone

Same exact thing happening to me. :P

Buuu, not Chillhop as a WPC favorite! :P

Where's the beta passes for free premium? :(

I would like to know too. Although I send out the form to be part of the beta testing, they never send me a link to download (although they promised through a support ticket).
I guess they didn't want to distribute too much free premium.

They said they would contact people "in the coming weeks", so hang on a bit.

I hope that'll happen, fingers crossed.

sounds good now! can't wait to have premium streaming!

I love that picture of the JBL Powerup and Lumia 925! Very nice!

Daniel - we got off to a rocky start a while back, but if you're into chill that's really cool. Rendezvous Lounge? Cafe del Mar??

Good stuff - Mark

I wonder which offers the highest bitrate as that would most likely be the one I stick with, songza has horrible sound quality.

Now, if only SiriusXM would get off their asses...

How does IT comparw to TuneIn?

I can pin stations to my start screen. All I have to do is press the bottom app bar and it gives the option. I'm using the WP7 version so idk if there are any differences or not. Just thought I'd inform you guys :p

i was waiting so long for this app,i love electronic music

On my WP7.5 phone the app doesn't work @96 kbs mp3 on wifi, which is already not a good quality. It plays for 5s then streams for 5-10s then plays for 5s and so forth. I have to put it to abyssimal 64 kbs quality to get it to work. Neither my wifi nor my phone is troublesome as I'm streaming youtube videos all day long with much higher kbs.
Windows Central Newsletter
Get the best of Windows Central in in your inbox, every day!
Thank you for signing up to Windows Central. You will receive a verification email shortly.
There was a problem. Please refresh the page and try again.