Official GoPro app finally drops for Windows Phone 8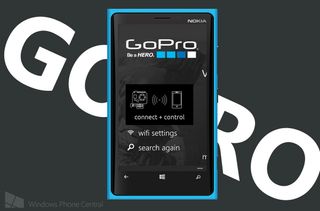 We first saw the official GoPro app for Windows Phone back at CES. That was early January and at the time we were told to expect it about a month later. A month came and went. Then we saw the app on display with Nokia during Mobile World Congress. Then we learned we would see it during spring. Since today still counts as spring, they stayed true to their word. The app is now available for download.
It's good to see the official app in the Store. We saw a lot of GoPro companion apps pop up while we waited. Here's what you get with the official GoPro app:
Full control of all camera settings –
Live, remove viewfinder/preview
Access to Photo of the Day and Video of the Day
Latest Tweets from GoPro
The app is well designed and should be a welcomed addition to any Windows Phone owner rocking a compatible GoPro. Which ones are compatible? Hero 3 (white, silver or black editions) and Hero 2's with the Wi-Fi add-on.
So at Mobile World Congress we learned that Nokia helped develop the app. But thankfully it isn't completely a Lumia exclusive. As long as you have 1GB of RAM you can run the app. Lumia owners however do get something special…
If you're rocking a Lumia you'll get a special feature called "Picture-in-Picture". This feature allows you to overlay your phone's camera view on top of the GoPro live and take photos that are saved directly to your phone's camera roll. Sounds like a handy feature if you've got a handful of GoPros at an event and want to take pictures from one that might be hard to reach.
You can grab the free, official GoPro app for devices on Windows Phone 8 with at least 1GB of RAM. Get it here in the Store, use the QR code below, or swipe to the right in our app.
Thanks everyone for the tips!
Windows Central Newsletter
Get the best of Windows Central in your inbox, every day!
I just dislike the term "drops/dropped"

Great, just need the WiFi Addon for my Hero2 now :)

Damn it Sam, I don't have a go pro camera, and seeing this makes me want to get one but I don't really have a use for it :)

Now I just need $400 for the GoPro Hero3 Black.

Another useless official app for me......

Useless to who? You because you can't get one of these cameras? Pretty sure others would disagree with you. Try not to be a jerk.

Useless?I do alot of filming on my motorcycle and this app will be perfect for recording and pics.

Not usefull here so useless

Really? For the people with that use GoPro devices on a regular basis and have Windows Phone this app is killer. It allows you to control one or an army of GoPro cameras. Most people will use a GoPro to record their personal activities. But a more professional application would be to put a ton of GoPro cameras around an event. Places that may be out of reach during the event and won't be accessible till it's over. Controlling them with your device is a life saver. And many people (Like me and most of the WPC community) would prefer that device be a Windows Phone. But looking at your comment history, it would appear you don't really care and this comment won't make a difference in your opinion.

Thank you for saying that much nicer than I was going to.

As a GoPro 3 Black owner, this is one of the apps I've been waiting for. Now just need Citi, Discover, and my credit union. At least I can use the websites for the others, though, this is actually pretty big for functionality given that it's a camera without a viewfinder.

This seems like it has its audience. Not sure if say the same about the official red bull app...or star trek, or man of steel...

lmao, how is it useless?

just wow

Hardly useless. I have 3 GoPros and use them all of the time. Useless to you maybe, but not everyone that has a GoPro.

You're a crack head, and that's coming from a meth head!! You should really reexamine your life...

Its everyone choice. See ur life not others.

Well of course, if you don't have a GoPro then feel free to not download the app, common sense no? Just because its useless to you doesn't make it useless to the entire world.

WP users can now make some "home movies"

Except should be Expect in the article Sam.

Thanks. Fixed. Someday Word will have "contextual word check" lol

I hope so, it would certainly put them head and shoulders above everyone else if they managed to do it right!

Woohoo, finally. Thank you thank you...

@ Sam S.
It would be nice if when these official apps hit WP we could get a side by side comparison of the WP app with the iDroidBerry apps.. I'm always wondering how our versions stack up against the competition.

I like this idea. A feature/layout comparison would be awesome for some apps.

Great idea. I have access to an iPhone 5. HTC One or GS4 to compare?

Borrow one from Daniel... He's got every device,, even a Z10!! LOL... Speaking of Z10, lets not forget BB!

Its a poor man's Camaro..

!!!!!! Finally! I got a gpbe and the apps so far are horribly unstable! Thanks the gods!!!!! Whooooohooooo!!!!!

So stoked to see this in the market. Thanks so much to Nokia for pushing GoPro so hard to bring this to Windows Phone.

Works fine for me @ HTC 8s. Also have the picture in picture feature.

How much storage do you think a high end WP device needs? Vote!!
http://forums.wpcentral.com/general-microsoft-news-discussion/226299-how...

Kind of disappointed to see the lag in Preview mode, but I just did a little searching and apparently it's just how the app operates, regardless of the mobile platform it is on. I love having all of the settings at my fingertips... but I don't like that I have to monopolize my wifi connection to use the app. I actually have an old GSII laying around in my apartment; I think maybe I'll just use that as a GoPro controller.

Yes that's correct. The lag comes from the camera. It only has a tiny little web server in it, so perfect realtime streaming is tricky. Same lag happens on iOS and Android.

Dammit. I've been mulling over picking up a hero2 or hero3 silver even though I don't have any real need for one, and this is just pushing me closer to the edge haha

This is awesome. I use my gopro for external shots while driving. Instead of stopping and getting out of the car to stop and / or start the camera at different locations, I can now do it remotely from in-car. I'll just have to get the wifi pack for my hero2 or get the new camera. :p

Have a link to your videos?

OK, I was hovering with a GoPro purchase, this has tipped me.

Well I finally got me the HERO3 Black Edition - Adventure version! I always wanted one and since they made this app and updated it for the Windows 8 Phone I decided to thank them and myself with my new toy! :p maybe I can now do some vblog'n!

Life just took one more step to being complete!

I own a lumia 720, does anyone can get the photos from theri GP memorie? Or this app does not have this feature?