PSA – Check your offline maps on Windows Phone 8 for new updates (Updated)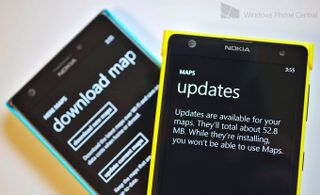 If you use Windows Phone 8, there's a really good chance you use Maps (or HERE Maps, if on a Lumia). Hopefully you have also taken advantage of the offline map ability, which allows you to download regional or state maps to your phone for faster access – and no data charges.
We had a tip from Antonio that his offline map data had an update, so we did a roll call on our team to check ourselves. From Alabama, to the UK, to New York, to the UAE, India, Spain and even Florida, we all had offline map data awaiting to be downloaded. (To clarify, this is not the app that has been updated, just map data).
We're not entirely sure when those updated maps went out, as some of you may have had it for a few days already. Windows Phone should periodically check, specifically when you open Maps or HERE Maps. But if not, here are the steps to force-check it:
Maps (HTC, Samsung, Huawei)
Tap '...' at the bottom of the Microsoft Maps app
Settings
Check for Updates
Install
HERE Maps (Lumias, anyone who uses HERE)
Tap '...' at the bottom of the HERE Maps app
Download maps
Update current maps
Install
You can also go into the Windows Phone settings:
Settings
Applications (swipe right)
Maps
Check for updates
The process should take only a few seconds, depending on how much offline data you have.
It's not clear what changes are on board, but we're pinging Pino Bonetti of the HERE Team for more details. If we get any info, look for an update in this article! In the meantime, sound off below on your location and any updates!
Update: We heard back from Pino on the HERE Team about what's happening in the updates. Here's shared with us some highlights on what's going on with the updates to HERE.
Algeria, Benin, Georgia, Guinea, Mali, Nicaragua, Niger, Saint Helena and Togo have more detail
House numbers introduced in seven European countries, Australia, and New Zealand
Dramatically extended woodland coverage in Europe
Hindi support for India's map
Those sound like some pretty baller updates. He also teased one more surprise, but one that he can't share until Monday. It'll be up on the HERE blog. We'll of course share the information once we all learn. Notice any of the changes in your updated maps? Sound off below. Thanks for again for the update Pino!
Daniel Rubino is the Executive Editor of Windows Central, head reviewer, podcast co-host, and analyst. He has been covering Microsoft here since 2007, back when this site was called WMExperts (and later Windows Phone Central). His interests include Windows, Microsoft Surface, laptops, next-gen computing, and arguing with people on the internet.
66 mb update for Vermont.

324 MB for Australia. Shit that must be some big ass update

217 MB for just two of 28 states in India. I guess hindi support is the bulk of it.

Can I take a guess and say that George is the one from Alabama? Also, who lives in Spain? I'm guessing Sam is from Florida.

I think it's: Dan - NY Sam - CA Rich - UK George - Tatoine?

Dan - Coruscant
Sam - Earth
Rich - Hoth
George - Tatooine

With the weather we're having in the UK at the moment it certainly feels like Hoth :P

I only have Scotland because I barely travel. Just over 100mb!

Iceland, Norway, Madrid and Greece downloading updates.

Maps updated also for Bosnia and Herzegovina.

Sweden was updated from around 225 to 250 mb.

More names on roads, but these new names are only searchable, not possible to select or navigate to :(
Sweden is probably one of the european countries with house numbers

Thanks, Lithuania is updated too ;)

Update in Argentina (more than 170 mb)

Morocco is updated 69mb! Thanks for the tip Dan :)

Maps updated also for Czech Republic. About 220MB.

110 MB update for Romania

You're joking, right? I got 140 MB. Previously it was 110.

Yep, you're right, it's 140

Thanks for the heads up guys. Ireland updated, 80megs

Something to note: you can save your maps to your SD card using the Lumia storage check app from the nokia beta labs site. I had all of Canada on my phone which was about 600mb, so it was nice to be able to offload that since I only have 8gb total storage available.

It's not stable they've has issues hence why it's never leaving beta

Maybe so, I have not have an issue with it though. If I do absolutely need my map and it messes up, I will just use my data plan. If I go over my data limit, I would say that its a small price to pay for me getting where I want to be instead of being lost somewhere I dont. If I dont have any reception, I always have the most current map available (for my province) in my glove box. I also tend to look up anywhere im going before I leave and commit as much of the route as possible to memory.

Do you drive throughout Canada often? I usually just download the maps I need before my roadtrip, with the exception of the province I live in.

I dont and probably could do that as well, but I prefer to have it all available all the time! Plus, I have a 32GB SD card, so I can easily store all of the maps for Canada on there.

Surprising it's 600mb, didn't know there were that many roads in Canada...

They are mostly ice roads connecting our igloo's to our hockey arenas :-P

Yeah man, we have very few roads and it's cold, that's why we have significantly less public shootings. Why bother when it'll take you forever to get somewhere with enough people around.....

I was always confused about this. Wasn't the storing of maps on the SD card built-in the OS anyway?


The Lumia Storage Check is pretty much exactly the same as the Storage Check found in Settings, but with the option to save maps to your SD card. As Devmer11 said above, its likely that way because its not stable enough for them to have it built in.

Wondering what the hell could be so f***ing complicated about that thing, so that the biggest WP8 vendor is unable to fix it in 6-8 months. Guess what you can expect then from smaller and stupider amateur developers....?

Updating Indiana map now 132mb

Brazil Southeast and South regions updated. 360mb.

Sweet, there here drive says last updated yesterday but I don't recall updating, a background upgrade perhaps ??

Alberta and British Columbia (Canada) updated. However, sadly, the Calgary maps is still missing most of the new infrastructure built/opened this summer, including the extension to the 96th avenue interchange, and even the new SE ring road segment. I escalated this to the folks at here.com months ago. Google has also had these updates for months now. Sadly, it is becoming apparent that here.com is just too slow in updating their maps which really limits its usefulness. They really need to be more responsive, especially when major interchanges and new freeway segments open up in a city of more than a million people :-(


The funny thing is that on here.com (the actual website) they have the SE Ring Road but not 96th Ave extension. However, if you go to where the 96th Ave extension should be and click on Map Creator it shows up. If only they would allow Map Creator to be used in Canada we could help them out.

Updating maps for Norway and Argentina!

Update Connecticut, thanks for the tip

still no maps for pakistan ! Nokia here sucks ! Google Maps is king of all

Australia Update Available at 324MB... But still no maps for Japan...

Its an embarrassment that Japan is not mapped better or returns accurate search results

Agreed. How can they not have both Japan and Korea. Was having a hard time without it when travelling to both countries last month, especially when I needed offline maps in those countries without data connection.

140 mb in Romania,ty for info!

166 MB update for the state of Florida on HERE maps; updating as we speak.....

Updating maps of Belgium right now, i will be downloading the maps of the Netherlands and Luxemburg too! Thanks WPCentral.

finally my country get offline map

416Mb for Ontario and B.C. in Canada.

All 7 of my maps in the US and Canada are updating. Makes me suspect its a file format or features update more than mapping data.

Updates for Washington (state) and Mexico

I remember some bullsh*t from Nokia around the time GDR2 was finally delivered after a remarkably long and super painful release procedure, that future map updates for HERE would be much much smaller due to some dark-magic differential update technique that was implemented in Update2. I suppose it was all just the usual bullsh*t, and nothing was invented regarding this in fact. Everybody can go home, nothing to be seen here.

I remember some bullsh*t from Nokia around the time GDR2 was finally released after a long long and super painful birth procedure, that future map updates for HERE would be much much smaller due to some dark-magic differential update technique that was implemented in Update2. Yet it wants me do download 2,1 Gigabytes of data. I suppose this differential thing was all just the usual bullsh*t, and nothing was invented regarding this. Everybody can go home, nothing to be seen here.

incremental map update doesn't work this time because the update from version 51 to 53 is too big. When map 54 released, the update should be smaller.

Hi @ricsip, this is Pino from the HERE team.
Incremental updates are still a reality, as you might have experienced during last update. Fact is that this time the update was so big that there was basically no difference between 'increment' and 'new map'.
I hope you can understand that this might happen once in a while.

241mb for California!! D; lol Must be a lot of changes!

Wisconsin has an update, 117MB.

900+ MB for updates to Hawaii, Nevada, New York, Ontario & Quebec... I wonder what Pino's surprise is for Monday.

So do the HERE Maps also update HERE Drive? Also, how does the offline HERE Maps work in comparison to HERE Drive? I've always been confused by the difference and advantages of each app.

Yes, the maps for here are the same. If you dont need directions by car then the Here Maps will work. They also link to Here transit.

Yes like this bloke says, use here maps to look around and find things, use here drive to drive to those things, here maps opens here drive when you tell it you want to drive to things. All in all a pretty good experience. I just wish they put speed and red light camera database in!!!!

In Saudi Arabia 120 Mb !!!!

Have anyone experienced any problem with getting the route to a updated address/road? It works when I make a search offline, but not when I'm online. After I have made a online search for the updated address, it I gives me a list of addresses that similar to the one I searched for. Real offline maps :P

75.7MB for the Philippines map. 80% and counting.

so....Based on the updates mentioned, my guess is what the US is getting updated will be a part of mondays announcement?

Well. That's why Aus and NZ were massive updates!

UK, France & Belgium - 1Gb++++ Still, Here Maps offline are well worth it, I think.

1.5 gig for me. Alberta, Colorado, Czech, Ontario, Quebec, UK. Why cant they do incremental?

Hi BaritoneGuys, this is Phono from the HERE team.
We do update our maps in an incremental way, however, not this time. The update was huge almost everywhere.

Hindi support needs software update, which comes with WP 8.1

Egypt had an updated map (119 MB) :)

Updates for: Denmark France Hong Kon and Macau Ireland Italy Norway Shanghai Singapore Taiwan Ukraine United Kingdom Totals over 2GB

You pinged Pino? Hope you didn't disturb his nose ring.

LOL, have we met? I don't have my septum piercing anymore :-)

The Netherlands got a update.

172 mb update for Argentina

Fricking St Helena and Nicaragua, but no Japan? Searching for Shibuya plants a pin in Setagaya. That's like searching for Manhattan and getting Philadelphia. Damned disgrace.

191.9 MB update for Malaysia

Are you sure...i have checked mine..and it says 136.6MB

turkey - 328 mb. thx for the tip.

106MB just for Scotland lol

136.6mb for Malaysia on Maps ;-)

837 mb for India (all states)

The only reason I still have my WP handset is Herer map. It is a very good app for me. However, when is the Japan map to be available?

324mb map update for Australia

I've got updates for Malaysia, NZ, Taiwan & Ontario. Tells me its 633MB, but when downloading it goes real quick to 57%. Guess it is incremental for the balance 43%. Sweet !!

Update also for Dominican Republic...36MB!

@Daniel If you tell me about the surprise(d) I'll tell you where the typo is, deal? LOL

Where will map be updated? In SD card or phone memory. I had previously saved the maps in SD card. ?????????????

Over 800MB in India. That's weird because total size of maps is also around 800MB

Texas was updated. Includes all horse trails, public fish scaling centers, and for some reason has a star above every house that doesn't occupy a registered gun owner and voted for Obama. Can you believe that? Public fish scaling centers??!?

Woa pardner! Those stars are your favorites list. Those horse trails have since been claimed by trail runners of the two-legged kind. ATVs don't eat as much as horses hence their decline. Wherever your at is a public fish scaling place as far as I'm concerned. Seriously, I wish this could be my source for backcountry navigation since what they do show is good quality and detail. Use it often on the city commutes and vacation trips but it gets stuffed in the glove box when on the moto because of lack of good topo and real hardware buttons.

617MB for Germany
Let's see what we get :-) Edit says:
Germany got a load of new paths. Parks, greens, little ponds, new streetnames and horse trails. Maps look beautiful. Let's see what will be found when using it on a regular route.

2019mb and not enough space. Looks like I need to clean house.

74MB in the Philippines. Yey!

Update for my maps also (Greece, U.A.E and Latvia) total 294 MB.

Updates and errors not corrected for Zimbabwe! i have been correcting them since 2012 but so far nothing has been done/implemented.

76.2 Here in the Philippines

Updating now from LA. Tnx

Sweden updated, thanks for the heads up.

All WP8 devices use HERE maps, no?

I have updates for Italy, Switzerland, United Kingdom, Sweden, Germany and Austria.

Hi, Portugal get 156Mb :p

Nokia sucks a$$ . Im still not able to open HERE Maps after the Amber update on my 620. Wrote to Nokia and there is no response and in this update there is still no maps for Pakistan which is a country of 200 million people.

Did you try to remove HERE Maps (uninstall) and install it again from Marketplace? Push it from the www.windowsphone.com market to your Phone. I had to do the same after Black update for my 925. Hope that will fix it for you.

I tried what u stated but nothing works and the app crashes immediately.

I have the same issue on the Lumia 620 after amber update
I trried to uninstall all the maps, and the app
the issue is not fixed ...
maybe with black update ?!
on my Lumi920 this is not happening fffffffffffffffffffucccccck

My map menu is not there in settings after amber update :(:(:(

Updating UK and Canary Islands where I am going on holiday next week. At last, I can escape the terrible UK weather for a while!

Andorra Spain France Swizzerland got also updated

Maps updated for South Africa and neighboring countries. :-)

260.9 for Florida and Georgia.

Maps updated for Austria+Croatia+Hungary+Slovakia cca. 465M

Indonesia got update around 230MB that's strange because total size for new download map is 200MB

I have most of Western Europe on mine: Here maps update 2,9 Mb! I might need to get rid of Halo... :-/ (Austria, Belgium, Denmark, Finland, France, Germany, Gibraltar, Luxemburg, Monaco, Netherlands, Spain, Sweden, Switzerland, United Kingdom)
Windows Central Newsletter
Get the best of Windows Central in in your inbox, every day!
Thank you for signing up to Windows Central. You will receive a verification email shortly.
There was a problem. Please refresh the page and try again.