Our Manic Game developer shuts down, Windows Phone 8 update unlikely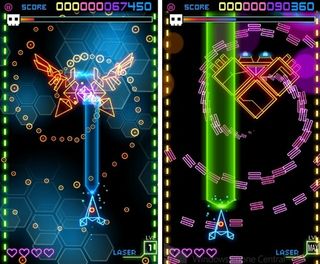 OMG: Our Manic Game didn't exactly set the gaming world on fire, but it did hold the distinction of being the only shoot-em-up available when Windows Phone 7 launched back in 2010. Its best feature is its neon-colored vector art, a style later seen in games like geoDefense and BulletAsylum. OMG has two major strikes against it though. One is a control bug that prevents the player's ship from staying at the bottom of the screen. Worst of all, it's not compatible with Windows Phone 8.
Unfortunately, it looks like neither of those problems will ever be fixed. Arkedo Studio, the French studio behind Our Manic Game, has ceased game development. Read on to learn what the future has in store for both the developer and their Xbox Windows Phone game.
The story so far
Left: Nervous Brickdown. Right: Big Bang Mini
Arkedo was formed seven years ago in Paris, France by Camille Guermonprez and Aurélien Régard. The studio's first games - Nervous Brickdown and Big Bang Mini appeared on the Nintendo DS. They then went on to publish three smaller titles for Xbox Live Indie Games on Xbox 360 and Sony's Playstation Network. In 2010, their first non-indie Xbox Live game OMG debuted on Windows Phone. Check out our review, written by none other than Daniel Rubino.
As a tiny studio, Arkedo always kept the scope if their games fairly small. That changed with Hell Yeah! Wrath of the Dead Rabbit, their first Xbox Live Arcade game. Originally conceived as an I Dig It clone, the developers presented a prototype at an event called Game Connection, where SEGA saw it and became the publisher. The design shifted from a focus on drilling to Metroiodvania-like exploration, and protagonist Ash traded in his drill for a buzzsaw.
18 months of Hell
Creating Hell Yeah! was hard on Arkedo. They had never made a game of such complexity and had trouble delegating tasks and outsourcing work when necessary. Development was always running late, and as a result some elements of the game like the Island mode didn't get properly fleshed out. I always thought the Island always stuck out as a weak link, but I still gave Heal Yeah! a positive review. If you like explorative platformers, it's worth a buy. Shame the iOS version (which was outsourced) never came to Windows Phone.
Closing in spirit if not name
Hell Yeah! for XBLA
Sadly, the studio leaders didn't enjoy the experience of making Hell Yeah! As such, they would like to create smaller games again. But the studio had already expanded and become unsuitable for that type of project. Money also became an issue, as without another big project lined up, Arkedo wouldn't be able to pay everybody. Both Camille and Aurélien have wanted to make their own solo games for a while, so the lack of funds and disillusionment with a larger structure has inspired them to step away from Arkedo and chase after their dreams.
Arkedo isn't technically closing down; they've just released all of their employees, apparently giving them generous severance packages. Because the company still technically exists, Our Manic Game won't likely be delisted from the Windows Phone Store. However, it also won't be updated for Windows Phone 8. I did predict that many of the incompatible Xbox games would remain Windows Phone 7 exclusive…
It's always sad when a developer shuts down. Since Arkedo remains technically open, maybe they'll find funding and return to making games someday. Let's hope someone else steps in to give Windows Phone 8 gamers the shoot-em-up they crave sooner rather than later.
Source: Aurélien Régard's Blog via IGN
Windows Central Newsletter
Get the best of Windows Central in in your inbox, every day!
Paul Acevedo is the Games Editor at Windows Central. A lifelong gamer, he has written about videogames for over 15 years and reviewed over 350 games for our site. Follow him on Twitter @PaulRAcevedo. Don't hate. Appreciate!
Glad I got my 200 gamerscore already. A fun game.

Are they selling their assets to appease the debt holders? Will there be an auction? Or will it turn into a one man show just collecting a few sales here and there? Lets get Jay this property, WPC games... ;)

They wouldn't have any debt if they were able to "release all of their employees, apparently giving them generous severance packages"

Not necessarily true, depends on the contracts of the employees and the value of the assets.

DAMN! And they just released Hell Yeah! for XBL. I guess the email I got the other day about Hell Yeah for iOS will never happen now.

Hell Yeah is already available for iOS. It was made by a different company.

The shoot em up situation on WP8 is just awful. WP 7.8 at least has DDP which is one of my alltime favs. Already have 200 in OMG so Im good but its sad for others.
Enough with the bad news Paul, bring on some Gameloft news...please!

I never even heard of it. It had to be some really small operation.

have to hand it to them, supported WP from day one!

They never supported their game with updates though.

Did it need it? Were there bugs in it? I got what I paid for, updating content isn't a right, it's a bonus.

Yeah, that control bug I bemoan in the article is really annoying. Also, updating it to work on WP8 would have been nice.

All you have to do now is petition Microsoft for a refund.

I just bought OMG for WP7 just incase it gets delisted but I like the game.

"...a style later seen in games like geoDefense..."
Except GeoDefense came out in 2008, on iOS, and predates WP7 alltogether.

I know, I know. I'm just talking about the context of Xbox Windows Phone games. Geometry Wars also came before all of those titles.

I was a pretty big fan of Arkedo, so it's sad to see them go. I haven't tried out OMG yet.

I'm a bit surprised to hear about employees and severance packages and whatnot. Based on their XBLA Indie games, I guess I kinda expected them to just a couple of guys doing this stuff on the side. Regardless, it's sad to hear that it has come to this for them.
Windows Central Newsletter
Thank you for signing up to Windows Central. You will receive a verification email shortly.
There was a problem. Please refresh the page and try again.