Bullet Asylum is safe on the Xbox Live Marketplace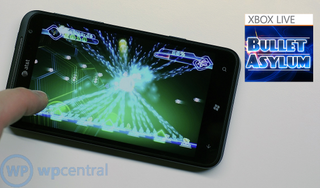 Following Need for Speed: Hot Pursuit, the second Must Have Game of 2012 is now upon us. Bullet Asylum from UberGeekGames and Microsoft Studios has hit the Marketplace.
Bullet Asylum, which WPCentral previewed earlier this week, is a modern update to the classic Missile Defense formula. Aliens rain down from the sky and it's up to your turrets to stop them. You can use a single finger to fire all your weapons at one area or two fingers to split the fire. Game modes include the extremely easy Arcade, an endless Survival mode that has no Achievements for some reason, and the frustratingly hard Architect mode. Seriously, what were they thinking with Architect?
That one mode notwithstanding, Bullet Asylum is a mostly easy shooter to zone out to. Plus it has the flashy neon graphics that we all love and a fair upgrade unlocking system... Just wait till you see the Peace Mode modifier; it's a trip.
Bullet Asylum costs $2.99 and there is a free trial. Get it here on the Marketplace and help stop those aliens!
Paul Acevedo is the Games Editor at Windows Central. A lifelong gamer, he has written about videogames for over 15 years and reviewed over 350 games for our site. Follow him on Twitter @PaulRAcevedo. Don't hate. Appreciate!
I was like, "meh." ...until you said 'Missile Defense' :) Now I must try it!

Haha, looks like a killer game!

Bad ass fame... Love it. Gonna make afull purchase.. Addicting=)=)=)=)

That's strange: the marketplace link works, I managed to download it, but here in Italy I can't find it if I search the Marketplace... Anyway, problem solved, thanks :)

same here in switzerland. the new games never show up in the marketplace on the phone but via the windowsphone.com marketplace i can get them every week.
so sad the phone doesn't refresh better or quicker...

It's already out? :O
See ya!

Is there a set time that these games release? It always seems kind of random, usually here they release at about 2am on Thursday but its only 8pm on Wednesday now

Can anyone get the wave 10 arcade with one finger achievement. I can't get that one to unlock.

I got it. I just use one finger and never do the 3-finger special move...

Ok thanks for confirming it. May be I accidentally hit with my other finger

Maximum Awesome Fully upgrade everything.

is GLITCHED


Did you buy all the Modifiers? I was thinking it might count those too...

No, I remained one to buy

The game Fully upgrade everything, alone in automatic

Uninstalling game and starting over not WORK'S

Please keep us posted about the glitch. Waiting until I know for sure everything's working.

Will be getting Farm Frenzy 2, if the glitch is confirmed. Growing tired of wp's glitched Achievements, ffs... can't understand how these guys don't test them. Major disappointment. MS nurtured their Live / Achievement system to the point many 360 active community members, such as myself, rushed day 1 to buy a WP and evangelize in every occasion, within 360 forums and blogs the platform. So much so that other systems which unashamedly copied the system are mocked for their poor disjointed attempts when standing next to Live, but... come on... wake the damned up! Test your games!

Sorry for the long rant, but just to complete: my major complaint with Live enabled games are their sometimes poor quality, and often glitches. While others whine about prices and how MS should lower them to face Androids competition, I think quality is the route for success, diference, raise the bar. We, WP users/community must not pursue Android cheapness, nor Apple's "has been" status, we crave quality and contemporary design, through devices like Lumias and UI like Metro, we should lead.

When I first saw this game previewed, I considered it a day 1 purchase. However, now that it's finally in the marketplace, I took notice of the game's access requirements:
XBOX LIVE; owner identity; music and video library; phone identity; data services; movement and directional sensor
Why the hell would a game like this require access to my music and video library? Sorry - not buying this one anymore until this unnecessary requirement is removed.

I really love this game, its one of the best WP7 game IMO.

@ CRC: That's normal, every Live game has that requirement, as far as I know is for the awesome Live feature, custom soundtracks.

Confirm achievement glitched

Get Quicz, did you try uninstalling and playing from the full game? Sometimes Achievements glitch to ppl who start playing from the trial and then upgrade to full game. Not sure if I made myself clear... .

Downloaded the trial, upgraded some upgrades, purchased the game and everything was maxed out deleting and reinstalling resets the upgrades to max.

Anyway, I have a guy in my Friends list with all the Achievements.

don't buy this game via this link http://www.windowsphone.com/en-US/apps/1878f389-3fe3-4549-8630-97c92ae3ba37 because it'a PRIVATE version.
I purchased it via this link, then I deleted, then download it again via this link http://www.windowsphone.com/en-US/apps/1878f389-3fe3-4549-8630-97c92ae3ba37?wa=wsignin1.0 this one is the public-release version.
and, the game charged me again, yes, again.
so, Paul Acevedo please update the link in your post.

Fixed
I have finally unlocled achievement:
I have updated one component at a time until the maximum
Bye

Paul your link to buy the game is dead.... Looks like it got a new game id on marketplace.

Link is
http://www.windowsphone.com/en-US/apps/ce65f35a-f38e-43d1-ba7e-8d32fe530479
Windows Central Newsletter
Get the best of Windows Central in in your inbox, every day!
Thank you for signing up to Windows Central. You will receive a verification email shortly.
There was a problem. Please refresh the page and try again.